The current health crisis due to Covid-19 is bringing inevitable changes to consumer perception and behavior. Companies must assess and improve their eCommerce marketing strategies to stay ahead of the competition. Also, incoming economic changes require a re-evaluation of consumer segments.
Lockdowns, curfews, and stringent health rules made people stay at home much more often. A large majority shifted focus towards the digital world. Entertainment, remote working, and shopping moved online; everybody's inside, ordering pizza, and surfing the web. Higher internet traffic could mean more leads and sales – for specific buying groups. Unfortunately, the crisis is transforming into an economic one. Some industries are being affected to the point that workers are financially incapacitated. People are having their hours reduced or even put out of work. Subsequently, buying power drops as people become more insecure about the future. Nonetheless, there's still business to be made. And not everybody's affected negatively by the pandemic.
But how does a company maintain its reputation during these times of doubt and skepticism? What can an enterprise do to sell better? Surely it can't be "business at usual" for anybody. So how does one start? Primarily, considering starting with:
Assessing your situation and competition to identify future priorities;
Establishing strategies for more leads/sales and keep track of progress.
Let's get straight to the point(s) on how to improve eCommerce marketing during Covid-19.
1 | Improve online customer service and other website features
It's the perfect time to improve your website, especially customer service. Even if the pandemic slowed things down, people are still impatient. More than 22% of millennial buyers expect an answer to an inquiry about a product in less than 10 minutes. More so, 52% of potential buyers will abandon the website if they can't obtain adequate customer service. Having easy-to-reach digital features has never been this important. Imagine a company specialized in essay writing service that doesn't respond to students in a hurry to get their homework done – they'd lose all their potential customers.
Consider adding AI-powered chatbots that are available 24/7. This way, clients can at least receive instant FAQ answers until a representative gets in line. Also, conversational commerce has many other productive components you might find suitable for your business. For example, a live voice room, a live video outlet, and comparable real-life simulations could indeed mean more leads/sales.
The website design has to be straightforward and easy to maneuver. Top-performing websites have integrated Virtual Reality (VR) features plug-ins. For instance, car showrooms allow you to step into a car virtually and get a better look. Gucci has an Augmented Reality (AR) feature that lets you try out shoes. Sure, adding such modern features is an investment, but it might just be what it takes to take your venture ahead of the competition.
To manage your omnichannel content, consider using Headless CMS: it is a content management system that allows you to use APIs to efficiently push content across many destinations: website, app, smartwatch, kiosk, VR.
How to Innovate Omnichannel Content Marketing with an API-based Headless CMS?
2 | Shift resources on fighting the pandemic directly or indirectly
In this health crisis, 40% of people want to know how brands contribute to fighting against the Covid-19 pandemic. It's vital to show customers that you're doing the best you can to battle the crisis's effects. Hard cash donations make for the best headlines, but that's not the only way. For instance:
Reduce contamination risk and promote healthy behavior through sensible ad campaigns;
Offer digital entertainment as a way to encourage stay-at-home policies around the world;
Practice some price relaxation for your customers in light of economic hardships;
Don't add to the fear; instead, use positive messages to lift your audience's morale;
Help local communities with food banks to prove you're a grassroots company;
Take care of your employees/collaborators and show you're truly a family business.
Difficult times make consumers more observant about everything around them. They'll stick to what they perceive as ethical companies once they get back on track. It's essential to be on their good side when things go back to normal.
3 | Create multilateral targeting techniques for social media context
Social media traffic has increased these past months. Businesses are recognizing that entertainment platforms are the way to go in terms of publicity. However, successful companies are thinking outside the box. More precisely, meme-like ads seem to have the best results nowadays. Genuine creations are relatable and spark up laughter. There's nothing better than to associate an instance of happiness with your brand logo.
#ArtOfQuarantine by Looma for Ministry of Culture and Information Policy of Ukraine: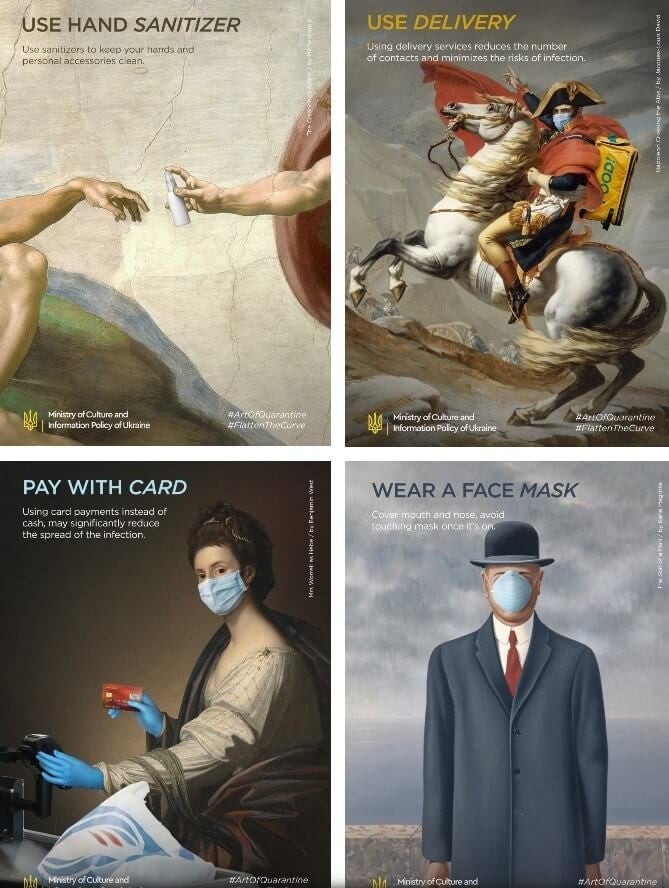 The concept translates to other social media features such as short videos, group discussions, comic books, interactive games, etc.
A Safety Driven Lifestyle by TBWA for Nissan: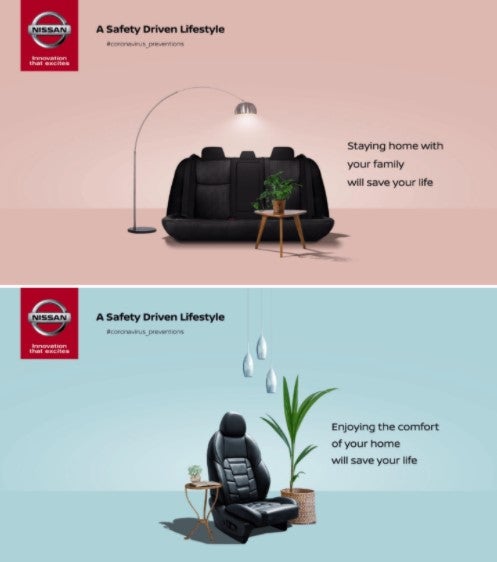 4 | Enhance online value proposition (OVP) through persuasive marketing
Showing people why you matter is one of the first things a business must do. Why should folks choose you instead of your competitors? What kind of value can you add? Here's where persuasive marketing comes into play. Fundamentally, the company tries to convince the public through proof that their products are superior. Rational ads and demonstrations are designed carefully to persuade the potential client. Professional writers and Assignment Masters of the trade are usually those who develop such compelling argumentative campaigns.
5 | Devise customer retention strategy via a mutual benefit on-boarding
An important keyphrase through the current pandemic is "supporting each other." Challenging times require sacrifices from all those involved. That's why even businesses should give in order to receive. Consider discounts, coupons, price cuts, and other forms of price relaxation for registering clients. It's a win-win situation for most ventures: you secure customers for the near feature, and buyers pay lower prices.
6 | Upgrade customer acquisition through digital advertisements
Although we've already touched the subject, it's essential to stress the need to shift ad campaigns to the digital realm. Even brick-and-mortar firms should concentrate on moving their publicity to the virtual space, at least for the time being. The best bet is to create ads on websites, social media, and through e-mail marketing.
Markets differ by nature, so not all ventures follow the same path. However, a few general principles seem to apply to most businesses. Customers better perceive brands that donate, support communities, and offer price relaxations. Ethical corporate behavior strengthens client loyalty despite changing shopping habits. Ad campaigns are better off in the digital space, and argumentative publicity persuades the customer to choose your brand out of many others.\
Love learning about Omnichannel and eCommerce? Keep reading: