At a time when their competitors were purely relying on paid advertising tactics, Beardbrand took a different approach — they devised a robust ecommerce content marketing strategy.
From informative blog posts and engaging videos to interactive quizzes and smart link-building tactics, the brand actively invested in creating content that educated and engaged their audience.
Today, their online store gets over 580,000 visitors a month with 97.14% of their traffic coming from organic search.

Ecommerce marketing is not just about running ad campaigns. It's also about educating customers, building trust, and establishing brand authority. This is where content can play an integral role. Here are six content ideas to drive traffic to your online store and generate sales.
1. Infographics
We can all agree that visuals should be part of marketing strategies. But if your idea of visuals is only limited to product and lifestyle shots, you're missing out on a powerful visual communication tool — infographics.
Being a combination of visuals, data, and minimal text, infographics can help you capture attention and communicate complex information while keeping your audience engaged.
Here are some ways to use infographics for your e-commerce store:
Create product infographics to highlight product features and benefits
Explain your membership, return, or delivery process with a process infographic
Compare products, services, and plans using comparison infographics
Create interactive infographics to engage your audience


You can publish these infographics on your website, embed them in blog posts, create mini-infographics for social media, and even use them to add life to your email newsletters.
Brand example: A few years ago when online eyewear retailer, Sunglass Warehouse experienced a drop in website traffic, they created infographics around eyewear topics such as 'The Sunglasses & Facial Hair Pairing Guide' and 'Famous Eyewear From Pop Culture.'
These infographics were featured and linked to by over 200 websites. This lead to a 20% increase in year-over-year organic traffic.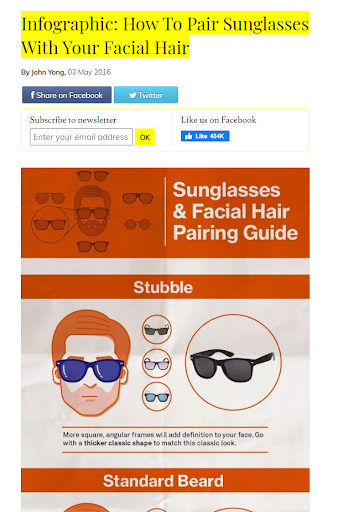 2. Blog posts
Writing blog posts might sound like a no-brainer but it's not really about publishing ten 500-word blog posts every month. The question is: is your target audience deriving value from your blog posts?
Start with identifying and understanding your target buyer persona.
This includes their demographics, pain points, motivations, buying behavior, and content consumption patterns. The next step is doing keyword research, conducting competitor analysis, and finding content gaps to create relevant blog posts based on your audience's needs. It's also a good idea to do SERP analysis and use tools such as Answer the Public to find commonly asked questions in your niche. For instance, if you sell power drills, a SERP analysis will give an insight into the kind of questions people have about power drills.

While writing blog posts, focus on making them informative and educational instead of making them read like a sales pitch.
Here are some ideas to inspire your e-commerce blog strategy:
Listicles
How-to or DIY content
Interviews with industry experts
Curated content
New product announcements
Industry trends
Brand example: Home retailer, MADE.com has an active blog where it shares how-to articles, industry trends, decor inspiration, and expert interviews.
3. Email newsletters
Email newsletters are an effective way to build relationships with your customers and increase customer lifetime value. What's important is segmenting your email list to tailor your newsletter content to different customer segments and needs.
Here are some essential types of email newsletters you can send your customers:
Promote discounts and offers
New product or feature announcements
Up-sell or cross-sell products
Promote content pieces such as guides, blog posts, and videos
Company announcements or updates
Transactional emails
Emails based on customer behavior (eg. cart abandonment emails, etc.)
Apart from the content of the newsletter, its design plays a crucial role in grabbing attention.
Considering that 81% of emails are opened and read on mobiles, consider a responsive email infographic design. This ensures that the newsletter is flexible and adapts to different screen sizes.
Brand example: Birchbox is an e-commerce brand that does email marketing well. It's known that personalized emails coupled with clever subject lines and useful content that contribute to an increase in traffic and conversions.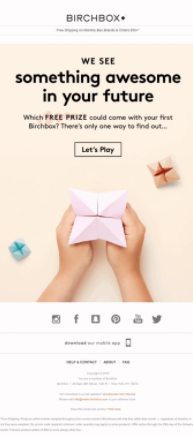 4. Videos
There's nothing more compelling than a good story and what better way to deliver that story than video. Video marketing lets you tell your brand story while striking a personal connection and keeping audiences engaged.
They can be used to create awareness, educate customers, build trust, and generate sales.
Here are a few video content ideas you can implement to attract traffic and drive conversions:
Brand example: In 2012, The Dollar Shave Club released a revolutionary video that went viral and generated 12,000 new customers in just 48 hours.
5. Product guides
Another kind of content that has the potential to influence purchase decisions is in-depth product guides.
They involve detailed how-to guides, catalogs, and comparison charts that inform customers about your product and help them make an informed decision.
Make sure you create comprehensive guides that are useful and visually appealing. The idea is to develop resources that answer questions and address concerns when it comes to using or buying your product(s).
Brand example: John Lewis creates buying guides for most of their product categories, helping customers choose the right type of product.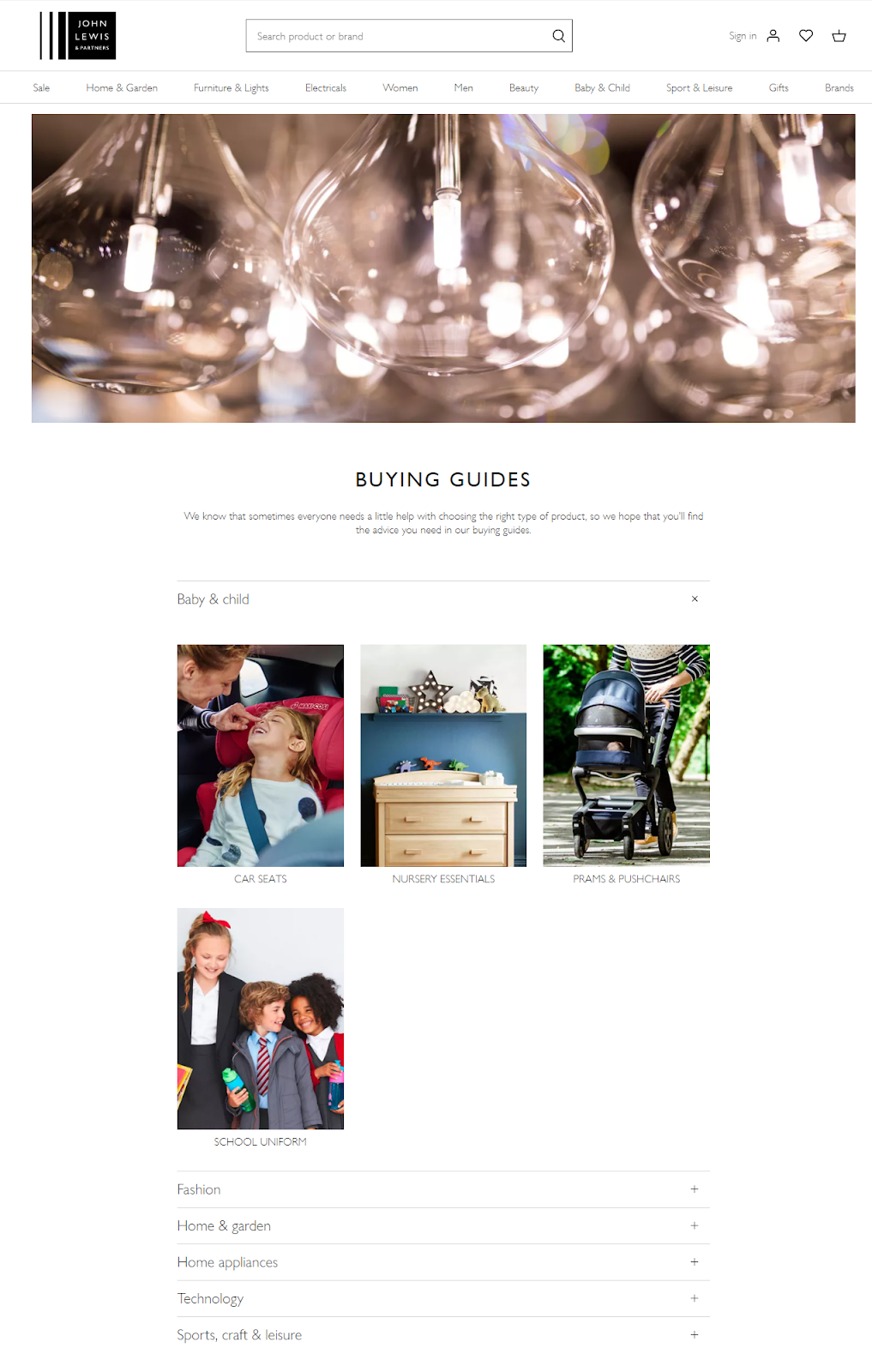 6. Success stories
Imagine this: you're contemplating buying a product when you're met with a review that's in favor of that product. You're instantly able to trust it more. That's the power of customer testimonials or success stories. They serve as real-world validation while building credibility and authenticity. According to a study, reviews lead to an 18% increase in sales.
The question is: how do you make those positive reviews work for you? You turn them into compelling pieces of content.
You can create customer stories in the form of blog posts, infographics, videos, or even dedicate a landing page to such stories. The purpose is to showcase how your customers have derived value from your product or service.
Brand example: 310 Nutrition has a page dedicated to success stories where they feature customers who have benefited from their brand.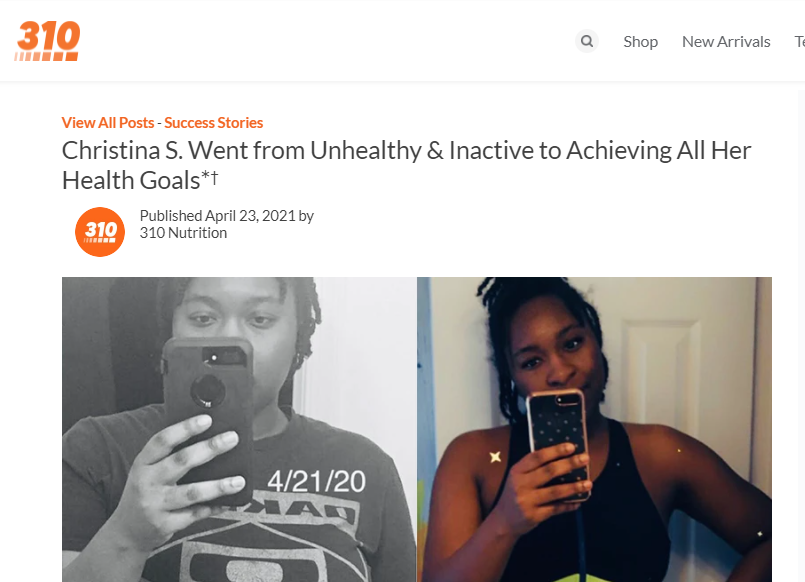 7. Use Headless Content Management
Since the business dynamics are changing, from customer support and production to IT infrastructure and management, everything needs to be updated. In the current situation, the traditional CMS system is unable to fulfill the needs and demands.
Therefore, a headless CMS is required. Unlike a monolithic system, headless CMS helps adapt the business to rapid change and brings growth.
With a headless CMS, you can easily store and add content in one place. From here, the content can be used anywhere as it is connected with a RESTful API. Besides this, the system is ideal for enhanced security and cost-saving. It frees up your IT team, giving them time to prioritize other issues.
Additionally, some B2B businesses have experienced huge losses due to pandemic. Consequently, they transitioned into a B2C brand, which created issued in terms of customer demand, supply, and operations. Headless commerce is an ideal approach in this situation. It allows you to grow digitally from the ground and successfully target new markets.
Learn more how businesses adapt to new pandemic marketplace: 8 Tips to Keep Your Ecommerce Business Growth during the Coronavirus Era
Brand example: Visit Orlando moved to Headless Ecommerce centered around modern Agility CMS and increased sales by 20%. Learn more from this case study here.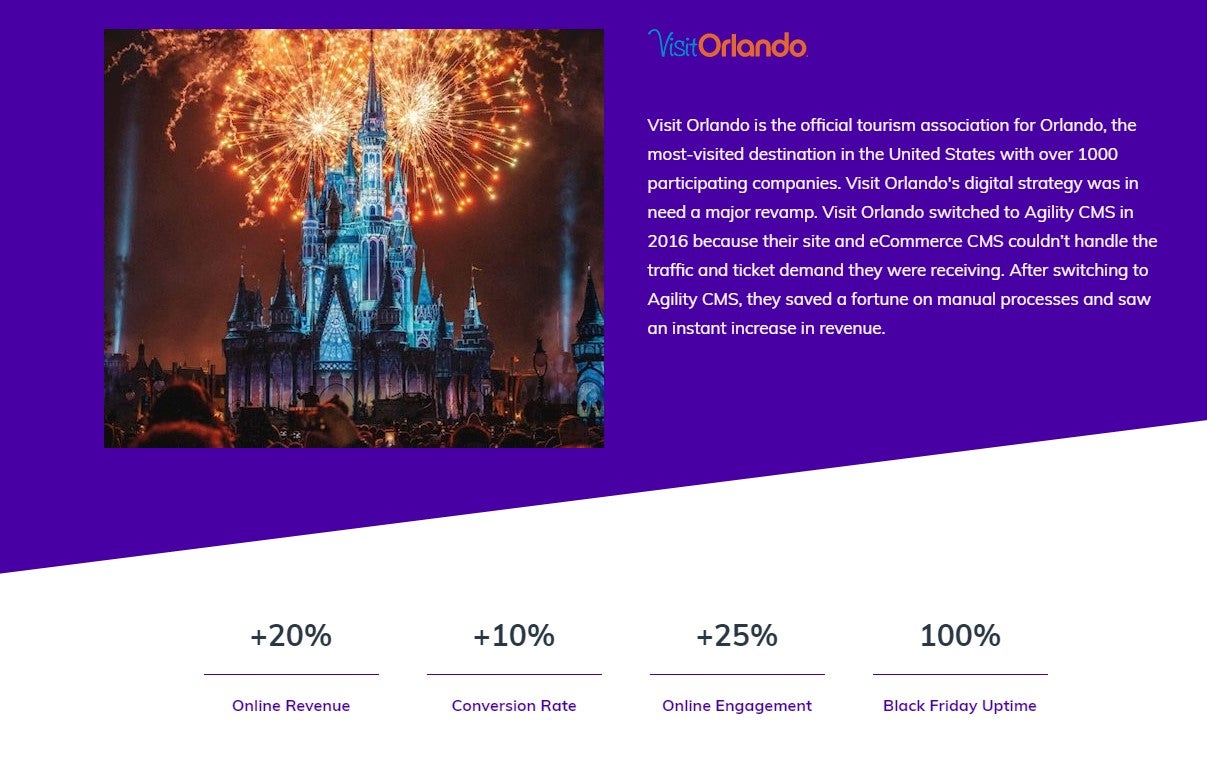 The takeaway
Apart from creating content, it's also important to develop a robust distribution strategy to maximize the potential of the content. Look beyond paid advertising tactics. E-commerce content marketing when done well can certainly help you increase conversion rates while lowering the cost per acquisition.
Keep Learning
If you want to learn more about why Agility CMS is faster, make sure you read these articles:
About the author:
Simki Dutta is a content marketer at Venngage, a free infographic maker and design platform. She writes about all things marketing and communications. Find her on Twitter and LinkedIn.