The evolution of the internet has brought new efficiency to the business ecosystem. The speed at which we share information, buy products, and connect with people is unprecedented. But this increased connectivity also brings challenges for businesses trying to get their message and their content assets across the murky waters of the internet.
Content is the lifeblood of every business, and each organization has some important type of content. It could be your list of press releases, articles, or blog post. It could also be your amazing photos and videos. Or maybe it's the list of the very products that you sell.
Getting all of these things in a centralized, easy-to-manage place is what creating a content hub is all about. Let's take a closer look at what a content hub is and how building one enhances your business operations.
What is a Content Hub
A content hub aggregates all of your company's digital assets, enabling you to easily find what you need when you need it — from articles on product development, training videos on customer service best practices, and white papers about how to innovate in your industry.
This one-stop-shop centralizes everything so that employees can easily access the materials they need without having to search through multiple sites or accounts.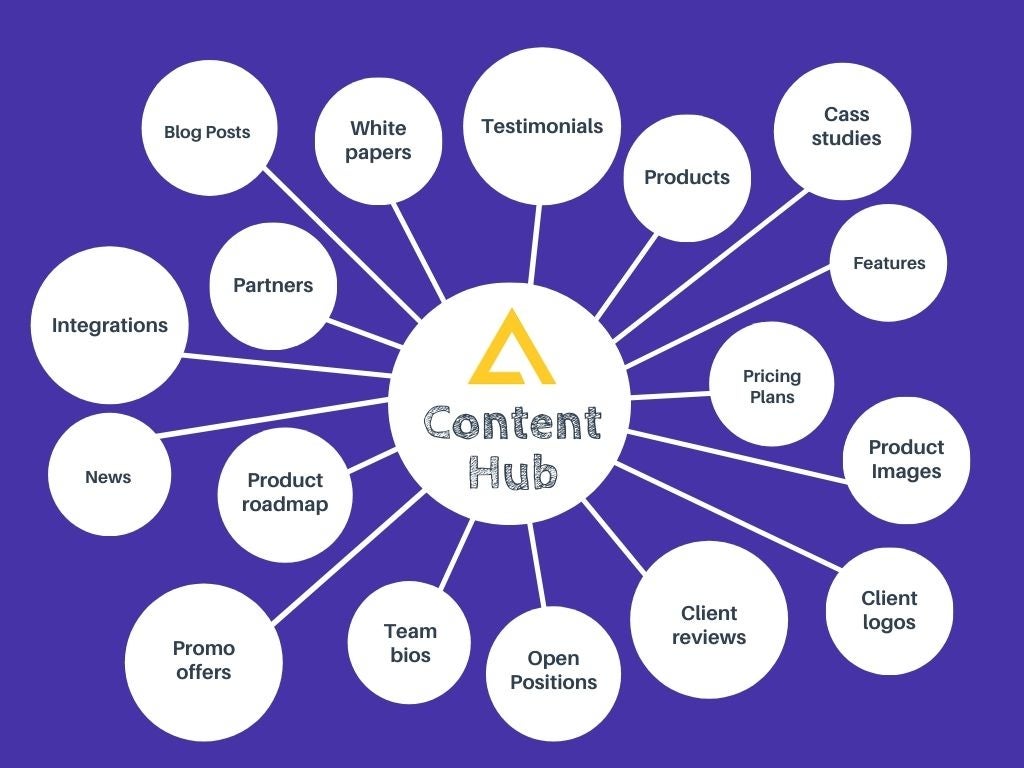 A content hub is a central location for all your company's content. The platform provides a single point of access and offers content marketers and editors greater visibility and control over all the digital assets.
It also helps you maintain an organized environment by providing automated workflows with intuitive user interfaces, which simplifies content creation and helps deliver better digital experiences overall.
Why Do Companies Need A Content Hub?
Often content production is spread out across many different formats, locations, and technologies. It may live as spreadsheets, databases, file folders, and as even older, traditional CMSs. Bringing this content together helps you identify what content you have and the value it provides for your marketing and lead generation processes.
A content hub brings out the content that's held captive and siloed in those spreadsheets, databases, and outdated portals and puts it front and center so you can make better use of it. Plus, it serves as a single point of truth for all your assets. You can streamline your content delivery workflows and send content anywhere, anytime from a centralized location to build a consistent brand presence.

These are some of the reasons why having a content hub simply makes sense for your business operations:
1 | Structured Content Delivery
Using structured content helps it flow faster through your pipeline, enabling faster content workflows and a more mobile content strategy. A platform like Agility CMS uses independent parts known as fields, that are edited independently and published to different devices and channels.
2 | Content Relationships
Content relationships enable digital marketing teams to give individual editors power over specific UI elements and assets such as grids, dropdowns, and checkboxes. This enables better control over how you display content and link different sections of your website.
Learn more: How to Create Relationships between Content
3 | Enhanced Governance
In many cases, your content exists in multiple versions. A content hub enables easier content governance and granular control over permissions, custom roles, and workflows across every version to prevent not only data breaches and leaks but also to simplify search and reduce time wasted when looking for specific content types and assets.
Learn more: How to Build a Content Governance Workflow That's Right For You
4 | Single Version of Truth
A content hub eliminates the need to copy your content to multiple places. Instead, any digital property that needs access to a digital asset can pull it from the content hub. Once your content is centralized in a single location, your teams can create new content more efficiently, and they can take advantage of what they have more effectively.
5 | Omnichannel Content Delivery
Thanks to its ability to work with structured content, a content hub like the one Agility CMS offers enables you to push and pull content to anywhere, from anywhere. Once structured, your content can easily move from one digital property to another. This means you're always ready to deliver omnichannel content.
Learn more: Omnichannel Content Delivery. How a Headless CMS Helps
6 | Simple Integrations
Every time you want to add a new asset, you must take the time to integrate it with each of your existing systems. A centralized system means a single point of integration and automatic connection with the rest. When your CMS is the hub of your communication channels, you'll have access to everything in one place, simplifying how you make and track changes across the board.
How Agility CMS Enables Content Delivery
In addition to being a robust hub for all your digital assets, Agility CMS' API-first, and cloud-native platform also gives marketers flexibility in content structuring. In addition, Agility CMS' content infrastructure enables omnichannel content delivery and data reusability and customization. With a flexible content-first approach, editors can manage content across multiple channels and streamline their operations.
Agility CMS enables companies to set the foundation for a proper content architecture. In addition to offering digital asset management and CMS capabilities, Agility CMS gives you the blueprints for functional content and site architecture, making it easy for your team to deliver site-wide updates across all your digital content.
Also, our CMS has extensible tooling that enables content marketing teams to test, apply, and roll back changes quicker and easier. A content hub makes it easier for editors and designers to edit existing content or create new content assets in accordance with their target audiences, which results in increased company outcomes.
Agility CMS' content hub offers you the following features:
REST APIs, UI extensions, and webhooks that can easily integrate with other systems
Flexible content modeling and architecture that future-proofs content
Enterprise-grade governance, including custom roles and permissions
A content hub platform with enhanced integrability to connect multiple backends and systems.
If you want to learn more about Agility CMS omnichannel-ready content hub, read more here: Agility CMS Content Hub.
Bringing It All Together
Often our content is spread out across many different formats, locations, and technologies. We may have it in spreadsheets, databases, file folders, and even older traditional CMSes. Bringing this content together can into a Content Hub helps you identify what content you have and its value. Bring that content out of those spreadsheets and databases. Bring all the assets and files off the hard drives and SharePoint portals to be cataloged and used.
There are lots of ways to get content into your hub. You can do a one-time import from an Excel spreadsheet or with the Content Management SDK. You could also use the SDK to do a synchronization of content from an external database or API.
Agility's Zapier Integration is an excellent place to start if you want to connect your Content Hub to an external system with a well-defined API.
Innovating Omnichannel Customer Experience for SCENE Rewards Program: Case Study
In 2016, SCENEwas in the process of a major rebrand and wanted to launch a new website. They were also hoping to find a platform that was flexible and that allowed them to increase their speed to market of content and updates.
In terms of the website and mobile app, our platform has enabled SCENE to easily and intuitively update all content whenever needed, with no technical skills ever required. The big benefit about managing all content from one hub is that there is no need to make updates multiple times (on their desktop, mobile and app sites and their kiosks); content is automatically updated across the board. Another important element we took into consideration when building SCENE's new website and mobile app was ensuring that we built a framework that could accommodate not only today's design capabilities and technologies, but also future ones. This is reflected in the site's content architecture, which was specifically tailored to SCENE's unique business needs and requirements and built with scalability in mind.

Results
Agility has given SCENE full power and control over their content, enabling them to easily manage their digital channels and provide their customers with an improved online experience.Customers are now able to access all membership information through their desktop site, mobile site or mobile app, including transactions, account history, personalized offers, point balances and point redemption. Content is easy to update instantly through Agility and data across vendors is automatically delivered.SCENE has cited the ease of use of the Agility platform as a top benefit thanks to its logical and intuitive user interface, which non-technical members of their team find easy to use and to publish content on. This has allowed them to easily populate the site and to deliver content quickly and efficiently.
Visit Scene Website here: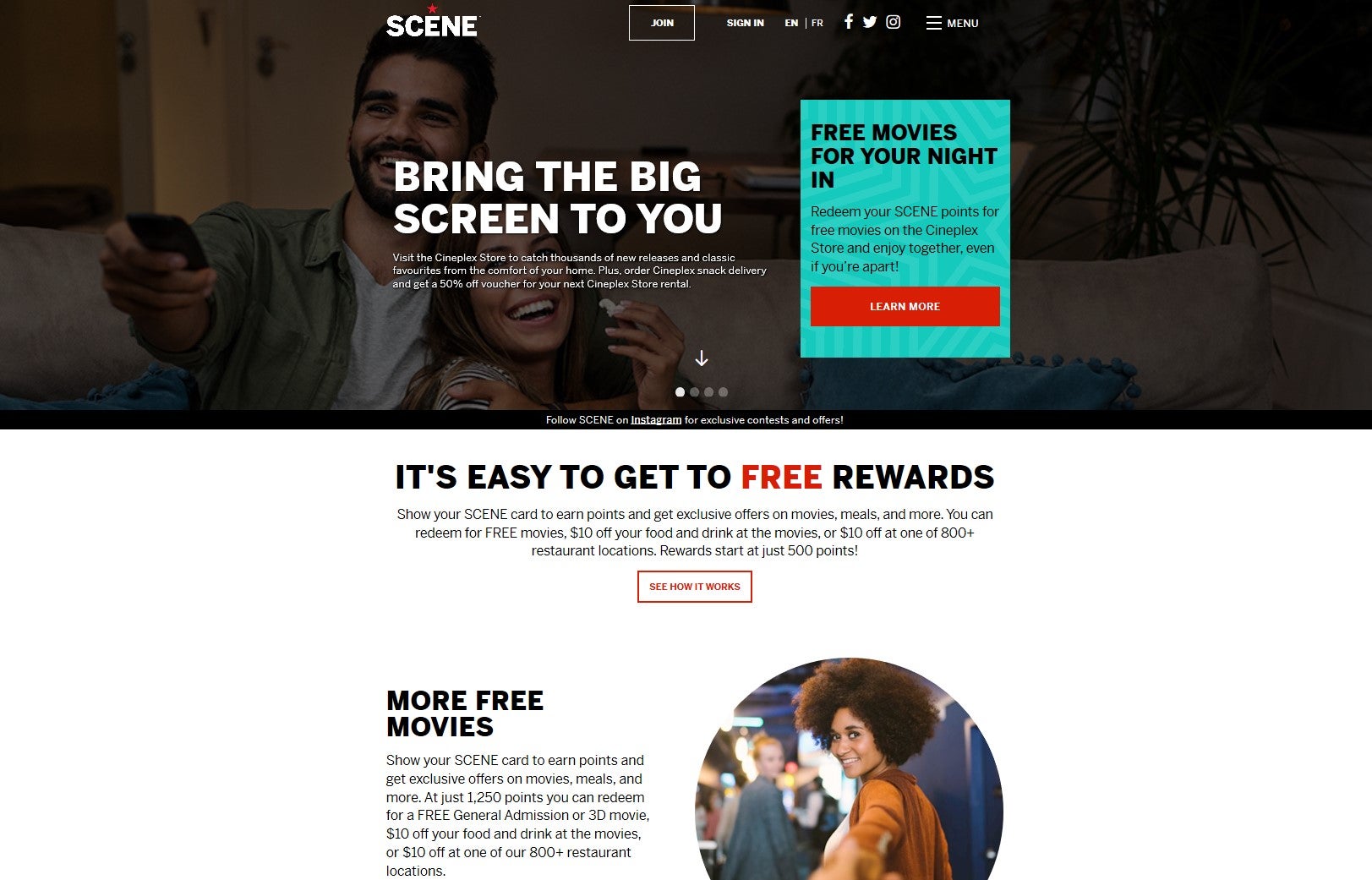 Learn more:
Why Content Architecture is Essential to the Success of CMS Implementations
Publishing Content to Multiple Channels