Marketing teams at enterprise companies are tasked with creating large volumes of content. With an ever-expanding number of channels requiring content delivery, and customers desiring personalized content that understands their preferences, content teams can't afford to be slowed down at any time.
According to data from Segment, 35% of companies are reporting success with omnichannel personalization in 2022, up from 21% in 2021. However, due to technical and organizational constraints, several organizations still feel limited in their pursuit of omnichannel readiness.
Many businesses struggle to create fresh content for every campaign or channel and cannot reuse content assets, often duplicating existing content. Why?
The cause of these problems can often be attributed to content silos.
In this article, we'll explain what content silos are and how marketing teams can overcome them to get their content strategies back on track with the help of a headless CMS.
What Are Content Silos?
Content silos occur when content is isolated across multiple content management tools and storage databases. When content is siloed, it restricts who can access it within an organization. These silos can lead to various issues such as content duplication and wasted resources, negatively impacting the user experience.
Content silos don't only refer to the most recent edition of a document or a new infographic being trapped on an employee's computer. It can also mean that the CMS isn't connected to the digital asset management (DAM) solution or that the marketing team can't access the data from the CRM.
The problem is that when this happens, teams cannot get a complete picture of the customer journey and can struggle to create the omnichannel and personalized experience that customers expect today.
How Do Content Silos Form?
Content silos get created when there are no clear processes in a business' content strategy and no designated location for storing and organizing content. For modern companies, the content creation process can be a complex beast. It involves multiple personnel, departments, tools, and channels. When this complexity is added to the need for content to be produced quickly and at scale, it creates a recipe that allows content assets to drop through the cracks.
Content silos are primarily an issue of accessibility. When businesses lack the right tools, systems, and structure to make content organized and accessible, it results in individual teams and departments attempting to do so independently. While these disparate systems may work for the small teams involved, it creates issues for the wider organization and the content teams tasked with managing the company content strategy and customer experience.

The Impact of Silos on Content Strategy and Modern Business
Siloed content can negatively impact not only a business's content strategy but also the bottom line. Here are some of the challenges of content silos:
Lack of Findability
When content is siloed, that means it can't be found when it's needed. Teams spend more time searching for content than they need to and, in many instances, simply get fed up and resort to creating duplicate content instead, which brings another set of issues.
Wasted Resources
Content silos can be a drain on resources as time and money are spent making up for the content that is lost.
Branding Inconsistency
Another drawback of content silos is that they can lead to branding inconsistency. For example, marketers who can't find the content assets that the designers made a campaign in February may create something that doesn't align with the latest campaign in August.
Security Risks
Security risks are an additional, sometimes unexpected, problem that content silos can cause. Particularly in the era of remote work, content stored on an employee's individual computer isn't subjected to the same security protocols as the internal company database. This can open up the broader organization to a host of threats if there is no straightforward process to prevent silos.
Ineffective Collaboration
Only certain people have access to specific content assets when content is siloed. As a result, teams can't collaborate on projects effectively.
Limited Omnichannel Capabilities
Content silos often force organizations to think of and create content for only one channel. Unfortunately, this goes against the omnichannel demands of today's modern customer journey and makes it impossible for businesses to implement an omnichannel strategy truly.
How a Headless CMS Helps Eliminate Content Silos
Despite the challenges that content silos can pose, organizations can leverage the flexibility of a headless CMS to eliminate them.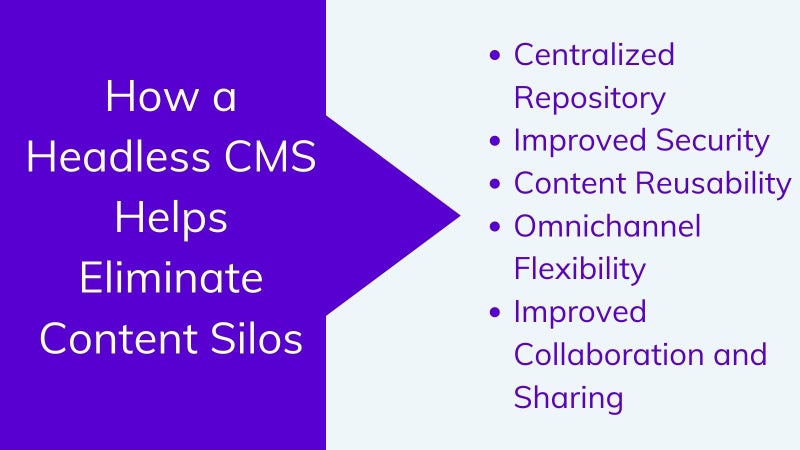 Centralized Repository
A headless CMS offers a central repository or hub where content can be stored. It also easily connects with the other tools in the technology stack. Data from the CRM can be viewed alongside content in the CMS so that team members get a complete picture of everything.
Improved Security
A headless CMS offers better security capabilities than a traditional CMS due to its architecture. Since the backend and frontend are separated but only connected using APIs, potential security threats that affect one area don't need to bring down the entire system.
Content Reusability
Content can be created once and published to multiple channels using a headless CMS. This enables content to be reused across different platforms, saving additional time and resources.
Omnichannel Flexibility
Omnichannel publishing is possible with a headless CMS as marketers don't need to only think of content for one channel. Content created for one channel can be easily adapted and delivered to another.
Improved Collaboration and Sharing
A headless CMS facilitates improved collaboration and sharing throughout the organization. Teams in one department at the same company or even different departments in other parts of the world can communicate better since numerous tools can be integrated, and workflows can be implemented to encourage collaboration.
Agility CMS: A Modern Content Hub to Break Down Silos
Opting for a headless CMS can provide the technology upgrade that helps you break down content silos. As a modern content hub, Agility CMS is perfectly positioned to help today's businesses manage their content, even if it was previously scattered across numerous systems.
Agility CMS offers a hybrid headless CMS that not only provides the omnichannel content delivery of a pure headless CMS but also includes the user-friendly content editing features marketers expect from a traditional CMS.
With an API-first platform that provides everything enterprises need in terms of security, built-in roles, workflows, and collaboration, the issues of content silos can be quickly eliminated.