Organic search generates more than half of all trackable web traffic. Therefore, an essential component of an Omnichannel marketing strategy is the optimization of a website to guarantee that it is simple for customers to locate them and that they appear higher on the search engine results pages than the businesses they are competing with.
It is time to switch to a different website platform if you are not already utilizing one that makes it simple to implement search engine optimization (SEO) tactics on your website. Your search engine optimization (SEO) activities will be enabled and strengthened using a headless content management system (CMS), so long as it's built to support marketing teams.
This article has written for marketing decision-makers and will explain why a headless content management system (CMS) is the best option for businesses with significant SEO goals, what features to look for, and best practices for using headless CMS to optimize your website for search engines. Let's get started!
What is a headless content management system (CMS)?
A headless content management system (CMS)/ decoupled CMS, is a back-end-only content management system (CMS) created from the ground up as a content repository that makes the content accessible via an API for display on any device. A headless CMS is also known as a back-end-only content repository. Headless content management systems are ideal for websites built using the Jamstack architecture. This collaborative effort between JavaScript, APIs, and Markup streamlines the web creation process and enhances the user experience.
Generally, "headless" refers to a content management system in which your material is not immediately tied to a default front-end, in contrast to a traditional CMS. If you choose a headless content management system (CMS), you give yourself the freedom to utilize Agility CMS with whichever front-end you prefer. Also, you are at liberty to consume your content with integrations like Remix, Next.js, Gatsby, Nuxt.js, and Jekyll.
On the other hand, everything that pertains to SEO needs to be created. It will be up to you to generate optimized content for search engines. You'll be able to boost the SEO of your website and the structure of your content thanks to the adaptability and customization options offered by Agility CMS.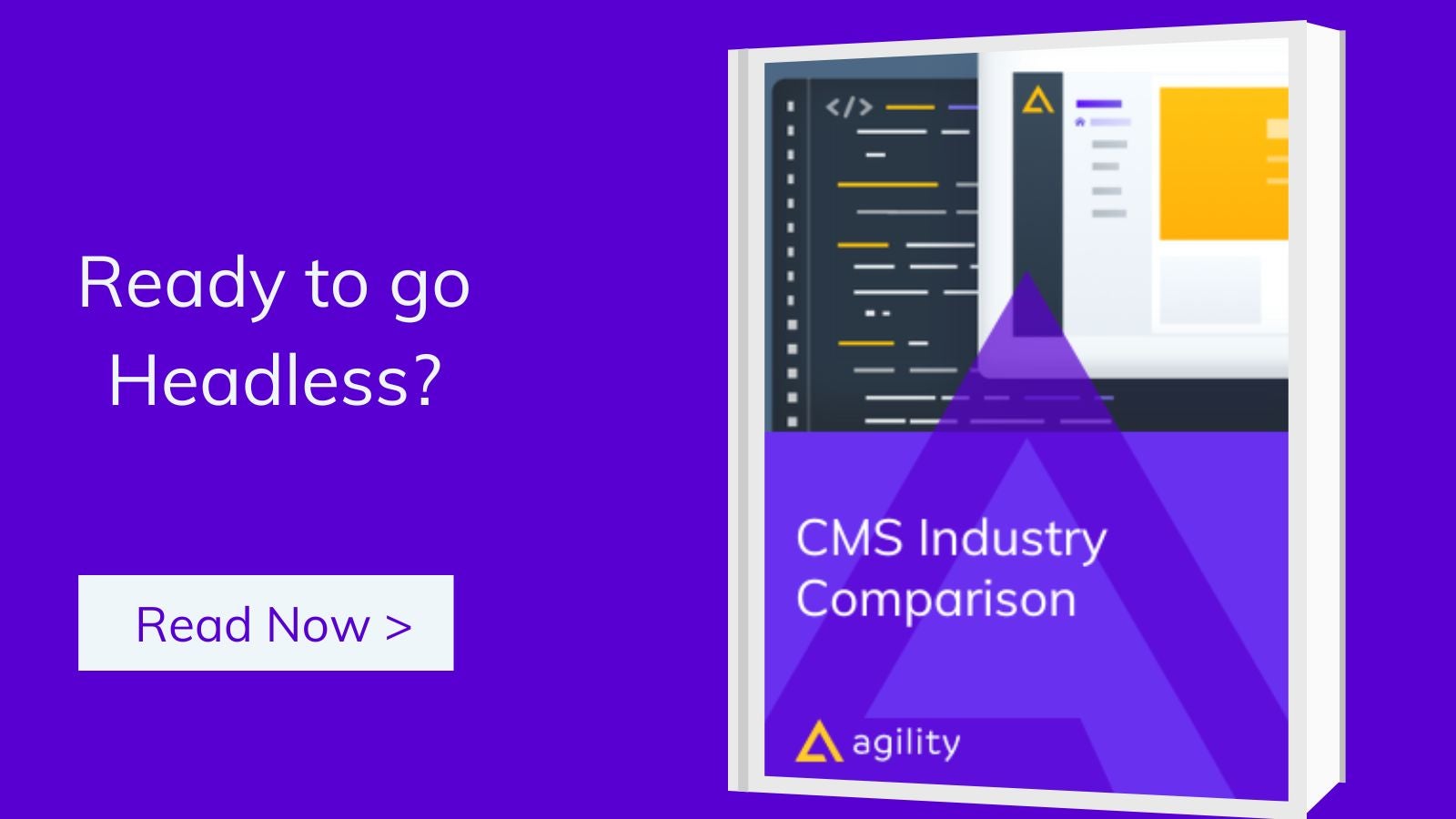 Can CMS be bad for SEO?
Is poor SEO a result of using a CMS? Maybe. Is it capable of boosting your search engine rankings? Definitely! Suppose you're using a traditional content management system (CMS). In that case, you'll likely have access to a wide range of SEO-related capabilities, such as templates for SEO metadata and the ability to either implement or assist in auditing minimal SEO practices or standards. Using a headless CMS, you won't be able to accomplish some of these things because it doesn't have direct control over your website's output, which is an essential component of SEO.
However, this does not imply that a headless CMS will provide poor SEO; it simply means that the CMS will not do this function for you. In a microservices design, SEO falls into the same category as any other online functionalities, such as search, forms, email marketing, or personalization.
Thankfully, with Agility CMS, this issue is solved! The CMS platform's built-in page management empowers marketers to access SEO fields without having to rely on a developer. In fact, Agility CMS is the only headless CMS on the market with built-in sitemaps to organize your digital content.
Why is Headless CMS good for SEO?
Regarding speed and performance, a headless CMS can be a valuable tool for building and serving your website. In addition, a well-optimized site with a great user experience will rank well in search engine rankings.
Consequently, SEO may be more difficult in headless systems because everything is separated. It must be correctly configured and utilized to get the most out of your system. Headless CMSs are constructed from the bottom up, allowing them to be tailored to specific business requirements. Consequently, each solution is essentially unique, posing various issues for SEO.
Despite the CMS you select, SEO fundamentals like keyword research, link building, and the consistent publication of high-quality, relevant material will continue to be vital. Remember that many headless CMS do not give appropriate search engine optimization capabilities. There are times when one must construct everything independently.
Technical SEO and Jamstack
Since Google's ever-changing algorithms, SEO has a terrible reputation for being difficult and time-consuming. While SEO is a long-term investment that won't yield immediate returns, it is one of the essential pillars for building a long-term online presence. To establish a strong SEO foundation, there are three main technical factors:
Page layout and simplicity of navigation.

Performance of the website.

The solid groundwork for content producers.
A Headless CMS and Jamstack don't change the importance of these SEO priorities; they only make things easier to accomplish.
Headless CMS Practices to Boost SEO
Moving from a Traditional CMS to a Headless CMS has well-known SEO advantages in terms of speed, security, and the ability to send content to various platforms. A headless CMS does not provide the same plug-and-play ease as an SEO plugin; therefore, there are a few best practices you should follow to get the greatest possible SEO results:
1. Use voice-search-friendly content
Over the past few years, voice search has been increasingly popular. According to Search Metrics, an estimated 27% of all online users worldwide utilize mobile voice search. Furthermore, these figures are expected to rise at least twice during the next few years.
With headless CMS, publishing content that can be accessed via a wide range of platforms is one of the significant advantages of using these systems. Optimize that information in accordance with voice-search requirements. Your content should be optimized for highlighted snippets so that search engines can better understand what you're saying.
2. Optimize your metadata to improve SEO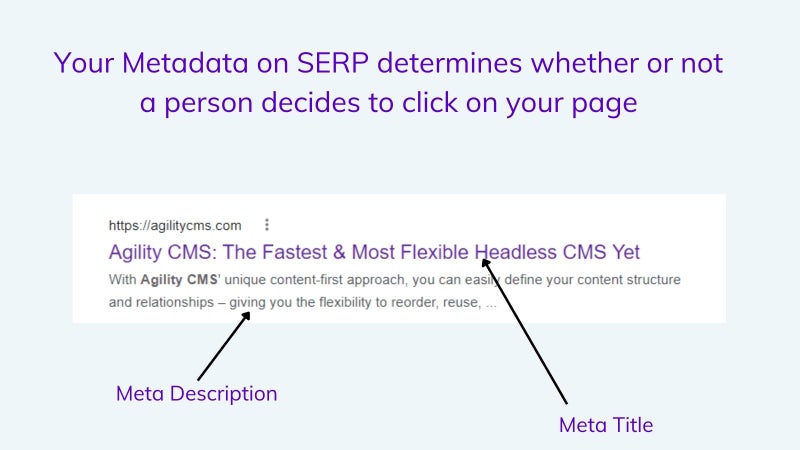 To increase organic search results, you must know how to write an effective Meta tag using a headless CMS solution. Most frequent Meta tags include the title tag, Meta description, and include keywords. As a summary of what visitors can expect to find on the page, they assist search engines in better grasping the content of your page.
Your Meta tags and descriptions can play a significant role in determining whether or not a person decides to click on your page.
3. Use SEO-friendly URLs
The URL of your webpage is one of the factors that search engines consider when determining the subject matter of your content. Other factors include the meta tags you employ, the anchor text of any links you include, and the content itself. Creating SEO-friendly URLs that are conducive to SEO is built so that they can cater to the requirements of both people and search engines.
Specifically, URLs optimized for search engine results pages (SERPs) tend to be short, rich in keywords, and provide the audience with an indication of the page's content. Your readers will thank you for it, and search engines will be able to index and crawl your site more efficiently.
4. Use HTTPS
Upgrade to HTTPS to protect your users' information. In light of Google's labelling HTTP websites as unsafe, there is no excuse for not implementing an additional layer of encryption and security. However,
Websites that use HTTPS are significantly faster to load than those that don't, and page speed is an essential ranking factor. So since 2014, Google's ranking algorithms have considered HTTPS encryption.
5. Upload Content Regularly
Although the quality of your content is critical, and quality always wins over quantity, we can't ignore the impact that larger websites have on how people perceive smaller ones. Search engines prefer larger websites because they have more material, which indicates a more established and mature business. If you're looking for information and all you discover is a website with a few pages, your user experience won't be great either. To grow your website, you need to produce high-quality content consistently.
6. Make use of a CDN
A CDN speeds up media delivery for websites Because it distributes your content among servers worldwide. With a CDN, your material is delivered faster, your servers are less taxed, your network latency is reduced, and your content is more readily available while maintaining security. It is possible to use your content delivery network (CDN) with Agility CMS, which comes pre-integrated with one.
7. Keyword Research
Relevant content requirements are a prerequisite to well-optimized sites. A single SEO effort would be ineffective if the target audience's search phrases were unknown. Short- and long-tail keywords can be found using Google Keyword Planner, Google Search Console, and several other services and tools. Increased reader relevancy and lower bounce rates can be achieved by focusing on highly-searched and relevant keywords.

8. Responsive Website
Responsive websites are essential for SEO best practices. In addition, a responsive website is a crucial ranking criterion for Google's algorithms. With the introduction of Google's mobile-first indexing policy, responsive websites are now more critical than ever.
However, the design of a responsive website automatically adapts to any screen size, making it easier to navigate and read. So, if you want to ensure that your website is entirely responsive and appears optimally on all devices, this is a fantastic method to go about it.
How can Agility CMS help to manage input SEO Meta Data and Manage Content?
Rather than requiring developers to complex code the website to access Metadata fields, as with Headless CMS, Agility CMS provides these fields as part of Page Management to make it easier for them and provide editors with a consistent place to manage them. Here are these fields:
Page Title (H1)
This property shows the title of your website. Both search engines and browser tabs use this to display the page's title.
See here: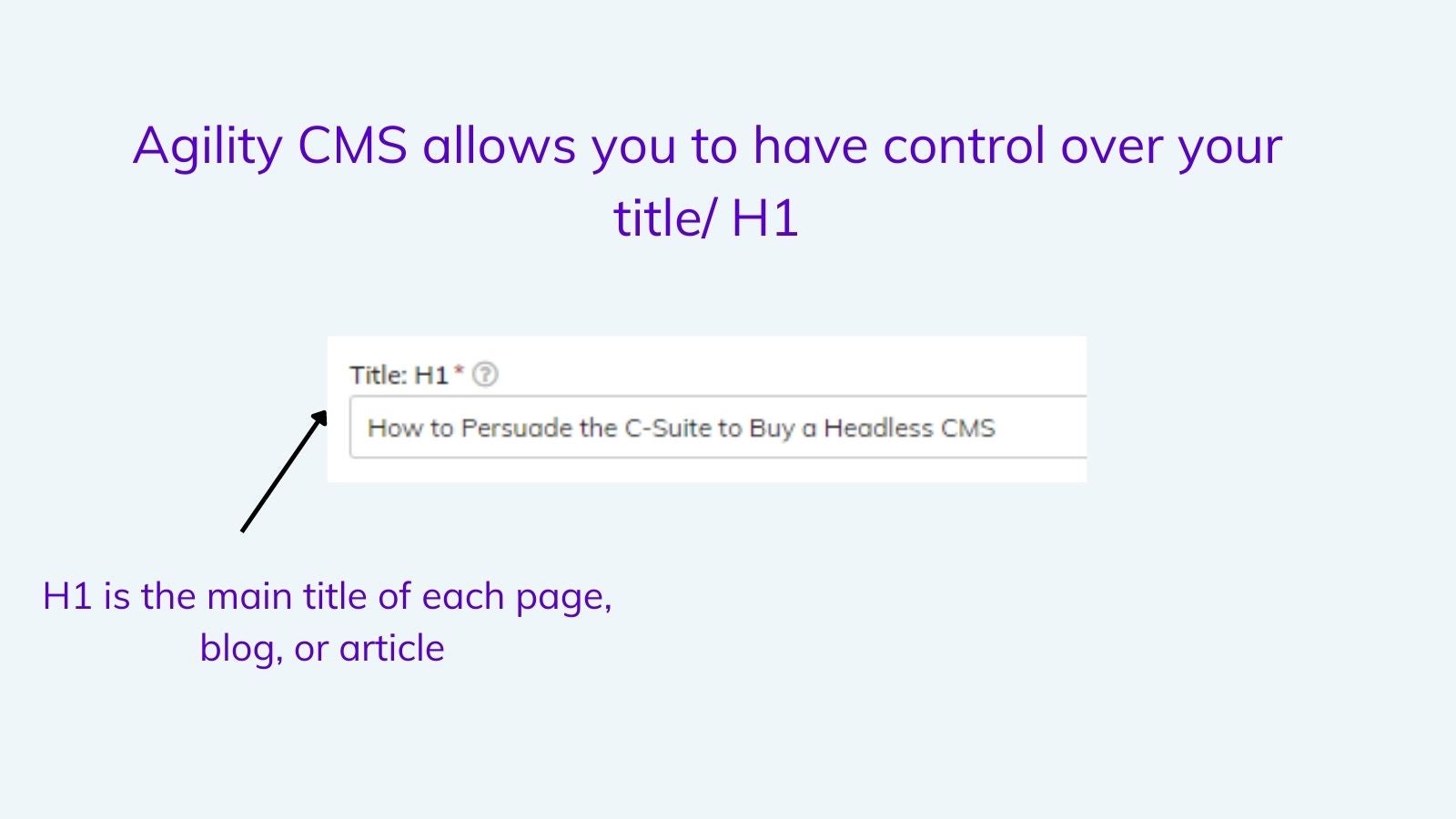 Page Name
This attribute refers to the page's URL slug, which is a portion of the complete URL for your website's page. For example, if your Page Name is "company" and it is a sub-page of "about," then the whole URL for your website would be: /about/company.
Tip * try to include your keywords in your slug
Visible On Sitemap
This attribute shows whether this page should be included in the sitemap.xml file delivered to search engines. Developers can also use this property to detect whether robots should crawl a page. If this attribute is checked, the page should be included in the sitemap and be crawled by search engines. If this box is left unchecked, search engines won't be able to crawl the page.
Meta Description
This attribute should be used to represent the HTML page's Meta description. In their search results, search engines frequently use this information to learn more about your page. There should be no HTML in this field because it is a plain text field. It is assumed that this will be displayed as a correctly structured Meta tag by the website.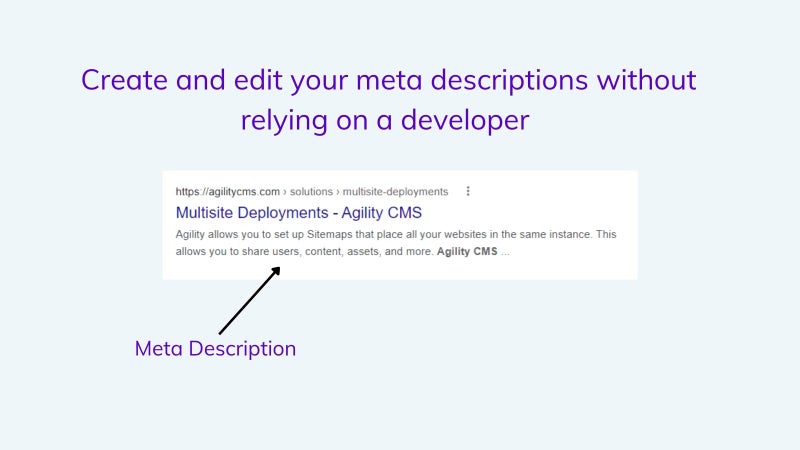 Meta Keywords
This attribute should represent the Meta keywords used in the HTML page output. There should be no HTML in this field because it is a plain text field. It is assumed that this will be displayed as a correctly structured Meta tag by the website.
Additional Header Markup
Additional HTML Meta tags and scripts can be included in the <head> of an HTML page using this attribute. It should be able to read and
Internal Links and Backlinks
Easily create links in the pre-built, rich text editor.
Conclusion
The use of search engine optimization (SEO) in every marketing effort is essential. Your marketing and development teams can quickly start new content campaigns and produce robust metadata, customized URLs, smart canonical tags, and precise markup when using a headless content management system (CMS).
Undoubtedly, the SEO advantages of a headless CMS can be significantly greater than a traditional CMS if adequately implemented, beginning with solid technical execution. There are many advantages to utilizing a headless CMS, including faster loading times, greater flexibility in the design of your website, and more control over your site's technical infrastructure.