Social media has grown from being entertainment apps to becoming an indispensable fabric of modern society. Regardless of age, location, and interests, virtually every member of society is engaging on social media to some extent.
Technology giants have amassed a significant amount of influence over society as their applications amass billions of users.
Although these are primarily for-profit corporations, they need to take an ethical approach to technology and social media because their work impacts critical societal functions like elections, the youth, and political discourse.
Enterprises should also be aware of how their ad expenditure impacts the general masses. The more businesses take an ethical approach to social media, the more beneficial social media will be for the general public.
Social Media's Supremacy In Our Everyday Life
Before talking about the ethics of social media, it's vital to get a thorough understanding of just how prominent social media is in our daily lives. Here are some shocking statistics to illustrate just how pervasive social media is today:
Active social media users have passed 4.5 billion users
This is equivalent to roughly 58% of all humans in the world. Over 4 billion people are actively using some type of social media platform like Facebook, Twitter, Instagram, etc. With much of the developing world getting access to the internet, this figure is expected to rise.
The number of social media users has risen by over 400 million in the past 12 months alone.
Social media is still in its relative infancy. The vast majority of big social media companies have only been around for 10-15 years. With older generations adopting social media and newer generations being raised with it, the number of social media users will continue to rise. As social media companies continue to add features to their sites to maximize engagement, they will continue to retain the vast majority of their users while adding new ones.
Social media offers incredible engagement rates on business advertising
Social media is indispensable in society today because it drives significant engagement and revenue for businesses. Prior to social media, brands and businesses were limited to traditional advertising channels like TV, newspaper, etc. Social media completely disrupted advertising by allowing businesses to advertise globally and provide businesses with advertising data.
Any business in the world can start advertising its services to a demographic of its choice. You can tailor your advertising by location, age, interests and more. This provides significant ROI on marketing campaigns for businesses and it allows businesses to scale their businesses much faster.
In addition, social media platforms allow brands to build an organic following and they provide very high engagement rates in comparison to other alternatives. At no cost, a business today can set up a Facebook page, LinkedIn page, Instagram page, etc, and start creating content and building an audience. With tools like polls, posts, stories, and more, businesses can engage with their audience and build rapport. This ultimately helps build a following and increases the sales for a business.
How can businesses embrace an ethical approach to social media?
The vast majority of consumers today are well aware of the dangers of social media. In fact, many consumers have a negative image of certain social media platforms and companies. Social media is ultimately a tool, it's either negative or positive depending on how you use it.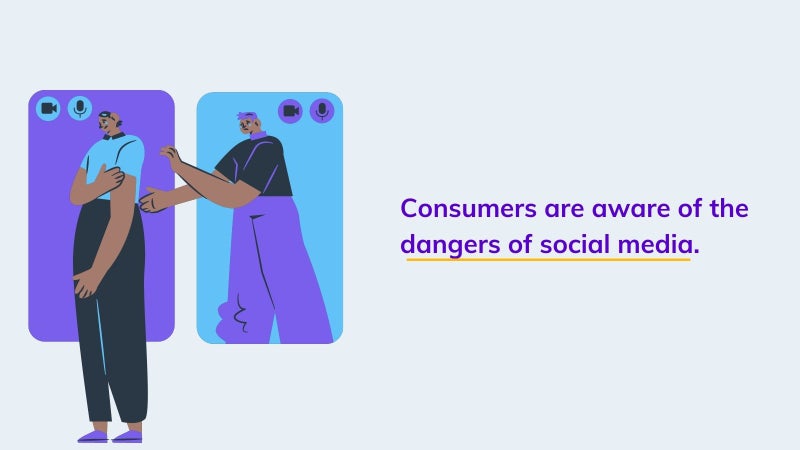 Some ways your business can embrace an ethical approach to social media include:
Staying Authentic
The modern social media user is very adept at "brand messaging" and can tell when a business is being authentic or not. Authenticity doesn't mean you have to have something unique or groundbreaking, it just means that your messaging and positioning on social media aligns with your company's values.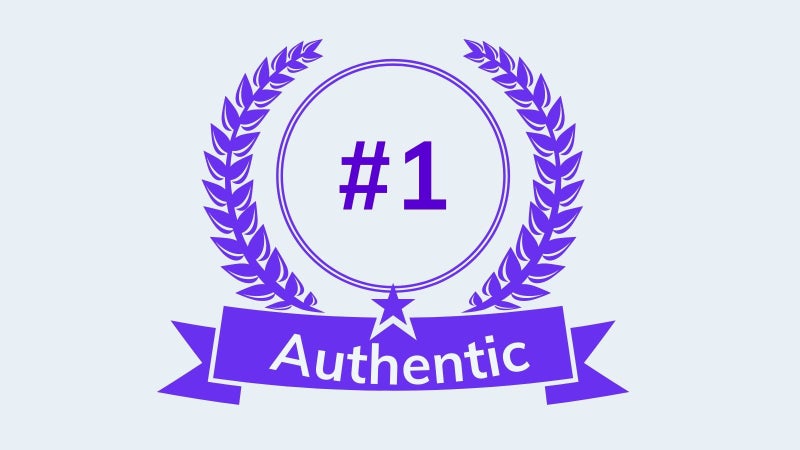 Also, authenticity is a powerful driver in social media engagement. Being an authentic business removes the corporate aura around your business and it helps establish further trust between you and your customers. With authentic posts, you can get more engagement in the forms of likes and comments and this will help further your organic reach and reduce your marketing spend.
Adhering to cyber compliance
One of the worst methods to destroy your brands is to have negative PR released about your business surrounding customer data. Not only will your business be at risk for a variety of legal and compliance fines, but you will erode the trust that you've built up for years with your customer base. The modern user is aware of their data rights and misusing it can result in significant customer churn in addition to negative PR.
A great example of this is Facebook. In its first few years, Facebook was a silicon valley darling and it helped college students and businesses alike. As its user base rose, the company opted to perform shady tactics to extract and sell user data. Since the first release of their malicious data practices, they've eroded virtually all trust and most people view Facebook in a negative light.
Community
Customers are loyal to brands and businesses that have a sense of community. For the most part, most customers view businesses as for-profit entities. They generally use it for a product or service and will switch if a better alternative is provided. Building a sense of community allows businesses to create a brand moat and this helps improve both ethics and branding.
A good example of this is Ben and Jerry's ice cream. There are thousands of ice cream companies, but Ben and Jerry's has managed to build the best brand in the industry due to their focus on community. Their mantra is "peace, love and ice cream" and they place a significant focus on community. In the past few years, the company has done a lot of work in relation to climate change, social activism, and more. This has helped them build a loyal customer base and they've increased their revenue to nearly $1 billion in 2021.
The dilemma: social media is optimized for profits
It's common knowledge that social media logs data and information about their users' online activities. Through tracking their actions and browsing history, social media platforms are trying to learn their users' behavior. Through this, they can continue to maximize revenue by showing ads that are relevant to their users.
The primary objective of social media is to increase users' engagement with the advertisements by showing them only the relevant ads. Increased engagement will result in increased revenue for both social media and businesses. Once the revenue increases, ethics will be an afterthought. The government, businesses, and the public have tried numerous times to influence social media companies but engagement still reigns supreme over ethics.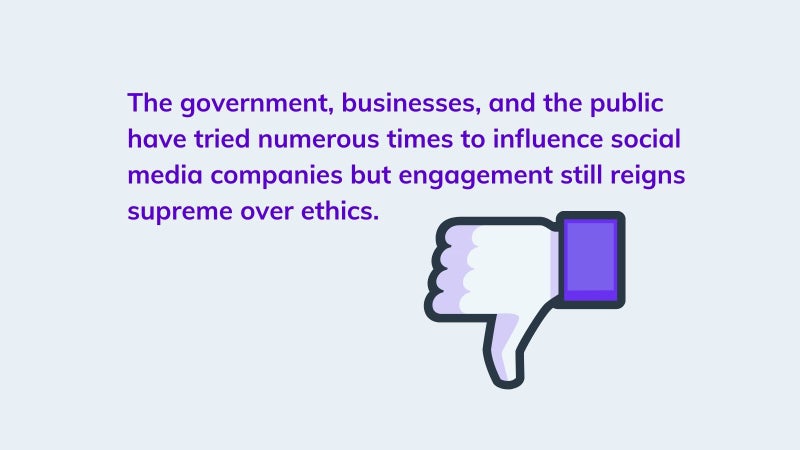 This eventually led to the 2020 anti-trust hearing featuring executives from big tech companies like Amazon, Facebook, Google, and Apple. Regulators and government officials grilled top social media executives about their data approaches and this has led to some improvements on how social media is used. Since then, some of the major advancements in social media ethics have emerged. This includes:
The iOS 14 data privacy update: The iOS 14 data privacy update enabled Apple's billions of users to show if an app is tracking them or not. With this feature, each Apple user can opt-out of their data being tracked by specific apps and this has helped make major improvements in data privacy.
GDRP: The European Union has one of the most comprehensive data privacy legislation in the world: the General Data Protection Regulation (GDPR). With many U.S.-based companies tracking and storing EU resident data, the EU implemented GDPR to protect the data rights of its citizens. Since GDPR was implemented, the EU has given several billion-dollar fines to tech giants for misusing their citizens' data. This was a monumental moment in data privacy for consumers.
CCPA: The CCPA is another major data privacy law that has had a major impact on consumers in the 2020s. California is home to the biggest social media platforms in the world like Facebook, Instagram, Twitter, and more. California legislatures have been working on the CCPA for numerous years and it has finally taken effect. This law prevents California residents from their data being tracked, sold, and used without their permission.
Why Do We Need An Ethical Approach?
Social media is extremely powerful and needs to have an ethical approach. Without an ethical approach, these large social platforms can be used for personal gain by executives, corporations, and governments. There needs to be checks and balances in order for social media to be beneficial to society. Here are some of the reasons why businesses should take an ethical approach when leveraging social media platforms.
Ethics Help Boost Revenue
Following proper ethics provides trust to the public and this ultimately results in increased revenue for your businesses.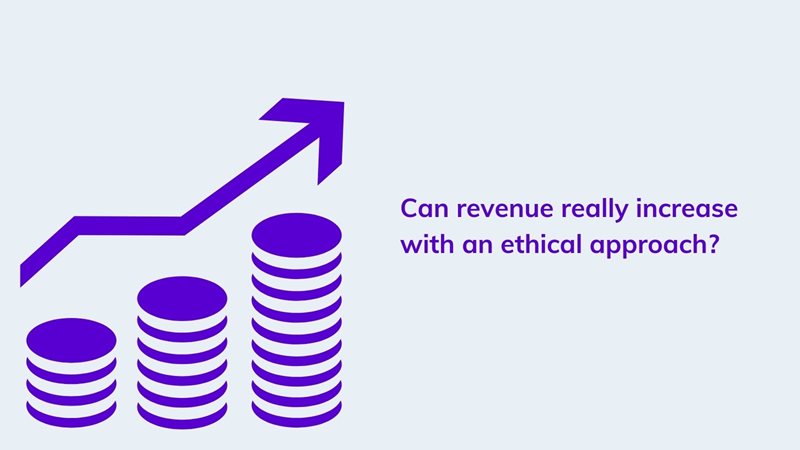 Consumers will perceive your business to be trustworthy and will try your product/service if they know your business is operating in good faith. The more trust customers have in your business, the more repeat business they will do with you. This leads to more lead generation, more sales, less marketing spending, and more net profit for a business.
Ethics Help In Positive Brand Recognition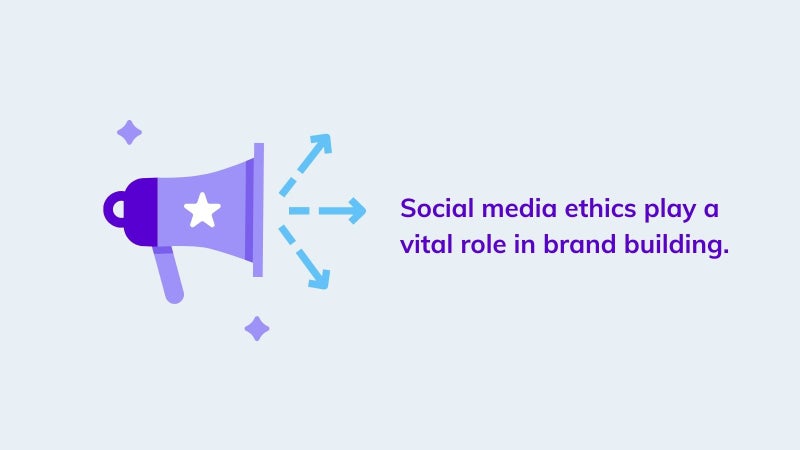 Social media ethics play a vital role in brand building. By reaching out to the audience fairly, you're ensuring that your brand and business get positive recognition and awareness in the market. This helps establish a positive brand association with your customers and makes it easy to navigate any negative press releases in the future.
Ethics Are Responsible For Employees' Motivation
A well-reputed brand improves a company's reputation. Current staff will be proud to work in such a company, and more people would love to join the business. Top talent is very hard to recruit and retain and they also have the choice of joining any organization of their choice. It's much easier to recruit A-players to your business when your ethics and track record are top-notch.
Ethics Open The Doors To New Finance Sources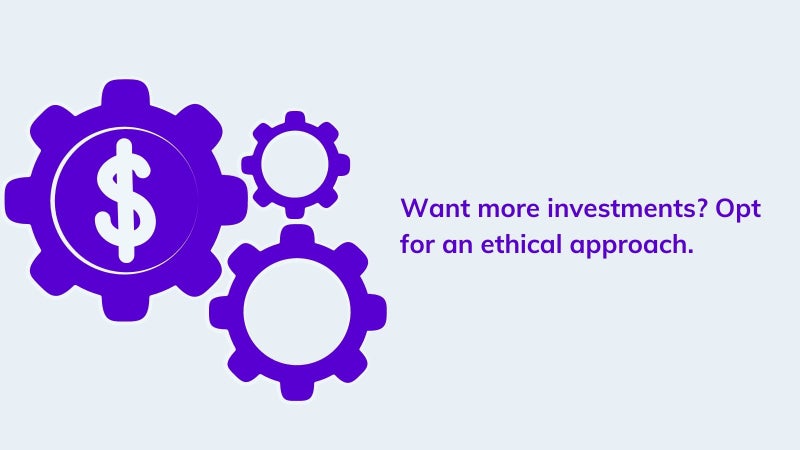 Investors always go with a positively reputed company. If you follow ethics on social media, your business can get more funding opportunities from investors. Top investors and firms have the option to choose in any company of their choice and they are extremely unlikely to invest in an unethical company. Additionally, it's also a good social media strategy if your company has a better reputation than your competitors. This makes it easier to attract funding and grow your business.
Improving ethics on social media on a grand scale
The tips listed above are practical tips for companies to improve their ethics, but this will not have a major impact on social media users at large. To improve social media ethics on a grand scale, it will take government agencies, businesses, and the general public. Some of the most impactful ways to take an ethical approach to social media include:
Imposing Regulations To Protect Data
Everyone's aware that social media platforms collect user data in the name of improving the user experience. However, not every person is comfortable with their data being shared. Therefore, there's a strong need for the governments of all the countries to take some actions to protect their citizens' data being shared/collected on social media platforms.
Control Children From Being Exposed To Platforms
Children lack correct decision-making ability and can end up getting scammed or being exposed to explicit content. There are no active age verification systems on any social media platform that confirm a user's age. However, age verification during sign-up is much needed because people can't restrict their kids from accessing the internet. Governments can require platforms for children to verify their ages prior to being onboarded to any particular social media.
Diminishing Misinformation Circulation On Social Media
Circulation of fake news and/or incorrect information on social media is very common nowadays. Most people forward or share incorrect information without giving it much attention. As a result, social media platforms are now trying to reduce misleading content from being shared.
These are just a few examples of actionable steps that can be taken to ensure our social media platforms remain ethical. It's vital to ensure our society has the correct ethical precautions in place to protect our data from being sold and to ensure our social fabric remains free from corporate control and external threats.