What is a CMS?
With a content management system (CMS), you can easily create a well-rounded digital experience.
A CMS is a software application with which you can get users to collaborate on creating, editing, and producing digital content like web pages, blog articles, and more.
The CMS or the web content management system helps you launch your digital content and manage that across a host of channels like email, mobile apps, social media, websites, and more.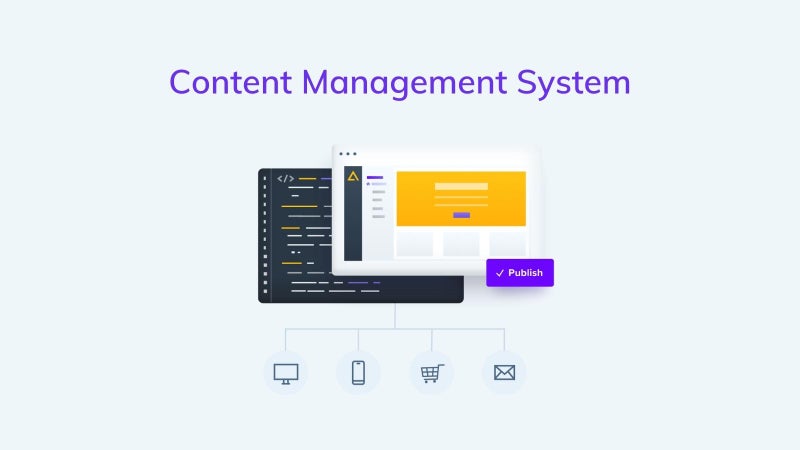 It helps you upload content, write and format it, add headlines as well as images, and take care of SEO at the backend. However, that no longer seems enough. Digital marketing focuses more on users today. Today your users access content on multiple devices. A web content management system needs apps and content formatted for mobile. It's not a static display of just images and textual content.
A CMS helps you make changes to your content dynamically and publish it for the world to see. You can create websites without coding and this is just one of the many benefits.
Key features of a CMS
At its root, a CMS boils down to a whole platform for creating, editing, and managing your content.
There are a few important capabilities in a content management solution:
Content management: Allow you to create, edit, post and manage web-based content including text images, video, and audio
Present content well on multiple devices: Customers access your content from different devices and you can optimize the content to publish on a laptop, tablet, or other formats. Simply use the CMS to create the content there. Then use its automation options to personalize the content format to suit each device
Integration: Is the solution easy to integrate with other applications? Does it use APIs to connect your content to different applications? Will your APIs be available? You should be able to answer this and more such questions
Commerce: Another crucial piece of integration is being allowed to sell products through your site. This is also a crucial part of the customer journey. You don't need an offline store when you can sell online.
Personalization: Can the content target unique visitors and change by their visitors, persona, and demographics? Can it change based on the user's past interaction with the content?
Analytics: You're creating new content but it's also important to measure if anyone is reading the content. Look at the visibility of your content and its performance to optimize the same.
Governance: Can you control what's being posted? Do you have admin rights to change, approve, publish posts, and do more things?
Multilingual support: Are you translating the content to different languages and publishing it for a global audience?
Scalability of the CMS: Is your solution fully reliable and will it grow according to changing needs?
How does a CMS work and how is it used?
A CMS provides its users with a graphical user interface and the right tools to create, manage, and edit content. You don't have to write code from scratch to make this happen.
A CMS has two core areas: a content management application (CMA) and a content delivery system called CDA.
The CMA offers a graphical user interface allowing you to design, create, and remove content from a site without the required HTML knowledge.
The CDA component provides backend services with which you can manage the content delivery that's created with the help of CMA.
There are multiple factors involved in your decision before you choose the right CMS platform.
Here's the definitive guide to knowing everything there's to know about it. A content management system is a software application with which users can create, edit, collaborate on, and publish digital content.
CMS's are used for different purposes. The section below will talk about these details in more detail:
Benefits of using a CMS
You need to consider multiple factors when you want to buy a new CMS. There are certain basic functionalities to look for like an easy-to-use interface, an editor, and search facilities.
Some organizations tend to develop specific software tailored to their specific needs.
Consider the size of the organization and where the team members are. The CMS administrator must know a few things in advance like how many people would use the application, whether the CMS you require needs multi-lingual support, and the size of the support team to conduct the operations well.
Organizations must also consider the number of electronic data forms that will be in use.
There are several benefits of using a CMS like: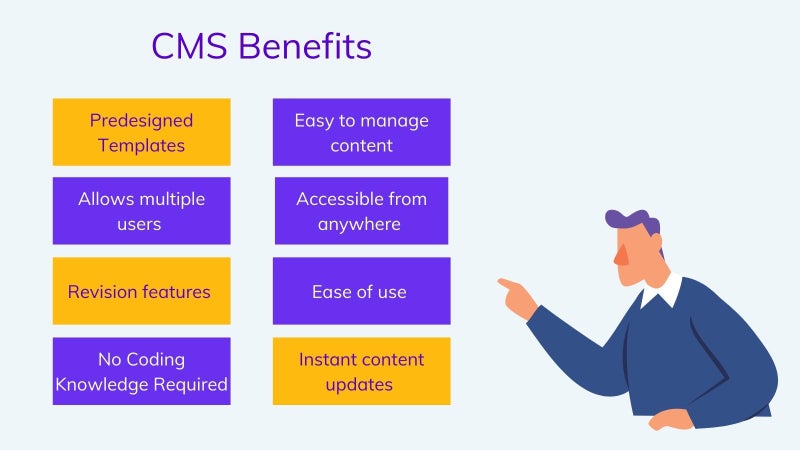 Ease of use
The graphical interface allows even those who don't know the basics to access the different elements and optimize them with relative ease. It should be easy to learn for you.
Easy to search for information. The website should have a built-in search function where they can enter a product or search term and get results back much like Google.
Easy to manage content
You should be able to add and remove content easily on various platforms, including social media.
You can unpublish content anytime you want and keep the websites up-to-date and full of useful information that's ready to serve user interests.
Accessible from anywhere
A CMS should be cloud-based making it easy for users to access content from anywhere they want with a device that has internet.
Allows multiple users
A CMS makes it easy to manage publishing permissions. You can assign content writing roles to guest authors, assign editor roles to someone else, and more.
You must be able to customize user roles and permissions around them. That means allowing content creators permission to write, publish and manage content. They shouldn't be able to delete plugins or change user login information.
Page titles and meta description SEO-friendly URL
Structures
XML sitemaps
Adding sitemaps
Alt tags
302 redirect options
Improve page load times
Implementing these will help improve your odds of ranking well on different search engines.
Instant content updates
A CMS enables users to both manage and update the content on their site in real-time.
Easy to scale. A CMS makes it easy for users to add new pages without having to hire a developer for that.

Is the platform SEO-friendly?
To build more website traffic, it's important to make it easy for people to access your website. This is possible by making SEO changes to your site and having on-page optimization tasks like title tags, URLs, alt tags on images, and internal linking in place.
For content editing, rather than simply beginning with a blank HTML page, you can open up the content editor and enable bold text to add links, and CTA buttons, insert images and tables, and drag modules and buttons than simply coding HTML, CSS, and javascript.
No Coding Knowledge is Required
By helping non-developers and others to create websites without coding, CMS systems have changed web design.
Revision features
The revision features allow you to update and edit the content after it has been published. Revision control lets you keep track of changes you make to the files.
Publishing. The publishing functionality helps you use an organization-approved template for creating and modifying content.
A CMS also provides tools for personalizing and conducting one-to-one marketing.
When a user searches for a product on the website, the website should return relevant results.
That's not the end. Here are more things to ask and do:
Who to ask before you buy a CMS?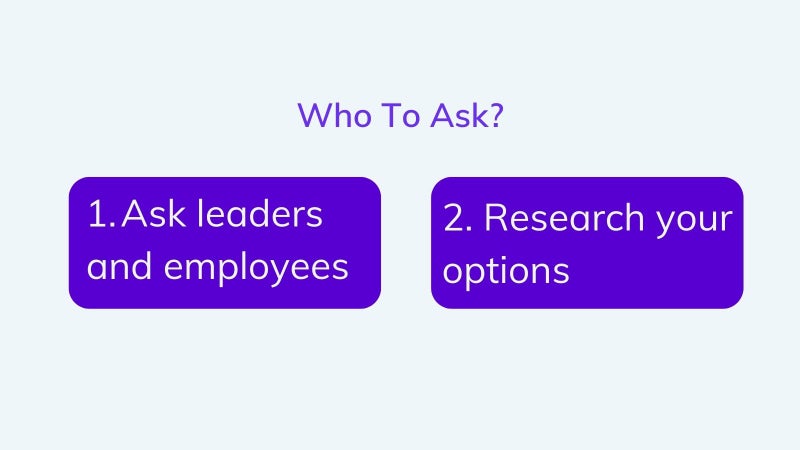 Ask leaders and employees
It's critical to know who will use the new CMS and what will they use it for. Businesses should ask the marketing team, the chief content managers, and the IT staff and get their feedback.
Next, chalk out current and future business needs. A CMS must answer an organization's current and future plans. These include integrating the businesses' tech stack.
Research options
Businesses must create a list of software that meets their needs.
Other considerations in a CMS
Before you pick a content management system, ideally think about your website, think of the content that people will access on your site, and more things.
Begin by listing the problems your business wants to solve and think of specific requirements you have. This helps you work with the right kind of content management system.
CMS is of different types with each one having its own unique set of features and benefits for you. Others are more suited for running eCommerce stores. The specifics of your strategy depend on your company and the resources it has.
What is your budget?
If you have plenty of money, there are feature-rich content management systems that will make your lives easier. Your system needs hosting, domain costs, Webhosting, a budget for a logo and more. If looking for a logo look no further than the crowdsourced platform Designhill logo maker.
What kind of operations do you want to run with the CMS
The next major consideration after the pricing is the operations you want the CMS for. Do you need to publish videos? Do you need the CMS for products and their descriptions? Do you need images for blog articles and so on?
Publishing changes and new content can be hard work.
What technologies does the CMS need to support or integrate with?
If your company uses a CRM, an ERP, or analytics you need a CMS that integrates with existing software. If you have developers you also need API and documentation to go with.
A CMS helps you automate content scheduling and management. A CMS thinks of most things to keep your pipeline full of content for the next few weeks or months and helps you publish the content on time.