In 2022, if you have a website that isn't personalized, there's a high chance you'll face loads of struggle and disappointment before making any real profits. You may even have to endure huge losses along the way.
Perhaps, this explains why about 89% of businesses actively invest in personalization. And quite fruitfully, 94% of these are reporting a rise in profits upon doing so.
We've compiled this guide to help you land on the same successful grounds. We want you to flourish, so we have compiled the secrets of successful web personalization in this post after you are already implementing the steps on how to make a website.
What is website content personalization?
First, let's get familiar with the concept of website personalization.
Website personalization is tailoring a website to deliver an experience for the visitor. Marketers use a technique to customize visitor experiences per their specific needs and wants. It eases customer experience and makes them feel valued. Thus, it boosts business.
Some significant benefits of website personalization are as follows: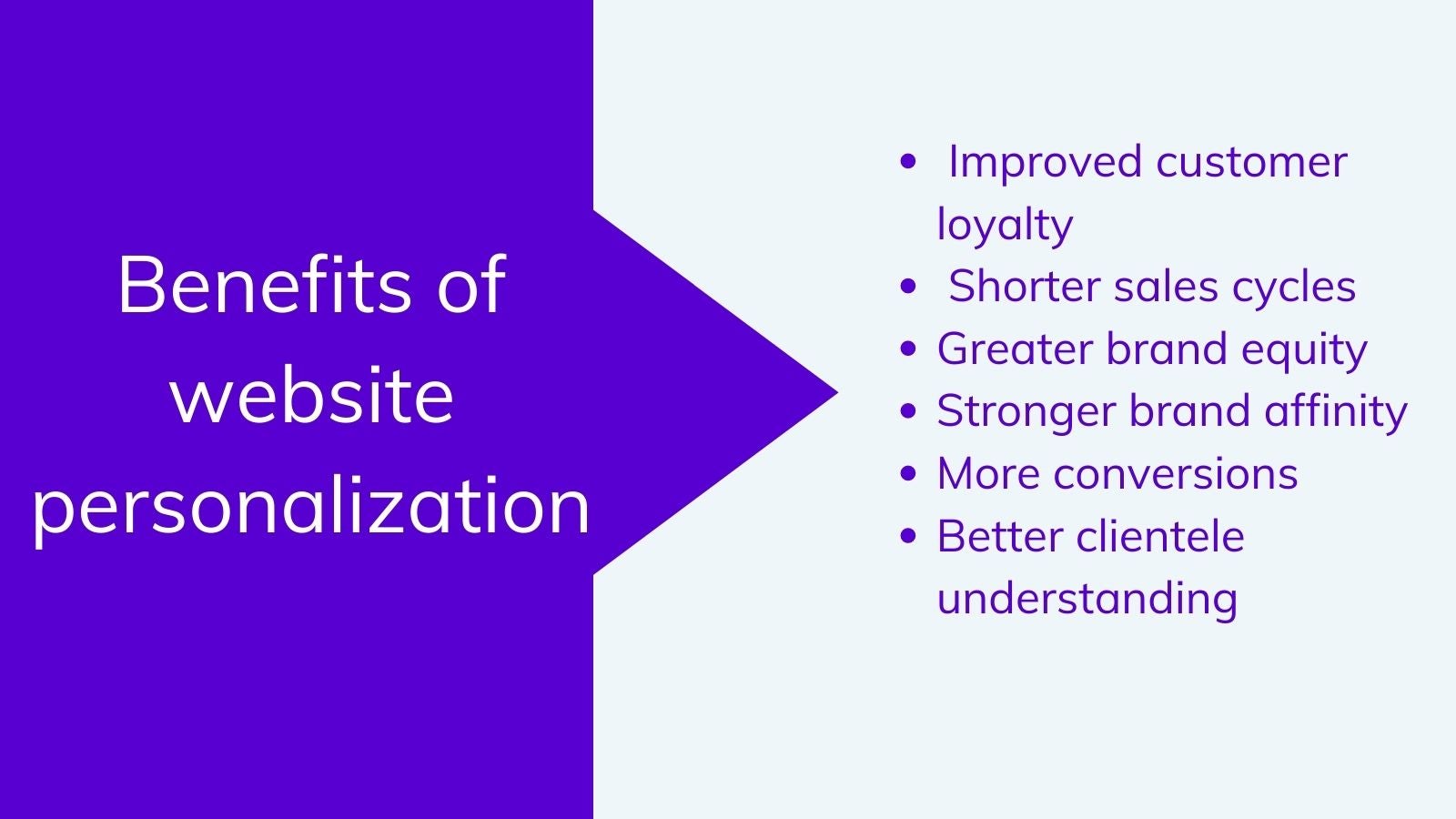 Overall, it brings valuable data to businesses and helps them produce an experience that their clientele expects. As a result, whoever buys from the business keeps coming back as they develop a comfort zone and feel as if the business understands what they need. They feel as if the company is made for them.
For example, visit an online clothing store and browse a few shirts. Say you didn't like any, and you're about to leave the page. A personalized version of this particular website will direct you to similar recommendations. They'll recommend shirts having similar cuts and colors. In this way, there's a high chance you'll conveniently find what you seek.
Say you find the perfect shirt, you order, and you leave. Next time, you'll find yourself visiting this website as soon as you're on the lookout for shirts.
The website may even offer you a returning customer discount to retain their customer. This, in turn, will make you feel remembered and valued. There's again a high chance you won't be leaving without a purchase.
That's what web content personalization is about!
On the contrary, imagine that the same website puts up a pop-up regarding their ongoing 50 percent off and keeps recommending products on sale in the recommendation section. There's a high chance you'll leave the website too soon and won't be coming back again.
We hope you have a clear idea about why website content personalization is necessary. However, it's not as easy as it sounds. You constantly require many clientele data and updates in your business to personalize a website. It's a dynamic process divided into several types and segments. Let's explore these.
Types of Website Personalization
On the surface, there are eight types of website personalization. Each of these types directly connects your customer's journey along the marketing funnel.
On the website, you'll have your customer experience personalization with the following: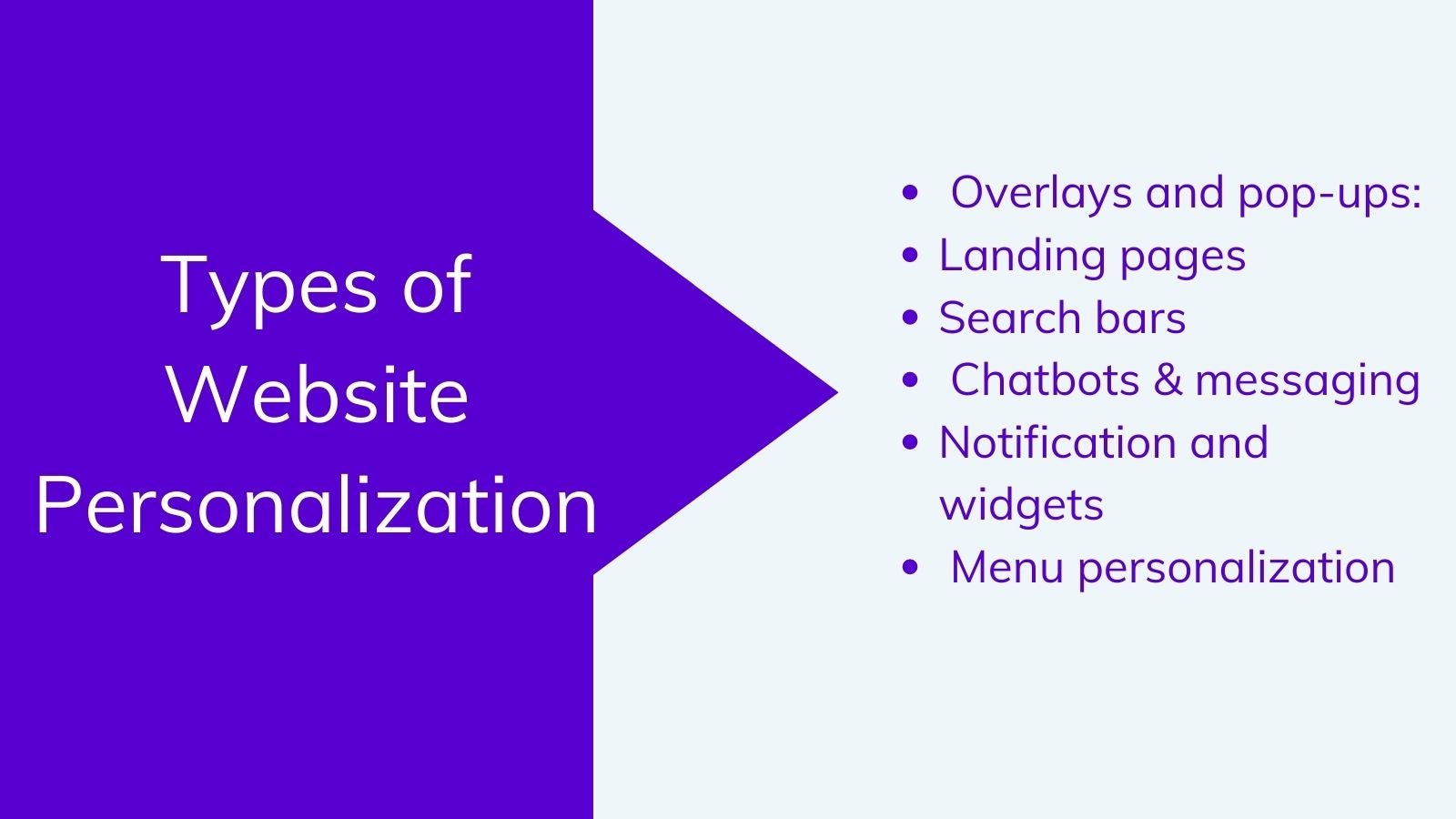 Their journey may or may not be linear. They may come across all the components mentioned above or may not. It all comes down to your web design and the way you decide to personalize.
Web design is a matter of choice. So, below we've listed some tried-and-tested universal (but specific to each business) strategies you can use!
How to Deliver Personalized Content and Unique Experiences
Before we dive any deeper, you ought to know that there are a million different ways of website content personalization. Browse through Kameleoon's perspective of website content personalization to get an idea.
However, below you'll find a few techniques that most marketers have found quite fruitful. If you're implementing all seven of these, your business will have a systematic, fun, and practical approach to web customization.

#1. Create Data-Driven Target Personas
By definition, the target persona or buyer refers to the profile of a person who represents your target audience. It may or may not be fictional, depending on your preferences.
Usually, it's fictional. And that's because it's difficult hunting down that one ideal person with ideal problems to need your product/service.
It comprises: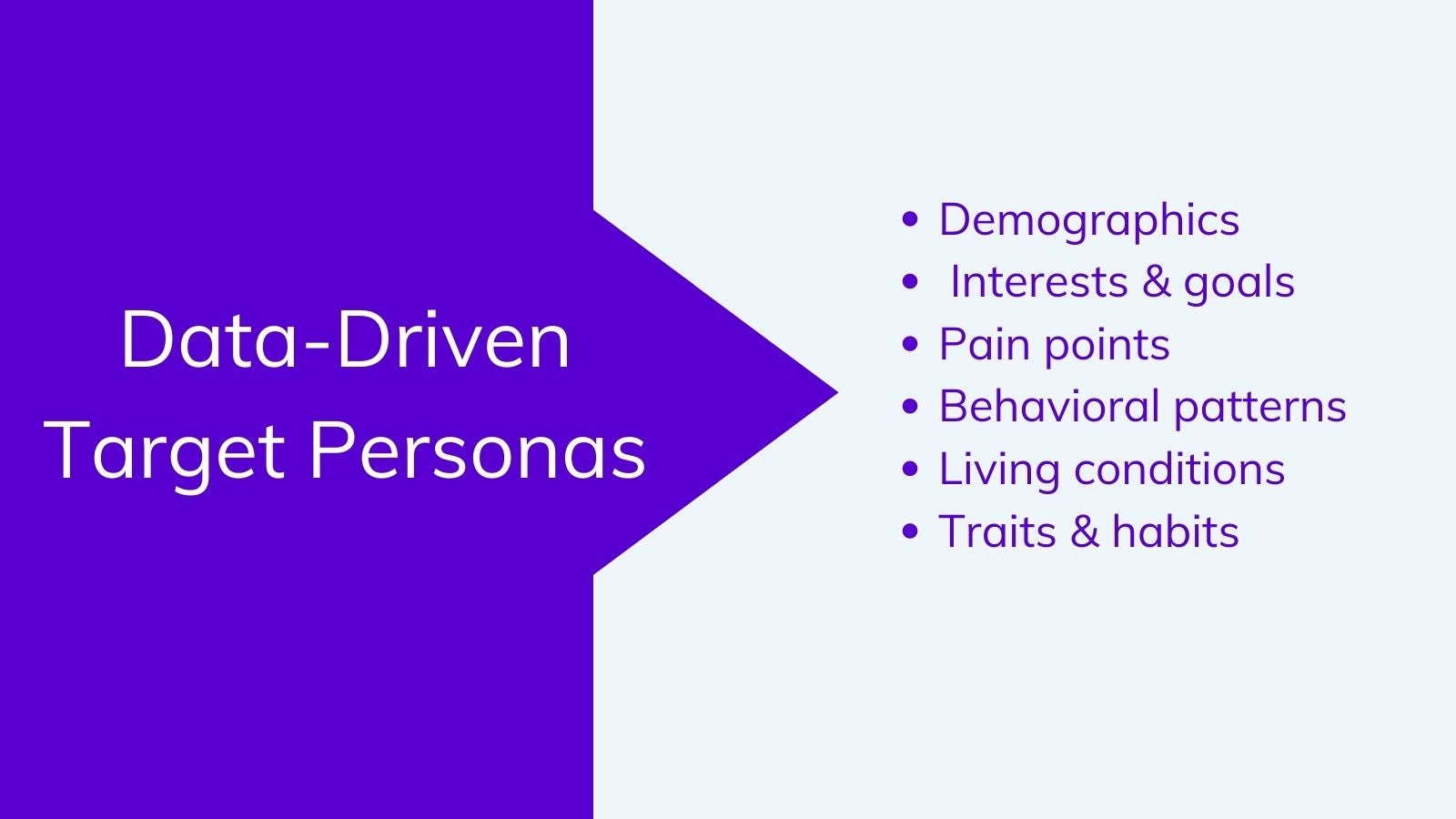 You may even set up an imaginary name, age group, and profile picture for this target persona. And your company may have more than one target persona depending on your product or service range.
The primary purpose of creating these target personas is to tailor your lead generation or marketing strategy accordingly. Therefore, we recommend developing these personas based on acquired rather than imagined data.
Here's how you can do that:
Use social media analytic tools to study your existing clientele and social media audience. Then, research your competitors' audience.
In this data, narrow down your target persona. Specify details of the ideal age group, location, language, interests, challenges, spending power and patterns, and stage of life.
Note: If you're wondering what you should look for in the named domains, you're supposed to look for the age group that brings most business to you. Similarly, you're supposed to look for the geographical location that brings you the most company. In any case, remember, you're looking for quality of visits, not frequency of visits.
Once you have this data, you'll be creating a target persona that brings you closer to your target audience. It will help you address their needs more realistically.
#2. Segment & Sort Your Audience
Even with a clear idea of the target audience and a well-defined target persona, you can deliver an experience that feels too generic to your audience. That's because no marketing campaign or technique is one-size-fits-all.
Every individual has unique interests, concerns, and pain points. Therefore, you should create a smaller group of your target audience and deliver an experience that's more relevant to them.
You can segment your audience based on:
● Attitudes
● Engagement metrics
● Ethnicity
● Gender
● Geographic location
● Income
● Language
● Level of education
● Personality types
● Values
You can write emails, web-page pop-ups, or push product recommendations based on this grouping. In this way, your communication with them will be more specific.
With that said, here are some key metrics to help you identify the most profitable segment of your target audience:
● Average Order Value
● Customer Lifetime Value
● Frequency of purchase
● Price sensitivity
Customers who take time to leave a review (positive or negative) are also an asset to your business.
#3. Incorporate UX Elements; Overlays, Pop-ups, Modals, and Interstitials
You can use certain UX elements to improvise your website's personalization. These include:
● Overlays: These are small-sized windows that appear overlaid on the same tab.
● Pop-ups: Medium or large-sized windows that appear overlaid on the same tab. Pop-ups that led to different tabs aren't favored by algorithms and are now outdated.
● Modals: Modals demand interaction before you can proceed with browsing. These are most commonly used for sign-up or login needs.
● Interstitials: These are ads or pop-ups that come before or after the expected content page. Say you log in here to read about seven effective ways of personalization of website content, and we display a "Donate here" pop-up before you can see the article. That'd be an interstitial.
These elements help users feel that the website they're visiting cares about them.
For example, consider this website: neilpatel.com.
As soon as you visit this website, you'll be greeted with a series of pop-ups, which are more like a questionnaire and give a free tailored action plan once you answer the questions. This way, Neil Patel demonstrates his expertise in the field while winning your trust and establishing a healthy relationship with you.
Similarly, you can incorporate UX elements regarding discounts, offers, and upcoming or ongoing upgrades.

Static VS Dynamic Website – Differences You Need to Know
When choosing UX elements to personalize your web, you should have a clear stance on whether you want a static or a dynamic website.
The question of whether to go with a static vs. dynamic website has been a controversial one for quite some time. Both have pros and cons, and which of the two will benefit you more totally depends on your business plan.
A static website is a website that stays stable and displays the same content for every user. On the contrary, a dynamic one changes its contents per user.
Static websites load faster and are budget-friendly, while dynamic websites are more interactive and engaging. Static websites are also more secure and easy to rank than dynamic ones. But on the downside, it isn't easy to upgrade a static website.
You should only opt for a static website if you want a good-performing website in a short time. But if you plan to scale your business with your website, you should opt for a dynamic website.
#4. Update Product Images & Description based on Visitor's Behavior
Here's the most prominent and necessary web personalization element, especially if you own an eCommerce store. When a customer searches for a particular keyword or lingers on a page with a specific keyword longer than others, it falls on you to suggest to him products or services of a similar kind. It will not only keep them longer on your website but will also encourage a purchase.
Also, ensure that the product images you offer give a good insight into the product. The supporting descriptions should be easy to read, understand, and relate to for the target audience.
#5. Set up a Customer-Oriented Web Structure
When we say a customer-oriented web structure, we refer to a web flow corresponding to a user's expected journey.
For example, if you own a Shopify store, the visitors will most likely land on the product page or jump from the homepage to the product page directly. He might want to jump to categories or the pricing page, depending niche. Or the user might like to browse the reviews and testimonials. Depending on your respective niche, you'll need a smooth and robust web structure that doesn't hinder the user's journey.
For this, you'll need to hire a professional and skilled Shopify web developer. Note that we stress hiring an experienced web developer for your respective niche. If you mess up the web structure, you lose your customer on their first visit.

#6. Create Content that Addresses Needs & Wants
Everybody is creating content. It is the only practical way of branding your business.
But only 55% of businesses are doing it effectively. The rest are only creating content that wins them visibility but zero leads.
So, how can you create content that enhances your web content personalization?
You can create:
Hero headlines that speak to your audience
Usually, it's only a 30–40-character statement on the top of your homepage, right below the website's header. It's this section:
Notice how the headline establishes your relation with them. It tells what you can do for them and immediately establishes a connection. The use of the word you and the solution you're offering is a vital aspect of the headline. Tell them how you are helpful to them.
Call to Actions
Similarly, you can incorporate the call-to-actions that instantly help the visitor. Don't force them into relation but establish trust so they may consider purchasing. Here are a few good examples of Call-to-Actions: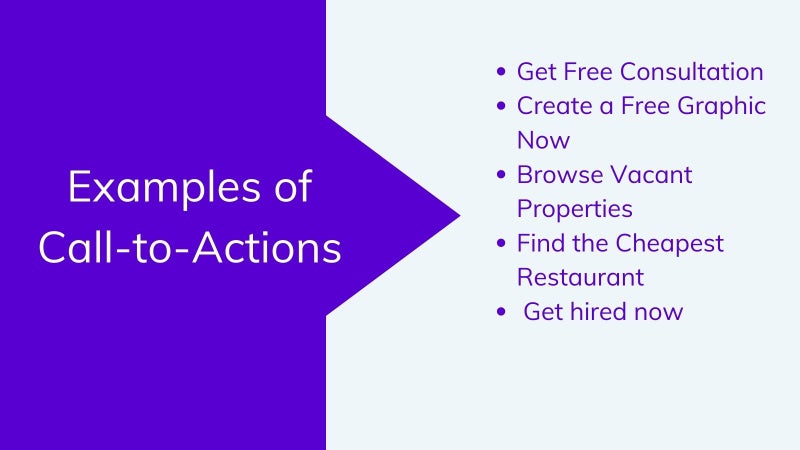 Be as specific and promising as possible!
Custom Pricing Plans
Along the same lines, setting up custom pricing plans is a great way to offer a personalized experience. A company should put the visitor through a short but specific questionnaire and then mails a reasonable custom quote. Similarly, providing room for discussion on their pricing plan, and leaving room for customer opinion, will, and negotiation is also essential.
So, you should offer some degree of freedom to your clientele. It makes the purchase more comfortable for them.
#7. Add Video Content to Guide
Another great way to personalize your website is adding explainer and demo videos. Although these are not specific to individual users, they can personalize your web by providing a step-by-step guide to new visitors.
When confused user receives such guidance, they develop an excellent first impression which becomes the key driver in their relationship with you. Thus, pushing them into later (more specific) stages of personalized experience.
Here's a good example: Agility CMS: Review the demo and introductory videos on their homepage. Also, go through the testimonial reviews. The platform has not only showcased its video editing skills through the embedded videos but also created a humanized experience. It speaks to its target audience practically and emotionally.
Final Words
Using the above strategies, you can up your profits and customer satisfaction a great deal. The more you personalize, the better retention you will have. So, give it your best but don't overdo it.
Collect data, but don't stress over collecting massive amounts of data. Only get what's necessary. Similarly, please don't push yourself to finish it all within short deadlines. Do not expect to get finished with personalization once and for all. It's an ongoing process and will continue to evolve as long as your business runs. There's no end date. So, keep it slow, steady, and effective. Good luck!