New technology in the healthcare field isn't unheard of, with patients benefiting from point-of-care diagnostics and 3D printed devices in recent years. These innovations have helped improve patient care but aren't the only new trends being embraced.
Organizations in the healthcare industry have also found benefits through the latest innovations in artificial intelligence, cloud hosting, and more as part of digital transformation initiatives. However, some healthcare organizations may find themselves still lagging.
We've provided this checklist to help these companies identify whether it's time for a change. Here are the six signs your healthcare digital systems are due for an upgrade.
6 Signs Your Healthcare Digital Systems Need an Upgrade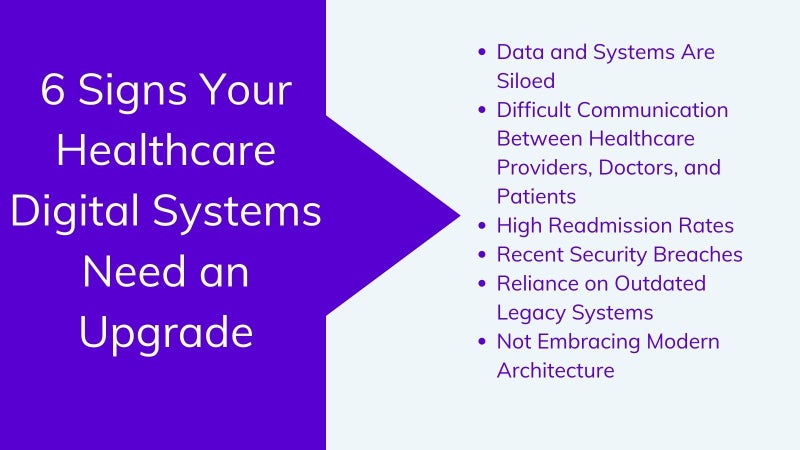 Data and Systems Are Siloed
Many healthcare institutions often suffer from data silos that prevent professionals from connecting disparate systems and sharing crucial information. The result for healthcare professionals is increased time handling administrative duties, complex workflows that take up precious time, and IT teams that have difficulty diagnosing potential issues before it's too late. The knock-on effect is an adverse patient experience where scheduling and appointment data or vital health records are difficult to access.
Difficult Communication Between Healthcare Providers, Doctors, and Patients
Another challenge that can restrict the progress of a modern healthcare institution is inefficient communication between providers, doctors, and patients. Healthcare workers need to coordinate and communicate with each other in various ways using the smartphones and devices they're accustomed to daily. Both providers and patients need access to mobile apps and IoT-connected systems that streamline the communication process and enable quick updates and response times.
High Readmission Rates
Healthcare institutions that suffer from high readmission rates, mainly preventable recurrences, may suffer from inefficient use of modern tools and technologies. Failure to follow a predetermined recovery schedule, taking prescribed medications at a specific time, and other issues can crop up for patients that don't have access to the digitized reminders or virtual check-ins with their physicians.
Recent Security Breaches
Regulatory laws such as HIPAA protect healthcare data from unauthorized access by outlining the processes and requirements that healthcare organizations need to follow to secure highly sensitive patient data. However, inadequate security tools and systems can leave healthcare organizations susceptible to malicious attacks. Institutions that have been victims of malware, phishing, and other hacks must consider upgrading their systems to prevent such issues.
Reliance on Outdated Legacy Systems
If your healthcare organization still relies on several legacy systems and tools that haven't been updated in over two decades, then it's a cause for concern. While healthcare organizations may have found these systems to be sufficient in the past, continued reliance on legacy systems can leave them with integration challenges when it comes to new technologies and frequent and costly maintenance requirements.
The knock-on effect of dealing with legacy systems is that working with outdated technology can lead to frustrated employees who quickly suffer from burnout. This problem is already precedent within the healthcare industry.

Not Embracing Modern Architecture
Adopting modern technologies and processes such as MACH (Microservices, API-first, Cloud-native, and Headless) architecture can be challenging without the best IT and software infrastructure. Modern approaches such as MACH enable healthcare organizations to integrate the latest technologies and improve customer experience easily. However, healthcare organizations may struggle to achieve an effective digital transformation by not embracing these approaches.
How a Composable DXP Helps With Healthcare Digital Transformation
If you've suffered from even one of the signs that your healthcare system needs an upgrade, you need to consider alternatives. Luckily, a composable DXP can help healthcare organizations embrace new technologies and reap several benefits.
Telemedicine
Telemedicine enables healthcare professionals to diagnose and treat patients remotely using phones or video conferencing. It can be an incredible time saver for both patients and doctors and reduce the costs of needing to visit a hospital. Telemedicine can also be used to administer follow-up visits and preventative care.
However, facilitating the telemedicine experience requires healthcare institutions to broadcast content to various multichannel devices, which is where a composable DXP can offer assistance by distributing content such as images and videos and alerts to channels using APIs.
Consolidated Health Records and Unified Systems
When patient health records are kept in disparate locations using multiple systems, it can be challenging to access that information. With a composable DXP, healthcare institutions can consolidate patient records so that everything can be found in one place. Sharing that information can be difficult with legacy infrastructure, but a composable DXP integrates disparate systems using APIs so that systems can be united. However, because the systems are unified, it doesn't mean that they are tightly coupled, enabling interoperability without being overly dependent on each other.
Patient Portals and Intranets
A composable DXP enables healthcare organizations to create patient portals that allow easy access to patient records, appointment scheduling, and more. It will also enable organizations to build intranets to provide access to critical information for staff regardless of where they are and the device they're using.
Future-proof Omnichannel Experiences
Portals and intranets aren't the only benefits of a composable DXP. Organizations can build Alexa skills and other voice-activated experiences that share clinic opening hours or doctor schedules. Relevant information such as wait times, healthcare tips, and more on in-clinic screens or sending updates, reminders, and recommendations to health-focused smartwatches. Also, a composable DXP has the future-proof architecture to continue delivering content experiences.
Read More: Improving Patient Experiences with Composable DXP- Healthcare Solutions
How Agility CMS Supports Healthcare Digital Transformation Needs
Healthcare organizations need the proper architectural support to undergo a successful digital transformation. Agility CMS is an enterprise-grade headless CMS that can be used as the heart of a composable DXP to facilitate a digital healthcare transformation.
With an API-first architecture, Agility CMS can deliver content to any digital channel, enabling the omnichannel experiences, intranets, and portals healthcare organizations need. Plus, APIs can also integrate other tools within the IT stack, creating a unified system that benefits providers and patients alike.
Medical technology distributor McKesson needed a platform that could integrate into its existing infrastructure and provide a connected employee experience with a modern intranet. They turned to Agility CMS to assist them and were rewarded with a revamped employee portal that enhanced the experience and facilitated faster communication. Read how McKesson got the most out of Agility in this case study: McKesson Delivers a Solid Employee Experience With Agility CMS.