Scaling Your Solution With Agility CMS
Unlimited Scalability with Headless Architecture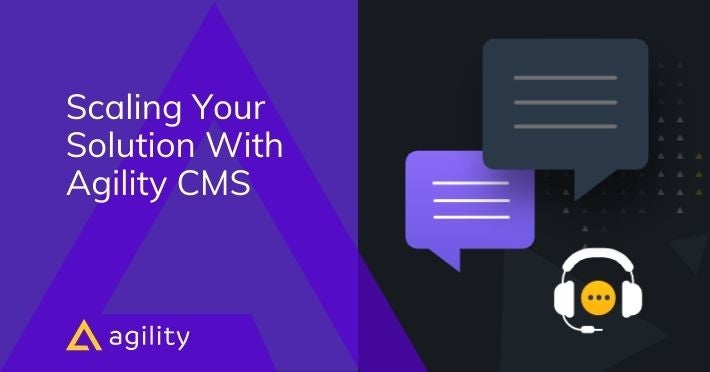 As a Headless CMS, Agility was designed to scale
The main concept of Agility CMS as a managed platform is that your content is available to all of your digital properties – no matter how fast and how often you add them.
Agility is at the heart of our philosophy, architecture, and mission (not just name!). No matter how large or complex a solution may seem, Agility CMS can scale to meet your needs.
Contrary to a traditional CMS, a headless content management system is entirely decoupled from the presentation layer or frontend, which is referred to as the "head".
Since the back-end and front-end are separated, if the back-end CMS platform has any performance issues or needs maintenance, it won't create any downtime to your website or compromise its performance. Your hosting options are unlimited with a headless CMS and deployment environments as well.
Monolithic CMS platforms struggle with both horizontal and load scalability. They often can't integrate well with other systems, limiting growth in flexibility and agility. Instead of scaling one platform to manage content for different products and channels, many businesses find themselves adding more and more CMS creating content silos, and disconnect.
Eventually, developers get tied up in CMS maintenance and content workflows. Marketing teams cannot maintain the content. Organizations slow down and cannot keep up with customers' expectations.
The Scalability Metrics
The Agility CMS Enterprise packages are tiered based on the most common needs for large solutions. The following indicators are something that you can estimate to help provide a baseline from which to design a solution that will last.
Number of Properties
The most important indicator for scale. This is the total number of websites, apps, or other digital properties in your solution. Depending on the nature of your content, you may wish to split up a large property that has content that maps to several different logical areas. Agility can handle thousands of properties due to our API-based headless architecture.
Number of Users
The number of members of the content team in your organization. This can range anywhere from 500 to 5,000+ people. Agility CMS can handle an Unlimited number of users. There is no Max limit set on how many users can be included in Agility CMS Enterprise Package.