Choosing between Open Source and Proprietary technology
We explore proprietary vs. open source content management systems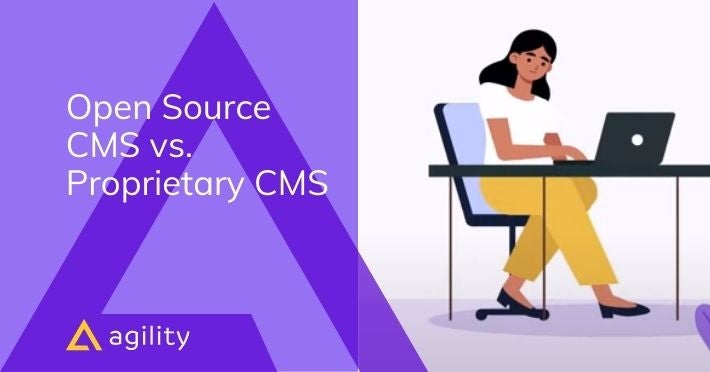 As a CMS company, we often hear the question: what's better, an open-source or a proprietary CMS?
As we previously covered in this article, open-source and proprietary CMS platforms both have their benefits and their inconveniences and often the answer to the above question is: it depends, on your needs, on your workflows, on your scale, etc.
However, choosing the right CMS matters, which is why the open-source vs. proprietary CMS debate rages on.
Your CMS should be robust enough to help you with your needs. It should also be cutting-edge enough to help you drive your digital transformation and improve your user experience.
Be it open source or proprietary, looking for a CMS that best serves your needs is a critical part of building a website or an app.
In this article, we will talk about all the benefits of both CMSs and tell you how Agility CMS integrates the best of both worlds to give you an unparalleled website-building experience.
Defining Open Source and Proprietary CMS
What is an Open Source CMS?
Open source CMSs are built collaboratively by a community of users, using a code that is available online for anyone to use, modify and distribute.
These platforms are typically free of charge, as no one technically owns them. As a CMS user, you can simply download your open-source platform of choice for free, install it on your host and use it to create your website.
Some characteristics of open source CMSs include:
A code source and platform that can be shared by all users.
One party manages it, but anyone can access it.
They are typically free and open to anyone
Examples of open-source CMS include Drupal, Joomla, and WordPress.
What is a Proprietary CMS?
Proprietary CMS platforms, on the other hand, are developed privately by a specific company, using a code that is owned by them and not readily available.
These platforms are typically licensed to companies for a fee and often come with a variety of services attached to them, such as support, design, development, and training.
Most proprietary CMSs also include freeware, but even if the software is free to use, the source code remains closed.
Some characteristics of proprietary CMSs:
They work like prefab houses.
They are friendlier for marketers.
The CMS company handles the technical details.
Examples of proprietary CMSs are Sitecore, Kentico, and us here at Agility.
Agility's Open Source Benefits
The fact that we're a proprietary CMS doesn't mean we can't have all the benefits of an open-source one.
So what benefits does Agility offer that are typically found in open-source platforms?
1. Frequent Updates
Not unlike community-run open-source platforms, Agility is frequently updated with new features and technologies. In this way, Agility provides open-source CMS benefits.
We consider it a top priority to enable our customers' online solutions to grow with their business, which means being able to anticipate their needs and working with them to develop new features and products as they become necessary.
As a platform, we aim to provide the best technologies to our customers and to ensure that any glitches or bugs are fixed promptly.
2. Cost-effectiveness
Agility CMS is free to download and use. If you're starting something small and want it to scale as you go, a CMS that allows you to start small can be a good choice if you're still testing the CMS waters.
3. Flexibility
If you're hiring a third-party developer or agency to build your site, the main benefit of open source is the accessibility of the code. However, our platform is highly portable, which means that developers working in the Jamstack ecosystem and marketers can always find it easy to use Agility CMS.
One of the great perks of open source platforms is the great flexibility they offer. With these platforms, you have many customization options and infinite integrations available, as anyone in the community can build them.
At Agility, we are also committed to providing this level of flexibility.
For starters, the Agility Content Manager is designed to allow any member of your team to easily make content updates and build new pages without having to rely on a developer.
Additionally, with Agility, it is extremely easy to add new integrations, as we can easily build APIs for any system you may require.
This is on top of the suite of Agility products we already offer, including Ecommerce, Ticketing, and POS. Essentially, whatever your needs may be, our platform is flexible enough to accommodate them.
4. Multiple Development Resources Available
Agility was built not just with your end-users in mind, but also with your content and development team in mind.
The best open source cms are often supported by a large community of developers always looking to improve the code. In this environment, bugs and vulnerabilities are quickly discovered. In our case, all our resources are oriented towards ensuring users get the best attention and feel supported.
As a result, we built a platform that is extremely easy to build on and that uses no proprietary languages; any developer with knowledge of ASP.Net can build on Agility.
In creating a platform that is easy to build on, we intend to make it as easy as possible for your developers to learn the platform, and for things to be handed over from developer to developer without any development hiccups arising.
You'll find it is also easy to find new developers with the necessary knowledge to step in if the need should arise.
4. A La Carte Pricing
One of the most common concerns we hear from people regarding proprietary solutions is the additional costs that can come along with it, to do with services such as support.
With Agility, we've built a pricing model that follows the same principles as our approach to building solutions: you get what you need.
Don't worry about having to pay for costs associated with features and products you'll never use. You'll only ever have to pay for the additional components you need, and no more.
The Benefits of Agility's Proprietary CMS
In addition to the benefits outlined above, Agility also leverages some of the strongest attributes of proprietary CMSs to build a platform that offers the best of both worlds.
1. Security
If you've researched the drawbacks of open source platforms, you'll know that security usually comes at the top.
With the code of open-source platforms being readily available to everyone on the web, this opens up potential security risks.
Proprietary software is in the hands of professionals who look after it and manage security and compliance. For instance, Agility CMS provides users with a hosting solution, install updates, install modules, and help you get everything ready.
Because Agility is a proprietary platform, you don't need to worry about this. What's more, Agility offers highly secure hosting on Microsoft Azure, offering unmatched security monitoring and management for cloud-based solutions.
2. Cost-effective Development
Contrary to popular belief, proprietary CMS platforms are often more affordable than open-source platforms, despite licensing.
This is because open source solutions often require high levels of development and customization, whereas many proprietary companies provide these kinds of services quite affordably.
A proprietary CMS often has a subscription fee right from the start but gives you the tools you need to build a website from scratch even if you don't know how to code - freeing you from having to hire a developer.
With Agility, we've ensured that the total cost of ownership is affordable long-term, as our platform is built with future growth in mind. This means that compared to other platforms, on Agility solutions can be customized and new features can be developed cheaply.
This is especially the case for third-party integrations, which often lead to issues on open source platforms. As Agility operates on a single version, you never need to worry about platform upgrades requiring features or integrations to be rebuilt or updated. In contrast, with Agility, all that's required is an API, and you're all set.
3. Support
As mentioned earlier, open-source platforms aren't owned by anyone and, therefore, don't provide services such as support. In fact, the availability of support is one of the key selling points of proprietary solutions.
At Agility, we provide 24/7 support directly from our team, who have first-hand development knowledge of the platform and are best equipped to deal with issues. Because our development team is so involved in support, the risk of website bugs and downtime is very low, as problems are fixed fast and efficiently.
It is important for us that all our customers have peace of mind that they'll be able to simply pick up the phone and call us if an issue arises. What's more, our customers can talk directly with the people who were involved in building their solution and features!
4. Scalability
When it comes to cloud hosting, nothing compares to Microsoft Azure. We chose to partner with them because they are simply the best.
One of the greatest benefits of Azure is its scalability options. Through manual scaling and auto-scaling, Azure helps avoid site performance issues and downtime by increasing your server size during high-traffic periods.
This means that, for example, if you're going through a special sale and attracting lots of sudden traffic, your website will still perform optimally and enable you to take full advantage of conversions and sales.
5. Setup
Finally, a very underestimated yet critical area that Agility can help you with is setup. This is one of the services we provide, depending on your needs and requirements.
Another great advantage of proprietary CMSs like Agility is that your company is in total control of your source code. With proprietary software, marketers and developers can create as much as they want without fearing that the source code might have been tampered with.
In simple terms, we can set up your website for you, rather than simply handing you our platform and obliging you to rely on your own design and development team. Again, the extent of our involvement depends on your needs, whether you'd like to create your own designs for us to develop, or have our development team design the full solution.
In addition to our development team, we also have a network of partners that we regularly work with, some of whom may help you better achieve your vision. Rest assured that we will always offer you the best suggestions and advice!
If you'd like to find out more about Agility, feel free to request a demo and a member of our team will be with you soon!
Agility CMS + Scene: Boosting a Brand With a Flexible CMS Approach
In 2016, SCENE was in the process of a major rebrand and wanted to launch a new website.
They were also hoping to find a platform that was flexible and combined elements of both open source and proprietary CMS and allowed them to increase their speed-to-market of content and updates.
SCENE was aware of the need for a mobile-first strategy and wanted to ensure that their members were able to access the site in the most convenient way possible, whether via their desktop computer, mobile browser or mobile app.
Agility CMS has given SCENE full power and control over their content, enabling them to easily manage their digital channels and provide their customers with an improved online experience.