Agility Sneak Peek: Headless Page Management
Why we offer a built-in page management system within a Headless CMS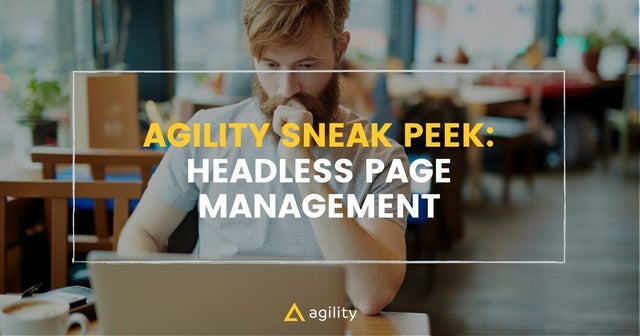 One of the things that makes Agility CMS different from other CMSs is that it is content first and offloads the task of page management to the content marketing team. With Agility, content teams are enabled to update pages and sitemaps without the help of the IT team.
Since part of our premise is to make things easier for everybody, we've added a robust page management system that's meant to simplify the lives of the content team, enabling them to create and manage actual pages on our sitemap.
In this Agility sneak peek, we'll take a look at page management and how Agility CMS helps content teams gain more independence over their operations.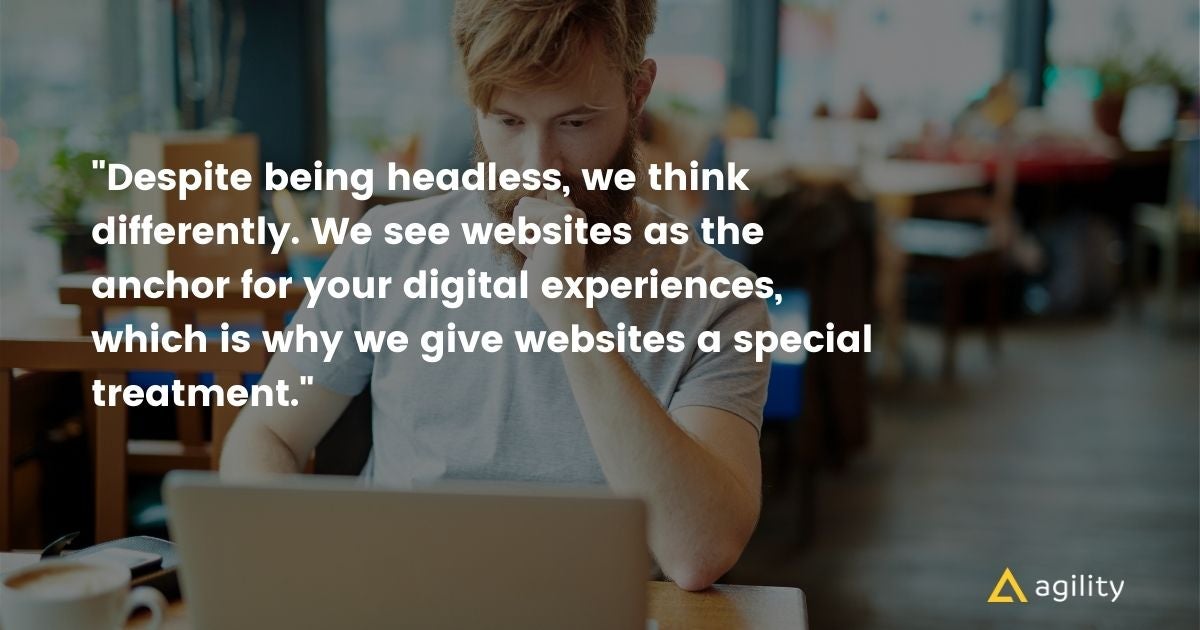 Why Page Management?
One of the main benefits of a headless CMS is that it enables companies to build a modern content architecture across different digital platforms and devices. Headless CMSs allow content teams to compose once and then publish everywhere, sending content to every platform and device customers are using.
However, while headless CMSs give you robust functionalities, some vendors claim that the separation of content and presentation that characterizes the headless architecture makes the concept of page management obsolete. In most headless CMSs you often get a blank site that you can configure the way you like. While that's a great approach, we also provide out-of-the-box, and even go a bit beyond that.
Despite being headless, we think differently. We see websites as the anchor for your digital experiences, which is why we give websites a special treatment.
The Elements of Page Management In Agility CMS
With Agility CMS, you can define three things that make development and editing simple. Page templates, module definitions, and digital channels and sitemaps. Let's take a look at these three elements.
Page Templates: Templates allow developers to determine a name and a set of modules where content editors can add content. Developers can also write code to render this template into an HTML document.
Modules: Modules are reusable sets of fields that can go from a header to more complex UI elements such as a sliding image carousel. In short, modules are the building blocks that enable complex websites.
Digital Channels and Sitemaps: A sitemap is a content structure that developers use to render the website. In Agility CMS, websites have one or more sitemaps defined, each in its own channel, enabling multi-site management and granular control over each digital property.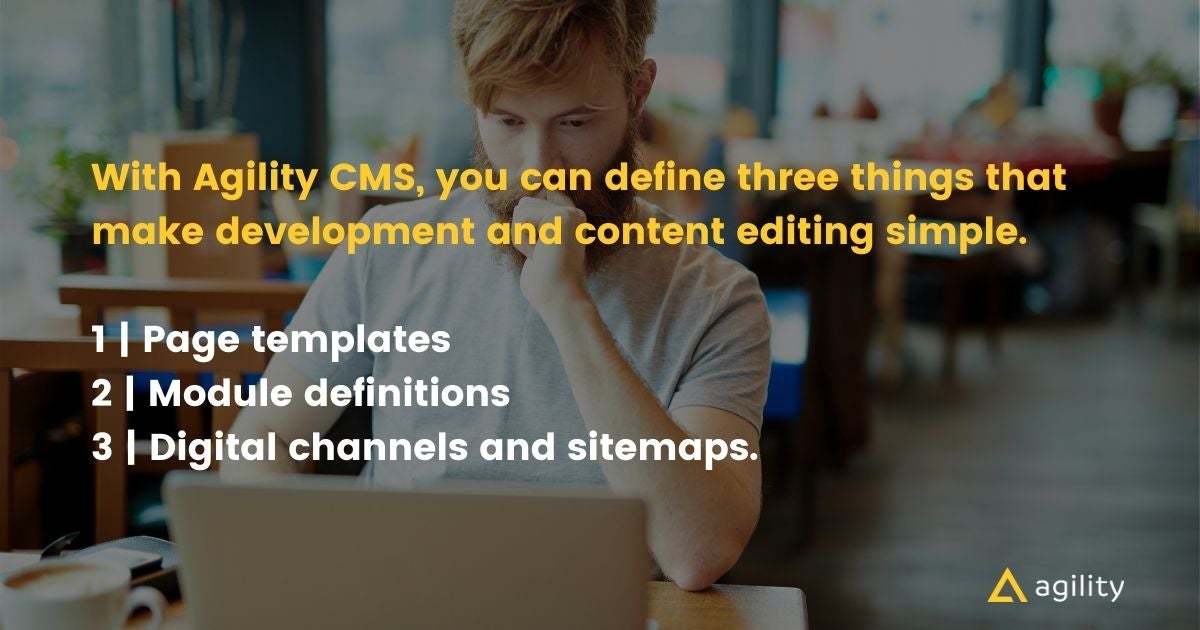 Headless Page Management In Agility CMS
Most developers and architects start building their content using simple content definitions, and while that's a good way to get started, it doesn't scale well. That's why we offer users a built-in page management system.
Page management empowers editors to create and manage content using reusable building blocks, also called modules. Using these building blocks, editors can manage their site's page tree, edit SEO, and determine content relationships and the functionalities of each page. Also, developers can choose which modules editors can add, where they go, and what they do.
Page management also includes page templates. We provide ability to create templates to narrow down the possibilities of what kind of content your website shows, giving the editors the tools to customize them. Each page template has content zones that give editors a location to drag and drop modules.
Empowering Content Editors and Developers.
The main thing about Agility CMS is that instead of coding and routing each page individually, developers now have to code only a few page templates and modules. These templates can be reused across the website, sharply reducing the amount of work that developers need to do from the beginning.
Now, with the help of page management, content editors can create and move pages around the sitemap in any way they see fit, adding modules to the websites and updating the properties of these modules as well.
If you're ready for more effective content management or you're looking to future-proof your company, start a conversation with our experts or contact us to request a demo.
Want to learn more about Agility CMS features?
Keep Reading:
Why Agility CMS has Page Management as a Headless CMS
How to Design A Content-First Strategy using Agility CMS
How to Know Whether You Need a New Agility Instance or a Digital Channel
Want to learn more about how to use Agility CMS Page Management?
Watch our webinar about Powerful Editors Tools you can use with JAMstack: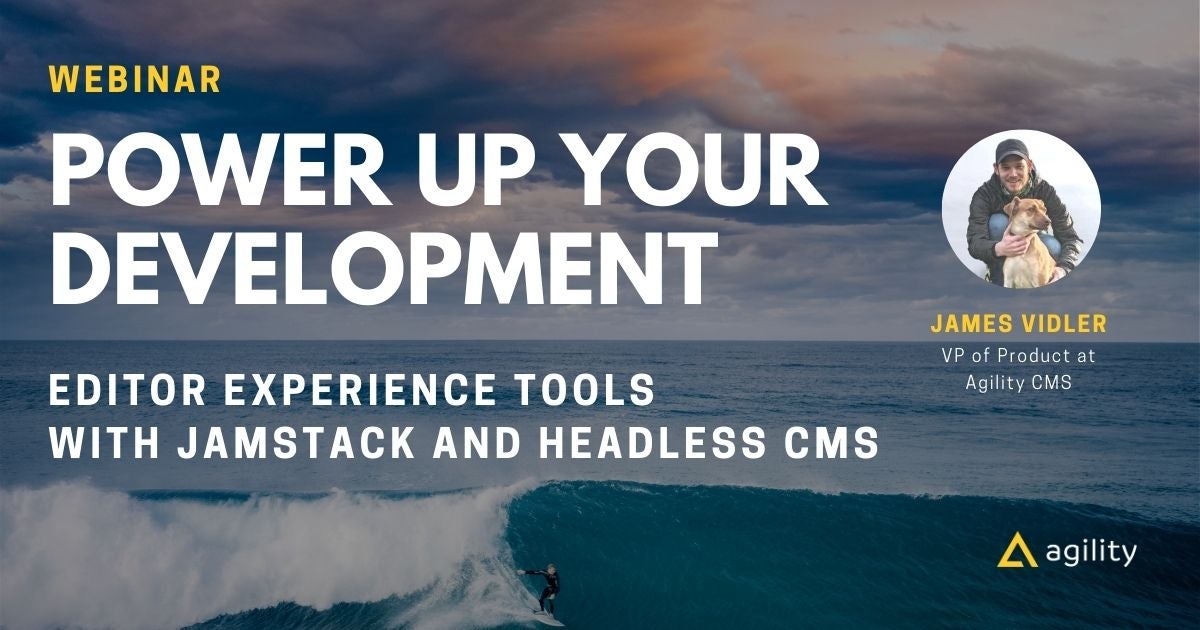 Join Our Next Webinar!

Back to All Resources