5 Signs That It's Time to Change Your CMS
Revolutionize the way you publish content and engage with your consumers.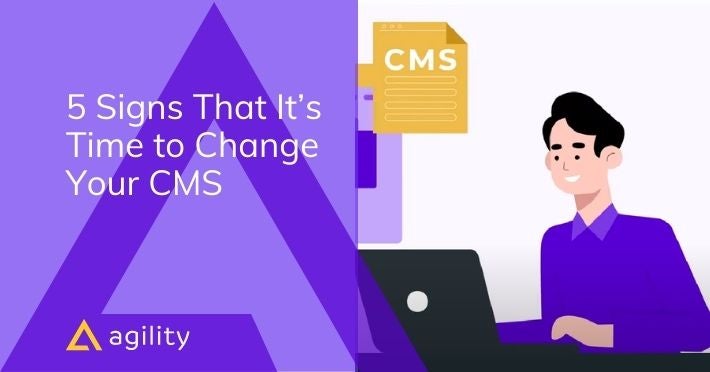 Do you feel like your content management system (CMS) is holding you back? Well, you're not alone. In fact, according to a 2019 Content Management & Strategy Survey, 42% of organizations reported that they haven't acquired the right technology to manage content across their organization. Another 42% say they have the technology but aren't using it to its potential. You shouldn't be afraid of the capabilities that your CMS offers and instead be embracing them to its fullest potential.
Your CMS should be flexible, agile, secure and allow you to scale as your company evolves. As the technology industry grows, your digital content needs will change; new applications will need to be integrated and new functionality will need to be added. Your CMS should be able to offer all these things to you.
So, when is it time to change your CMS? Here are five significant signs that will help you with your decision making and when it's time to re-evaluate in order to grow your business.
1. Your CMS doesn't provide any flexibility
The first tell-tale sign that it's time to change your CMS is it doesn't allow for any flexibility; neither is it scalable. To be flexible and scalable, a CMS should have the capacity to support multiple websites from a single instance. Still, it should also allow the ability to share great content and templates across any of those sites.
Your CMS should publish rich media content, including images and video content, without compromising performance. Delivering a perfect experience to a range of mobile devices and handle complex workflows. It should support multilingual content and handle significant spikes in visitors and page views.
Over time, your system can start to get bogged down because it doesn't have the speed or capacity to keep up with all your changes and the mass amounts of content that you accumulated over time. As an editor, being able to launch a campaign, schedule a blog post, or add new pages or modules should be a breeze. Are you migrating all your content over with you? If the answer is "yes," you should have the option to do this without having to start from scratch quickly.
Is your CMS flexible enough? Do you have steps that are inefficient and take too long? If you had to bring someone new on board to complete several tasks, would it be challenging to learn?
These are all signs that your CMS might not be as flexible as you thought it was. If you're an editor and can relate to being overworked, having too much on your plate, or just having a hard time managing or updating content, this means your current CMS isn't doing what it's supposed to.
The answer? A headless CMS. It's easy to use, and its built-in tools are designed specifically for software developers, editors and other digital experience professionals to deliver content and deploy to various digital channels in a way that is scalable, flexible and easy to manage.
Recommended reading: What is a Headless CMS?
2. You're unable to integrate with other digital marketing tools
We all know that there is no "one-size-fits-all solution", but a big sign of an outdated CMS is that its unable to integrate with lots of digital marketing tools. For your marketing team to deliver unique digital experiences to customers based on customer data, these types of tools need to be accessible to them.
For example, your CMS should allow for easy integrations with all sorts of digital marketing tools such as analytics platforms, automation, DAM, CRM, SEO, and others. Many CMSs claim to have these platforms natively integrated within them. Still, because there are so many platforms out there, the chances of it being able to integrate with all those tools natively is highly unlikely. Also, the chance the integration is what you want is unlikely.
The REAL thing you need is a system with APIs, webhooks and components. With a headless CMS, it's APIs allow you to build and integrate the way YOU want and to transfer content, combine content, or bring new functionality forward precisely the way you need and want it to be.
There are tons of new marketing platforms that pop up all the time. You may want to integrate with Salesforce today and Pipedrive in a couple of years, but make sure when you're making the switch to a new CMS, that it can be future-proofed down the road. This will allow you to plan ahead even if you don't know what your future roadmap looks like quite yet.
You may determine that making the switch to an entirely new CMS platform may not in the budget right now. But if you look at all your tools together, you might be able to change to a system that has more tools integrated within the same platform — ultimately, SAVING your organization time and money.
Recommended reading:
Top 10 Reasons Why You Should Choose a Headless CMS Over a Traditional CMS 
3. Your developers are continuously involved in editor tasks
If "let the developers fix it" is a common phrase in your organization, then this can be a huge red flag. As a content editor, you are constantly updating or adding content to your site either daily or maybe even by the hour. Having the ability to create content, whether it be adding, replicating or archiving a wide range of content either as web pages, apps or third-party platforms is crucial.
Relying heavily on your developers just to get out the simplest of tasks can create an unstable environment leaving your developers feeling frustrated. Editors should be able to accomplish their daily tasks easily and not have to rely on developers.
Figure out what the bottleneck is and why editors are perhaps pushing these tasks to your developers. Does it have to do with the way your CMS was implemented? Perhaps your CMS isn't intuitive enough? Take a good look at your content architecture as well. Was it properly implemented in the beginning or is it time for a refresh? With a headless CMS, the ability to architect and manage your content without worrying about its delivery is a huge bonus.
There will always be some things that are more complex, and you will need a developer to assist with but if this is the norm in your organization, then clearly something isn't quite set up properly. Now would be a good time to re-evaluate these issues especially in the discovery phase of changing your CMS.
Everyone is always happier when spending their time doing things that they are good at, including developers. If you can get your editors doing their tasks more easily it can be far less expensive, and tasks can get done more quickly.
Recommended reading:
Why Content Architecture is Essential to the Success of any CMS Implementation
4. Your customers have a hard time navigating your site
To create an exceptional customer experience, you need to be able to personalize those experiences to your users. This is where your omnichannel strategy comes into play. You need to be able to scale your platform to support all these channels.
Take the mobile experience, for example. A customers' experience should scale between every digital touchpoint, no matter if it's on a mobile device or desktop. Research finds that if a page doesn't load in less than three seconds, 53% of mobile users will abandon it.
Another example is if you're not getting the proper conversions for how many users are visiting your site. Take a good look at your navigation, is it generating a good user experience? Take a step back and use yourself as a use-case visiting your website. How easy is it to find the information you're looking for? If you've had a bad user experience, chances are your customers are too. How easily can you fix and update content on your site?
It's ok if you don't get things right in the first swing. This is why A/B testing and learning as you go is so important. The biggest thing is just to get your site launched, test and improve. If your CMS doesn't allow you to test and improve over time and fix things, you will fall behind on converting and getting the results that you need.
Therefore, headless CMS can become critical. It can provide content for display and even better, distribute that content to any channel.
5. You keep running into high costs or limitations
Is your organization paying too much for hosting, and licensing cost? Consider switching to a headless CMS. A headless CMS uses a cloud-multitenant architecture. This means your CMS itself is fully managed and upgraded automatically for you and allows for easy upgrades and not to mention huge security benefits.
Remember, what may have suited your organization ten years ago may not serve a purpose now. Your CMS should allow you to start small but scale as you begin to grow. For instance, if you're an organization that sells a product directly to a consumer, you don't want to run into limitations now that you want to integrate your CMS with eCommerce capabilities.
Other features that you may be interested in could include language translations or email marketing capabilities. Sure, you can pay extra for all those integrations and additional features, but it can come with a pretty penny. Get a CMS that offers those capabilities directly within the CMS instead of it being a limitation down the road.
Also, how is your current CMS supported? Do they have a community or a way to get in contact with their tech support easily? This can also be a big limitation for any organization. You should be able to easily ask a question and get in direct contact with someone, and I don't mean through a third-party support agency. They won't always react or respond quickly.
In Summary
Now that you've resonated with the five signs covered above, it might be time for your organization to implement a headless CMS. Choosing a more robust CMS can certainly save you time and money in the long run.
The key is to remember that things are always changing. You need a flexible system that can grow WITH you! A CMS that can be extended and integrated with no matter which direction you go. Considering a headless CMS will allow you to bring a lot of these benefits forward. Expect to optimize over time, and don't get too far behind. Choose the right platform with the right capabilities that closely aligns with the flexibility and tools that you require.
Agility CMS is a headless CMS which means that you can access your content from any type of website using our Content Fetch REST API. We may just be the light at the end of the tunnel! Let us help you revolutionize the way you publish content and engage with your consumers. Get started for FREE or chat directly with one of our team members today!