Sitecore vs Agility CMS. Which CMS is Better for Your Business?
Need a modern flexible DXP solution? Let's compare.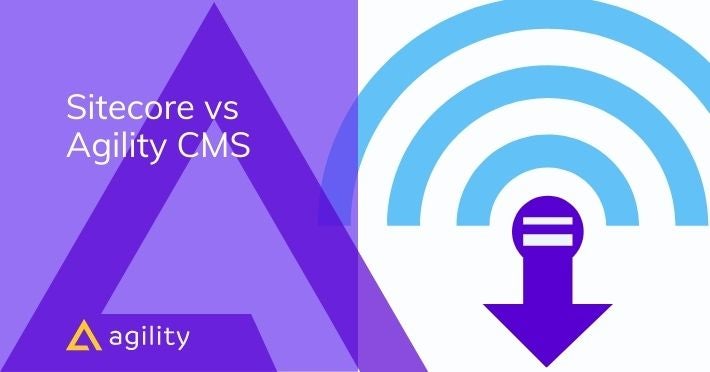 Sitecore was one of the first CMSs on the market. The platform has spearheaded CMS adoption across two decades and has inspired many other tools currently disrupting the sector.
Experience in the field is great, but in the CMS game, functionality really matters, and the ability to build a digital experience in minutes is something most users covet.
Here we give users an overview of Agility CMS and another top headless CMS on the market to help you grasp the sometimes chaotic CMS ecosystem and its multiple vendors.
In this showdown, we pitch Sitecore against Agility CMS and compare both CMSs to see which emerges victorious. Let's start with the comparison.
Why Agility CMS?
When we compare Agility CMS with Sitecore, it becomes evident that Agility's primary strength is how fast and easy it is to build something on the platform. Thanks to Agility CMS' headless architecture, users can build everything from blogs to virtual events to eCommerce experiences.
Agility CMS enables businesses to build a foundation for their content and online ecosystem and scale it over time. Plus, Agility is omnichannel-ready, which gives users control over every aspect of their content across multiple platforms and channels.
Unlike other CMSs out there, Agility CMS gives you the tools you need, out-of-the-box, which reduces the need for third-party integrations. Sitecore, on the contrary, albeit strong out of the box, but has been known to have a steeper learning curve than Agility CMS and other hybrid CMSs on the market.
Also, Agility CMS is a solution designed with growth in mind. For companies who are not yet enterprise-level but have enterprise-sized goals, Agility CMS can be a great solution that enables them to scale their commitment before entering into an expensive agreement.


"Agility has an exceptional team that has walked us through the onboarding process to make it as seamless as possible. Agility's team has helped solve any custom integrations that we have sought to pursue. They have recommended architecture optimizations and security improvements every step along the way." Zachary H, Full Stack Tech Lead, G2 Reviewer.
But that's not it, there are other reasons why Agility CMS is a great alternative to Sitecore.
How Sitecore and Agility CMS Are Different?
Agility CMS Offers More Bang for Your Buck
One of the most evident drawbacks of Sitecore is that they don't disclose their pricing to visitors.
Even if you manage to get a hold of Sitecore's prices, you'll realize that it can be hard to justify the platform's enormous costs. In fact, its hefty price tag is one of the main cons of using Sitecore, according to G2 reviewers. Agility CMS, on the other hand, offers clients crystal clear and honest pricing. You get what you pay for and we won't charge you for features or capabilities unless explicitly stated. Agility CMS scales with you and offers users unlimited content types, 2,500 content items, access to up to five users, and community support from the get-go.
Agility CMS Gives You Simplified Page Management
API-based headless CMSs allow you to repurpose content across multiple channels, including web pages, native mobile apps, kiosks, even smartwatches, and football stadium billboards. This flexibility comes at a price with many headless platforms. Changes to the page layouts (and other channels) require developer time.
Sitecore supports content modules with custom styling and functionality through its Content Serialization (SCS) modules. These modules enable you to organize and separate items according to their purpose and business domain, but it needs to be configured beforehand, increasing the complexity of the deployment.
Agility CMS solves this by using templates and modules that determine how content will look when it's rendered on the website. In Agility CMS, editors can modify page layouts in an easy-to-use visual interface using drag and drop functionality. The system is extensible, with many built-in modules and the opportunity to add new modules created by your development team.
Agility CMS Offers Better Sitemap and URL Management
Most headless CMSs leverage APIs to generate a map of the pages on your site and manage URLs. In Agility CMS, your pages live within your sitemap. You can see at a glance where each page is and how it is related to the other pages. We also call this a 'page tree' and we use it to show the hierarchy of all the pages as they appear on the website.
On the other hand, Sitecore's URLs don't correspond to files on the file system, but to items in Sitecore databases. To retrieve URLs, Sitecore needs to leverage APIs using a query string, which results in less efficient URL management than what you get from Agility CMS. Plus, Sitecore can be intimidating when you first start working with it. This is true for both developers and content editors. Sitecore can be a bit of a blank slate that requires you to design the code and content layout without much of a template, to begin with.
You Can Deploy Agility CMS Without A Partner
Sitecore is complicated. It can be a great tool with plenty of features, but it can be too unwieldy for the average user, even for enterprise users. Another main drawback that Sitecore users noted is that it is impossible to launch or maintain Sitecore without a Sitecore partner development team.
This makes it very slow to launch new marketing campaigns, particularly where new creative approaches are required, integrations are needed, or a different domain or subdomain is needed. Plus, reviewers stated that it's nearly impossible to use Sitecore for anything beyond basic content management without seeking out and hiring specialized trainers, as documentation is vanishingly thin, and Sitecore talks only through paid advising hours.
Agility CMS, on the other hand, is built for both technical and non-technical users in mind and most users can use Agility CMS to create omnichannel digital experiences at scale. You don't need a partner to make the most of Agility, and even if your company could benefit from one, it's not a requirement to make the most out of the platform.
Agility CMS' Support Won't Leave You Stranded
If you've used or researched Sitecore, you probably know that Sitecore support is something of a dark area. As an end-user, there's nothing you can do to get support, which not only makes implementation more difficult but also more expensive. G2 reviewers think the same and consider that despite Sitecore being a sophisticated platform, there isn't much support if you aren't Sitecore certified. Also, even if you become a client, that won't guarantee you will get better support either as G2 reviewers cite Sitecore as a very hard company to communicate with, even if you have performance issues that are difficult to solve.
Agility CMS, on the other hand, has many different avenues for support. Unlike Sitecore, Agility CMS offers plenty of different ways to get support. You can get quick phone support, join the Slack channel, or chat with our support team. In fact, one of the things that most reviewers praise is our extensive support and the fact that we offer phone support to people from every plan, from the free to the enterprise tier. G2 reviewers cite support as one of Agility CMS' best features, as it enables users to find solutions to problems, even if you're not acquainted with the platform.
The Verdict
While Sitecore is a popular headless DXP with a famous legacy and a solid user base of enterprise clients, it simply can't match Agility CMS' greater flexibility and integrated functionalities. Sitecore represents traditional thinking —with an installed, monolithic product that requires upgrades and software installation. Agility CMS is a solid tool for content editors and companies built on content.
Agility CMS' content-first approach serves as a way to map user journeys and create a product story before proceeding with creating the website. The content-first approach looks at the big picture of what the marketing team is trying to accomplish and then uses the appropriate language to build a beautiful, functional website or app.
Also, from a business perspective, Agility CMS is the more cost-effective solution. Even our enterprise version that gives you everything a company needs to build outstanding digital experiences is less expensive than any of Sitecore's pricing options.
Agility CMS's content-first approach is also developer-friendly. It has the content authoring tools marketers need to build content quickly and the technical tools and support to do more than merely using templates and content modules.
Ready to experience true digital Flexibility?