The Headless CMS Comparison: GraphCMS vs Agility CMS
Choosing between GraphCMS and Agility CMS: the guide.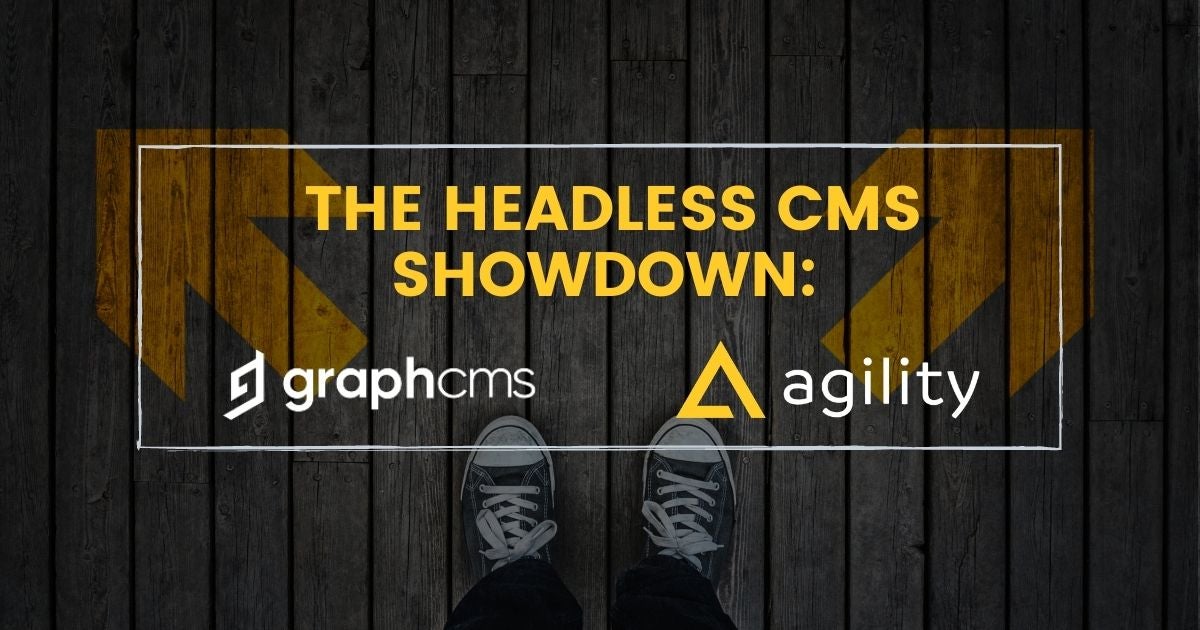 The headless CMS space is full to the brim with choices, and while that is good for the industry, it can be a pain for users looking through the plethora of options on the market. Too much choice makes it difficult for business users and developers to find a solution that can adapt to their company's specific needs.
At Agility, helping users understand the sometimes chaotic headless CMS ecosystem is critical to educating audiences on the occasionally small differences between vendors. That way, we can help you pick the right headless CMS.
That's why we've created a new segment called The Headless CMS Showdown, where we give you a simplified overview of Agility CMS and another top headless CMS on the market. In this showdown, we pitch GraphCMS against Agility CMS and compare both platforms to see which emerges victorious.
GraphCMS Product Overview
GraphCMS is the first GraphQL-native headless CMS. It aims to remove the traditional pain points API-driven CMSs have by using GraphQL as their main querying language for APIs.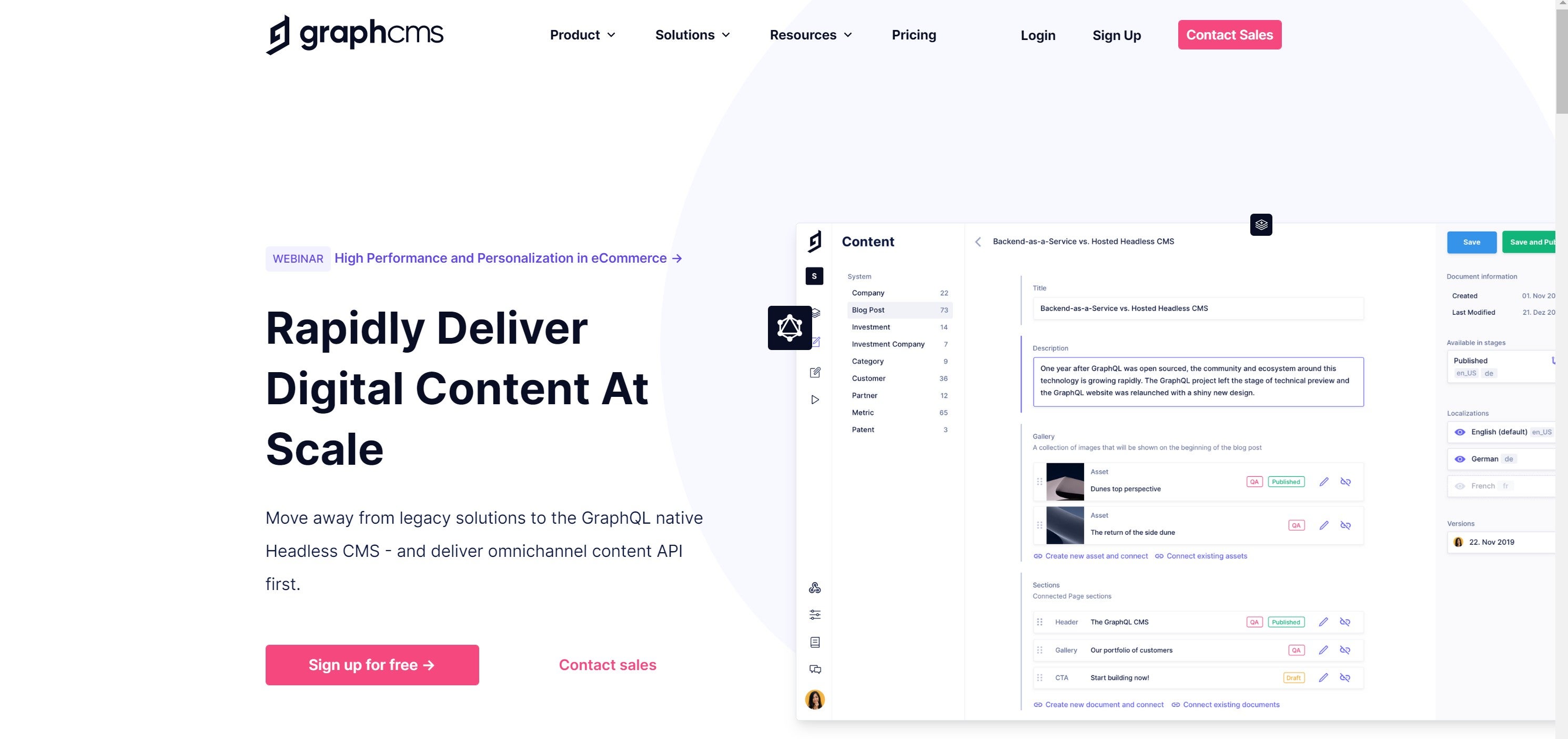 GraphCMS leverages the power of GraphQL APIs to gain more flexibility over content management. These APIs offer users a flexible way of fetching and writing content as well as enhanced content type management.
GraphQL is perfect for omnichannel content management and offers marketers options for SEO while providing a framework-agnostic platform for developers to create their preferred language experiences. With simple, batch, upsert, and publishing mutation APIs combined with robust query APIs, companies can feed content directly into and out of any platform.
Agility CMS Product Overview
Agility CMS evolved from a .NET-based CMS to become a Jamstack-ready, API-first headless CMS designed with speed and flexibility in mind. It provides users with the tools to build, manage, and maintain their content with ease.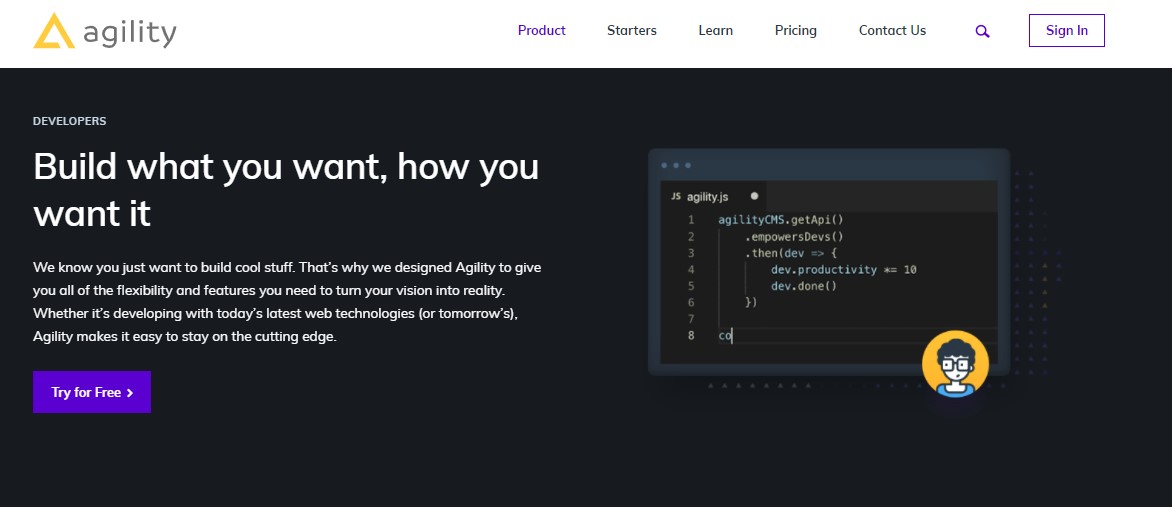 Agility CMS lets authors and editors create and customize their digital experiences by following the content-first approach to building digital experiences with low friction. Traditional development processes begin with design, and prototyping, for example, the final layout of a web page with lorum ipsum text as placeholders. Agility CMS begins the development process by defining the organization's content architecture and then proceeds to develop layout and styling for desired channels.
The platform also has a rich and deep set of powerful features to power your omnichannel experiences. Most headless CMS platforms offer workflow functionality for approvals, publication scheduling, and similar needs. In addition, Agility offers an HTML and text e-mail builder that can be tied to workflow triggers. It provides multi-site functionality, linking the same content and user permissions across multiple sites.
Agility has robust analytics and convenient report generation built-in. Website search is a capability built into the platform, rather than requiring third-party services like Algolia. On the hosting side, Agility CMS leverages Microsoft Azure's hosting services and provides users with enterprise-grade security and support, and data protection.
Why Agility CMS?
Agility's main strength lies in its speed and ability to get you up and running fast. Unlike other CMSs out there, Agility CMS gives you the tools you need out-of-the-box, which reduces the need for third-party integrations.
However, that doesn't mean that Agility CMS can't integrate with other tools. On the contrary, Agility has a robust plugin ecosystem that extends its native feature set, all without the steep learning curve and increased costs that come with most headless CMSs on the market.
GraphCMS vs Agility CMS
Sitemap and URL Management
Most headless CMSs leverage APIs to generate a map of the pages on your site and manage URLs. In Agility CMS, your pages live within your sitemap. You can see at a glance where each page is and how it is related to the other pages. We also call this a 'page tree' and we use it to show the hierarchy of all the pages as they appear on the website.
GraphCMS, on the other hand, doesn't offer sitemap and URL management out-of-the-box. The only way to generate or manage URLs of any kind in GraphCMS is to integrate third-party software or code your own solution.
Integrated Page Management
Agility CMS's hybrid headless approach provides templates and modules that determine how content will look when it's rendered on the website. Starter kits with Agility-specific functionality are available for Next, Gatsby, and Nuxt. Editors can modify the layout of pages in the easy-to-ease visual interface using drag and drop functionality. The system is extensible, with many built-in modules and the opportunity to add new modules created by your development team.
GraphCMS is a pure headless solution that was created to integrate with plain vanilla static site generators like Gatsby, Next, or Nuxt to offer an intuitive web UI for content creators. A static site generator enables content editors to publish content without developers. However, without the aid of third-party software, all that GraphCMS serves as structured content.
Unlimited Number of API Request
Agility's CMS offers users an unlimited number of API requests for all plans including the Free "Developer" plan. GraphCMS offers 1 million API requests with their free plan.
The Verdict
There's no doubt that GraphCMS is a solid contender in this showdown. Its graphQL native capabilities make it a solid pick among the other contenders, but that doesn't make it impervious to some critiques. For instance, there are some issues with how the platform manages file types and how certain files sometimes become unavailable for users and need to be searched for. A time-consuming process that can derail a product.
Also, GraphCMS' UI can feel a bit cluttered in comparison to Agility CMS, and novice users might have a hard time adjusting to the platform if they don't have any previous experience with a headless CMS.
Similarly, GraphCMS users report that when it comes to asset management, GraphCMS still has a long way to go, and the platform lacks options to work with images, audio, and video. This can be solved with third-party integrations, but for users who need a platform capable of running a project in record time, GraphCMS can feel a bit sluggish.
That being said, GraphCMS seems to suffer from the same fate as many pure headless platforms. They offer great functionalities, but non-technical users won't be able to make the most of them.
Agility CMS offers the same functionalities as GraphCMS but goes beyond regular headless content management; it provides robust tools for developers and a great experience for content editors.
With Agility, content editors can now build digital experiences with confidence, without risking breaking something or requiring developer support at every turn.
In the end, if you need strong content-authoring experiences and all the tools you need to build a digital experience out-of-the-box, Agility CMS is the right tool for you.
Still can't decide? Take a look at our guide, How To Choose The Best Headless CMS For Your Brand (2020 Edition).
Learn more:
Enjoy this quick Agility CMS product Demo in 2 min:
Keep reading or chat with us:
How To Choose The Best Headless CMS For Your Brand (2021 Edition)
Download Free: Report on the Top CMS Platforms 2021

Back to All Resources