The Headless CMS Showdown: Strapi vs Agility CMS
Choosing between Strapi and Agility CMS: the guide.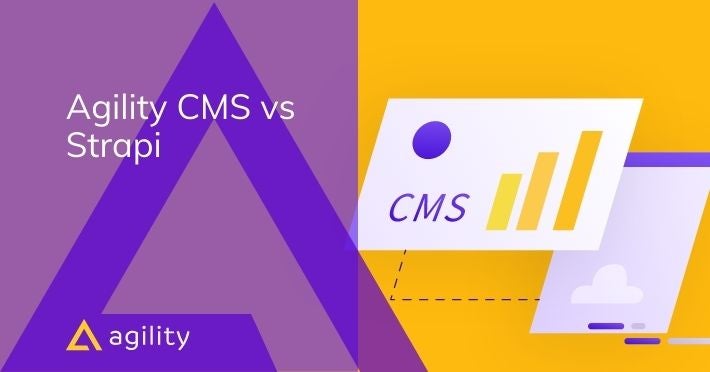 It's not a secret that the headless CMS space is full of worthy contenders. But since many of them offer similar services and features, it can be challenging for even a savvy user to understand where the differences lie and how those differences move the needle for them.
For us at Agility CMS, it's essential to be able to cut through the noise to give you a clear idea of where we stand in the market and how the features that make us different are those you need to take your content production to the next level.
With that in mind, we've created this segment called The Headless CMS Showdown where we give you a no-frills overview of both Agility CMS and another contender in the CMS market.
In this showdown, we compare Agility CMS to Strapi, another leading headless CMS in the market. Let's dive deep into the comparison.
Strapi Product Overview
Strapi is an open-source headless CMS that was founded in France. Strapi is a self-hosted product running on Node.js and featuring a commercial license for some software libraries used. Users can choose any hosting platform in the market, from AWS to Netlify, Heroku, or dedicated servers. This headless CMS is database agnostic, which means that users can work on the database of their liking and build the logic by customizing APIs, routes, and plugins.
Strapi features flexible collection types such as categories, roles, and users. New collections can be added. It is front-end agnostic and provides a customizable and modern visual administrative UI. The CMS is plugin-oriented to provided additional functionality. There are a number of third-party integrations available. A robust developer community has gathered around Strap, communicating through a dedicated company forum and Slack channel.
Agility CMS Product Overview
Agility CMS is a headless CMS platform born in Canada in 2003. In the world of pure headless CMS and traditional CMSs, it is designed to offer the best of both worlds: fast and flexible for developers as well as easy and powerful for marketers. Agility CMS gives both developers and marketers the tools to build, manage, and maintain their content with ease. Agility CMS is a fully managed, Jamstack-ready, API-first, headless CMS.
Agility CMS lets authors and editors create and customize their digital experiences by following the content-first approach to building digital experiences with low friction. Traditional development processes begin with design, and prototyping for example the final layout of a web page with lorum ipsum text as placeholders. Agility CMS begins the development process by defining the content architecture of the organization and then proceeds to the development of layout and styling for desired channels.
The Agility platform has a rich and deep set of powerful features to power your omnichannel experiences. Most headless CMS platforms offer workflow functionality for approvals, publication schedule, and similar needs. Agility also offers an HTML and text e-mail builder that can be tied to workflow triggers. It provides multi-site functionality, linking the same content and user permissions across multiple sites. Agility has robust analytics and convenient report generation built-in. Website search is a capability built into the platform, rather than requiring third-party services like Algolia
On the hosting side, Agility CMS leverages Microsoft Azure's hosting services and provides users with enterprise-grade security and support, and data protection. Microsoft was the first cloud vendor to secure approval from European Union's data protection authorities. They have a strong track record with data security standards compliance.
Agility CMS vs Strapi
Here's the moment you were expecting. Let's compare Agility CMS and Strapi.
Here's a handy comparison table that should guide you when comparing both software solutions.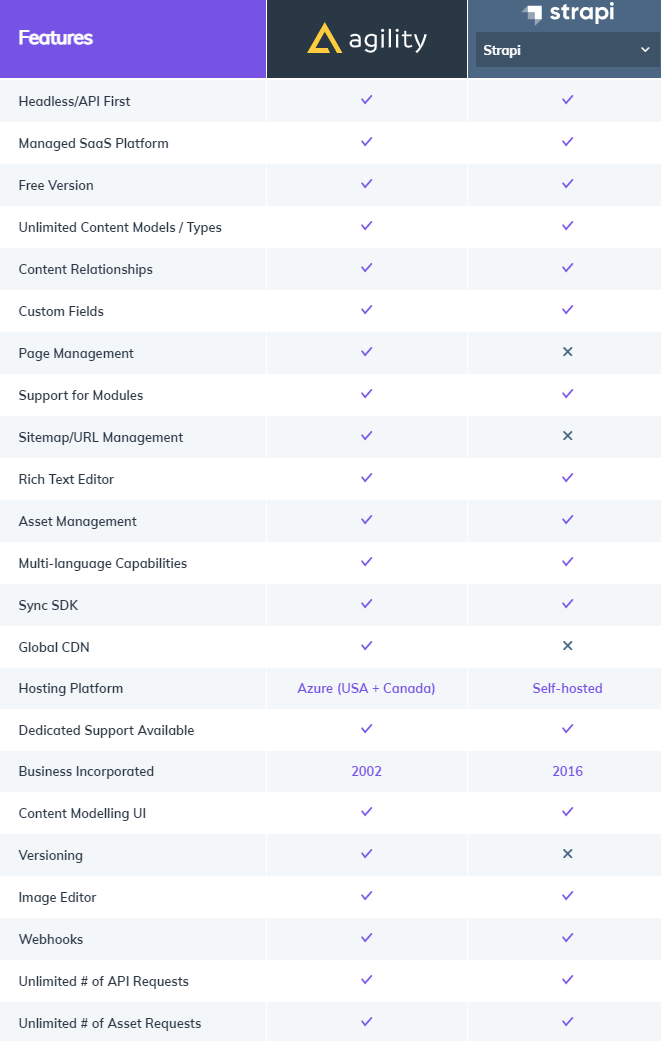 Access the full table with other CMS options here.
Now that you've seen it let's talk about the features that Agility CMS has which Strapi doesn't.
Sitemap and URL Management
Most headless CMSs leverage APIs to generate a map of the pages on your site and manage URLs. In Agility CMS, your pages live within your sitemap. You can see at a glance where each page is and how it is related to the other pages. We also call this a 'page tree' and we use it to show the hierarchy of all the pages as they appear on the website.
Strapi, on the other hand, doesn't have such capabilities out of the box. With this headless CMS, to generate or manage a sitemap you need to define your page structures in the content itself or have a developer hardwire the page tree into the website code itself.
SaaS vs Self-Hosted
Strapi is a self-hosted platform, which means that software upgrades and support are typically not included. Your development team is responsible for upgrades to the core platform. Also, if you ever want to switch to a different development team, you might end up running into issues such as who owns what and different coding standards.
Agility CMS, on the other hand, works perfectly with teams who want to focus only on content and don't have the time or the muscle to juggle with technologies. Agility's platform is backed by a dedicated team ready to fix issues that might arise, which means that your developers will only have to focus on coding. Agility CMS updates on its own, which is also an advantage as it will run in the background for years and stay up to date.
Integrated Page Management
API-based headless CMSs allow you to repurpose content across multiple channels: web pages, native mobile apps, kiosks, even smartwatches, and football stadium billboards. This flexibility comes at a price with many headless platforms. Changes to the layout of web pages (and other channels) require developer time.
Agility CMS solves this by offering the Page Management functionality: using templates and modules that determine how content will look when it's rendered on the website. Editors can modify the layout of pages in the easy-to-ease visual interface using drag and drop functionality The system is extensible, with many built-in modules and the opportunity to add new modules created by your development team.
Benefits of Page Management
Using Page Management, you can empower editors to create and manage pages for your digital solutions using re-usable building blocks (i.e. modules & page templates).
Editors can manage your site's page tree, page-level SEO properties, and determine what content and functionality will be on each page.
As a developer and architect, you still have full control over what page templates are available to the editor, where they can place modules within the page, and what the modules can do.
Empowered editors who can do more without a developer
Happier developers who can focus on new functionality and enhancements, and less time responding to new content requirements
Increased productivity
Fewer resources/expenses required
Global CDN
One of the main features that give an edge to Agility CMS is that, unlike Strapi, Agility CMS has a highly distributed platform of global servers that help minimize delays in loading content. Since our servers are distributed across the globe, we're able to reduce loading speeds by decreasing the distance between the server and the user, ensuring fast content delivery across the world.
With the help of our global CDN network, we're able to service end-user requests quickly by offloading traffic from the content servers, benefiting both the site visitor and the CMS user.
Versioning
For liability-conscious users, versioning is a must. Versioning enables users to keep track of different versions of a content item as it gets updated and the ability to roll back a change and restore it to a previous version. Strapi has version control, but not versions. While adding versioning to the CMS is part of their roadmap, Strapi still lacks this feature.
Agility CMS, on the other hand, also enables you to track changes alongside your content so you can audit and monitor changes made to content items.
The Verdict
The strength of Strapi relies on its ability to design APIs and put them to work for you fast. Yet, the platform is still rather new, and while it's a promising contender, there are still a few things that can be ironed out.
This headless CMS works well for most users and, undoubtedly, does its job, especially when it comes to giving users different hosting options, but it's still lacking out-of-the-box functionalities that Agility CMS has. For non-technical users, Strapi can present too much of a challenge because it needs a high degree of customization to get it up and running the way you want to, which is something that doesn't happen with Agility CMS.
Agility CMS is a more established and robust platform that offers greater flexibility and functionalities out of the box, which is especially useful for content editors and content-centered development. Also, when it comes to catering to developers, Strapi still falls short because it's still a young tool that can benefit from more updates.
In the end, Agility needs to integrate with fewer tools and offers more flexibility in less time, which makes it the tool to choose if you want something done fast and well.
Looking a CMS that can empower your Marketing team?