The Headless CMS Showdown: Contentstack vs Agility CMS
Choosing between Contenstack and Agility CMS: the guide.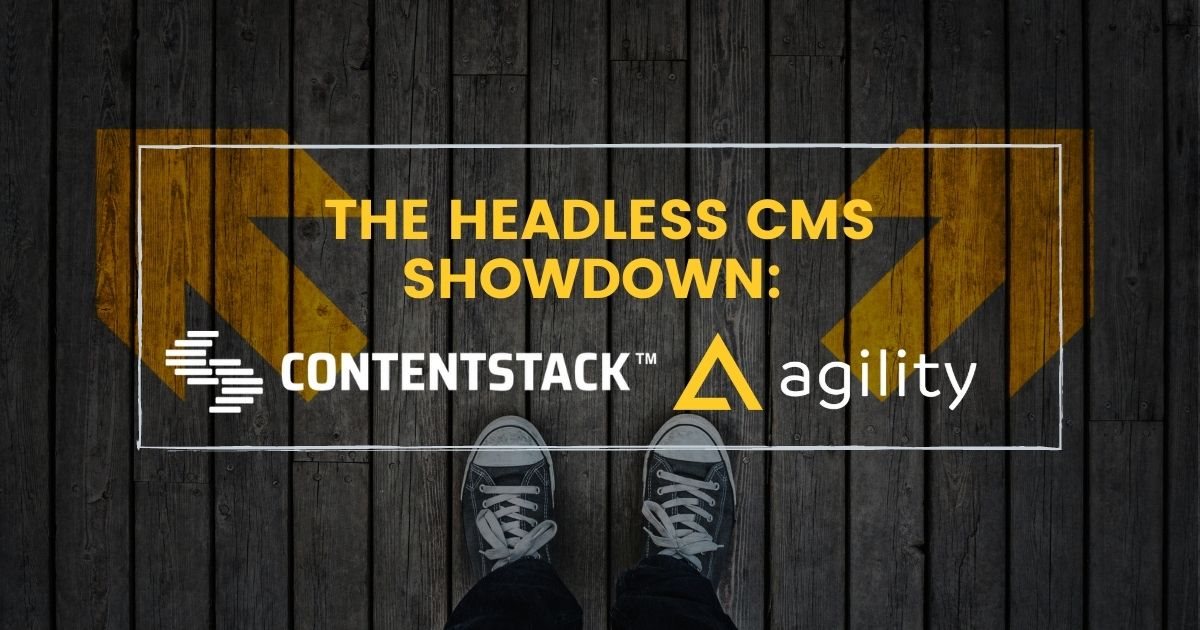 Making a choice between CMS vendors is always a challenge with the many options on the table. Each user in your company will have different needs and catering to developers, marketers and other business users can sometimes leave one group wondering if they got the best deal.
With a headless CMS, however, everyone within your company can be given the tools they need to quickly provide the digital experiences the market craves. A headless CMS is the best way companies have to deliver content on the fly and with ease. It enables developers to build content and frontend interfaces without the complexities that usually occur, helping teams focus on what they do best.
To help you choose the best CMS for your needs, we've introduced The Headless CMS Showdown, where we give you a simplified overview of Agility CMS and another top headless CMS in the market.
In this edition of the showdown, we pitch Contentstack against Agility CMS and compare both CMSs to see who emerges victorious.
Contentstack Product Overview
Built upon a microservices architecture, Contestack is a cloud-native, SaaS platform that gives users the ability to create omnichannel digital experiences. The platform offers users an intuitive, no-code, and low-code platform that aims to solve business users and content editors' challenges when it comes to building a website.
Contentstack boasts a rich API and SDK ecosystem that makes it simple for developers and non-technical users to implement and build digital experiences, placing the control of content in the hands of the user rather than the platform.
Agility CMS Product Overview
Agility CMS is a headless CMS platform designed with speed and flexibility in mind, giving users the tools to build, manage, and maintain their content with ease. Originally launched as a .NET-based CMS, Agility CMS has risen to become a top Jamstack-ready, API-first headless CMS on the market.
Agility CMS' SaaS structure enables it to work in multi-tenant environments and lets users create and customize their digital experiences by following the content-first approach.
On the hosting side, Agility CMS leverages Microsoft Azure's hosting services and provides users with enterprise-grade security, support and data protection.
Contentstack vs Agility CMS
Here's the moment you were expecting. A comparison of Agility CMS and Contentstack.
Here's a handy comparison table that should guide you when comparing both software solutions.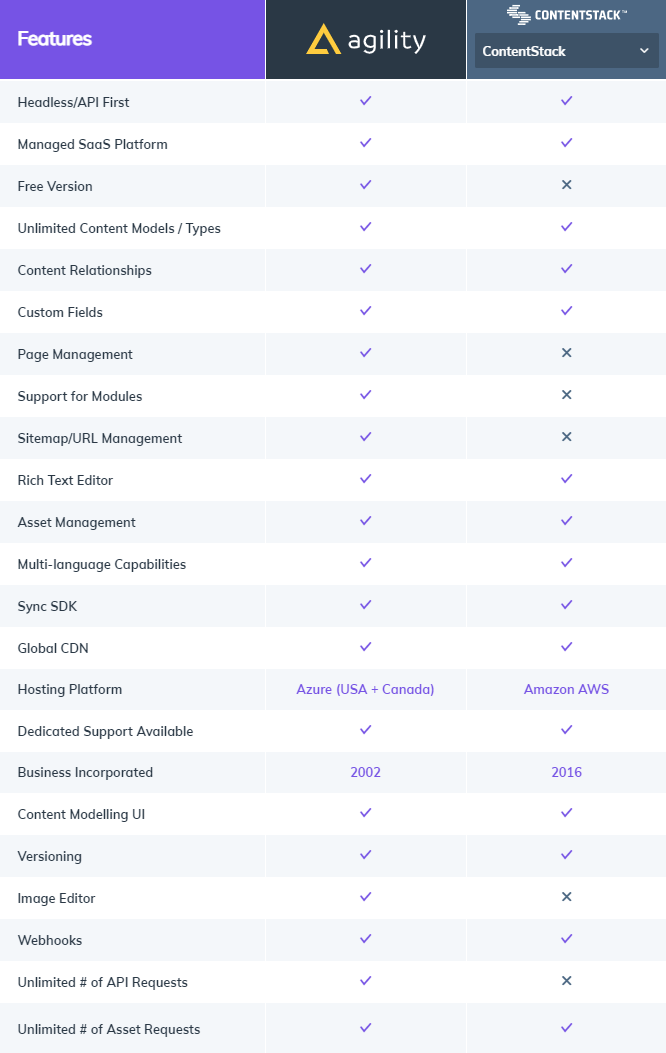 Now let's talk about the features that Agility CMS has and Contentstack doesn't.
More Than Just A Free Trial
At Agility, we believe that it's necessary to give users a free version of our CMS to help them get started and see what we have to offer. Our free plan offers potential users unlimited content types, 2,500 content items, access to up to five users, and community support.
Contentstack, on the other hand, doesn't offer a free version per se. They offer a 14-day free trial, and after that, you need to pay $995/month for the most basic plan.
Page Management
Some vendors say that page management is obsolete, but we don't think it is. Page management provides developers with a way to set and manage pages on our sitemap. With Agility CMS, you get a set of templates that determine how content will look when it's rendered on the website.
Within each template, you get one or more content zones on them, which gives your content editors the possibility to drag and drop modules. Every content module has unique information to help developers determine how they should render on the website.
Benefits of Page Management
Using Page Management, you can empower editors to create and manage pages for your digital solutions using re-usable building blocks (i.e. modules & page templates).
Editors can manage your site's page tree, page-level SEO properties, and determine what content and functionality will be on each page.
As a developer and architect, you still have full control over what page templates are available to the editor, where they can place modules within the page, and what the modules can do.
Empowered editors who can do more without a developer
Happier developers who can focus on new functionality and enhancements, and less time responding to new content requirements
Increased productivity
Fewer resources/expenses required
Sitemap and URL Management
Most headless CMSs leverage APIs to generate sitemaps and manage URLs. In Agility CMS, your pages live within your sitemap. You can see at a glance where each page is and how it is related to the other pages. We also call this a 'page tree' and we use it to show the hierarchy of all the pages as they appear on the website.
Contentstack, on the other hand, doesn't offer sitemap and URL management out-of-the-box. With Contentstack, to generate or manage URLs of any kind you need to integrate third-party software or code your own. There are a few options in Github, but none that is native to this headless CMS.
Unlimited Number of API Request
Agility's CMS gives users an unlimited number of API requests starting from its Standard Plan, giving you unlimited users and content items. On the other hand, Contentstack doesn't offer an unlimited number of API requests, and you have to pay for additional requests, even on advanced plans.
The Verdict
There is no doubt that Contentstack is geared towards the enterprise sector. The fact that it lacks a free version and only offers users a 14-day free trial marks it as one of those platforms that cater exclusively to big businesses and enterprise users.
This alienates both smaller businesses and entrepreneurs looking for a headless CMS that is both robust and affordable. Also, some enterprise users prefer to start slow and increase their commitment as their needs grow.
While Contenstack also caters for content editors and developers alike, the fact that they don't offer URL and page management capabilities out-of-the-box can be limiting for non-technical users who might want friendly access to manage the content structure.
Agility CMS, on the other hand, gives both enterprise users and SMBs the tools they need to design, build, and deploy effective digital experiences, providing them with scalable services that grow with them.
Both Agility CMS and Contentstack are robust and offer users similar functionalities. The fact that Agility enables greater control when it comes to sitemaps and content structure and a free, fully functional version gives it the edge.
Learn more:
Enjoy this quick Agility CMS product Demo in 5 min:
Keep reading or chat with us:
How To Choose The Best Headless CMS For Your Brand (2021 Edition)
Back to All Resources