NJKids Online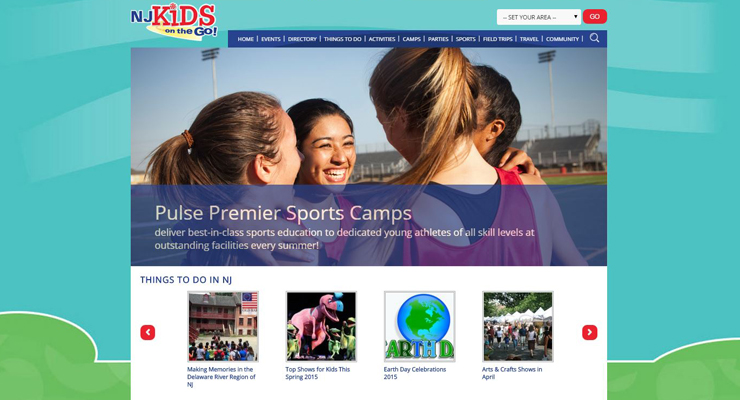 NJKidsOnline.com is the go-to resource for New Jersey parents to find boredom-busting activities and events for their kids. The website boasts up-to-date information, calendars and community boards regarding family-friendly and kids' activities – including camps, classes, performances, festivals and much more.
In 2014, the NJKidsOnline.com team began redesigning and rebuilding its website on Agility CMS. The refreshed website launched in early 2015.
Challenge
A main priority of NJKidsOnline.com's refresh was to build an online property optimized for mobile devices.
Additionally, the website's design and usability needed to be revamped in a big way. The previous design was outdated and difficult for users to find what they were seeking out. The website's Events Calendars and Directories needed to be re-organized and restructured in order to be easily sorted and filtered through by parents to find the content most relevant to their interests and location.
In terms of a content management solution, the NJKidsOnline.com team sought out a streamlined platform that would not present any barriers to its online team in publishing content and keeping the website up-to-date. They required an intuitive CMS that could quickly be mastered by content editors.
Solution
The Agility CMS Team implemented the prebuilt Publishing Package, a solution architected specifically for online magazines, with customizations to fit NJKidsOnline.com's specific needs.
NJKidsOnline.com now utilizes a responsive design, meaning that the website now meets their mobile-friendly needs by automatically resizing and reorganizing itself to fit within all viewports (desktop monitors, tablets and phones).
The website also now includes touch-friendly elements for its phone and tablet users. For example, in mobile views, the website's main navigation menu is hidden via a hamburger menu (the three bars in the top right of the screen). When the mobile menu icon is touched, it expands to reveal all main menu items for easy-navigation and an uncluttered mobile user-experience.
The website's new design is now modern and visually-appealing. It is intuitive to navigate through, and users are able to find exactly what they are looking for within two clicks.

In order to present users with the most relevant content, the website includes the ability to "Set Your Area" via a dropdown above the top navigation. Once selected, the website refreshes to display content specific to the location, like the below example of "Things to do in Cumberland NJ" homepage module.
As a user navigates throughout the site, the selected region continues to inform which content is displayed. For example, the website's popular Events Calendar is automatically filtered to the selected region.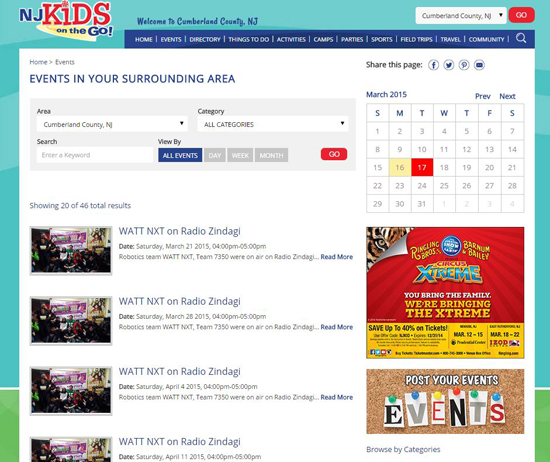 The Events Calendar makes it easy for parents to make plans by providing an easy and useful tool for viewing upcoming events and activities. Users can filter events via:
Location
Categories
Keywords
Dates
The website's Directory, a listing that includes classes, programs and more, can also be filtered via location, category and by entering keywords.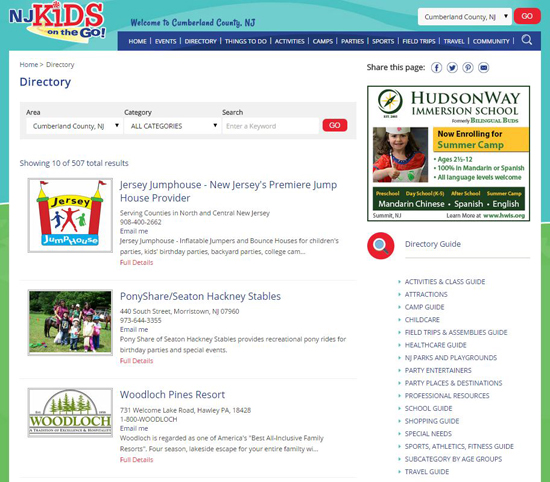 The Directory is a paid listing, and subscriptions for the advertisers that appear within it, are seamlessly managed in Agility CMS.
While the NJKidsOnline.com team manages and updates most of the listings, advertisers do have the ability to login themselves and edit their listing as they please.
Results
The NJKidsOnline.com team reported that Agility CMS has opened up accessibility to their online content – and it is now easier than ever to create, publish and edit content on the website.
The team was able to pick up Agility CMS's workflows and functionality after training sessions with their dedicated Project Manager. They are now able to autonomously keep their content up-to date.
"We love our Agility CMS-powered website. The Content Manager provides simple and seamless functionality for keeping our website fresh with consistently updated and brand new content," Laura Ng said. "We're really happy with Agility CMS."
Visit the website: njkidsonline.com
Benefits of Agility CMS for publishers:
A turnkey solution tailored for editorial content and teams to help you get your new website up and running quickly
Easily manage and publish articles, blog posts, documents, PDFs, images in any file format and third party scripts like YouTube video embeds and more
Sites are search engine optimized and are quickly indexed by Google and other search engines
Easily manage ads on your site by integrating with your preferred ad server like Google's DoubleClick for Publishers
Add an iOS app that automatically pulls content from your Agility instance for a mobile optimized experience
Widgets like the Popular Articles and Featured Content modules promote higher page views per reader by merchandising content on your site
Social sharing buttons, powered by ShareThis, are customizable and make it easy for your readers to promote your content within their own networks to drive viral views
The Image Gallery module makes it easy to display albums of photos and images
Users can comment anonymously, with their site login, their Facebook or Twitter ID
Ratings provide a one-click feedback mechanism for your readers
REQUEST DEMO