I don't write posts often, but this has been fun. It is not by any means a short blurb… if you can hang in there the next 3 minutes or so, that would be awesome.
In these otherwise depressing times, it has been very cool to watch and follow so many great businesses and industry leaders pivot and adapt to maintain operations. It has been particularly interesting for me to see the very different approaches companies are taking to prioritize their employees. There has been a constant buzz around safety, mental health, employee engagement and empowerment throughout this pandemic, and for a good reason. This stuff TRULY matters!
Sadly (very, very sadly), I have observed some companies spending a greater amount of time and effort showcasing what the LinkedIn audience wants to see, boasting even. Still, they are not actually practising these ideals.
Why?
If anyone knows the answer to this, please enlighten me… I just don't get it.
Like all social media, things are not always as they seem and maybe that's why my IG feed is mostly pics of my dogs lately…things are usually pretty grand in their world.
My motivation to write this post; however, is not to call out the phonies. I simply want to share my experience with a company that is truly handling things well, genuinely.
I do hope this post will resonate with a phony or two… and somehow influence positive change. That would be nice.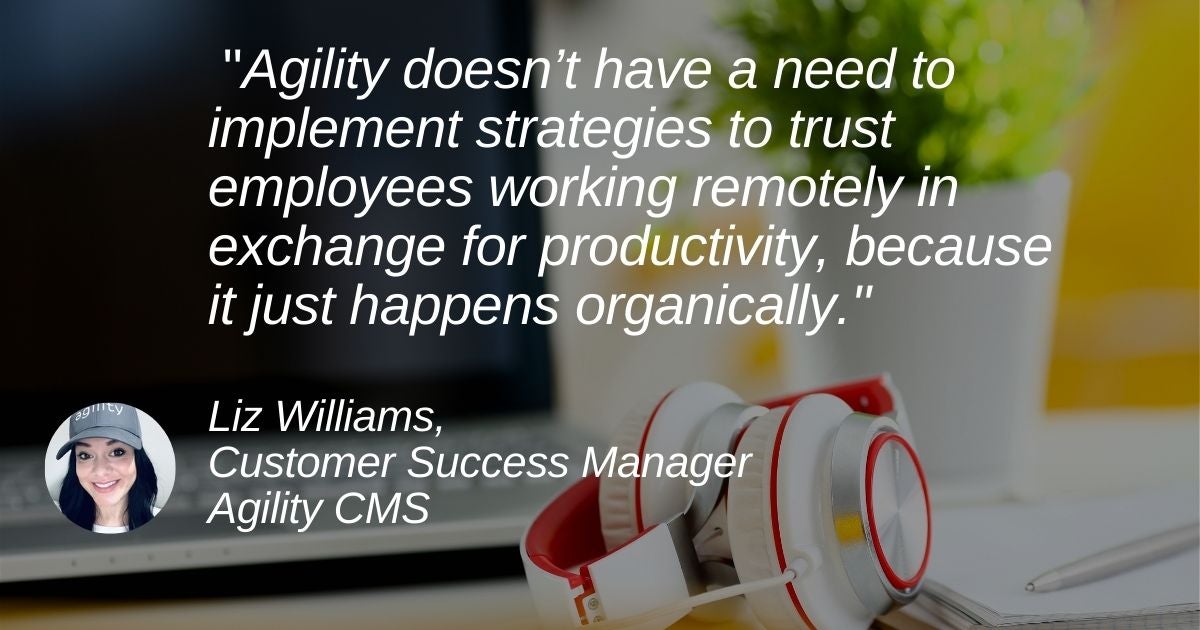 If you follow Agility CMS, you will agree that our CEO does not boast about how much he cares for the employees or share strategies at length on how we collaborate as a team to stay productive and happy at work.
Agility doesn't have a need to implement strategies to trust employees working remotely in exchange for productivity, because it just happens organically.
Leadership at Agility respects and trusts their team, which is why we produce!
Leadership is motivating and keeps the team accountable. We each have a role to fill and we OWN IT… if we don't know the answers or the tools we need to succeed we go LEARN IT and if we can help out a teammate, client or partner we go TEACH IT.
I have never worked for a company that sets goals and meets deadlines as Agility CMS does. We are constantly pushing the needle, reviewing, and iterating plans and we are thriving because of it. I can connect and COLLABORATE with our CEO, Marketing and Finance who all live on the other side of the country, faster and more effectively than I have been able to in the past where my teammates are located down the hall or up the stairs. We were all gifted some really cool VR headsets for Christmas so that we can enjoy a match of table tennis or play a round of golf together, no matter where we are, because this pandemic has been hard on us all and we need a way to HAVE FUN as a team.
Our leadership truly cares. They don't lead with interrogation and intimidation. their goals are to harness our team's talent and do amazing things with it, and it's working.
Those words in caps and bolded above also happen to be our company core values and believe it or not, that happened by accident while writing this post so I thought it would be cool to call them out.
To summarize, I am proud and feel very lucky to work and grow professionally at a company with integrity.
Thank you for reading, stay safe and have and great week😊
Liz