For a long time, traditional content management systems have been the default choice for growing businesses, with DXPs being optimal for enterprise-level companies.
However, their limited adaptability and scalability have made them impractical. Because of its adaptability and scalability, Headless CMS has gained popularity among businesses.
Reasons to consider headless CMS.
An organization may want to adopt a headless CMS because of its benefits. These reasons include seeking more individualized experiences and freedom from a cluttered, conventional interface. A company must have a system for storing and managing content related to its goods and articles. Website and app performance, user engagement, and purchases are all negatively affected.
Thus, some businesses may choose to consider alternatives to the traditional CMS:
When you need to manage content on multiple channels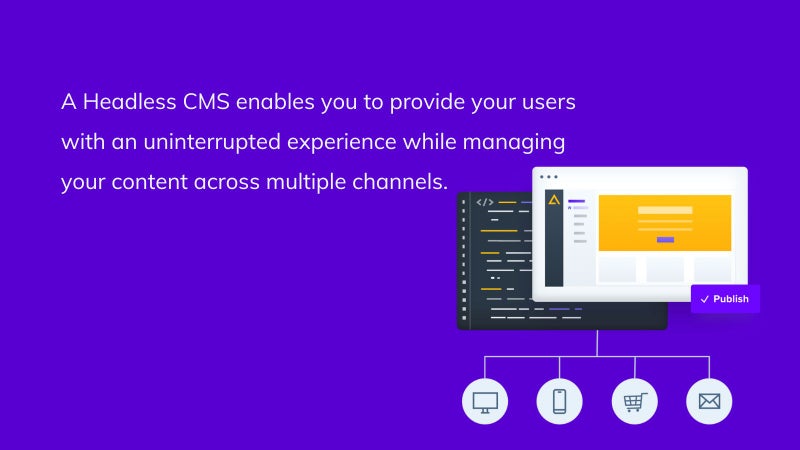 Today modern consumers have constantly evolving requirements and anticipations from their shopping experiences. Traditional content management systems were not designed to accommodate customers' new needs and expectations. Also, ever since the digital revolution began in the 1990s, the content management industry has changed tremendously.
In the past, the only way to view content on the Internet was through web pages. However, users can access content through various platforms in today's world.
As a direct result, content management has become more diverse, incorporating channels such as native phone apps, IoT device channels, etc. Using an omnichannel strategy is possible for field professionals when they have access to a headless content management system.
A headless content management system/ decoupled CMS enables you to provide your users an uninterrupted experience while managing your content across multiple channels.
If you prioritize flexible development
The front-end implementation's adaptability allows you to shape how users interact with your site. The limitations of server-side content management systems are removed, allowing you to do anything you've ever dreamed of. Your site's user experience (UX) can be moulded to achieve whatever ends you have in mind: more traffic, new subscribers, or sales.
You can thank the separation of concerns between the headless CMS and the front end of your website for its adaptability. Conventional content management systems (cms) impose significant limitations, forcing developers to spend most of their effort crafting creative solutions to integrate certain functionalities.
When you need a secure solution
Even though there are other website creation options, WordPress is the most popular- but many people try to hack into it daily.
Content management administration is not required on the homepage when using a headless CMS. When developing a website, you set up each component. This eliminates the requirement for a database, which eliminates the possibility of an assault on a data storage location.
Headless content management systems typically employ APIs to provide content. This adds a layer of safety that you might not get in a regular content management system.
More importantly, that API can be hidden behind multiple code levels, making it more difficult for attackers to gain access. These layers could include an application layer and a security layer. A headless content management system's backend administration is typically housed in a separate server and domain.
When you need a website that performs
A sluggish website or app can have a devastating effect on sales. Many companies work to boost performance, so a headless CMS may be worth considering.
Optimizing a headless website to facilitate client-side loading can be practicable to the greatest extent. This can be accomplished using web-friendly technologies like JavaScript, API, and Markup (the so-called JAMstack method), and databases can be kept on the server side (with prerendering where possible).
This is also fantastic for mobile, as a lesser loading strain is suitable for devices that do not always have a solid connection.
When you need a website that grows with you
Headless CMS keeps the backend and front end in two distinct locations to avoid disruptions during routine maintenance. Improving or enhancing the site doesn't have to slow it down.
If you're hoping to drive conversions
Not all developers of headless CMS share this optimism about the marketing benefits of their products' ability to boost conversions, but some do. A headless content management system (CMS) has the potential to make A/B testing, as well as testing with several software options, easier to implement.
If you wanted to compare two search engines, like Twiggle and Algolia, but were having trouble getting Magento to serve up two different search integrations, having your content decoupled may make the comparison much more straightforward. Undoubtedly, the test would still involve programming work, but a headless, API-driven approach may make the process simpler.
If you're hoping to optimize time and workflows
Content is being produced and distributed rapidly over increasingly diverse media and operating systems.
A headless content management system enables you to publish the same content in multiple locations after only changing it once. As a result, there is less of a need to perform repetitive or duplicated tasks while going through many touchpoints. This significantly reduces the time needed to get a product to market while improving brand consistency across distribution channels.
Headless CMS is growing.
The headless content management system market is expanding at a steady rate- Headless CMS' CAGR of 22.6% from 2020 to 2027.
Expanding the global business sector's adoption of digital channels fuels the demand for headless CMS software. These days, businesses are trying to maintain constant lines of communication with their customers by updating their mobile apps and websites to include more interactive content. Over the past few years, headless content management systems have become increasingly popular for technical experts to use cutting-edge front-end frameworks and microservices architecture without being limited by more conventional CMS.
People with technological backgrounds drive the adoption of headless CMS because they want to employ new front-end frameworks and microservices architecture.
Why use headless CMS?
A monolithic website cannot provide users with the required current digital experience in the internet world. The majority of conventional CMSs are now regarded as obsolete in this sense. In 2021, the content display was not limited to a static web page, and the key is the adaptability of front-end frameworks.
Headless CMS does not restrict developers to a predetermined collection of frameworks and tools. This system frees them to innovate to provide an enhanced experience for end users. According to Justin Emond, the CEO and co-founder of Third & Grove, "To future-proof decisions, many companies simply want to bet on bleeding-edge technology and are prepared to invest to gain longer-term efficiencies." If your company prioritizes this, you should consider adopting a headless model."
What are some of the most significant obstacles when deciding on a Headless CMS?
Migrating to a Headless CMS from a strictly Web-CMS background might be challenging. Since they aren't designed just for managing websites and separating the presentation layer from the backend, headless CMS doesn't provide the familiar WYSIWYG experience regarding content creation. Moreover, headless CMS doesn't offer the convenience of plug-and-play alternatives like WordPress with Yoast; SEO is also a common concern. The technological basis of the digital platform is in the hands of the development team, and SEO needs to be considered as "data."
Disadvantages of Headless CMS
1. Technical Resources
Most Headless CMS is fairly technical and difficult for non-developers. This hinders marketing teams from being able to update websites, blogs, landing pages and more. Instead, they have to rely on developers, who have other things they'd rather be doing.
2. Templates
Unlike Traditional CMS, there are no pre-structured templates. Instead, you need a technical team to set them up for you.
3. Learning new Frameworks
Many Headless CMS requires you to work with a specific framework.
Agility CMS: Empowering Marketers and Developers in the Headless CMS+ Era
Unlike most Headless CMS vendors who primarily cater to developers, Agility CMS stands out by prioritizing the experience of marketers and editors. We empower marketers to take control, enabling them to seamlessly create, manage, and optimize content.
Our commitment extends to developers as well. With Agility CMS, developers can use their preferred frameworks without limitations, allowing them to concentrate on their passion—coding.
Experience the future of content management with Agility CMS, a true Headless CMS+ solution where marketers and developers find the tools they need to thrive in this new era of digital experience.
Book a demo with us here: Request a Demo (agilitycms.com)
Scotiabank Transforms with Agility CMS
Agility CMS empowered Scotiabank, a leading Canadian bank, with:
Secure content management
Tailored code control
High performance
Agility CMS met stringent security standards, allowing Scotiabank to expand internationally with ease. With a 95% Editor Satisfaction rate and a remarkable Net Promoter Score of 9.5, Agility CMS delivered exceptional user experiences for Scotiabank's global audience.
Explore Scotiabank's International Sites: