Data profiling is one of the most revolutionary techniques to come out of the digital transformation of marketing. Accessing insights at the right time opens the door to effective personalization by telling you exactly what your customers are looking for.
This guide will tell you everything you need about insights and how unified data systems optimize your marketing strategy.
What are insights, and how do you access them?
Insights are essentially decision-making analytics drawn from customer/user data. Content platforms like Instagram (see below) have in-built insights so you can access statistics like the number of followers gained and the level of engagement.
Data is the raw numbers; insights collate those numbers into meaningful analytic categories. Good content management means keeping content assets organized and tracking how they perform.
But you might be using a platform that requires a more complex insights system than Instagram. In that case, you may need to use an external data management system rather than one in-built on the platform. When choosing which data management systems to use, you must consider how it approaches unified data.
Why data matters to marketers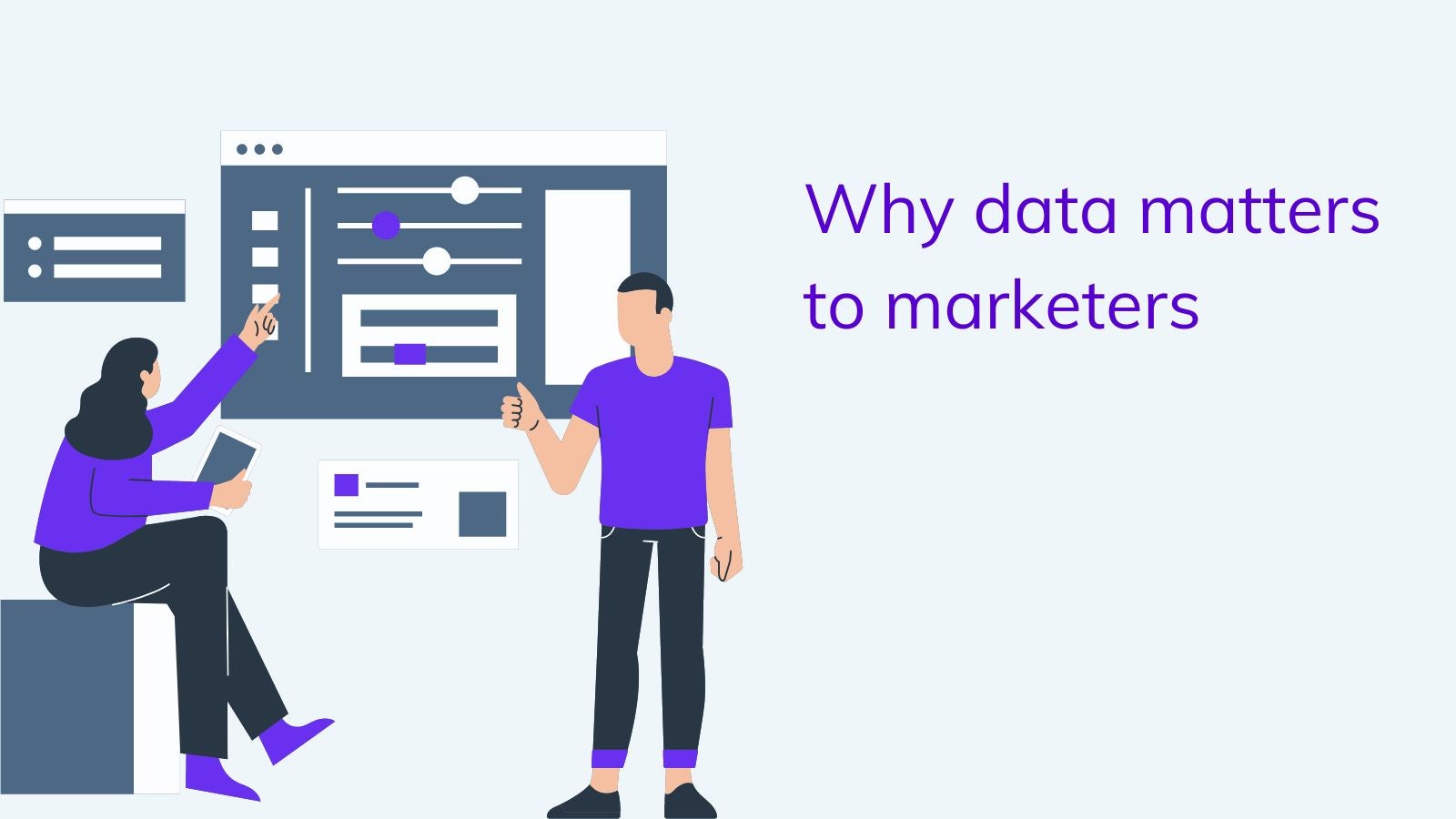 Before you try any new business strategy, you'll want to know what kind of success rate it has. Data-based marketing and good data management have already improved many businesses – and poor data has ruined others! And we've collected the statistics to prove it:
What is unified data?
Insights can be drawn from any touchpoint where customer data is collected. We'll go through the different types of data collection later on, but for now, all you need to know is that any interaction between a customer and your app/website can generate some data.
Multiple touchpoints mean several different data sources. Unified data combines the information from these sources to form one set of holistic insights. A Unified Data Management (UDM) system consolidates these data within a data warehouse.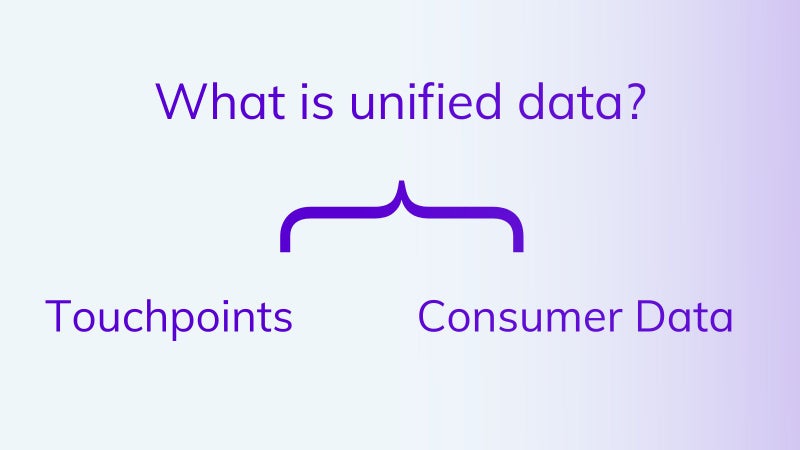 Benefits of a data warehouse
A data warehouse is the home of your unified data. It is a data management system perfectly suited to analytics and creates a comprehensive historical record of all the data in one place. There are four main characteristics of a data warehouse that make it such an excellent tool for insights:
Able to separate data by subject.
Integrates different data types from disparate sources.
Built exclusively for data queries and analysis.
The data is nonvolatile: once it is added to the data warehouse, it does not change.
The efficiency of the data warehouse limits the marketing potential of the unified data it is stored in. A warehouse that is difficult to navigate makes the data much harder to utilize, no matter how good that raw data is.
Data warehouse modeling is a common practice that involves reorganizing and optimizing a data warehouse to better suit the evolving needs of a business. This process may involve restructuring the data, upgrading hardware or software, or implementing new data models to enhance query performance and facilitate more effective data analysis.
Hosting a unified data warehouse on the cloud is one of many legacy system modernization strategies that makes business intelligence more efficient.
UDM and current challenges for marketers
Marketing faces many challenges because it is such a diverse field. Fortunately, Unified Data Management helps to address several of those issues (see below).
Improvement in access, quality, alignment, expertise, and intuition will all contribute to a marketing process that is more successful overall. Unified data makes data more accessible by storing it in one data warehouse and ensures it is of higher quality because various data sources can be analyzed cohesively.
From unified data to insights
As we established earlier, insights group data into useful analytics. A unified data system means that you get more effective analytics.
Optimizing unified data is how you make that all-important shift from descriptive analytics to diagnostic analytics, hopefully, prescriptive analytics.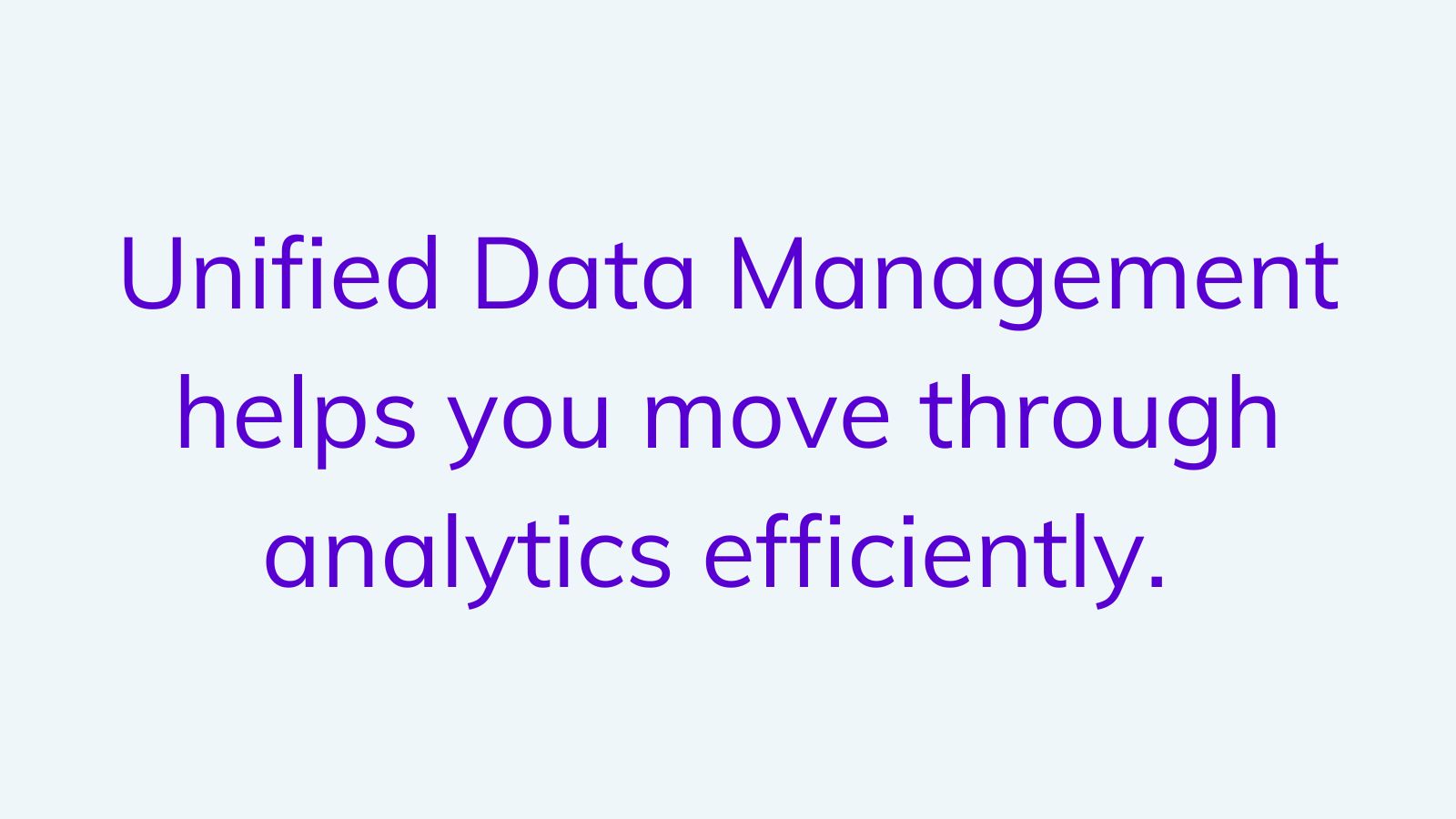 Prescriptive analytics is the pinnacle of data-based marketing. Instead of just noting the effect your marketing had on consumers, prescriptive analytics ask how you can deliberately cause a particular outcome. For example, to follow a Call To Action in your advertising copy.
The accuracy of prescriptive analytics can be investigated with A/B testing campaigns to genuine customers or through simulation technology and AI. These methods find out which variation of a piece of content performs best. The content that comes out on top is the one that gets sent out to your broader consumer base.
Successful data-based marketing will use all four types of analytics to understand what customers like to see and how to make them respond in a way you want. Unified Data Management helps you move through these analytic phases most efficiently.
Integrating automation
Managing this data for potentially millions of users is no easy feat. Automation has become part of many companies' analytics processes to help streamline tasks.
One model of automated data ingestion uses an auto-loaded sorting system (a data lake) that contributes to business intelligence (BI) analytics and improves machine learning. AI and machine learning are fascinating development because they can constantly adapt and help make the most out of unified data in marketing.
Personalization is everything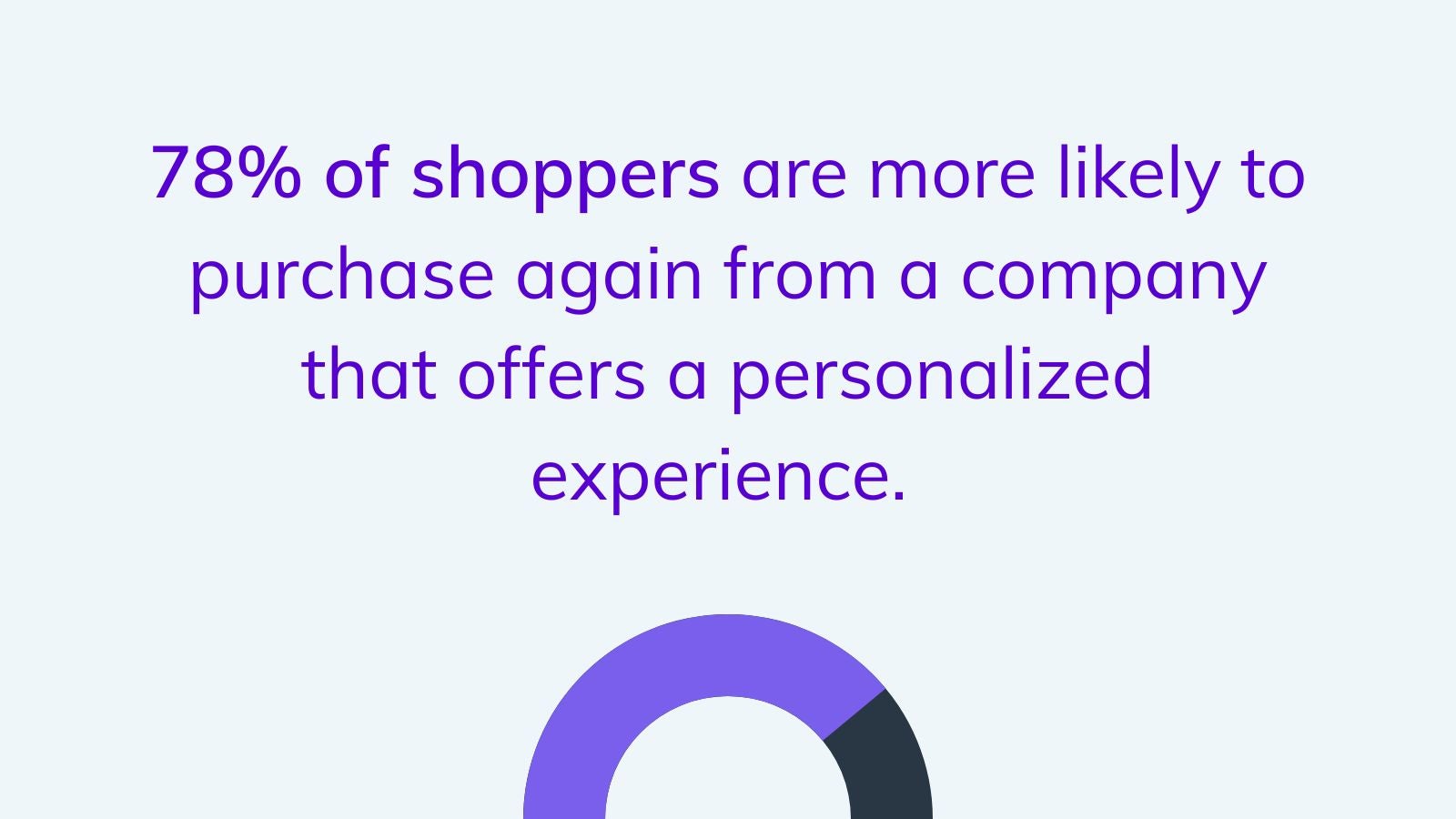 Why do you need all this individualized data anyway? What's wrong with some generalized customer profiles? The answer is personalization.
Personalized marketing began with explicitly collected data like the customer's first name or the country they were shopping from. They had provided this information directly to the company by registering an account or clicking an option on the landing page.
When the business sent out a Gmail schedule recurring email as a marketing campaign, they would include the addressee's name in the subject line. They could also segment their mailing list by country and offer regionally-specific adverts. At first, this entry-level personalization was enough to stand out from competitors.
But now, any digital experience platform, including ecommerce and social media, needs to be much smarter with its personalization. The stakes are high – 78% of shoppers are more likely to purchase again from a company that offers a personalized experience.
Types of data collection
There are almost unlimited ways to collect valuable data for marketing. Not everyone is happy for their data to be collected implicitly, in any case. Fortunately, there is a range of explicit and implicit methods available to marketers.
Once again, this is where Unified Data Management is a fantastic tool. UDM brings together all types of data, regardless of how it was collected.
Explicit data collection
Explicit data collection is like the analytics version of filling out a form. This happens when a customer registers an account or makes an inquiry directly to your business (e.g., if you're a construction company, they will need to fill out a roofing proposal sample form, or a beauty salon might have an online portal to book appointments).
The user enters their name, email, and delivery region when they do these interactions, which can then be included in the marketing content they see. Explicitly collected data also includes search terms or filters that the customer puts in.
From this kind of data, you could find out that a user is based in the UK, how to contact them, and that they're interested in buying high-end women's fashion, for example. UDM allows you to combine all of this data into one customer profile, even if it is in different formats or comes from disparate parts of the site.
Implicit data collection
As you can probably figure out, implicit data is information inferred by a user's browsing/viewing behavior rather than information that has been input directly.
This includes the pages they viewed on your site, how long they spent on those pages and other engagement factors. Data like this is essential to informing analytics like bounce rate, which is a crucial indicator of how a piece of content performs.
Many implicit data collection strategies rely on machine learning technology, such as autoML feature engineering. These tools mean that your data collection and analytics algorithm is constantly adapting to meet users' needs and align with their browsing preferences.
No data without trust
A mix of explicit and implicit data collection is super helpful for marketers. However, not all customers or site visitors are comfortable with every data collection strategy.
Upon opening almost any website, you'll first see a pop-up asking about cookies. As you probably already know, cookies are tiny data that help the site remember and differentiate between all its visitors. It allows for features such as the 'remember me' login option that creates a more convenient browsing experience.
However, many tech-savvy consumers are aware of the privacy risks opened up by cookies. Recent legislation like the EU's General Data Protection Regulation allows individuals to choose what data they want to share and whom they want to share it with.
Yes, this does mean more paperwork and hoops to jump through for digital companies. But it is vital to respect the consumer's right to choose when it comes to data collection. Data profiling is swiftly becoming one of the most controversial aspects of the digital age, so building trust is crucial.
Making a plan
Now that you know why unified data has so much marketing potential let's move on to logistics.
Get a team together.
Applying Unified Data Management to marketing is a process that requires many different skills and areas of expertise. To get the most out of UDM, a strong team is crucial.
The team working on data management, insights, and marketing may include:
Programmers and software engineers
Data scientists
Chief Marketing Officers (CMOs) and junior marketers
Content creators
Social media managers
Just like how UDM synthesizes data from multiple sources, a successful UDM strategy brings together many different types of professionals. Communication is key to teamwork – consider using an IP telephone system or a virtual workspace app to keep each other updated.
Budgeting and costs
Right. Let's talk about the elephant in the room. Sure, Unified Data Management and insights can help with marketing, but how much will this cost?
It all depends on what scale you're working at. Depending on the amount of data you're processing, and what management features the platform offers, a data management platform can cost between $1k and $6k US a month.
With that said, high-quality data management is worth investing in. Poor quality or mismanaged data can cost your business up to 25% of its operating budget!
If you're using an out-of-house data management company, they will also have instance types pricing that varies by platform.
Summary
Data insights have entirely changed the marketing game. But to make the most of this information, you need a Unified Data Management platform. To summarize, here are the top benefits of unified data for marketing:
It combines user data from all sources to form a cohesive data profile.
Better data profiling leads to better personalization.
It allows automation and machine learning.
It is cost-efficient.
It informs analytics that signal how well content is performing.
Share this article if you found it helpful!