The pandemic has been a hard hit for many businesses. As of January 2022, 3.3% of businesses have temporarily closed their doors, and 1.3% have permanently shut down their businesses.
This doesn't mean the pandemic has been bad for all businesses. Forbes states that companies like Zoom, Amazon, and Uber Eats have tremendously flourished during the COVID-19.
Do you know why?
Because these businesses have anticipated the change. They understood that the business landscape and customer preferences were changing. They were also one of the early adopters of remote work culture.
That has been only possible because of a business composable mindset and structure. But, what's that?
Business composability is not a new business concept. It was first introduced by IBM in 2014. But, during the pandemic, business composability once again gained the limelight and helped many businesses grow despite all odds.
If you are still unfamiliar with business composability and don't know how it can help your business in 2022, let's not wait and scroll down to discover everything about it.
What is Business Composability?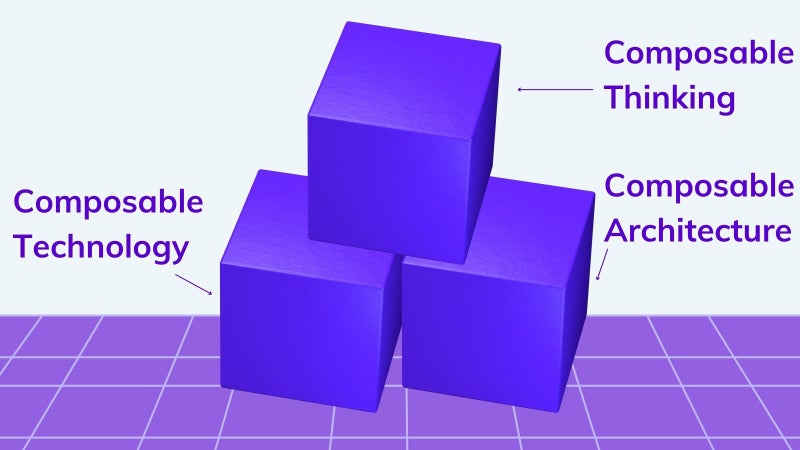 Let's first break down the business and composable to understand both words' literal meaning.
Dictionary meaning of business is "mental or physical activity as a means of earning income."
Composable means "to make or form by combining things, parts or elements."
So, business composability is something that has different parts which help you make money. We can also say business composability is a building block that helps you adopt the changing business dynamics.
In the words of Daryl Plummer, VP, Distinguished Analyst & Gartner Fellow, "Composable business is a natural acceleration of the digital business that organizations live every day. It allows organizations to finally deliver the resilience and agility that these interesting times demand."
Composable in business means creating an organization using interchangeable blocks like technology, mindset and process. These blocks are like Lego pieces that businesses can easily rearrange to fit in any situation.
Composability lets companies break down monolithic applications into discrete components. Each component can be built, scaled, and maintained independently. This, in return, gives businesses leverage to adopt new technologies and processes efficiently.
For instance, suppose you want to implement account-based marketing in your organization. In that case, composability can help you adopt the right mindset and select the appropriate technologies and methods to deploy a new digital marketing approach.
Four Principles of Business Composability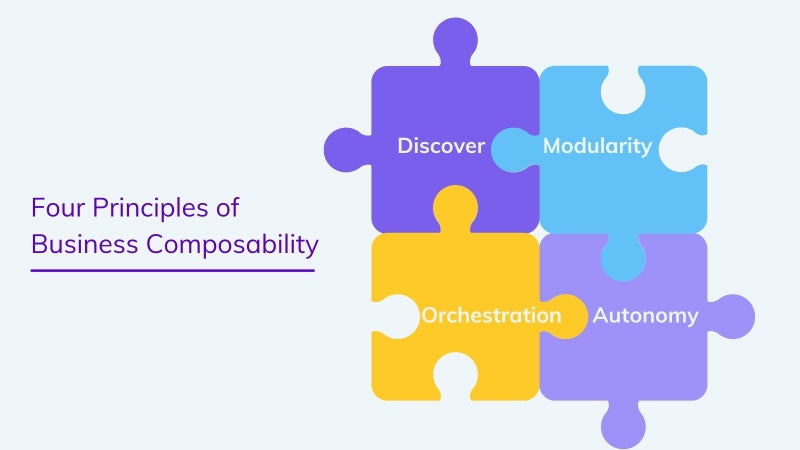 Gartner has shaped the business composability concept into four core principles that will help businesses become composable:
Discover

: Take action faster when you see a new change happening in your business domain.

Modularity

: Move interchangeable blocks in an agile manner to achieve desired results.

Orchestration

: Combine all business functions to adopt the change faster.

Autonomy

: Develop resilience via targeting independent business units.
Let's understand composable business principles with an example—
If you want to invest in digital marketing to grow your business, you should first explore what has changed in digital marketing due to the pandemic before moving ahead.
Imagine you have found that email marketing is extremely trending in your business niche nowadays. In that case, you can make immediate changes in your digital marketing blocks like audience segmentation, email sequences, etc.
Three Business Composability Foundations
\
Business composability is a dynamic digital experience platform that provides a complete picture to adopt a new change in the business organization. These are three basic foundations to set up business composability in your workplace, such as:
1. Composable Mindset
Businesses first need to work on a composable mindset. It revolves around understanding what new things can happen in the future, predicting what your business needs to adopt new changes and creating a flexible infrastructure. It also focuses on modular philosophy and getting ready for future possibilities.
For a composable mindset, you have to ask yourself some futuristic questions, like:
How will your business industry evolve in the next 3-4 years?

How will the competitive environment shift in the future?

How much will your

customers' needs

and expectations change?

What new business models can you pursue?

What type of products or services can provide you with a competitive edge? Etc
These types of questions will provide insight into the market forces that will influence your business in the future. So, carefully think about all things that can impact your business so you can adopt the right modular philosophy to arrange assets in your organization.

2. Composable Business Architecture
In this digital era, the business should be designed to deal with any emerging uncertainties and continuous changes. The recent remote and then hybrid work systems are the greatest examples in the context.
Nobody has ever predicted that workplaces will go 100% virtual before 2020. Therefore, the businesses that were not designed to adapt to change — either shut down or lost productivity in remote work.
Businesses need to remember that they can't predetermine systems, workers or processes for a purpose. They have to build a business architecture that can adapt to any situation.
In short, you need to create a hybrid DXP to support multiple digital experience compositions, managements, and deliveries in a single platform.
3. Composable Technology
Today, every business uses technology — from a compact CRM (customer relationship management) to a simple link scraping tool. In fact, a McKinsey report states that more and more companies are adopting automation lately.
But never forget technology itself has to be composable to run a composable business. If your business toolkit can't change or scale up according to the market shifts, you can't adopt modular philosophy or process.
Composable technology doesn't mean composing one or two software in your organization. No, you have to fully compose your business tech-stack — from infrastructure management to data integration capabilities.
Tech executives have to push their companies forward to iterate technology to share data across systems, better analyze workflow, and keep people connected in the remote environment.
Why Is Business Composability Important for Modern Business?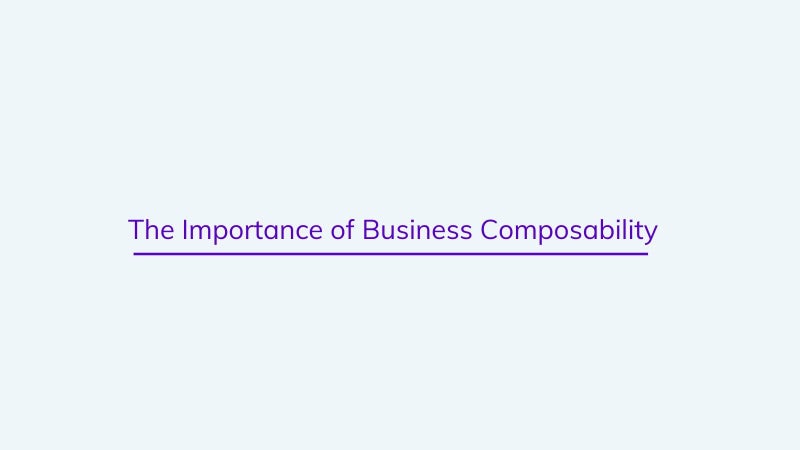 The modern business landscape is hybrid. Almost 52% of employees prefer to work in a hybrid environment where they can choose when to work from home and the office.
That means the present work environment changes every day. Therefore, to run your business operations smoothly, you need a composable business model in order. This helps modern businesses to:
Never miss a business opportunity
Many business leaders have missed out on lucrative business opportunities because they are unable to make necessary changes on time. Or they don't have the right vision and tools to adapt to the changes faster.
Facebook turning into a Metaverse is the latest example of composable thinking. Facebook understood that data would run the show in the future. Therefore, they have already compiled resources to leverage the business opportunity that might arise in the future.
Desire to expand
Do you want to expand your business scale in the foresighted future? Then, you need to work on business composability so you can leverage modularity to mitigate the accelerated risks lurking around changes.
When you have the right process and technology to deal with business scaling risks, you can dramatically reduce the risk level.
Never overlook the need for change
There is a high chance that leaders can fail to recognize the need for change in the organization. In the haze of running and managing different business operations, leaders can forget to analyze the market trends. And this can push organizations toward the brink of obsolescence.
Here composable businesses have nothing to worry about. They will not have to wait for the next system updates or follow the legacy vendor roadmap. Instead, they will prepare themselves for any disruptive change.
In fact, using modular technologies, they can swiftly test the new market dynamics and even find a way to earn higher profits.
Leverage an open application ecosystem
The composable business architecture supports an open application ecosystem. This allows companies to select from best-of-breed innovations. They can pick the best vendors that offer API building blocks to build the desired experience.
The best thing about composability is you don't have to invest in every individual block. Instead, you can get pre-made kits that can be a basic framework to build onto as desired.
If you have ever visited a Lego store, you must have seen several pre-packed Lego kits in the front of the store to build specific projects. Pre-build composable blocks are similar to Lego kits. You can get a kit to perform a specific task, and your work is done.
Helps to survive in the post-connected world
It is over two years into the pandemic, and companies are still struggling to build connections with customers and remote workers. In addition, many companies face a problem of improving remote workers' productivity and streamlining their operations.
Composable business can give a push to businesses to evolve in the post-pandemic world with quick discovery, evaluation, and continuity. It can optimize the experience for employees and customers to drive loyalty and satisfaction from them when it's needed.
Composability empowers businesses to build the same workflow across different departments to achieve their goals and evolve despite customers' ever-changing preferences.
Streamline business operations
Every business might have an end goal. But multiple departments, contracts, and people work separately to achieve a company goal.
So, business composability is responsible for streamlining the entire workforce and preparing them for the change. Composable business units are designed to work like a well-oiled machine to achieve the preset organization goals.
Business Composability Examples
Business composability can be applied in your organization at different stages. Like agile, it is a principle that's not limited to a particular area. You can apply composability in several ways, such as:
Cross-functional teams
Leveraging composable business blocks, companies can create cross-functional teams to set up an agile work environment. Composable teams can adjust themselves during disruptive changes to achieve desired results.
Composable software
In modern workplaces, digital environments are fragmented and complicated. Today, employees use various software to run their daily operations and provide better customer experience like CRM, accounting software, etc.
Composable software can help to simplify the training, and software walkthroughs and provide technical support to employees. It enables companies to demonstrate to their employees how to effectively use business applications.
Composable IT infrastructure
IT infrastructure has changed a lot in the past few years — from hardware architecture to virtualization. Therefore, IT managers need composable IT infrastructure to compose data into virtualized infrastructures as required.
Composable infrastructure is a method to manage physical and virtual IT assets, finding new solutions to allocate them in a more cost-effective manner, such as:
Simplifying IT workflows to improve daily performance

Purchasing software licenses due to the flexible nature of the platform
This infrastructure offers a fluid set of resources to modern IT teams to meet the needs of business applications.
Is Business Composability the New Normal?
In the post-COVID-19 times, you can expect to see more disruptive changes and uncertainties. Some business leaders have predicted that constant change will be far more challenging than a slow yet stable business ecosystem.
Besides this, digital transformation is in a rage right now. New technologies and gadgets are being developed, making it hard for companies to adopt them all.
Customer preferences and sentiments are also shifting quickly. Today, customers are looking for a more personalized digital shopping experience as they prefer to buy online. This has made it crucial for eCommerce sites to integrate with CMS and other CX tools to improve the online shopping experience.

On the top, customers' spending patterns also changed due to the pandemic. A McKinsey report states that consumers are saving more after the crisis. They want to keep themselves financially secure to deal with uncertainties.