The creation and distribution of digital content have become crucial components of the majority of enterprises in the fast-paced digital world of today. Businesses employ digital content to draw in and retain their target market, increase brand recognition, and position themselves as thought leaders.
Digital content publication is only one component of a much larger content ecosystem that also includes a variety of procedures, devices, and technological advancements. Read on to discover what a content ecosystem is in this post and how it fits into the larger picture of an enterprise's digital strategy.
What is a Content Ecosystem?
Content ecosystems refer to the systems and processes that enable achieving digital and company goals. It includes content creation, distribution, and measurement. Content ecosystems enable businesses to create and distribute content to the right people at the right time. It also allows them to measure their content's success, identify gaps, and adjust their tactics accordingly. In short, a content ecosystem is a comprehensive system for creating, distributing, and measuring content to achieve a desired outcome.
A company can generate, manage, and publish digital content thanks to a linked network of people, systems, tools, and technology known as a content ecosystem. Several tasks include content production, curation, publishing, distribution, and analytics. To accomplish business goals, a content ecosystem is needed. This ecosystem should ensure the appropriate content is given to the right audience. Additionally, the content should be given at the appropriate time and in the appropriate format.
The content ecosystem includes various content types, including blog posts, social media updates, videos, podcasts, whitepapers, e-books, case studies, and more.
These many forms of content are produced to fulfil various objectives, including bringing in new clients, keeping hold of current ones, and establishing thought leadership in the sector.
What is a Content Ecosystem in Marketing?
In marketing, a content ecosystem is an interconnected network of content assets and channels that a brand or organization uses to engage, educate, and influence its target audience. It entails the strategic planning, creation, distribution, and optimization of content across several platforms and formats in order to establish a consistent brand presence and deliver desired results.
The principle of offering value to the audience is at the heart of a content ecosystem. Brands recognize the value of offering meaningful and relevant content that meets the needs and interests of their target customers rather than relying exclusively on traditional advertising or promotional messages. This content-centric approach aids in the establishment of trust, the development of relationships, and the positioning of the brand as an authoritative source within its industry.
A well-designed content ecosystem considers the target audience's different interests and behaviours, as well as the channels they use. It entails creating several sorts of content, such as blog articles, videos, podcasts, infographics, social media postings, and more, in order to appeal to differing consumption tastes and catch attention across multiple platforms.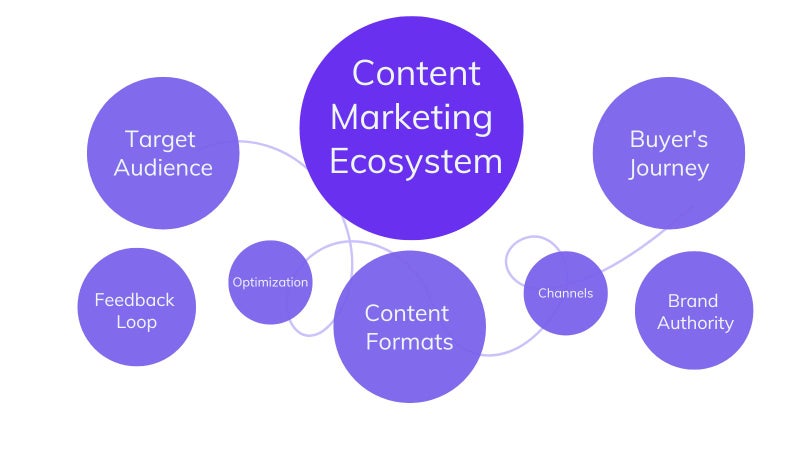 Furthermore, a content ecosystem goes beyond content generation. Strategic planning is required to ensure a consistent message and brand identity across the customer journey. Conducting audience research, developing buyer personas, mapping content to different stages of the buyer's journey, and aligning content efforts with overall marketing goals are all part of this process.
In a content ecosystem, the distribution and amplification of material are both critical. Brands use a variety of platforms and methods to efficiently reach their target demographic. Owned channels such as websites, blogs, and social media accounts may be included, as well as earned and paid channels such as guest blogging, influencer collaborations, social media advertising, email marketing, and search engine optimization (SEO).
A content ecosystem cannot function without optimization and analysis. Brands may examine the efficacy of their content and make data-driven decisions to increase its effectiveness by analyzing important indicators such as website traffic, engagement rates, conversion rates, and social media interactions. This may entail fine-tuning content strategy, experimenting with new forms or channels, and harnessing data to provide more personalized and effective content experiences.
How Publishing Digital Content Fits into an Enterprise's Broader Context
A larger content ecosystem that fits into the context of an enterprise includes more elements than just the publication of digital material. When a company signs up a new client, onboarding begins. Digital content is essential to this process because it gives customers the knowledge to get started, solve problems, and make the most of the good service.
In terms of marketing and branding, the production of digital content also fits into the larger context of an organization. Most companies' marketing strategies now must include content marketing since it enables them to draw in and keep their target audience through relevant, quality information. This promotes brand recognition, establishes thought leadership, and encourages sales.
Components of Content Ecosystems
An organization's internal production, distribution, and administration of digital content constitute a content ecosystem. Businesses need to create a robust content ecosystem built on five critical pillars to succeed in the digital age. These pillars include content strategy, governance, creation, distribution, and analytics for content. These pillars enable businesses to produce and distribute digital content that connects with their target market, meets their goals, and positions them as thought leaders in their respective markets. Each of these five pillars will be thoroughly examined in this essay to comprehend better how they each contribute to a well-planned content ecosystem.
Content Strategy
A vital element of a content ecosystem is a content strategy. It entails designing a strategy for producing, disseminating, and managing digital information that aligns with the company's objectives. A content strategy includes identifying the target market, the kinds of content to be produced, the channels via which the content will be distributed, and measures for gauging the success of the content.
Content Governance
The policies, practises, and procedures that control the development, administration, and dissemination of digital material within a company are called content governance. It ensures that the written material adheres to the organization's messaging, core values, and legal obligations. Establishing roles and duties for various stakeholders involved in the content generation process and ensuring that everyone complies with the rules are all part of content governance.
Content Creation
A content ecosystem's most important element is content generation. It entails creating digital content in various formats, including infographics, podcasts, videos, blog entries, whitepapers, and case studies. Understanding the target audience, producing information that appeals to them, and presenting it in a way that is simple to consume are all essential for effective content creation.
Content Distribution
Sharing digital content with the intended audience is known as content distribution. It entails selecting the distribution outlets for the material, such as websites, email newsletters, and social media platforms. Understanding the preferences of the target audience, delivering the content in the appropriate format, and utilizing the appropriate channels are all necessary for effective content distribution.
Content Analytics
Analyzing content entails determining how successful a piece of digital content is. It monitors many indicators, including website traffic, engagement levels, and conversion rates. Businesses can use effective content analytics to identify what is working and what is not and make data-driven decisions to enhance their content ecosystem.
Beyond the simple production of digital content, a content ecosystem includes many more components. Content strategy, content governance, content production, content distribution, and content analytics are just a few of the many tasks it covers. Businesses can produce and deliver digital content that connects with their target audience, meets their business goals, and positions them as thought leaders in their respective industries with the support of a well-designed content ecosystem. Businesses may create a robust content ecosystem that fuels their success in the digital age by utilizing the appropriate tools, technology, and processes.
Content Platforms, Composability, and APIs
Content Platforms allow companies to produce, manage, and publish digital content. These can take on several shapes, including marketing automation tools, content management systems, and digital asset management (DAM) options. Businesses can use various tools and functions to produce, curate, and publish digital content and track and evaluate its effectiveness.
The term "composability" describes how well various elements of a content ecosystem may cooperate. It entails disassembling digital content into more manageable, reusable parts that may be combined in many ways to produce new content. Businesses may produce and disseminate content more rapidly and effectively with this strategy because they can reuse existing components rather than create everything from scratch.
Applications can connect through software interfaces known as APIs (Application Programming Interfaces). They play a crucial part in a content ecosystem by allowing various elements, including content platforms, to integrate. With the help of this interface, businesses may automate several steps in creating and publishing content, including analytics, social media posting, and content distribution.