Customer-centric experience is essential in a thriving business today. As we move forward to focusing on the customer experience, we see a change in CMO roles. They are no more just concerned about driving revenue for their business but also about driving the customer experience.
In the past few years, the focus on customer experience has added a new role to the marketing team: Chief Experience Officer (CXO). The CXO is responsible for delivering an exceptional customer experience across all touch points. However, adding CXO roles while ignoring how CMO roles can be improved is just adding a new position without genuinely solving the problem.
CMOs have to be focused on creating customer advocates. This requires a different skill set and thinking than what has traditionally been required of marketing teams. CMOs need to be able to think about the customer first and align their team's goals to this new customer-centric focus.
Fortunately, several CMO roles successfully made this shift and became leaders in driving the customer experience. These CMOs are using their skillset to create a more customer-centric culture.
Now, the next question will be.
Why is Prioritizing Customer Experience Important?
Why should companies prioritize customer experience more than ever before?
Customer experience is the icing on the cake. It's what keeps customers coming back again and again. It makes people think of a brand when they're making a purchasing decision instead of considering all the other options.
Customer experience should not be taken lightly because it impacts almost every aspect of the business. For example, if customers don't have a good experience with your cryptocurrency company's customer service department, they might not feel comfortable enough to purchase from you again in the future.
If your business struggles to earn repeat customers, it might be time to focus on improving your customer experience.
How can the customer experience be improved?
The Chief Marketing Officer (CMO) 's Role in Championing Customer Experience
You may now be wondering how the CMO roles help improve customer experiences?
The answer is that CMOs are responsible for leading their company's marketing efforts. The CMO role mainly focuses on generating revenue through creative marketing strategies, customer acquisition and retention, marketing research, branding, product development, and more.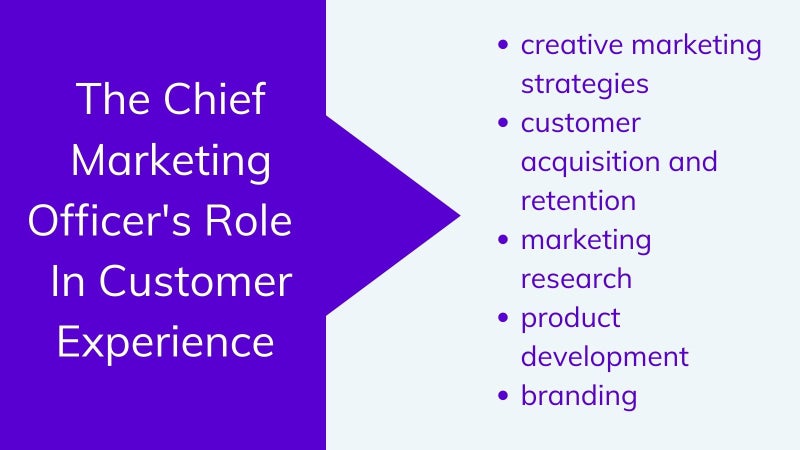 In addition, the CMO role is also responsible for creating a positive brand image. This is done by implementing strategies that keep customers happy and satisfied while engaging in your products or services.
It's important to note that if customers are not satisfied with your products or services, then they will not be likely to purchase from you again or recommend your business to others.
Besides, CMOs also have a significant role in customer retention because retaining existing customers is often more economical than acquiring new ones. A good customer experience can help reduce costs because it keeps customers returning.
When CMOs meet their revenue goals, they can assist the CEO in reaching their financial targets as well as help them achieve their business goals overall. All C-level executives need to work together for the company to succeed in today's business climate, where customer experience has become increasingly important.
How CMOs Work to Improve Customer Experience?
CMOs work to improve customer experience in a number of ways. One way is by conducting customer research to understand their needs and wants. Another way is by ensuring that all customer touchpoints are positive experiences.
Here are a few examples of how CMOs' roles can champion the customer experience.
CMOs can foster collaboration
Regarding collaboration, CMOs help integrates a customer experience strategy across the organization. This means that the CMO role is working with all other executives to create a strategy that will improve customer satisfaction and retention. CMOs need to be able to build relationships with other executives so that they can collaborate and work together.
More importantly, customer experience has become increasingly important in today's business climate, so it should be at the top of every executive's agenda. This is especially true for CMOs responsible for aligning the entire organization around creating a positive customer experience.
And when it comes to improving customer experience, CMOs need to understand what their customers want and need before developing strategies to create a positive customer experience.
To do this, CMOs have to ask questions such as "how do your customers feel about your company?" or "what would you change about your company?" These types of questions allow CMOs and companies, in general, to get customer feedback so that they can use this information when developing strategies to improve their customer experiences.
CMOs can eliminate silos.
Silos are a significant problem for companies today because they prevent collaboration between different departments. They result from poor communication and can lead to a lack of cooperation. This, in turn, can impact the customer experience because it can create confusion and frustration.
Silos can also cause a lack of communication between employees, which results in poor customer experiences. For example, if the marketing team is not communicating with the sales team, this can lead to a disconnect between what the customer wants and what the company offers. As a result, the customer may end up unhappy with the product or service.
Fortunately, CMOs can help eliminate silos by working with other executives to develop a customer experience strategy aligned with the company's overall goals. This way, all departments will work together towards a common goal: improving the customer experience.
CMOs can ensure that every department is aligned with the company's overall goals and values. By doing this, CMOs can ensure that each department is working together to create the best possible customer experience for the customers.
CMOs keep up with digital innovation.
In today's business world, companies use several new technologies, such as social media platforms, analytics software, and mobile applications. However, many of these technologies are fairly complex and challenging to use for individuals who aren't familiar with them.
Luckily, CMOs can help ensure their organizations understand how these technologies work to leverage them effectively to create better customer experiences. For example, CMOs can use social media platforms to connect with customers and understand their needs.
If companies can use tracking tools, such as time clock software, to monitor their employees, then CMOs need to use analytics software to track customer behavior and understand what they are looking for.
Digital innovation is crucial for companies that want to create better customer experiences. However, digital innovation is like a game of "whack-a-mole." It's constantly changing and moving, so it's challenging to keep up with.
CMOs can help solve this problem by staying informed about the latest digital innovations to ensure that their companies use the most effective tactics possible. By doing this, CMOs can help create better customer experiences and improve their overall business performance.
CMOs can leverage data to paint a clear picture of the customer for the rest of the company.
Understanding your customers is challenging, but it's also important because it helps a company develop more effective marketing strategies. Leveraging data is crucial for CMOs because it allows them to understand their customers better. Additionally, data can help CMOs segment their customers to create more targeted marketing campaigns.
CMOs must use the data they have at their disposal to paint a clear picture of their target audience for the rest of their organization. This can help the company understand what customers want and how to deliver those things best.
For example, if a CMO knows their target audience is interested in best-selling products, they can share this information with the sales team. This way, the sales team can better understand what customers are looking for and how to sell to them.
Additionally, if a CMO knows their target audience is interested in a specific type of content, such as explainer videos, they can share this information with the content team. This way, the content team can create more targeted and relevant content that will resonate with the target audience.
In short, a company's business strategy will likely play a defining role in how it gains several new customers, specifically if they have a great experience with your business before becoming customers. That's why the CMO's role is to work with other departments to ensure that their strategies are aligned with what customers expect.
Transforming Customer Experience with Headless CMS

Headless CMS is the most effective way to transform the customer experience and deliver more personalized content at scale. In brief, headless CMS is a term used to describe a content management system decoupled from a front-end user interface (UI).
This enables the headless CMS to be paired with any user interfaces, such as responsive web design, chatbots, mobile apps, and more.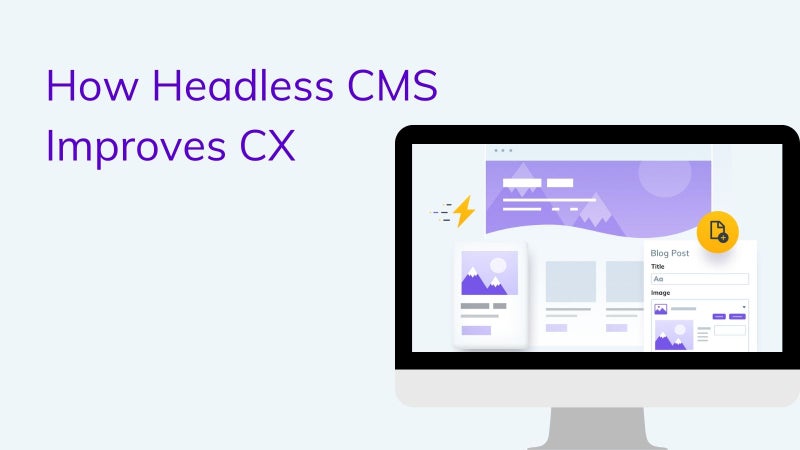 A headless CMS can also deliver personalized content across multiple channels. The CMS can target audiences based on the information they have provided in the past or other data points that are relevant to them.
For example, suppose a customer has purchased product A in the past and has indicated that they prefer red products over blue products. In that case, the headless CMS will deliver targeted content about product A in red.
The headless CMS is developed using JavaScript, JSON, and HTML5. It allows developers to create a website without installing plugins like WordPress or Drupal. With headless CMS, developers can build any website they want from a single codebase.
Headless CMS also helps businesses with marketing and advertising goals and analytics, reporting, and other business intelligence tasks by connecting directly to your data sources or CRM software such as Google Analytics, Salesforce CRM, Hubspot CRM, etc.
There are various types of headless CMS available for businesses:
Wrapping Up
The increasingly digital environment we live in today is changing the way customers interact with companies, resulting in a shift from traditional marketing practices to digital ones that CMOs can leverage.
CMO roles are heading their way up to help improve customer experience with the help of technology. The technology-based solutions are no longer limited to the IT department but are now used by marketing and sales to engage with clients personally.
It now becomes essential for CMOs to be aware of the various technological developments to prepare themselves for any upcoming changes in their business environment.
One such technology that has been recently gaining popularity is the headless CMS. A headless CMS allows businesses to decouple their content from their presentation layer, making it easier to manage and deliver content across multiple channels. CMOs should consider using a headless CMS to improve customer experience and drive better results for their businesses.