The impact DXPs have had on the content management industry is tremendous, and 2020 has been the year of the DXP. Ever since Gartner decided to discontinue their report on WCMs and instead focus on digital experience platforms, there has been a lot of buzz about the future of CMSs and DXPs.
But buzz aside, the truth is that DXPs have come to stay and with good reason. DXPs have become critical to a successful digital strategy because they provide the tools marketers and technical users need to deliver timely content to users.
Also, as DXPs approach technology maturity, we're starting to see the business and technical benefits of the platforms, and the ability to adapt to the everchanging consumers' expectations.
In today's playing field, where many companies tout similar benefits, and all players look the same, there are still ways DXPs and CMSs can distinguish themselves from the crowd. One of them is by going headless, or even a step further by using a hybrid architecture.
What Is a DXP?
Gartner defines the digital experience platform as "an integrated set of core technologies that support the composition, management, delivery and optimization of contextualized digital experiences."
A DXP combines and coordinates applications. It works as a neural center that integrates content management, eCommerce, marketing, search and analytics, personalization, collaboration, and workflows.
In simpler terms, we can say that DXPs enable companies and enterprises to build, deploy, and iterate experiences for websites, portals, mobile apps, progressive web applications, and IoT-powered devices.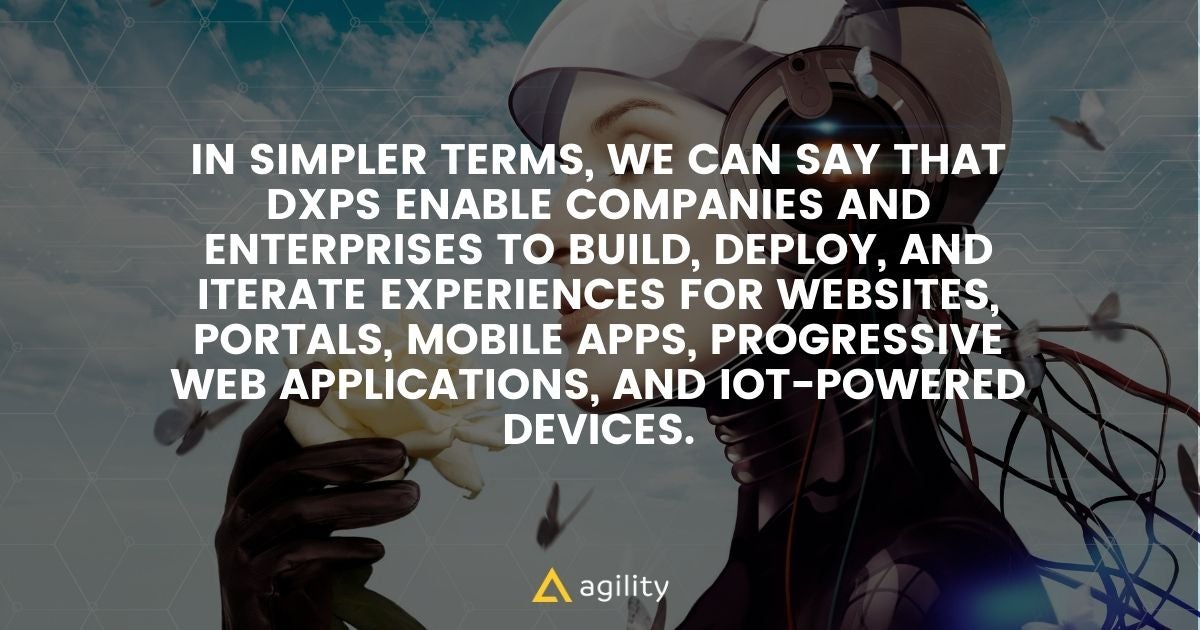 The Benefits of a DXP
Flexibility is only one of the benefits of having a digital experience platform. There are many other things a DXP can help companies with.
Best-of-Breed Approach
With the best-of-breed approach, you select the best software products for your company and integrate them with your DXP. Most DXPs in the market are fully integrable with other third-party tools, soyou get the centralized hub to build every part of your stack granularly rather than searching for an all-in-one solution.
eCommerce Integration
DXPs can integrate different third-party software to improve the performance and productivity of any eCommerce store. With tools like advanced testing and personalization, brands can tailor individual shopping experiences, enabling marketers to get data from every visitor across multiple touchpoints.
Future-Proof
Developers and marketers are under pressure to meet the needs of customers, especially those who expect consistent omni and cross-channel marketing across every touchpoint. The good news is that DXPs are advanced enough to accommodate and integrate the changes in both the technology and organizational landscapes. Also, if you choose carefully, you will get a platform that will accompany and support your company through its life cycle.
Visibility
While most CMSs in the market offer analytics and dashboards, DXPs often go beyond simple analytics. They show customer data and all the associated information on a digital interface where workers can see everything at a glance, allowing them to make informed business decisions by bringing together all digital channels with the internal operational systems.
Customer-Centric Approach
One of the major benefits of a DXP is that it can help you build a better brand identity and connection with your customers. With a DXP, you not only get a robust system that does your bidding but also a solution where you can build content for a specific customer profile.
Headless and Hybrid DXPs Explained
A headless DXP—which is becoming interchangeable with the term headless CMS— takes a different approach to content than a classic web CMS. While DXPs can facilitate the entire spectrum of operations, a traditional CMS looks at the front-end design first, rather than the data that drives the digital experiences. Instead of working with templates and modules (think WordPress templates), a headless digital experience platform ignores the front-end and focuses on its APIs, which allow it to push content anywhere, pull content in from anywhere, and integrate with third-party systems seamlessly.
The headless CMS, therefore, has no front-end presentation layer by default. Instead, it's front-end agnostic, which means that it can work with whatever front-end framework or language your developers prefer. Since it doesn't have the front-end components that restrict how content is presented to end-users, it grants users unparalleled flexibility when it comes to how you can present or publish content. Hence, the headless approach is ideal for the post-IoT world, where new devices and screen sizes enter the market regularly.
A headless CMS or headless DXP uses APIs to deliver content to any front-end presentation layer. This is unlike a traditional CMS, which is often website template-first, and was thus built simply to produce content for website templates, and website templates alone.
By leveraging the headless architecture, brands can not only power websites but also mobile apps, IoT devices, and many different other digital experiences.
However, there is a problem with deploying a headless CMS or headless DXP that totally ignores the front-end. With this approach, content can technically go anywhere, the only problem is, marketers have very little control over their content. There are no templates, drag-and-drop interfaces, content previews, or any other tools that even a traditional CMS would offer.
Hybrid DXPs have emerged to solve this issue for marketers and content editors , leveraging APIs to deliver content in multichannel scenarios while, at the same time, giving them the tools they need to create and edit content.
On the other hand, a hybrid DXP combines both the API driven headless architecture and mixes these elements with the design elements from traditional CMS platforms such as website or app templates.
In terms of functionalities, a hybrid DXP enables users to connect and share content between marketing and sales pipelines, from customer to customer, and across third-party applications.
The Benefits of a Hybrid DXP
A hybrid DXP, like a headless one, distributes content from a centralized platform, enabling you to create, manage, and personalize content, supporting content editors to create content without having to ask developers for their help. Here are some of the benefits of a hybrid DXP.
Marketer-friendliness
Marketers are continually finding ways to deliver their content in the best way possible. However, this can be a gargantuan task in a siloed environment. DXPs prevent these silos and make it easy for marketers to create integrated experiences with agility and autonomy.
Cloud-based
The major benefit of the cloud for hybrid DXPs is that it enables different members of the team to make changes and edit content in real-time without damaging what the rest of the team members are creating at that moment.
Enhanced Collaboration
As we said before, hybrid DXPs are designed to be simple to use for marketers. Still, they also foster collaboration between the marketing team and the developers because it serves as an environment where both parts of the content equation can work together to delight the audience with unique content.
API-Driven
Hybrid DXPs are API-driven, which means that their architecture makes it easy for users, both technical and non-technical, to extend the DXP with almost any component to achieve a working best-of-breed strategy.
Are You Ready for a Hybrid DXP?
The playing field is changing, and traditional CMSs won't be able to cut through the noise, simply because they aren't equipped for a post-IoT world, nor are they easy to use with new and emerging front-end technologies. Hybrid DXPs give you a centralized hub where you can connect all the tools you need to build timely digital experiences that will delight your audience, your developers, and your marketers.
Hybrid DXPs gives you all the tools developers need to build the best architecture while giving marketers the ease of use they require to respond to what the audience demands. With a hybrid approach, you gain not only flexibility, but you're also future-proofing your business and building a solid foundation that will guide you through the digital transformation.
Also, if omnichannel marketing is your next big move or you're planning to start your omnichannel journey soon, a hybrid DXP is the best bet. Don't be afraid to go hybrid.
Keep Reading
If you want to learn more about Headless CMSs, make sure you read these articles:
Watch how Agility CMS is different from pure Headless CMSs and from Traditional CMSs: