Customers engaging with a brand across multiple channels is nothing new. Brands have had different means of communicating with their customers for quite some time. However, how they use these channels has changed.
When customers want to interact with a brand on mobile, they want the same experience they had when they visited the website. If they pick up their tablet, they also desire the same experience. Whether just browsing or ready to make a purchase, consumers want to feel like a brand gets them and caters to them in the same way, no matter where they are in the customer journey. They want an omnichannel customer experience.
What Is An Omnichannel Experience?
An omnichannel experience is multichannel approach to sales that seeks to provide customers with a seamless shopping experience, whether they're shopping online from a desktop or mobile device, by telephone, or in a brick-and-mortar store."
Consumers are looking for continuity when shopping with a brand. If a potential customer notices an item they're thinking about purchasing online, in some cases they may want to go into their local store and see what else is available.
But what happens if they go into that store and they can't find the same item or the store can't quickly provide a way for them to see it online? A potential sale is lost as the customer moves onto another brand.
Purchases are no longer made after viewing one channel. Consumers interact with brands across several different touchpoints while deciding what to buy, and brands need to be able to deliver this omnichannel experience for them.
How important is an omnichannel experience? Shoppers who buy from a business both in-store and online have a 30% higher lifetime value than those who shop using only one channel. Omnichannel is about connecting with consumers and providing them with what they need to complete the customer journey successfully. Consumers are looking for speed and an easier way to solve their problems.
While omnichannel may focus on interacting with brands across multiple channels, it is not to be confused with a multichannel experience. A multichannel experience has been available for a long time, and consumers are already used to it. The focus of a multichannel experience is on the product, and it allows customers to interact with a brand across multiple channels. The problem is, these channels are often siloed and don't operate together. The customer experience becomes fragmented in this case, and there is no opportunity to catch the spillover that occurs as consumers move from one channel to the next.
On the other hand, omnichannel is about the customer, not just the channels. Multiple channels are combined to create one unified experience and make the customer feel like everything is connected.
The brands that do the omnichannel experience right, use multiple channels to create a seamless experience for their customers.
1) Bank of America
Bank of America allows customers to do things like deposit checks and pay bills directly from their mobile device. They also let customers dive deep into the data of their accounts and get an idea about the spending habits. The ability to do more of the simple tasks via mobile makes the customer journey better for Bank of America customers.
2) Starbucks
The Starbucks rewards app is another excellent example of an omnichannel experience done right. Once a customer has signed up for the rewards app via mobile or desktop, they can use it to gain loyalty points at any Starbucks location. The app also makes it easier to make payments, reload a balance and more, creating a better experience for a customer than only waiting in line for coffee at one of the stores and encouraging customer loyalty.
An omnichannel experience would not be complete without personalization. Personalization doesn't only mean including the name of a recipient in an email from the brand. It also means providing them with relevant information at the right time. Consumers will have different requirements from a brand, depending on the stage of the customer journey. A buyer at the beginning won't want the same things as one at the end. This means that their experience should be tailored to them. Consumers want the same relevant experience across multiple channels, and they want it delivered to them seamlessly. This is the goal of the omnichannel experience and personalization.
3) SCENE
When SCENE chose Agility CMS in 2016, they needed an agile solution to help them manage their digital presence and provide an outstanding customer experience.
Now, customers can access all membership information through their desktop site, mobile site, and mobile app.
In terms of the website and mobile app, our platform has enabled SCENE to easily and intuitively update all content whenever needed, with no technical skills ever required. The big benefit about managing all content from one hub is that there is no need to make updates multiple times (on their desktop, mobile and app sites and their kiosks); content is automatically updated across the board.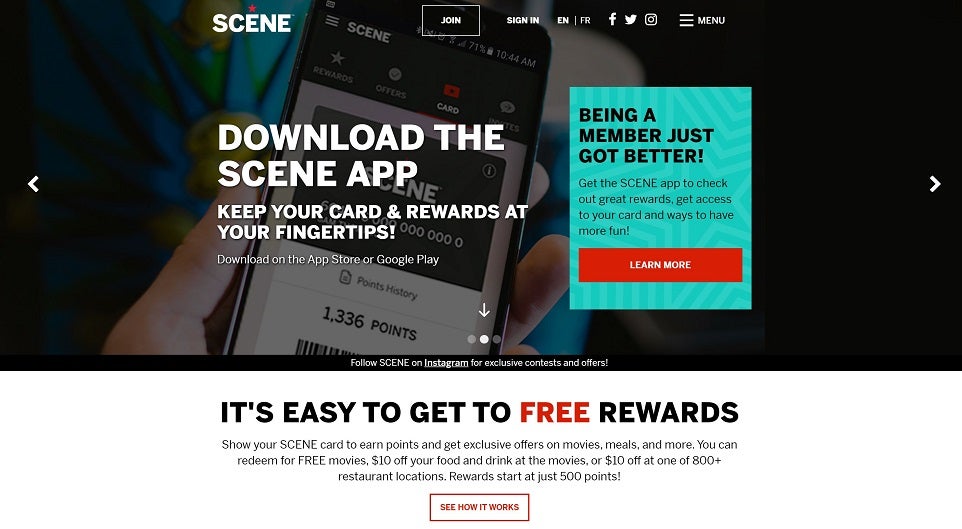 Where Can We Find Omnichannel Experiences?
While there are many different channels that are growing in popularity for brands hoping to provide an omnichannel experience, the most popular continue to be mobile and desktop.
The average consumer today is very research-savvy. 71% of shoppers who use smartphones for research in-store say that it's become an important part of the experience. In the U.S., 63% of Google's visits are via a mobile device. Shoppers no longer rely exclusively on television commercials, in-store coupons or the latest marketing emails to help them make a decision.
According to this infographic, in the U.S., 63% of Google's visits are via a mobile device.
Since consumers are also more tech-savvy, technology should be at the core of any omnichannel and personalization strategy. Brands need to be aware that desktop and mobile may not be the best channels to reach their customers in the future. These channels will form the foundations of what's to come. Still, thanks to the proliferation of IoT devices, including smart speakers, smartwatches and in-store displays, new emerging channels may become more popular in the future.
To capitalize on both the current and emerging channels, brands need a capable technology stack. Websites built as single-page apps (SPAs) or progressive web apps (PWAs) make the customer experience better as pages load faster, and consumers receive a native-mobile app experience while browsing using mobile.
However, the technology stack also includes a content management system that makes it possible to deliver content to all of the channels in an omnichannel experience.
How Can Brands Deliver Omnichannel Experiences
Implementing an omnichannel strategy requires brands to do two things. Map the customer service journey and get the right technology architecture.
An omnichannel experience requires brands to use multiple channels to create a seamless buying experience for their customers. To do this properly, brands need first to understand the channels that make up their customer journey. It will begin with a dynamic website and a mobile experience, but it doesn't have to end there. Understanding exactly where interactions with customers are going to happen will help them to decide where to deliver content.
Next, brands will need a content management system capable of delivering an omnichannel experience. They need a headless CMS. A headless CMS acts as a backend content repository that connects to various frontends via APIs. This means that content can be delivered to a website, a mobile site, digital signage, or any number of smart devices. A headless CMS can fuel the entire omnichannel experience and make it easier for brands to personalize content for customers.
Headless CMSs make development faster and easier for the tech team. With the multitude of channels that typically make up an omnichannel experience, and with more to come in the future, developers need to be able to integrate with various frontends in a hassle-free way.
Developing content for several different channels means that there are increased chances for content duplication. With a headless CMS, the risk of this is reduced since content can be created once and then repurposed for different channels.
While a headless CMS is perfect for an omnichannel experience, there are some drawbacks. Delivering content to multiple channels is the hallmark of the headless CMS, but it can sometimes make content creation difficult. Some headless CMSs have lost their way and forgotten about the marketers creating the content.
Agility CMS: Your Partner in Omnichannel
Agility CMS is the most well-equipped CMS for delivering an omnichannel experience. The content-first approach provides marketers and editors with the tools necessary to create the best content for omnichannel. It also means that personalizing the omnichannel experience for each customer is easier as well.
An effective omnichannel strategy requires that you remove not only the silos between your channels but also the ones separating your team. With Agility CMS, marketers can work to create the best content for each channel without being overly reliant on the developers and IT department, freeing them up to find new ways to integrate the content with emerging channels now and in the future.
Keep Reading
If you want to learn more about Headless CMS, make sure you read these articles: