To deliver the most memorable experience for your customers, the marketers creating that content need access to the best available tools. To help our users do just that, Agility CMS is ready to unveil our latest Agility Content Manager, which will replace the current content management interface.
The new Agility Content Manager represents the epitome of user-friendly enterprise software. A system that is not only intuitive but useful and beautiful too.
A responsive and intuitive interface with user-friendly elements modernizes the platform and enables users to update their website from anywhere, at any time.
Here are some of the benefits organizations will receive from our latest product upgrade:
An Enterprise-grade Product to Enhance Productivity
Agility's redesigned CMS includes robust workflow improvements and performance updates to provide marketing and development teams with the ability and flexibility to deliver the best in dynamic digital experiences – quickly and with ease.
To build a truly useful and successful product, it is essential to understand user needs. We've tailored our enterprise UX to people who need to be productive, with easy onboarding and intuitive capabilities
Move Faster With Fewer Hiccups
Our redesign includes performance fine-tuning that makes the platform smoother, more responsive, and faster than ever. Users will spend less time waiting, especially at load time. They will also spend less time switching between instances as they discover our latest speed improvements.
Improved Accessibility
Each function will be keyboard accessible with improved design and usability across the board. Everyone from experienced developers and content managers to new interns who have never used a CMS before can become quickly acquainted with the platform.
Multi-language Capabilities
Agility CMS supports multi-language capabilities, allowing global teams to collaborate. Even if they are in different regions or don't speak the same language, teams can feel at ease using the interface.
Design Systems Approach
Agility CMS' robust system is also necessary when designing consistent enterprise Design Systems. We offer unified, reusable, and scalable tools that enable teams to create a consistent brand presence. Design systems are collections of reusable components with defined use cases that teams can use to build web applications. These systems provide repeatable templates and design standards to ensure that designs and content remain consistent across multiple channels.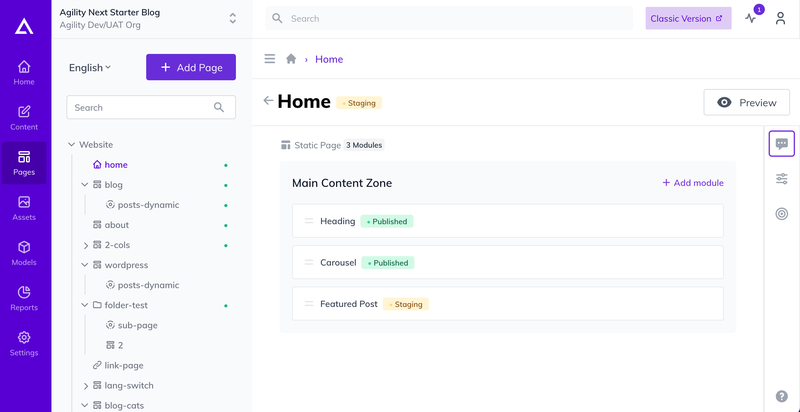 Rebuilt with Speed in Mind
We are rebuilding the content manager UI from the ground up using Plenum UI as the basis for all the components. Led by intuitive and beautiful UX principles, the new interface will also be straightforward to extend with our apps, allowing users to add more functionality.
The Agility CMS Team is preparing to roll out the upgrade to more customers, and all users will have access to the new Agility CMS this fall.