Does your online store include published reviews from customers that have already made a purchase? Do you encourage your customers to rate the shopping experience and the products themselves after their order is finalized?
If not, you should definitely start doing so. Reviews can have a great impact on customer engagement and the way potential customers perceive your brand.
In this article, you will have a chance to read why this type of content is crucial for the success of an Ecommerce website, all features a good review has to have and where you should publish them so that your customers and leads can easily find them.
The results of a recent research study carried out by TrustPilot show that modern consumers heavily rely on reviews and customer opinion during their online shopping process. Over 1000 surveyed consumers revealed how much these categories influence their decisions on what to buy and where to buy it.
Is it even necessary to publish customer reviews?
Many online store owners are scared of opening up their Ecommerce sites to reviews in fear of bad ratings. However, that's very unlikely to happen if you believe you're selling a quality product and you're providing helpful and responsive support. Also, in this day and age, reputation management for any type of digital marketing agency has never been easier, so you don't have to be worried about negative reviews ruining your brand.
When going through their shopping journey, online shoppers don't have the option of physical contact with the product. Therefore, opinions from other shoppers are one of the main resources customers can use to simplify their purchasing decision.
Almost 90% of surveyed shoppers said that they check reviews and opinions from previous customers all the time or most of the time:

Source: How Consumers Use Reviews Today (TrustPilot)
Which Features Should Product and Shop Reviews Have?
Almost half of the surveyed shoppers points out that the total rating (for example, four out of five stars) is the most important factor during review browsing. Namely, it's a simple and concise representation of the total experience with a particular store or a product.
Another surprising factor that influences shoppers' decisions is how frequent they are published. In this survey, 20% of shoppers revealed that they pay the most attention to the frequency of publishing while checking product or store reviews.
An equal part of shoppers, 20%, considers the total number of reviews as the most relevant indicator. In other words, these customers would prefer a 4-star product with 10,000 reviews than a 5-star product with 100 reviews.
TrustPilot's research had also taken a look at the content of reviews and ratings. The results showed that online customers respond to product quality and customer support the most. 88% of surveyed shoppers said that it's important that a review contains information related to the quality of the product, while 82% ascribe the same level of importance to the quality of an online store's customer support.
Next to all these factors, consumers also prioritize that the store delivers on time, maintains contact and nurtures relationships with its customers, especially if negative reviews happen. Almost 70% of surveyed shoppers said that they pay much attention to the speed of delivery when they read reviews and opinions. At the same time, 80% of participants consider the store's response to a shopper's negative experience important.
When Do Customers Look for Reviews?
A fifth of surveyed shoppers reads reviews before they even enter the purchase process, while 25% searches for this type of content as soon as they visit an online store and start browsing the products.
According to the research, almost half of online shoppers claim that they read reviews during the phase of browsing and viewing products and just before adding the product to the cart - when they are already in the final phase of the purchase process.
Where Should You Post Ecommerce Reviews?
Most shoppers are looking for reviews and ratings of a product or an online store on search engines. At the same time, other sources have proven to be important as well: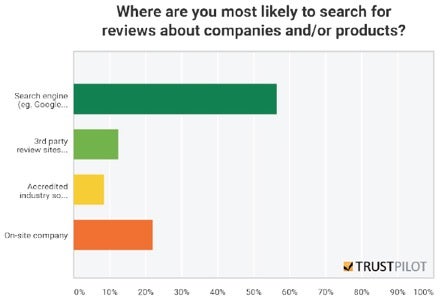 Source: How Consumers Use Reviews Today (TrustPilot)
So, what are the steps to take today to start using customer reviews to your advantage?
Accept the Importance of Reviews
The data from the mentioned research clearly shows that customer opinions and shopper ratings drastically affect decision-making when it comes to shopping online. Given the rapid growth of Ecommerce, the role of these categories of content that help customers make their decision to purchase in an online environment will increase even further.
Don't let technical stuff negatively impact customer reviews. Sometimes, customers can be happy about the quality of a product but complain about the slow loading of the online store, poor browsing experience, spammy email campaigns…
Accept the fact that these negative reviews can happen even if your products are top-tier, so make sure you don't give the customers the experience of technical difficulties that could have been easily managed.
Make Sure Your Reviews are Easily Available
Customers want to see what kind of experiences other shoppers had with your products, service and your online store in general. They want to know about the experience in different phases of the shopping process – from the moment before they even visit your online store to the moment when an item is already in their cart.
Make sure that reviews and all necessary information are easy to find and access in any step of the online shopping process. Most online stores usually place them on the home page, and then in the sidebar area of sub-pages.
Increase Your Online Presence
Given that the majority of customers look for reviews via search engines, it's important to optimize your reviews for organic traffic, in a similar way that you do it for other types of content like landing pages, blogs, etc. If you're not sure how to do this, you can work with writing companies that will take care of search engine optimization for you.
Besides search engines, consider increasing your presence on other online channels, such as websites that collect user reviews and ratings in one place.
With Agility CMS, you can ask your development team to help you integrate any digital marketing tool that includes reviews from your online store and publish it out to any digital channel.
Conclusion
Like it or not, customer reviews play a huge role in purchase decision-making, especially online. However, you shouldn't look at them as a nuisance – it's not only a thing to be worried about and hope for great ratings. The chances of a couple of negative reviews ruining your store are minimal, but great reviews will surely skyrocket the success of your store.
If you are not yet including customer reviews in your store, you can probably see some glitches in the customer journey when you look at analytics? Do you have a high rate of abandoned carts? Do customers spend a lot of time in your store browsing products, only to leave without purchasing anything?
The answer could likely be the lack of customer reviews. Shoppers rely on this for the ultimate confirmation of their purchasing decision. Therefore, make sure that you motivate them in the right direction!
About the Author
Daniela McVicker is a blogger with rich experience in writing about UX design, content planning, and digital marketing. Currently, she is the chief contributor at EssayGuard and editor at Study clerk where she helps individuals and organizations improve their web content writing, design, and planning skills. Her posts are always packed with examples and actionable content that readers can put straight into the action.