Every business needs to do some sort of marketing. However, in this digital day and age of information overload, it can be challenging to rise above the noise, attract and engage the target audience and convert them into customers.
Moreover, conventional marketing approaches, such as billboard advertisements, direct mail, and print ads, are too expensive or complicated for businesses to deploy successfully. The people you want to reach do not like to be cold-called or randomly emailed.
That is where inbound marketing comes into play. At its core, it is about attracting prospects to your business rather than finding and engaging with them.
It is a strategic approach to developing valuable content that aligns with the needs of your target audience, resulting in higher sales and long-term customer relationships.
Inbound marketing and CMS: A match made in heaven
Just like a CPQ software solution helps you manage and optimize the complex pricing of your products or services, or an email automation tool enables you to send personalized marketing emails to nurture leads, a Content Management System (CMS) lets inbound marketers plan, create, and publish website content with incredible ease.
The proven methodology thrives on value creation and compels businesses to provide solutions to customer pain points through multiple sources. Inbound marketing uses organic search traffic, opt-in email forms, and regular content publication to attract relevant visitors to your website and drive higher conversions.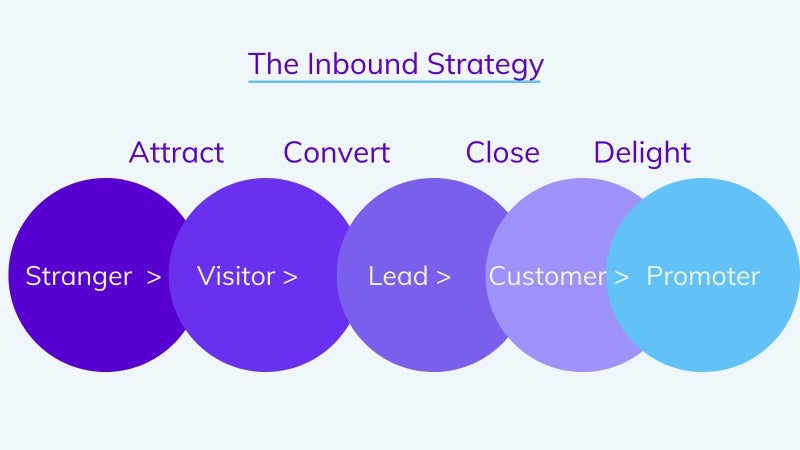 But given how quickly content loses its relevance, keeping it fresh and up-to-date is critical. You must constantly generate and execute content ideas, measure their performance, and optimize your website to build a well-oiled inbound marketing machine.
Edit blogs, publish or delete pages, post videos, add new keywords to landing pages, and more from a single dashboard. That is what the system enables! Most CMS options are easy to learn. What is more - you have greater control of your content.
In this blog post, you'll learn how to use a CMS for your inbound marketing initiatives. But first, let us take a look at its benefits:
Importance of a CMS for inbound
Inbound marketing requires you to publish and update content promptly and effectively. With the help of a CMS, you can make content management more accessible and convenient. Listed below are its most significant advantages:
1. No web programming knowledge is required
Not everyone is comfortable with technology. However, the fundamental CMS functions of writing and publishing content and slightly more advanced ones of adding plugins and media are usually easy for everyone to grasp.
2. Better content management
This may seem obvious, but for some businesses, it is not just about content management but also about removing outdated content. For instance, if you run a Christmas banner promotion on the website in December, you will want to remove it right after the season ends.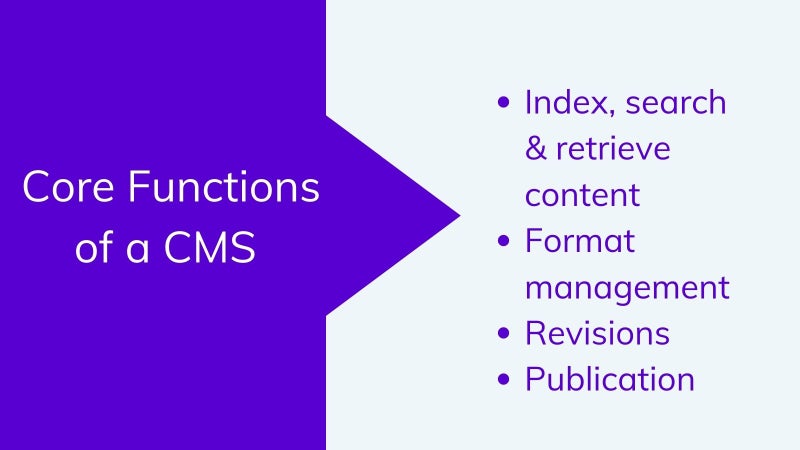 Configure the platform to allow this if you want to include personalized content such as countdown calendars and lists. In a CMS, all menus and links update automatically; your customers can continue having an optimal browsing experience - regardless of what you sell and when.
3. Greater collaboration
A CMS enables all team members to use their respective accounts to add, update, or delete content. Plus, you can store your blogs, pages, and lead form details in one place, giving you complete control over content management.
4. Enhanced security
A data breach is a constant threat looming over businesses - small and large. A Headless CMS has the best security features that protect your content from hackers.
5. Cost-effectiveness
Website maintenance can be expensive if you have a static website; hiring a developer to make changes can add up. Besides the cost factor, you must consider the waiting time. It may take a few days to see updates on the site.
A Headless CMS can save you both money and time. You do not have to pay a web developer to make minor site changes. You can update the content on your own, enjoying more control over what goes up on your website.

6. SEO-friendliness
Using a CMS makes optimizing your website for Google and other search engines easier - which is essential from an inbound marketing perspective. You can add title tags, meta descriptions, search-friendly URLs, and relevant keywords from the backend.
How to use a CMS for inbound marketing
Although a CMS offers a robust set of tools for managing your website and carrying out your marketing activities, knowing where to start can be an overwhelming process. Fret not; here are four ways you can use your CMS for inbound marketing:
1. Content creation
Simple or complicated CMS enables one crucial feature, i.e., content creation and management. From the backend, you can create blog posts, website content, landing pages, pop-ups, and so on. In addition, you can access the following functionalities:
Content staging: If you make continuous changes to your website, preview your content in drafts to see how the final version would look.
Page structure: Set up your content fields, relationships, and entries in whatever form makes the most sense for your business and project. Depending on your CMS, you may also have drag-drop modules in your arsenal, allowing you to rearrange the page layout or modify the web copy. Design a compelling user interface!
Mobile optimization: This is a given! Your website will automatically be optimized for mobile - without you having to do additional work.
Content strategy and SEO: Plan and create content using your CMS. For instance, if you are using Agility CMS, there is already a provision for SEO on-page fields. This saves you from the hassle of installing any plugin, which can further slow down your site speed.
To execute a proper inbound marketing strategy, you and your team must be able to create, lay down, and modify the content with ease. A CMS empowers you to do that - irrespective of the software you ultimately choose for your business.
2. Organic search engine optimization
SEO is integral to any inbound marketing strategy because it helps your target audience find, share, and engage with your content.
Thankfully, the best CMS platforms in the market come equipped with SEO tools or plugins that can make on-page SEO implementation a breeze. You can structure and format the page by prioritizing words, phrases, and headings.
Google and other search engines rank pages that are appropriately structured.
It enables you to optimize all the meta titles and descriptions on the website. Besides, you can manage configuration attributes such as breadcrumbs, canonical links, robotos.txt, and so on.
3. In-depth website analysis
Most CMS platforms come with robust analytical and reporting tools that allow you to track contact-level insights and reports on how well your web pages and blog posts perform.
The system gives you a breakdown of where the traffic is coming from, the bounce rate, average page/blog views, etc. The data gathered helps reshape your inbound marketing strategy more effectively.
Moreover, whoever signs up for your demo, subscribes to your blogs, or fills out your contact form gets listed on the backend, which can then be shared with the sales team.
4. On-site engagement
At a time, the idea of adding a live chat tool to the site meant getting another vendor onboard and integrating their software with your current platform.
Today, most CMS platforms eliminate the inconvenience, giving you access to all the tools you need to build a solid browsing experience on your website and attract more leads.
For instance, you could customize your page content or an entire page based on known and anonymous attributes of your site visitors and update your site experience over time. Set up pop-ups on specific pages of your website to engage your visitors.
You can ask them to subscribe to your blogs, download a free copy of your latest eBook, or register for an upcoming hosting webinar. Pop-ups help build your email list, which the sales team can use for follow-ups.
In addition, make your website more interactive by setting up a live chat support team or deploying interactive chatbots that can help qualify leads and answer common questions. In this digital age, chatbots are becoming increasingly popular among small businesses. Think Relay reveals that 40% of companies with 1-10 employees use chatbots.
But how much will build a chatbot cost small businesses? As an SMB, it helps to research chatbot pricing to determine how much you can expect to spend on this technology. Make sure you thoroughly look through various options, models, and plans to select the one that suits your business needs.
Top CMS platforms in the market
This section will walk you through the six most popular CMS platforms used by inbound marketers. We will discuss their features, user skill requirements, and the types of businesses they are best suited to. Let us go:
Headless CMS is the future, and Agility CMS is leading the wave by offering all the architectural features and the familiar authoring tools marketers love.
From page management and multi-site support to SEO fields and content page previewing - you can do it all on Agility and create a modern and dynamic digital experience - minus the steep learning curve. So anyone can learn it quickly.
It is apt for all business models and scales as the business grows. Agility CMS delivers lightning-fast user experience, high performance, and uptime globally.
Take charge of your inbound marketing with a CMS
A CMS, if utilized properly, can transform itself into an essential tool for driving traffic to your website and helping you engage with your visitors. We hope this article has made you understand the importance of a CMS, how it can be