Your website represents your brand in more ways than one. It will ultimately reflect your positioning and the story you want to tell to your prospects. The type of content, the tone, the length will largely affect the user experience.
But reforming a website is a big change in itself- you need first to identify your goals and implement a change management process.
Furthermore, establishing content as the foundation of your website redesign project is time-consuming. It is also difficult for certain stakeholders to wrap their heads around. To avoid pitfalls, let's take a look at some top considerations on how you can take a content-first approach to website redesign.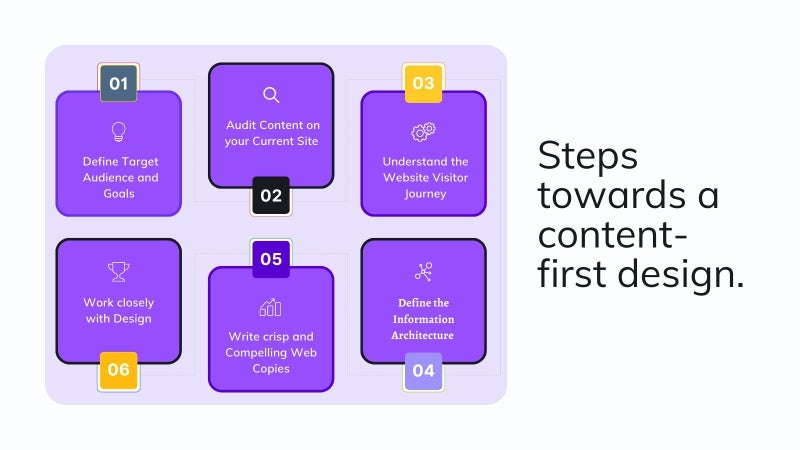 1. Define Target Audience and Goals
Before deciding to redesign your website, you need to determine the whys, hows, and whos, of the project. You'll need to work closely with the management in aligning your business goals with the website goals.
Companies often decide to redesign their website in case of the following reasons:
For Rebranding

For Revamping Outdated Website

For Providing a Better User Experience

For Upgrading Content Platforms

For Increasing site traffic

For Increasing Lead Generation
Whatever your reason may be, your goal will ultimately be a stepping stone to determining your content strategy. You can set objectives by writing SMART (Specific, Measurable, Achievable, Relevant, and Time-Bound) goals.
Taking a content-first approach means figuring out your underlying message. Only then can you decide what type of content you should produce, what format you should adopt, and how you will communicate the same. Once you lay out your SMART goals, you can create consistency in roles and work processes.
Furthermore, the point of well-drafted content won't be meaningful if it's communicated to the wrong audience. You need to understand what you're trying to accomplish and who you're talking to.
Your target audience is also evolving with you. Maybe the tone you used may not connect with them anymore. Take a look at your marketing data and buyer histories to narrow down who is your target audience and what do they expect from you.
2. Audit Content on your Current Site
A content audit analyzes your current content, which lays the foundation for designing your future content strategy. A content audit will answer many of the questions you pose in the planning stage.
You can gauge what you need to do right for your future website and what mistakes you need to avoid. This also acts as a reference point while starting, and it gives you insights into the scope and budget of the project.
To conduct a website content audit, you need to follow these five steps:
Inventory your existing content: Note down all the existing content on your site. You can either do this manually or utilize tools like

Google Analytics

and

ScreamingFrog

.

Categorize your content: Content audits are typically created with spreadsheets where you can record your findings. Categorize content based on the type of topics, buyer persona, length, tone, relevance, SEO, visual content, and datedness.

Add success metrics: Define the key performance indicators for checking your content performance. These can include search ranking, page views, traffic, conversions, and backlinks.

Analyze data for patterns: Now that everything is laid out for you, determine patterns. Is a certain section of your site performing well than others? Are they watching the videos? Are certain keywords helping you rank? Are there keywords that you're missing out on?

Determine your next steps: Your data might surprise you. It may turn out that the idea you want to communicate is not reaching your target audience. So what do you do now? Involve experts in reviewing your content audit. Their comments and suggestions can help you uncover some best practices to incorporate into your current content strategy.
3. Understand the Website Visitor Journey
Here, you need to step into your customer's shoes. How do they experience your website? What are their different actions, and what emotions do they go through? Are there any gaps in their purchase journey?
Why is it necessary, you ask?
It will definitely help you check the relevancy of your website content. Does your site have dead content ‌that no longer aligns with your business goals? Is your content useful? Is it persuasive? More than the placing of your content, this will additionally help you understand what type of tone you should adopt.
4. Define the Information Architecture
Adopt a Content-First Platform
Since we're talking about redefining your architecture, the Content Platform you use plays a huge role here. You may need to change your Platform to accommodate your new content requirements.
The idea of a content-first strategy is also to build a framework where you don't have to start from scratch in case of redesigning a website. There are some Platforms like Agility that support a content-first strategy for your website design.
As a content marketer, you may not be well-versed in the technicalities of website design or development. This increases a lot of dependency on the development even to make minor tweaks and add multiple layers in making modifications to your website content.
A Content Platform focuses entirely on content and structure instead of design, with minimum reliance on developers. This gives higher authority to content managers in making content-related changes to the website. The process of recycling old content and adding new ones becomes speedy and highly efficient.
Organize your Content
Thanks to your content audit, you know what the visitors are looking for and what content is most appealing to them. Redesigning your website means you'll redesign your information architecture. To do so, you need a graphical representation of how you'll place your content.
When you first designed your website, you probably didn't have the repository of content that you currently do. You need to design your sitemap in a manner that makes user-favorite content more accessible. Divide your pages into:

Primary pages

Secondary Pages

Tertiary Pages

Types of content

The order of content
Consider a card sorting exercise if you're facing trouble in defining the navigation possibilities. Involve people in categorizing website content into cards, in a way that makes sense to them.
The most basic example is creating a 'Resource' page and splitting your content into blogs, case studies, product updates, webinars, podcasts, etc.
Create a Content-Centric Sitemap
While aesthetics are a big reason to optimize your sitemaps, you need to answer the more significant questions here.
You need to check if the pages you intended are getting your targeted number of visitors. Did outdated content impact your SERPs? Do you need a search bar for easy navigation?
Content keeps adding on over time. Let's say you added new feature pages, increased your learning library to different types of blogs, widened your offerings, etc. This multiplication of content creates clutter on your site and it loses views despite its relevance and recency.
Developing a visual sitemap, either HTML or XML can resolve these problems. It will ultimately help you organize your content and redesign a more navigable site.
A well-designed sitemap is an excellent SEO hack. With an XML sitemap, you're getting ahead in the line and including valuable information for search engines to crawl. Sitemap helps you improve indexation that affects search results, and manage your submitted pages.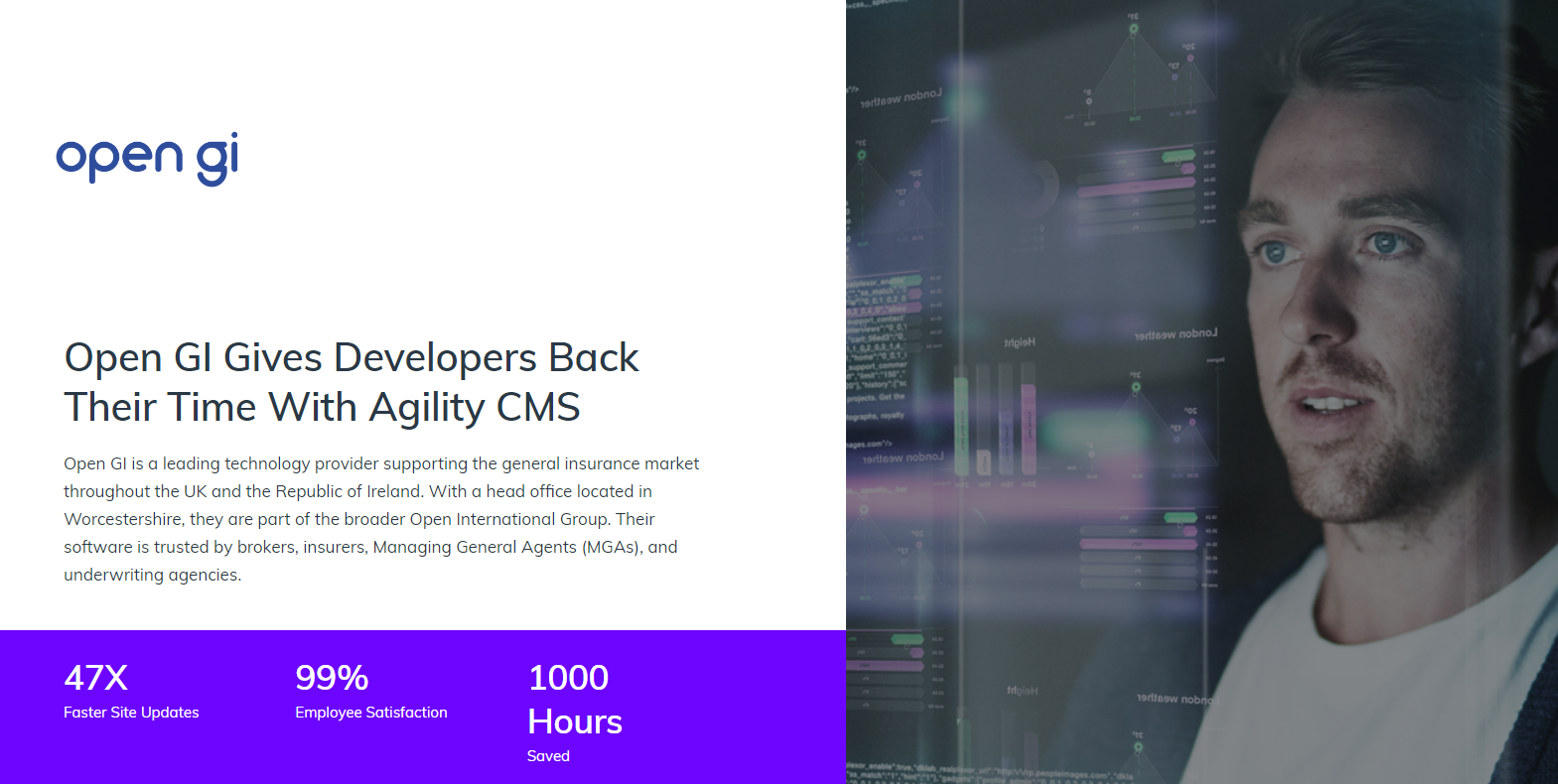 5. Write crisp and Compelling Web Copies
Write content before design? A big yes. With a content-first strategy, content isn't an afterthought. You need to create value with content first and the design will then take its form.
By now, you have a clearly laid-out picture of what content you're required to put up on your new website. You have your goals ready. You know what type of content works best for your readers.
You know the in and out of the SEO requirements.
It's time to write the content for your website. Start by checking your sitemap and breaking down the pages into smaller tasks so you can take up one page at a time.
You can use tools like Trello to prioritize your writing tasks. You can then start with high-priority pages like Home Page, followed by the About Us page, Product Page, etc.
As we've discussed before, you may have different goals for a website redesign. But your on-page content needs to reflect these goals. Use this opportunity to educate your readers about you. The idea isn't to use fancy words, but powerful words. Check out HubSpot's article "150 Power Words to Add Some Oomph To Your Copy & Deliver Results" to use actionable words to back your web copies.
Since the goal is to educate, don't forget to include the following type of content on your website:
Social proof

Gated content like Ebooks, White papers

Case Studies

Client Testimonials

Videos

Thought leadership blogs

FAQs
If you're rebranding, every word on your website needs to reflect your new positioning. Use a certain word and tone to describe your brand and be consistent across your site. Incorporate the storytelling aspect in your content. Your copies should answer questions like, what does your brand stand for? What primary pain point is it trying to solve? Where do you stand in addressing the pain point?
6. Work closely with Design
Previously, website designers were made to fill gaps with content that didn't even exist. The lack of collaboration meant a lot of room for rework and also the misalignment of objectives with the content team.
And there's no one to blame here. A designer can't come up with an appealing design if they're unaware of the scope and type of content.
A content-first approach eliminates this. Understand that nowhere does a content-first approach neglect design. It's not a war between the two. It just means both works together to drive the ‌results.
Your content will surely help visitors keep engaged. But your website design will decide whether your visitors want to stay on your site in the first place.
Hence, your designers need to be very much in sync with the strategy. If they know the content hierarchy, they can work well in fulfilling their design objectives.
Protip: In case you're outsourcing your design tasks, ensure that you're upfront about your content objectives. You don't want a design agency that won't give equal importance to the content and focus solely on the aesthetics.
So, apart from your regular checklist, you'd need to take into account a few more things when adopting a content-first approach. Check how the agency views content as a part of the overall strategy and how the process plays out. Do they have a thoughtful and strategic approach to content? Are they equally invested in keeping content at the core? Prepare a detailed draft and get a digital signature to seal the deal.
Ultimately, your website design needs to accomplish three things which are:
Place content in a manner that works best for users

Reflect the brand with visual consistency

Create engaging visuals that complement the content.
Conclusion
Never underestimate the value of planning and making considerable efforts to lead with your content. Keeping content at the forefront of your redesign strategy sets you up for future success and gives you a realistic sense of your redesign efforts. It helps you identify what your audience wants and positions you to deliver the right information at the right time and the right place.