Investing thousands and potentially hundreds of thousands of dollars into a piece of software isn't a decision that can be made lightly. Often, the choice of software comes down to a few key decision-makers. These decision-makers must be armed with the correct information to help them make the best choice, especially when presented with options that go against what they've grown accustomed to.
In content management, many company leaders will be faced with the decision of whether or not to invest in a headless CMS. These organizations have noticed the trend of customer journeys spanning multiple devices. But, having been comfortable with a traditional CMS that allows them to create and manage content for their website and the channels they care about, they may be wondering if jumping on the headless bandwagon is right for them or if it's just a passing trend.
This article will address those doubts and provide some guidelines for marketers and developers who work with the CMS daily to use when trying to convince the C-suite that now is the right time for headless investment.
Headless CMS Isn't a Trend…It's a Revolution
When persuading company leadership about a headless CMS, the first thing to note is that the headless CMS isn't a trend but rather a revolution. Traditionally, content management systems were only needed to manage content on a website. Marketers only had to be able to publish blog articles regularly and could get assistance from developers when they needed to make other changes on the page.
These traditional CMS solutions, think WordPress, worked quite well for the time, and the tightly coupled architecture, which connected the frontend and backend, wasn't a problem. However, that changed with the emergence of mainstream technologies like smartphones, tablets, AR/VR solutions, and smart speakers. Suddenly, the modern consumer preferred to access the internet using these devices instead of computers.
More headless vendors began to emerge to cope with these changes in demand. By decoupling the frontend presentation layer from the backend content repository, a headless CMS could provide more flexibility for developers when delivering content to these additional channels.
Yet one of the things that might have left business leaders hesitant about the headless CMS is that many notoriously had poor content authoring capabilities, which placed added pressure on marketers. Since then, many headless CMS platforms have been upgrading their content authoring systems to better support marketers.
Also, popular monolithic suites that adopted headless content delivery, think Sitecore, have also begun switching to the microservices-based architectures that many original headless CMS platforms were originally built on to align better. While some of these pivots could take a few years to complete, it further highlights the fact that headless architecture isn't just a passing trend but something every business should seriously be considering.
4 Reasons Why a Headless CMS Should Matter to Enterprises Today
There are several reasons why enterprises should adopt a headless CMS. Here are a few of the consumer and technology trends impacting companies today.
Multichannel and Omnichannel Consumer Journeys
Customers today aren't only viewing content on one device. They're doing it on several devices at the same time. Companies already needed to adapt their content delivery options to match this growing multichannel environment. However, customers also want their experience to be the same high level of quality on every channel and for brands to remember who they are as they move from channel to channel. They want an omnichannel experience. With the help of APIs and omnichannel content delivery, a headless CMS can help businesses adapt to this trend.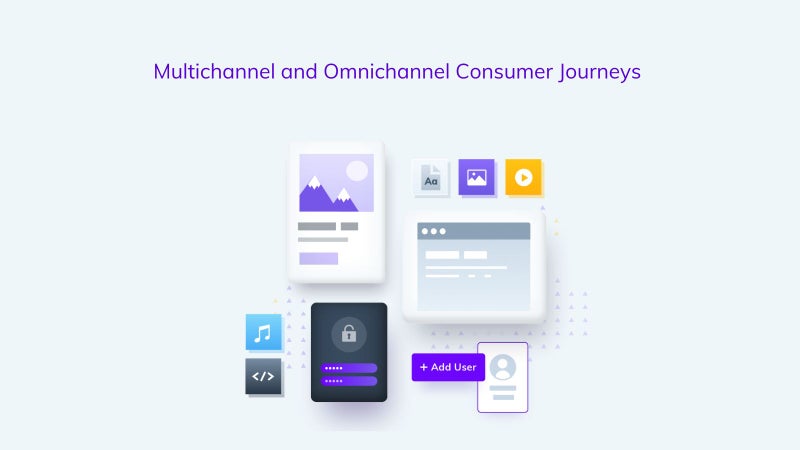 New Frontend Technologies
Many of today's websites are built using JavaScript. Over the years, JavaScript has continued to evolve, and new frameworks and libraries continue to be added every year. Developers want the freedom and flexibility to use these new technologies, as evidenced by the growth of approaches such as Jamstack. Once again, a headless CMS provides the answer with framework agnosticism for developers.
Shifts Away From Monoliths
Modern companies have found that the all-in-one suites that worked for them before don't quite hit the mark nowadays. As a result, they have moved towards current approaches for constructing their technology stacks, such as MACH architecture, which includes headless technology.
The Expanding Martech Stack
Most organizations, particularly at the enterprise level, can't rely on just one piece of software. They need a CMS, CRM, DAM, analytics, personalization, eCommerce, and a host of other tools to handle all of their needs. But these tools can't be siloed either and need to be connected with a headless CMS at the center.
Is Headless CMS Worth the Investment? (6 Factors to Consider)
For many enterprises, the answer to whether or not a headless CMS is worth the investment will be yes. There are several benefits to adopting a headless CMS, as we'll outline below.
However, whether or not now is the right time to make that investment will come down to the extent of your business's challenges and your plans for the immediate future.
Omnichannel Content Delivery
We highlighted the growing trend of customers demanding omnichannel content delivery. But is that where your customers are located? If your entire customer base only goes to a website, then you probably don't need a headless CMS. However, suppose your business is aware of the need from your audience for AR/VR solutions, Alexa skills, IoT devices like smartwatches and more. In that case, you might need to consider adopting a headless CMS to help support content delivery to these channels.
Best of Breed Integrations
The CMS isn't the only tool in an enterprise tech stack. If your business is happy using an all-in-one suite or doesn't need to integrate tools, then a headless CMS might not be necessary. However, with the API-first architecture of a headless CMS, it's possible to integrate multiple tools and choose the best solutions on the market to make up a software stack.
Future-proof Architecture
Medium-sized enterprises might not need to consider a headless CMS at this stage because they're not looking to modernize their entire tech stack at this stage. However, for larger enterprises, especially those undergoing digital transformation, opting for a headless CMS now can save them from headaches in the future. With a headless CMS, new emerging technologies and software tools on the horizon aren't a problem to deal with because there's no need to re-platform. Instead, the power of APIs can be used to connect to integrate new software tools or deliver content to emerging channels.
Developer Freedom
If you have a small team of developers who help with the occasional maintenance and upkeep requirements of your website, then you might not need a headless CMS. However, if your developer team and IT staff continue to grow because they are the only ones capable of posting content to the page or they're dealing with frequent requests from marketers for assistance, then a headless CMS may be worth the investment. When you factor in that modern developers want to be able to use modern JavaScript frameworks and approaches, then that adds even more reason to invest in a headless CMS.
Cost-Effectiveness
Enterprises with outdated legacy software or a bulky monolithic suite might see their maintenance costs continue to soar. If lowering those costs is a priority, then a headless CMS is worth considering as it provides a cost-effective solution that requires less maintenance and evolves with the business.
Increased Scalability
A headless CMS should be on the radar for businesses with multiple websites for different products and services or that want to reach a large audience without worrying about downtime. It offers increased scalability to handle those demands without negatively impacting the business.
Communicating Proof of Concept and Getting Buy-in
If your organization is facing some of the challenges we've touched on, or ready to capitalize on the opportunities a headless CMS can provide, then the next step is convincing company leadership and lobbying for support from other departments. These are some of the main concerns each group will have.
C-Suite Leadership
The C-suite of the organization, particularly the CEO, COO, and CFO, won't always be ready to invest the necessary resources to implement a new headless CMS. In order to convince this group, you will need to highlight the ways that a headless CMS can lower the total cost of ownership and deliver a great return on investment that positively impacts the bottom line.
Marketers
Marketers and content authors might have been hesitant to embrace a headless CMS before if it lacked the authoring tools they were familiar with. To convince them, highlight the content authoring capabilities, workflows, and omnichannel publishing that is possible with the right headless CMS.
Developers and IT
Arguably the easiest group to convince to adopt a headless CMS will be developers and IT. For this group, however, it's still essential to point out the APIs on offer as well as the freedom to embrace modern frameworks and enhanced security capabilities of a headless system compared to traditional CMS platforms.
Why Choose Agility CMS As Your Enterprise Headless CMS
A headless CMS represents a revolution within the content management space. It enables brands to publish content to multiple platforms, integrate with best-of-breed tools, and avoid having to re-platform when a new technology emerges. However, once you've convinced your company to invest in one, you still need to select the right one.
Agility CMS provides the speed and flexibility modern businesses need from their software today. Agility CMS offers a user-friendly interface with the familiar content authoring tools that marketers love. They can also leverage additional features such as page and sitemap management, content previews, and built-in workflows and scheduling to create the best content possible.
For developers, the ease of integration with other tools in the technology stack, webhooks, APIs, and the ability to develop in any language that suits them won't go unnoticed. In addition, Agility CMS offers enterprise-grade security, unlimited scalability, and enhanced collaboration that large businesses desire.
If you're wondering about some of the other considerations you should have before selecting a headless CMS, then take a look at our guide: Your Ultimate 50-Point Checklist for Choosing a Headless CMS.