It's a lazy Sunday afternoon, and you're browsing through Amazon's website to kill time with a bit of window shopping.
You notice a smartwatch you've been eyeing for months as you scroll down. It's on sale; a whopping 50% discount. You add it to your cart and proceed to check out. When you first landed on Amazon's website, you weren't looking to buy anything. So, what changed your mind?
The personalized product recommendation you got from Amazon's website raked in $163 billion in revenue from June 2019 to 2020.
This was more than any of its other business units combined. While this case study proves the benefits of website personalization, marketers are slow to jump on the bandwagon.
72% of consumers say they will only engage with personalized website content, yet only 9% of companies focus on personalization in their business strategy.
If you haven't started optimizing your website personalization yet, we'll let you in on five practical tips.
5 Tips For Web Personalization
To attract and convert qualified leads through your website, you need to provide a user-friendly experience tailored to their needs. This will shorten your sales cycle and create a strong sense of brand affinity. Not sure how to do it? Start with these steps.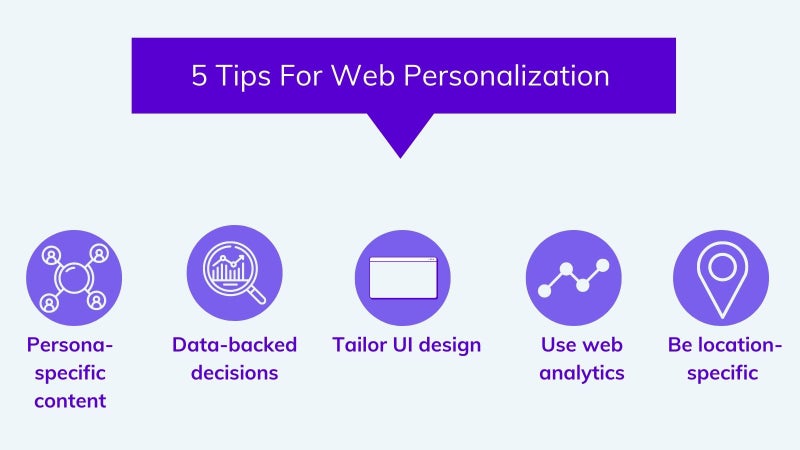 1. Create persona-specific content to improve customer journeys
Have you ever tried to find your way through a new neighborhood without Google Maps? You probably drove around in circles before you zeroed in on a tentative route through trial and error. This is precisely what happens to marketers who don't create buyer personas.
If you don't clearly define your target audience, you end up marketing to people who have zero interest in your product or service. This eats into your marketing budget, giving you fewer resources to entice leads already in the purchasing mindset.
While creating a buyer persona, several factors include psychographics, visitor behavior, demographics, and location.
Segmenting your target audience based on these categories gives you a better understanding of their pain points, search intent, and desires. You can follow this quick four-step guide to start creating specific buyer personas right away:
Conduct in-depth market research to understand your target audience's psyche. You can use secondary research methods, but we recommend sending out surveys to get first-hand information for better results.
Analyze your current visitor base and note down what people are buying. Create a spreadsheet to feed in the gathered data and get a snapshot of who your regular customers are.
Use your findings to segment your target audience into a few broad categories. Consider factors like geography, purchasing history, gender, age, and position in the sales funnel. This will help you craft the right messaging to use on your website.
Create fictional representations of your ideal customers from each category. Note details like motivations, demographics, location, purchasing behavior, and pain points. These are your buyer personas.
2. Make data-backed decisions with customer data
If you want to reduce your website's bounce rates, then you need to evaluate searcher intent to understand what your target audience is looking for on your website. With these insights in your arsenal, you can provide them with exactly what they want, thus driving conversions and sales.
Several marketers tend to rely solely on keywords to gauge searcher intent. For example, if they saw the keyword "best smartphones," they might automatically assume the searcher is seeking product recommendations for high-end smartphones. However, if you run a quick Google search, you'll realize that most search results are listicles and reviews.
Use your lateral thinking skills to brainstorm various types of search intent from a single keyword. This will help you hone in on the right audience.
While developing content for your website, avoid keyword stuffing, especially in your blogs. Add target keywords occasionally, but focus on providing relatable content. Analyze your target audience's search intent and use these findings to craft the content they're searching for. You can leverage these three types of search intent to inform your decisions:
Behavior-based intent: Use your potential customer's browsing history and past purchase behavior to understand more about their preferences.
Personalize their experiences based on this information. For example, you can offer a discount to customers who have purchased from your website multiple times.
Stated intent: Ask website visitors for specific information through a pop-up and tailor their experience based on your response.
Imagine you've built a product targeting three groups–writers, designers, and marketers. You could trigger a pop-up whenever a new website visitor lands on your page and ask them which group they belong to. This will help you provide relevant information to potential customers.
Contextual intent: Analyze the keywords your target audience uses to search for products. Use this information to display content related to the keyword and convert prospective customers.

3. Tailor UI design to different devices
66% of consumers use various devices during their buyer journey. So, optimizing your website for only desktop viewing doesn't cut it anymore. Implement responsive web design to account for varying screen sizes. This will make for an improved end-user experience.
You can also collect information about your target audience by analyzing the type of device they're on. If you find most of your shoppers making purchases through their smartphones, then start sending mobile users more purchase recommendations.
Take a page from the NFL's personalization playbook. The brand completely revamped its website to optimize UI design for smartphones. The redesign was a huge success, and visitors could navigate through the website without the hassle of zooming in and out to read text.
4. Use web analytics to inform business strategies.
Gather and analyze data from your website to benchmark its performance and track consumer behavior. By doing this regularly, you will be able to identify gaps in your current website strategy and tweak it accordingly. Consider these metrics during early-stage analysis to measure the impact of website personalization:
Bounce rate: Calculates the total time a visitor has spent on your website. Lower bounce rates indicate user interest.
Visitor frequency: Tracks the number of times a potential customer revisits your website.
Pages visited: Analyze the number of pages a visitor browses per visit.
Once you're familiar with the early-stage metrics, dive deeper into the analytics process by evaluating advanced metrics like:
Visitor feedback: Take note of the reviews left on your website to analyze consumer sentiment towards your brand. You can prompt users into giving feedback by displaying website survey forms. Mailchimp is one brand that focuses on this. It has a feedback tab that is constantly available on the side of its website.
User actions: Map user engagement by analyzing the number of activities they've taken on your website, such as filling out forms, clicking on links, or subscribing to your newsletter.
Visitor quality: Analyze the quality of your website visitors. Do they fall into any of the buyer personas you defined? This data will help you understand whether you've targeted the right people.
Return on investment: Measure the success of your website personalization goals by calculating the increase in conversion rates.
5. Be location-specific
Imagine a prospect from Europe who lands on your website, only to see products priced in dollars. It's safe to say they will immediately click off. If your website were location-specific, it would have displayed the commercials in euros, and your prospect would have continued browsing, increasing the chances of a potential purchase.
This is where geolocation tracking comes in. It uses the Wi-Fi nodes and cell towers closest to your prospect to estimate their location, allowing websites to provide location-specific content and suggest retail outlets nearby. You can also use location-based personalization to change your website's default language and make your content relatable to prospects from other countries.
Please look at how Nike's website automatically detects the website visitor's location and shifts its website content accordingly. Users can also manually input a place to see which products are sold in different countries.
3 Website Personalization Tools
Now that you have the tips for personalizing your website let's look at some tools to help you achieve this.
1. Headless Content Management System (CMS)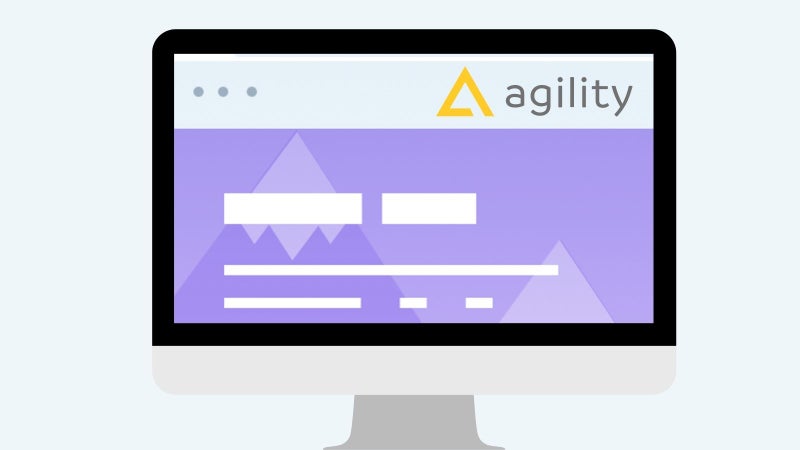 A headless CMS can change the game for marketers looking to personalize their websites. You can think of them as content banks, where you store information that needs to be published on your website. The main distinction between a headless and traditional CMS is how content gets posted.
In a traditional CMS, you can create, manage and publish content from a single point. Both the front-end (presentation layer) and back-end are inextricably linked. This means a website with traditional CMS (like WordPress) cannot be optimized for other devices like smartphones and tablets.
On the other hand, a headless CMS stores all of the content you create in a raw format and delivers it to various applications through an API.
This content-first approach allows you to personalize a website visitor's experience based on their device.
Many content editors write several content variations and target them to specific groups for personalization. A headless CMS allows you to experiment with multiple front-end technologies. It also provides a higher level of security and scalability for your website.
2. Personalization Software: Customer Relationship Manager (CRM)
You can use a CRM tool to create, manage and track relationships with your customers. It collects in-depth information about your prospects, so you can analyze the data and inform your website personalization strategy. This way, you know exactly how to position your brand and personalize your content for increased conversion rates and customer loyalty.
You can also use data insights collected by CRM tools to spotlight relevant and timely offers on your website. CRM software–like Salesforce–use AI algorithms to detect patterns with predictive analytics to help you pick up on repeating user behavior. You can use this information to personalize your offerings and improve conversion rates.
3. A/B Testing Digital Marketing Campaigns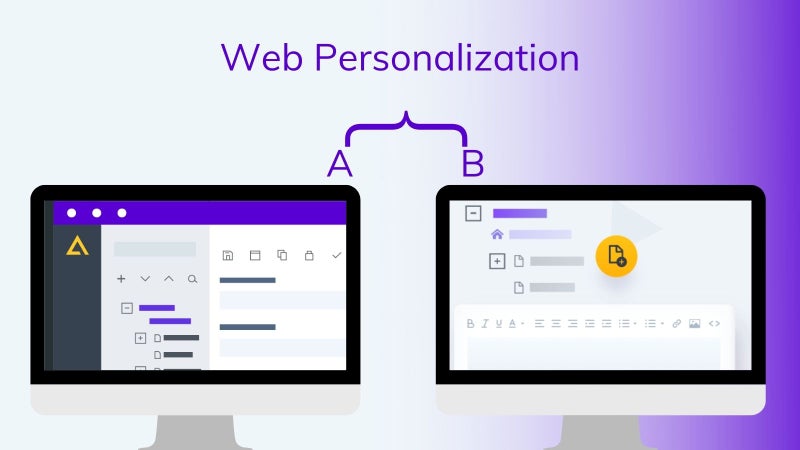 A/B testing is an effective technique to evaluate and respond to your prospect's needs. It allows you to compare two versions of the same thing to understand which one is more effective. Let's say you had to choose a compelling CTA for your website. You can use A/B testing to see which phrase drives higher conversions and remove all the guesswork involved in making the decision.
Set up an A/B test to determine which CTA gets the maximum number of clicks. Keep running the test for a week, and analyze user behavior.
Which variation of your CTA did better? Based on the insights you get from the trial, tweak your website strategy. A/B testing is essential for your website personalization strategy, as it helps improve user engagement by zeroing in on the right messaging.
Conclusion
With thousands of brands fighting for consumer attention, the need for personalized websites grows more profound by the minute. To achieve your sales targets, you need to go the extra mile to deliver quick and user-friendly website experiences to attract qualified leads and convert them.
You can create buyer personas and tailor your communication to consumer preferences. The tips covered in this article can help inform your website's personalization strategy. Please note them and start experimenting with different personalization strategies to evaluate which ones work best for your website.