When you hear the word "e-commerce," what is the first thing that comes into mind?
Amazon? eBay?
Although many people will immediately think of big players in the industry, a lot of them might not understand how the concept of e-commerce has grown steadily over the last couple of years.
Businesses, large or small, have at least done some of their transactions online. Now, even small brands and local businesses can set up an e-commerce store selling merchandise straight to their customers.
Here are ten advanced strategies that you can apply to improve your e-commerce site: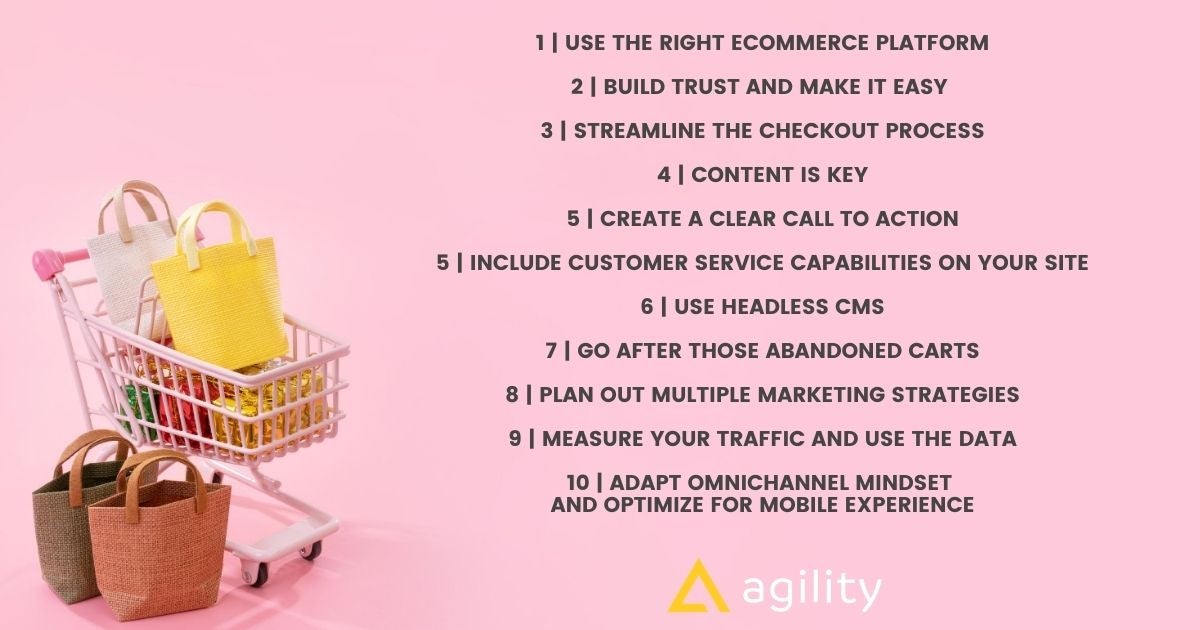 1 | Use the Right Ecommerce Platform
Although this advice might come off as basic, you'd be surprised that not many e-commerce platforms or merchant services are created equal.
That's why you must ensure that you picked the best fulfillment service companies to provide you with the right features that you need to get ahead of your competition.
It would be ideal to avoid solutions that already have a built-in service that you can host your website with. Although it isn't necessarily bad, they're not as specialized as with a third party option.
Let's say you have a method for processing credit cards and other online transactions. You can go with a specialty service that has built itself from the ground up.
Chances are, their expertise ensures that the system works well. You can also get support whenever you need it. They can also provide you with the best transaction rates and applicable fees in exchange for their services.
Here are also other questions that you can ask yourself when looking for the right e-commerce provider:
What's your budget?
What types of products are you selling?
What specific kinds of features will your online store need?
Make sure to learn about JAMstack e-commerce tools and give your audience a modern, personal, and fast shopping experience with Jamstack eCommerce.
If you are not familiar with JAMstack, check out why it is
2 | Build Trust and Make it Easy for Your Customers
When you make it easy for customers to look for information and complete processes, they'll be more confident to make a transaction with you.
Make sure that you showcase e-commerce operation policies, pricing, shipping, estimated delivery times and dates, returns, and defects, to decrease customer inquiries.
When you set expectations for your customers upfront, they'll be likely to make a purchase.
One of the easiest ways to win the trust of your visitors is to have an SSL certificate. However, it depends upon the site's need as to which certificate will suit it. For example, if the ecommerce runs on multiple subdomains, then a wildcard SSL certificate can play an ideal role here. If a site owner ignores HTTPS, then there will be a warning while visiting your site, and visitors will not put trust in it. You can contact SSL providers to get an exact idea and take a cheap SSL certificate.
3 | Streamline the Checkout Process
Apart from that, you should also simplify the checkout process. Adding extra steps to the payment and checkout process can lead to frustration and cart abandonment. So, get rid of any unnecessary steps as much as possible.
It would be ideal that your checkout process will not take more than three steps. New customers should be able to place their contact information with ease. Meanwhile, repeat customers should not take a while figuring your checkout process.
Finally, make it easy for your customers to contact you. It's quite reassuring on their part, knowing that they can get in touch with you whether they have questions and concerns about their orders.
4 | Content is Key
Apart from your homepage and product pages, your articles and blogs should be able to garner enough interest without bombarding the customer with too much information.
Come up with guides that are easy to follow and share them on social media channels.
You can feature your best-selling products on your blog posts and shopping guides. Doing so makes it easy to answer customer queries and provide tips.
As with any action that you can take with prospective customers, the main thought here is to add value.
Read More: Content Before Design: What is Content First Approach
5 | Create a Clear Call to Action
Every page on your site should have a clear goal. For instance, on a product page, your goal is for the user to place the items on their cart.
But you have to make sure that you know how to do this. Come up with a clear call to action, also known as the "Add to Cart" button.
Factors like your CTAs' location, size, color, and copy of the button should contribute to how your customer makes a purchase. So, make sure that you test first each one, before fully committing to it.
5 | Include Customer Service Capabilities on Your Site
This may include an automated chatbot that answers FAQs about your product and services.
You can also come up with a support section on your e-commerce site to cater to your customers' needs. This includes providing your customers with more information about your product.
6 | Use Headless CMS
Picking the right software that helps you manage your e-commerce site is also essential. That's because it helps fine-tune the entire customer experience.
One of the best ways to do that is by using a Headless CMS for your e-commerce website. That's because it allows you to pull content from various sources and push it to your front-end.
Moreover, this software should be able to support all functions and be easy to use for you and the rest of your team.
There are many reasons to shift from WordPress to JAMstack and Headless CMS and improved eCommerce is one of them.
Read more: WordPress And Its Alternaitves: Headless CMS
7 | Go After Those Abandoned Carts
This scenario is pretty common in the e-commerce world. Your customer browses your site, adds a couple of purchases on their cart, only to abandon it at the very last minute.
That's just another customer lost. Well, the answer is no. It would help if you went after abandoned carts as you can still get hefty revenues from there.
The first thing that you should do is to make your shopping cart easy to navigate. Making the checkout complicated is one of the main reasons many customers "bailout" at the last minute.
So, cut down all the endless forms, and make the checkout process as seamless as possible. Also, put in place different payment options, and your cart abandonment rates will slowly decrease.
Despite your efforts, for customers who still choose to abandon ship, not all hope is lost. There are still several ways that you can win back prospective customers. Most of this will be just sending friendly reminders that they've abandoned the purchase.
Fortunately, you don't have to go through the hassle of sending these out yourself. There are add ons and third-party software that you can incorporate to draft, schedule, and send email reminders to your elusive customers. As a result, you can engage with them and compel them to make a transaction with you.
8 | Plan Out Multiple Marketing Strategies
Relying on a single marketing strategy (like paid ads!) isn't going to cut it. Chances are, using a single strategy might not work to your advantage. You could also lose out on your customer base, as well as your conversions.
That's why you should diversify your marketing strategies by tapping to PPC, social media marketing, SEO, email campaigns, and a lot more.
9 | Measure Your Traffic and Use the Data
The thing is, you need to understand that your customers have different ways of interacting on your e-commerce website. Hence, it would be best if you found ways to enhance the customer experience.
Having a strong analytics strategy allows you to know how users are getting to your site and what they'll be doing as soon as you get there.
Ideally, you can measure the percentage of the audience that happens to buy once they arrive on your site.
Additionally, you can also gain insight from those people who haven't made a purchase.
How long do they stay on your site before they leave?
Usually, from which pages do they leave? (This is also called bounces.)
How do they navigate your site?
Measuring your results and other data will let you know which specific areas in your site, you need to focus on and improve upon.
10 | Adapt Omnichannel Mindset and Optimize for Mobile Experience
Mobile apps have already emerged as an irreplaceable aspect of everyday lives and businesses. 94% of Facebook ad revenue comes from mobile customers. 63% of Google's visits are via a mobile device. From watching a movie to making a payment or ordering a cab or shopping something essential, almost everything you can do with a finger tap on your handheld screen. No wonder marketers and retailers cannot leave mobile apps out of their business and marketing strategy. This is why omnichannel marketing has no other way but to take mobile apps more seriously to reach out to customers and market their products.
An omnichannel experience requires brands to use multiple channels to create a seamless buying experience for their customers. To do this properly, brands need first to understand the channels that make up their customer journey. Most likely, this journey will begin with a dynamic website and a mobile app experience.
To implement an omnichannel experience strategy with a mobile component, brands will need a content management system capable of delivering an omnichannel experience. They need a headless CMS. A headless CMS acts as a backend content repository that connects to various frontends via APIs. This means that content can be delivered to a web app, a mobile app, digital signage, or any number of smart devices. A headless CMS can fuel the entire omnichannel experience and make it easier for brands to personalize content for customers.
By applying the advanced strategies listed above, you can optimize your e-commerce site to boost your conversions and sales. Hence, use this post as your guide and maximize their effect once you can put them in place. Good luck!
About the author:
Jake Rheude is the Director of Marketing at Red Stag Fulfillment, an eCommerce fulfillment warehouse. He has years of experience in eCommerce and business development. In his free time, Jake enjoys reading about business and sharing his own experience with others.
Keep Reading:
If you want to learn more about eCommerce, Omnichannel and Headless CMS, make sure you read these articles: