A digital experience platform (DXP) manages your customer's digital experience across various touchpoints. DXP software's functions include content management, personalization, customer insights, personalization, and experimentation. In short, a DXP is a hub for building, managing, and optimizing your customer's digital journey.
Selecting a Solution as a Current DXP User
Digital experience platforms help deliver a connected customer experience in one unified platform. At the onset of enterprises transitioning to an age where digital touchpoints are increasingly important and complex, DXPs offered a comprehensive tool set to guide audiences along their customer journey. While these solutions still dominate the market today, agile enterprises are adopting the composable digital experience platforms wherein different vendors are composed together though APIs to build a best-of-breed 'DXP'. This enables enterprises to select the CMS, personalization CRM, and so on that best suit their requirements. DXPs, on the other hand, provide all those tools in one, but the individual tools are often times not up to par with the composable vendors.
However, some of these composable vendors have chosen to over-promise and under-deliver. The idea of a 'composable DXP' or 'composable content platform', is a practice and not a thing. Many headless CMS vendors are using this verbiage as a sales/marketing tactic, selling people on a CMS with a robust marketplace and labelling it as a DXP or all-in-one platform that is swift and easy to migrate to at the click of a button. If you hadn't assumed by now, this simply is not how a composable ecosystem works.
Enterprises going through a digital transformation have a large investment to make beyond the purchase of tech, expanding to training, maintenance and more. Jumping ship from a DXP to a composable ecosystem does not happen overnight, especially for enterprises. It's likely that they have teams dedicated to updating and managing their DXP who will require an entire mindset shift and will need to re-learn multiple new systems.
When deciding whether you stay with your current DXP or migrate to a composable system, be mindful of how vendors are communicating their offerings.
Weighing Your Options as a Non-DXP User
If you are not already using a DXP in your organization, you're likely sold, to some degree, on these all-in-one solutions. They offer an excellent set of tools to create personalized and consistent customer experiences across websites, mobile apps, email, social media, and more all in one place.
For some organizations, this is all and everything you will need.
However, if you are in the unique position of being part of an enterprise that is not locked into a DXP, you have the opportunity to select the best solution to set your teams up for success now and years down the line. Afterall, you don't want to select one DXP and regret it in a few years when the numbers don't reflect the correct decision.
With a composable ecosystem, if one vendor isn't contributing to your goals and overall targets, its significantly easier to 'unplug' them than switching your entire ecosystem (DXP). Keep this in mind as we cover the top factors in considering which 'DXP' approach/system you select.
Choosing Your DXP Platform: First Considerations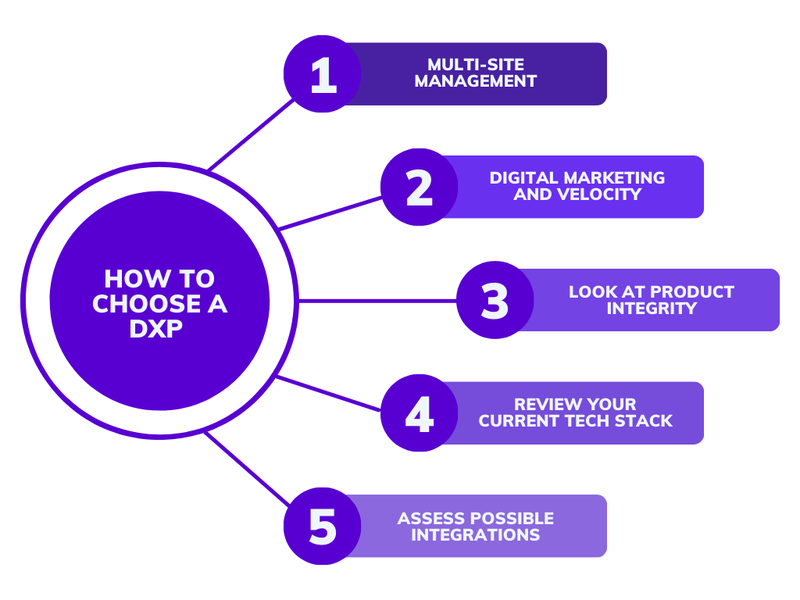 Multi-Site Management
With a DXP, organizations have an all-in-one platform to maintain multiple websites while ensuring a consistent brand identity. This centralized approach streamlines content updates and user management which can reduce administrative overhead.
However, Composable DXP surpasses these capabilities. This ecosystem offers customization, agility, granular control, and seamless third-party integration. Organizations can tailor unique digital experiences for each website, rapidly launch new sites, optimize performance, and experiment with different features.
Digital Marketing and Velocity
DXPs enable you to centralize your content creation, simplifying the creation of engaging and authentic content like blog posts, which can then be spread across campaigns and channels. It also simplifies the workflow between the creative and marketing verticals by providing a simple solution to manage creative assets.
Composable DXP takes content creation and management to the next level by centralizing the process and offering advanced tools for collaboration and optimization. It provides a seamless environment for creative teams to collaborate on content creation, enhancing workflow efficiency between teams.
Look at Product Integrity
Digital experience platforms help connect business workflows. They enable your team to create, manage, and deliver engaging, channel-optimized, personalized customer relationship management experiences.
The DXP platform you choose should align with the needs of your company. It should offer the following functionalities to enhance the system's integrity.
Cloud-native architecture: A cloud-native architecture offers flexibility to scale up or down while offering faster disaster recovery. It lowers your IT costs and gives your brand a competitive advantage.
Security: Data security is the core of robust cloud infrastructure. DXPs with ISO-level security include solutions like WAF, DDoS mitigation, encryption everywhere, zero trust and tolerance, compliance with GDPR, PCI-DSS, etc.
High availability: Faster disaster recovery is one side of the coin. The other is having an automatic failover to a secondary set of infrastructure that is geo-redundant.
Scalability: Cloud computing enables businesses to scale infrastructure to meet demand and reduce costs during low peak times.
Review Your Current Technology Stack
Companies operating in a dynamic environment look for real-time adaptability and resilience in their business workflows. A big part of this is rethinking how the existing pieces of your business software and platforms fit together. Hence, there is a significant shift towards platforms that offer composability.
Composable DXP enables businesses to compose (customize) the platform's components to meet the company's current and future needs.
A highly interoperable but loosely coupled DXP increases the business's speed to market while providing the flexibility to handle and adapt to the changes of a dynamic business environment.
Assess Possible Integrations and DXP Components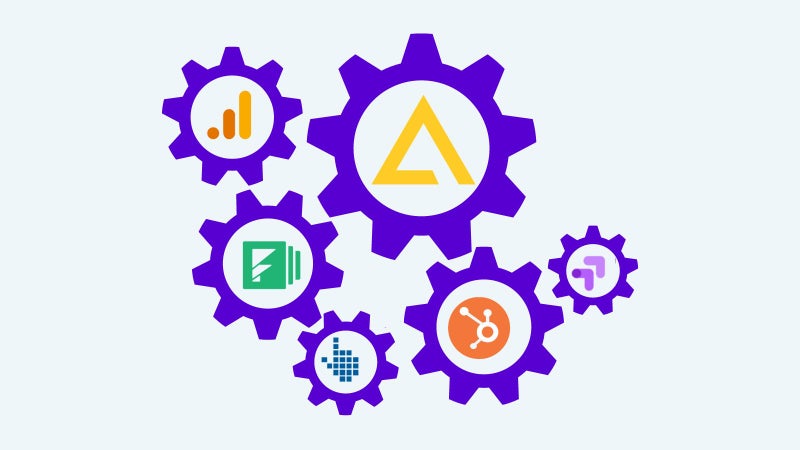 To optimize the benefits of your composable DXP, you need to plan for its integration with your marketing and analytics tools like HubSpot and Google Analytics. For most organizations, the starting point is with their CMS (content management system) which enabled users to create, manage, and publish digital content on the internet or within an organization's intranet. For enterprise-grade content, headless CMS, which decouples the front and back-end, is the go-to solution. Headless CMS that cater to enterprises will, for the most part, have adopted composable practices to provide robust marketplaces that facilitate a composable DXP's plug-and-play functionality. These headless CMSs are the foundation of a composable DXP.
When considering which DXP to work with, assess which tools you already use and which you need to adopt.
If you're already using a DXP, write down which tools in your tech stack you use and which you would 'unplug' if you could. This will give you a starting point to assess what to add to your tech stack, and which headless CMS has the integrations ready for your specific requirements.
If you are not using a DXP, go through a similar process of writing down your current tech stack. Assess whether all you need is a headless CMS or orchestration layer to combine them, or if you truly need every single tool a DXP offers. More often than not, with a DXP, you will be paying the overhead costs for tools you will never use. In a composable system, you pay exclusively for what you need.
When is a DXP the Best Choice?
While the industry is pushing composability, sometimes a DXP is the best choice for you needs, for instance:
1. Regulatory Compliance: In highly regulated industries where compliance requirements are stringent and standardization is crucial, a traditional DXP with built-in compliance features may be preferred for its ease of use and adherence to industry regulations, vs a host of composable solutions which have varying degrees of compliance.
2. Standardized Processes: When your organization follows standardized digital processes and does not require highly customized digital experiences for different segments or websites, a traditional DXP can provide sufficient functionality.
3. You're Using a DXP: At the start of this article, we highlighted that some vendors promise a composable DXP which is quite frankly, and over-sell. If you are hoping to migrate in the future, it may be the best choice to keep your current DXP as you adopt new tools. The selection process, convincing stakeholders and RFP process can take months if not years and you will need something in place as you go through this process with multiple vendors.
When are Composable Digital Experience Platforms the Best Choice?
To reiterate, Composable Digital Experience Platforms are something you build, not buy. It's the practice of bringing tools together. For simplicity's sake, we'll refer to this as a composable DXP.
Here are scenarios where a Composable DXP is the best choice:
Complex and Evolving Digital Ecosystem: If your organization operates in a dynamic environment with complex digital requirements that frequently change, a Composable DXP's flexibility and adaptability can accommodate these evolving needs more effectively than a traditional DXP.

Highly Customized Experiences: When your organization seeks to provide highly customized and tailored digital experiences for different audience segments or for various digital touchpoints, a Composable DXP allows for granular control over each experience.

Rapid Innovation and Experimentation: If your organization prioritizes innovation and frequently experiments with new features, content, or digital strategies, a Composable DXP facilitates rapid development, testing, and deployment of these innovations.

Integration with Diverse Tools: When you rely on a wide range of third-party tools and services that need to seamlessly integrate into your digital ecosystem, a Composable DXP's ability to connect and orchestrate these components is advantageous.

Cost Efficiency and Resource Optimization: For organizations aiming to optimize costs by paying only for the specific components and services they use, a Composable DXP's modular approach can lead to cost savings and efficient resource allocation.

Scalability and Growth: If your organization anticipates significant growth, whether in terms of the number of websites, digital touchpoints, or user traffic, a Composable DXP's scalability ensures that your digital infrastructure can expand to meet these demands.

Deep Personalization: When personalization is a critical aspect of your digital strategy, a Composable DXP's ability to gather and leverage data for deep personalization across various digital experiences can greatly enhance customer engagement and satisfaction.

Collaboration Between IT and Business Units: In organizations where IT and business units collaborate closely to create and optimize digital experiences, a Composable DXP empowers both technical and non-technical teams to work together efficiently.

Competitive Advantage Through Innovation: If your organization sees competitive advantage in delivering cutting-edge digital experiences and staying ahead of industry trends, a Composable DXP supports the agility and innovation required to achieve this.

Regulatory and Compliance Flexibility: In regulated industries with unique compliance requirements that demand customization and flexibility in digital experiences, a Composable DXP allows for tailored solutions while maintaining compliance.
A Composable DXP is the best choice when an organization values flexibility, customization, agility, and the ability to adapt to changing digital landscapes. It empowers organizations to create highly tailored, innovative, and efficient digital experiences that align with their unique objectives and challenges. However, the choice between a Composable DXP and a traditional DXP should always align with the specific needs and strategic goals of the organization.
DXP and Composable DXP Vendors:
For those who think a traditional DXP will suit there requirements, consider:
If you are opting for a composable DXP, there are countless tools you can use. Many enterprises will start with their CMS and orchestration first.
In a Composable Digital Experience Platform (DXP) context, orchestration refers to managing and coordinating various digital components, services, and microservices to deliver a seamless and customized digital experience to users across different channels and touchpoints. Orchestration is crucial in the Composable DXP ecosystem, enabling organizations to create, optimize, and personalize digital experiences efficiently.
Common headless CMS Which Enable Composable Digital Experience Platforms:


Agility CMS: Agility offers flexibility and ease of use in managing content for their digital experiences. It provides features such as content modeling, localization, and APIs for content delivery, making it a valuable addition to the range of options available to organizations seeking to decouple content from presentation layers in their digital projects.

Contentful: Contentful is a cloud-based headless CMS known for its ease of use, developer-friendly APIs, and content modeling capabilities. It supports multi-channel content delivery and is used by many organizations for websites, mobile apps, and other digital experiences.

Strapi: Strapi is an open-source headless CMS that offers a self-hosted option. It provides a user-friendly interface for content creation, robust APIs, and a customizable data structure.

Sanity: Sanity is a headless CMS with a real-time collaborative content editor. It offers flexibility in content modeling, supports structured content, and provides a GraphQL API.

Kontent.ai: Kontent.ai is a cloud-based headless CMS with features for content collaboration, localization, and content modeling. It offers REST and GraphQL APIs for content delivery.

ButterCMS: ButterCMS is a headless CMS designed for developers. It offers content modeling, localization, and integration with various frameworks and languages.

Hygraph: Hygraph is a headless CMS that offers content modeling, versioning, and real-time collaboration. It provides both REST and GraphQL APIs for content delivery.

DatoCMS: DatoCMS is a cloud-based headless CMS that provides a visual editor for structured content modeling. It offers GraphQL and REST APIs for content delivery.

Storyblok: Storyblok is a headless CMS with a strong focus on managing content for dynamic web and mobile applications. It offers a visual editor and RESTful and GraphQL APIs.
After you Select Your DXP:
Train and Prepare your Team for Digital Transformation
Integrating a DXP into your business workflow gives your company a competitive edge by enabling your marketing teams to deliver a better customer experience, driving customer engagement and revenue.
Think of modular DXPs like Lego blocks. They don't work when disassembled, but they help you create beautiful designs when assembled. The difference between a good DXP and a disjointed bundle of different platforms is how you and your team put it together. Integrating all your software and platforms improves collaboration and workflows, empowering you to deliver relevant content at scale.
Here's how you can assemble the Lego blocks into an efficient DXP:
Collect Insights across business verticals: A DXP helps connect IoT devices, eCommerce engines, and digital signage, giving your marketing team a 360° view of the customer. The marketing team needs to define the end-use cases they want so the developer can create relevant APIs to integrate the modules. For instance, your marketing team may want insights into your visitor's history that would help them qualify the lead's stage in the entire customer journey.
Make your teams customer-centric: DXPs enable marketing, customer service, and operational teams to become more customer-conscious. Mapping the customer journeys enables you to identify crucial bottlenecks that require reengineering your business workflows and practices.
You want to invest in a DXP that allows orchestration, a CMS that aids marketing teams in building the DXP suited to your business needs. Agility CMS provides valuable insights on integrating a DXP within your organization and training your workforce.
Define short, medium, and long-term goals
Adopting and integrating new technologies into your organization and business workflow works best in stages. Once you integrate a DXP system, it's best to formulate your short, medium, and long-term business goals.
As a short-term goal, start by leveraging the web content management and web experience capabilities of your DXP. You're now setting the platform to move beyond static single-point digital channels toward managing content for multiple digital channels. That would enable you to bring your growing content resources under one roof.
A medium-term goal could be to use your DXP to gain customer insights and to use these insights to make effective business decisions. DXPs provide businesses with an intelligent platform where data from content marketing, customer support, sales, and other verticals can be combined and analyzed in real time using APIs. That generates actionable consumer insights that enable you to make informed business decisions.
A long-term goal could be to provide your customers with a personalized and consistent omnichannel experience across all digital channels and touchpoints.
Agility CMS: Composable Digital Experience Platform Enablement
A digital experience platform (DXP) orchestrates the customer's digital journey across various touchpoints, serving as a hub for content management, personalization, customer insights, and experimentation. Agility CMS doesn't just embrace this DXP philosophy; it empowers you to create a composable DXP tailored to your brand's unique needs, enabled by our white glove service. Agility CMS stands as the enabler of your bespoke composable DXP. Our expertise and holistic approach ensure your digital transformation journey is smooth, customer-centric, and future-proof. Through Agility CMS, you're not just embracing a DXP – you're shaping an unparalleled digital experience that resonates with your audience across every touchpoint.