Difference Between Content Marketing and Content Strategy
A good friend of mine recently inquired "What's the difference between content marketing & content strategy?"
I was surprised because I thought the difference between them is pretty clear.
During our brief conversation, I realized that there are some misconceptions regarding the two.
In a layman's perception, a thin line separates content marketing and content strategy, and therefore, the misunderstanding exists.
In this post, I'm going to explain the difference between content marketing & content strategy in the best way possible.
Let's dig right in.
What is Content Marketing?
Content marketing helps small businesses grow as they can compete with larger companies at a lesser cost.
In content marketing, you create different types of content like blogs, videos, infographics, articles, case studies, podcasts, social media posts, and much more.
You simply create, publish, and then promote content. And instead of directly pitching your product or service, you look to offer solutions and attempt to gain the trust of your audience.
For example, check out this post on our blog: How To Choose The Best Headless CMS For Your Brand
The title of the post clearly indicates how it would help you choose the best Headless CMS.
The content does not bombard with product advertisements, but instead offers value to someone who may be confused regarding selecting the right headless CMS.
Content marketing, such as this, gains the trust of readers and brings them closer to the brand.
It does not make them frustrated as it is not an advertisement, but it is a solution to their problem. This creates an emotional association between your brand and the visitor.
What is Content Strategy?
Content strategy is your plan of producing, maintaining, and evaluating your content.
It is a foundation stone for successful content marketing. Content strategy is like a blueprint, which directs content marketing. It provides the guideline to connect the user needs with your business objectives.
Moreover, it helps you manage the content you created. Content strategy not only determines what type of content is published but also "why" it will be published in the first place.
Now that I have briefly explained what content marketing and content strategy is, let us understand how they work.
How Content Marketing Works?
As mentioned earlier, content marketing uses content like images, podcasts, blogs, videos, articles, case studies, etc. to inform and engage a target audience.
It comprises high-quality, targeted material, which is helpful for your visitors and aims to provide solutions to their problem.
Content marketing is great for SEO, it helps generate leads, and builds trust of your readers.
When it comes to SEO, you need to focus on creating unique, helpful content around priority keywords.
For example, you want to create a post for your website; you pick a topic and search keywords you want to rank for. You target those keywords and when your post offers real value to your audience, you should be able to get good conversion rates.
As per Dan Lok, who is an entrepreneur, speaker & consultant, "People don't buy because of logic; people buy because of emotion which they justify with logic."
Creating an emotional connection with your visitors is essential.
Your content marketing will not serve its purpose if you don't gain the trust of your visitor. A visitor can convert to a regular valuable customer with trust.
You can invest time and effort to create helpful content, which can build up a trustworthy relationship between your brand and the customer. Once a strong relationship is built, it can turn into leads and sales.
How Does Content Strategy Work?
As mentioned earlier, content strategy is the map for the journey towards a brand's success. As I have referred to content strategy as a map, it is more of a complicated process.
The working of content strategy is dependent on 5 main questions.
Why are you publishing the content?
What type of content will you publish?
Who will create your content?
Who is your target audience?
What are the metrics to measure your content marketing success?
Let's look at each of these questions briefly
Why Are You Publishing Content?
Whether you create images, videos, written articles, blogs, podcasts, etc., or any type of content, you must have a goal for it.
Content strategy helps you to decide what the goal of your content is.
You have to create the right content at the right time for the right audience and then measure for success.
With content strategy, you will never create a random piece of content that does not help you achieve your content marketing goals.
What Type Of Content Will You Publish?
A content strategy allows you to understand what type of content is appropriate for your target audience.
There are tons of different kinds of content, which you can publish online. You can create visual content, podcasts, e-books, etc.
You can publish different types of content on various platforms, like your own website, social media, or guest articles.
Content strategy is finding out what type of content you require, where you should promote it, how should you schedule creation and posting of your content.
Who Will Create Your Content?
Figuring out how you will create content and publish can be a frightening task. It is essential to develop a content strategy that answers, who is creating it what & where it will be published?
There are various approaches to source content for your site. If you don't want to hire personnel, you can consider outsourcing content creation.
Having a clear content strategy in place can allow you or your content manager to create a content calendar. It will help you visualize the generation of content.
Who Is Your Target Audience?
Content Strategy helps you to understand your audience. A business might have more than one customer, so you can cater more than one type of reader with your content strategy.
You need to ask the following questions to yourself:
Why will your audience read, view, or listen to your content?
How will your content solve the problem of your audience?
What makes your content unique?
Your product might solve the problem of your target consumers.
However, you have to create content that educates your audience to identify and address the issue. A smart content strategy supports both sides, the ones who are figuring out the challenges and the ones who are already using the product or services.
Your content should deliver a personal feel. You have to explain to your viewer or reader that you know their problem, and you will provide an appropriate solution for it.
There are many competitors out in the market, so your customers need to know what makes your product or service better. You can add case studies, interviews, etc. to prove why your product or service is worth buying.
Here's an important content marketing tip: Create personally relatable content. Your audience may be in an awareness, consideration, or decision state when they read your content. So, your content should convince them at each stage.
What Are The Metrics To Measure Your Content Marketing Success?
When you want to achieve your content marketing goals, it is essential to be aware of how each piece of content is doing.
You should ask these questions:
Are your videos converting your audience into buyers?

Are your podcasts useful

in informing the audience about your product and/or service?

Does your post hold the attention of your reader?
A strategy will allow you to answer questions like these. As you create a content strategy, you can come up with the metrics on which you can measure the effectiveness of your content marketing.
Major Takeaways
Content marketing and content strategy complement each other and go hand in hand. But you have to understand what separates one from the other.
This, in turn, will help you to shape a content strategy that will support your content marketing campaigns and help to measure their success rate.
What's next?
Next, learn about how content strategy defines your content architecture!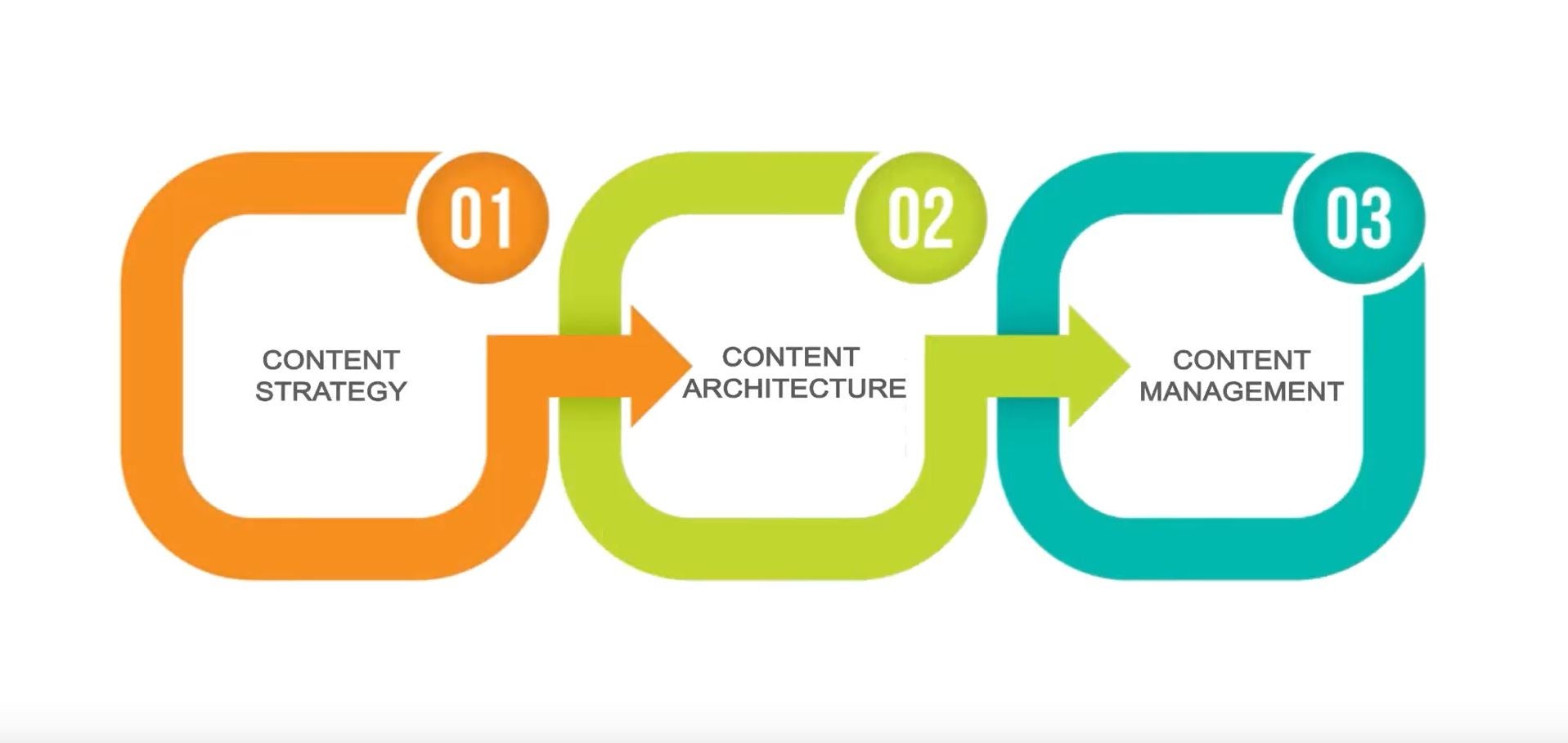 Keep watching:
If you want to learn more why Content Strategy is essential for success of your Marketing and how Content First Headless CMS can play a role in it, watch this 3 min video:
Keep Reading
If you want to learn more about how to rock your Content Strategy, make sure you read these articles:
Six Content Marketing Tips for 2020
How to Create Cornerstone Content
Traditional CMS vs Headless CMS – Explained