This week, Agility CMS launched a new feature called Content Search, that allows users to find and manage their content faster without knowing exactly where it is in the content management system. Users can search for specific field values used in content, pages, and modules for the occurrence of a specific search term. This feature will ultimately save your team time and eliminates the need for extra resources.
Users who are logged into Agility CMS have a global search bar visible to them at all times above the content manager. A user may enter a search term (word/phrase/media filename), and all exact matches of that search term will be returned in a list with a corresponding link to be able to change the page, module, or content for that item. Check out the short video below that takes you through a real-life example of how this feature works.
Why Did We Build It?
We built this feature due to high customer demand but also for a specific customer of ours. Although, we knew this new feature would provide value to all of our customers. We worked closely with one customer in particular who we built and reviewed a prototype with. We collected valuable feedback, including their request to include 'languages' and 'channels.' Aside from that, they were thrilled that this new feature would help them verify in finding and replacing expired content.
"To get an idea of what they wanted, we worked closely with one of our customers and got feedback along the way from their team as we built it. This is always critical when building a useful new feature," said James Vidler, VP of Product at Agility CMS.
"Specifically, they wanted it so that they could search and efficiently replace content. For example, they license content which eventually expires, so they have to go back and update it anywhere and everywhere that it gets displayed. Without it, their editors had to have a really good understanding of exactly where they used the content, and with a large team and tons of content, it was hard to keep track."
Our tech team had to find a way to search through millions of records of content (in some cases) quickly and efficiently, without adding high computing cost. Through trial and error, we were able to identify a solution that we could apply confidently to all of our customers.
What to Expect
To start, your search term should be a value that you expect to exist in a field value in your content. This could be in a content item, a module on a page, or a page's properties itself (i.e. SEO fields).
Results are returned in order of search relevancy and can then be further filtered or sorted in the content search report by clicking the View All Results link.

This will take you to the Content Search Report page: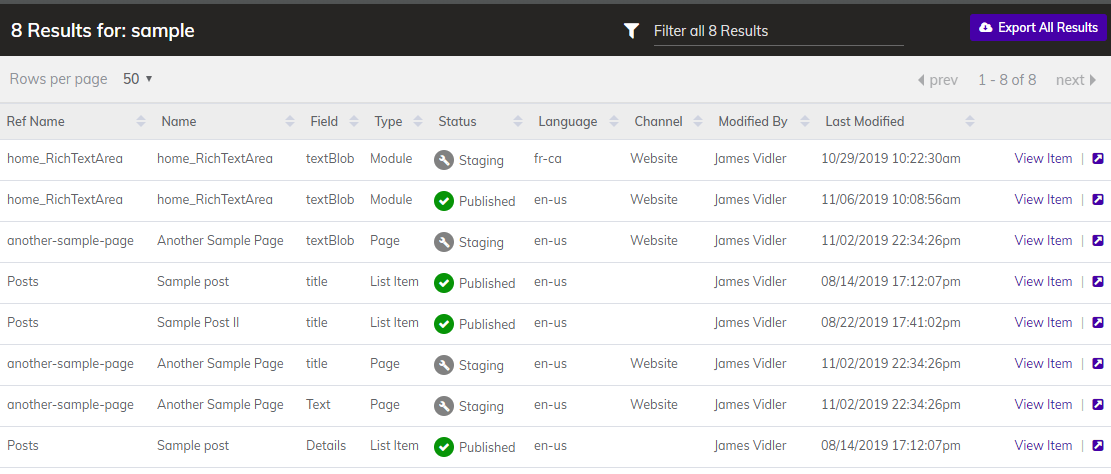 Then, you can further filter results, by typing a value into the filter input:

You can also sort the results by clicking on the appropriate Column Name and toggle the ascending/descending directional arrows.
Once you've identified an item you would like to navigate to, click the View Item to go directly to the item or click the New Window icon to open that item in a new tab. This can be very useful when you need to make changes to multiple items.
Why Should I
U
se This Feature?
Editors are continually creating and publishing loads and loads of content. To keep up with the high demand, they should have a way to search for relevant content quickly, with fewer clicks and less fuss!
While there can be many reasons you may need to search for content, here are a few common use cases that our Agility CMS Content Search feature will be of major value to you:
1. You have some content you want to change, but don't know exactly where (or if) it is in the CMS. Simply copy and paste the text you want to change, and it takes you right to the item!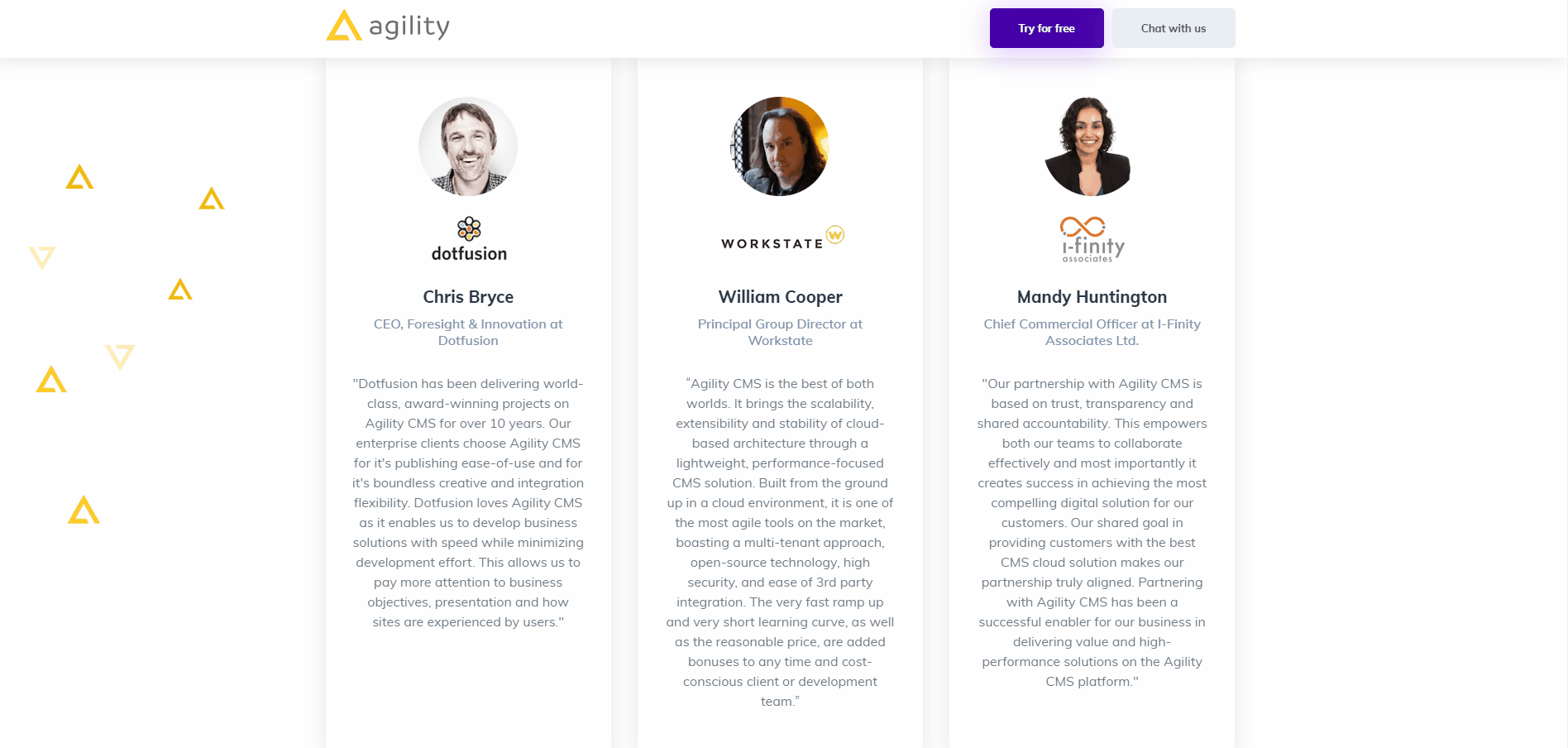 2. You have specific content that needs to be replaced across the site.
3. You want to review content for accuracies, such as SEO keywords and meta descriptions across pages.
4. You need to find a topic-specific piece of content such as a blog post, but you may have hundreds of posts to sift through and don't want to search through all of them manually.
So, whether you're looking to sort through your content faster or simply need a way to find specific content easier, let our new feature help you! Get started with Agility CMS for FREE and see how easy it is to manage your digital content.