Marketing is an important aspect of every business and is a vast spectrum of activities that have a significant impact on companies. It requires a lot of moving parts and roles for it to operate daily. Whether advertising your products or services on social media or coming up with the next campaign, it's not something a single person can do.
This is where marketing operations come into play. According to a study by Forrester, marketing operations influence over 75% of business leads in many companies. With that much influence, companies must get their marketing operations right to ensure they perform well and efficiently reach their goals.
What is Marketing Operations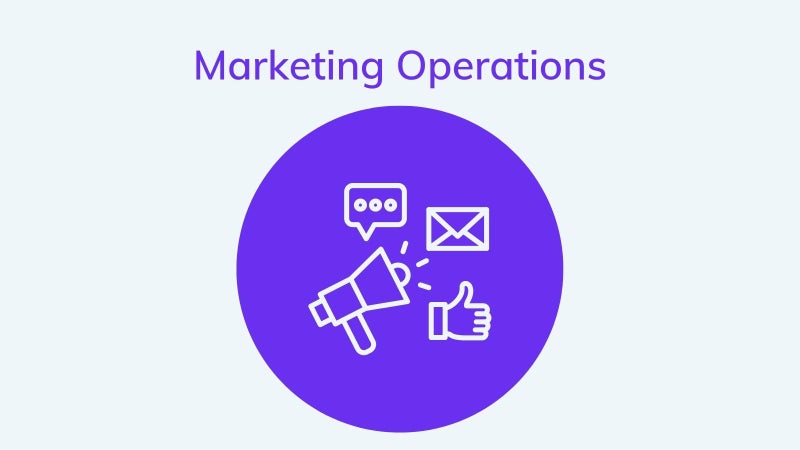 The key to a successful marketing strategy and overall success is a solid marketing operations structure, which we will discuss in this article. Before diving into the vast world of marketing operations, we'll break down the basics.
Definition
According to the Marketing And Communications Gartner Glossary, marketing operations oversee an organization's marketing program, campaign planning, and strategic planning activities. Other responsibilities included in marketing operations are technology and performance measurement, reporting, and data analytics.
What Makes It Important
Marketing operations are essential because it helps drive business outcomes, create efficiencies in marketing efforts, and help businesses achieve financial goals. Marketing is a necessary aspect of a business. Without it, companies won't be able to sell products or services, reach the right target market, and have a hard time coming up with effective marketing campaigns.
An analogy that describes marketing operations is that they are the left-brain thinking part of the marketing function. Usually, marketing relies heavily on visuals and creativity. Without any analytics or calculations, this can render a marketing strategy ineffective.
Benefits of Marketing Operations
Marketing operations come with a lot of benefits. We've mentioned that they can help drive business outcomes, increase efficiency in marketing efforts, and, most importantly— help companies achieve financial goals. You can find several other benefits of marketing operations, but in this article, we're going to focus on the bigger picture. In short, marketing operations help increase the efficiency and effectiveness of marketing efforts in a company.
Efficiency
Since marketing operations require collaboration between different roles and departments, getting the job done can be more manageable. Teams won't have to struggle with working alone and working towards impossible goals. With a proper marketing operations structure, companies can expect an increase in efficiency in marketing efforts.
You won't have to worry about extended deadlines and waiting times. Since you'll have several people in a team, your targets will be much more achievable than tackling them alone. By having a proper structure and more roles involved, you can plan for bigger goals and targets.
Effectiveness
Working towards a goal with others is much more effective than working alone. With a marketing operations structure, you can ensure every person has their role and won't overlap with other tasks. It also helps a team structure work together on bigger goals or projects.
With marketing operations, you can also ensure that every step of the marketing process will be effective from start to finish. Marketing operations also help each marketing department focus on its goals without worrying about other things. With a team of experienced individuals who specialize in data, finances, and marketing, a company can craft effective marketing strategies without a hitch.
What Makes a Marketing Operations Organization Successful?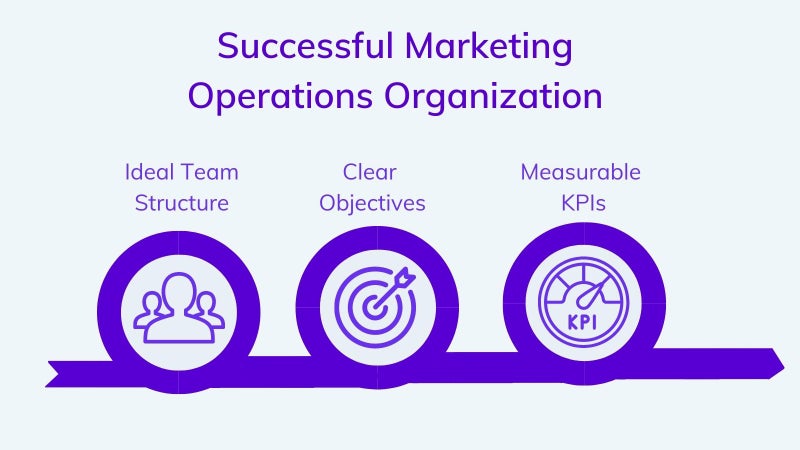 A Marketing Operations Organization can make or break a company. They're in charge of your company's marketing operations and aim to help your company run efficiently and tackle any challenges related to marketing. For this organization to succeed, you need to create a solid structure.
Creating a marketing operations organization structure isn't easy. There are a lot of steps that go into it. Before we discuss how you can build a team from scratch, we'll touch on the basics to help you create a strong foundation for your company's marketing operations team.
An Ideal Team Structure
For a marketing operations team to succeed, you first need a good structure. Other than hiring talented individuals, you need to set the roles and responsibilities of the team. Depending on your company and its needs, you may have a different structure than other companies.
So, before you search for your future employees, ensure you understand what goals your business would like to achieve. This reflects what the structure of your marketing operations will look like.
Clear Objectives
If you have no idea what your goals are and what you want your marketing operations team to achieve, you will end up frustrated and inefficient. To avoid this, you must identify the marketing operations team's goals and clear objectives early on.
Aim to create SMART goals which are Specific, Measurable, Attainable, Relevant, and Time-Based. SMART goals are great because they're specific, making them easier to attain than vague goals.
Clear objectives can serve as a guide for the team and keep everyone on the right track. It's also a great way to measure success and gauge the performance of the marketing operations team. Without any goals, you won't be able to measure the success of your performance. So, before anything else, ensure you have clear objectives and targets you would like the team to achieve.
Measurable KPIs
The third thing a successful marketing operations team will need are measurable key performance indicators. KPIs help measure performance and see whether or not your team is doing a good job. KPIs also help you figure out if your goals are achievable or if they need to be adjusted.
KPIs play a vital role in a team's success because it consists of measurable metrics that can help gauge your team's performance and overall operations. A team without KPIs will have difficulty making decisions and will decrease productivity.
Low productivity can occur due to a lack of metrics and goals because employees won't understand what they're working towards and how they're performing. The presence of KPIs can help measure that and keep employees motivated.

How to Create a Successful Marketing Operations Structure
Now that you have a rough idea and a better understanding of a marketing operations structure and what makes them successful, we're going to break down four essential steps to create a successful marketing operations structure.
Although there is a long list of things to do to create a successful marketing operations structure, we're going to list these essential steps to keep things short and straightforward. These steps are crucial for any team in any department, but they are imperative for a marketing operations team. So, read below and remember not to skip these critical steps to establish a successful marketing operations structure.
Set up feasible goals
The first thing you should do is set up feasible goals. Big goals can be tempting, but the bad news about them is that they can be hard to achieve. Instead of focusing on bigger goals your team might have a hard time achieving, start setting smaller, feasible goals your team can achieve in a certain amount of time.
Figure out what your team is capable of by referring to their KPIs and metrics. You could also refer to their past achievements before setting any goals. Having feasible goals will make your team more confident and productive. Having unrealistic goals can deter a team from achieving targets and decrease motivation. So, it's always a good idea to have realistic and achievable goals.
Acknowledge challenges
Secondly, don't be afraid to acknowledge when you're going through any obstacles. Although it can be hard to acknowledge challenges with your team, hiding it can do much more harm. You must let your team know and communicate with them when going through any obstacles to avoid misunderstandings.
Acknowledging challenges early on is also beneficial for the team because it gives everyone a chance to collaborate and come up with a solution. It's an effective way to build teamwork and showcase individual strengths.
Have a thorough plan
A thorough plan is the third thing you need to build a successful marketing operations structure. A plan will act as a guide throughout your journey. Without a plan, your team and structure might not work as effectively as you expect. A strategy is beneficial because it keeps everything organized and everyone on track. When creating a plan, make sure to keep them specific and detailed.
Have clear communication between the team
The last and most important thing you must consider is clear communication between your team. Without clear communication, a lot of things can go wrong. So, it's essential to have regular meetings with your team and encourage communication to avoid misunderstandings or miscommunication.
Today, we often communicate online through emails and chats. Some things may get lost in translation, or some might get left unread. It can be hard to keep up with your messages if you have multiple inboxes and deal with many messages from external parties. To avoid missing any messages, you could opt for a unified inbox. Unified inboxes such as Outlook ensure that you don't miss any messages. If you'd like to look for an Outlook alternative, there are a lot of unified inboxes you can find online today.
What a Marketing Operations Organization Should Include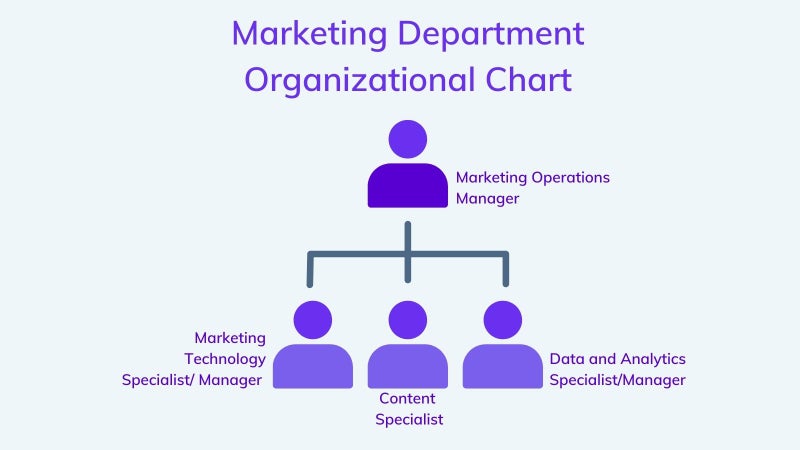 A marketing operations organization isn't one single role. It consists of several other functions and parts. Below are the prominent parts and responsibilities of a marketing operations organization.
Marketing Operations Manager
A marketing operations manager oversees any aspects of the marketing department. Their responsibilities include managing all aspects of marketing operations, monitoring business activities and performance, and analyzing data, just to name a few.
Overall, a marketing operations manager has an essential role in a marketing operations organization, and they are highly needed if you want your marketing operations to succeed.
Marketing Technology Specialist/ Manager
A marketing operations organization should also have a marketing technology specialist or manager. These roles are responsible for implementing digital marketing strategies in the team. They work with various technologies, such as web analytics tools, email marketing platforms, and social media management software.
Data and Analytics Specialist/Manager
Data analytics plays a central role in marketing operations, so it's only natural to have a data and analytics specialist or manager in your marketing operations team. Data analytics managers or specialists focus on finding trends and patterns through data. With this data, marketing operations teams can make better decisions and craft better marketing strategies.
Content Specialist
The content specialist is the last and integral part of the content marketing operations team. Content specialists create ideal content based on thorough research and consumer trends. They also help develop content strategies and work hand in hand with design. Their goal is to produce engaging content and bring in traffic.
Objectives of a Marketing Operations Organization
One of the main objectives of a marketing operations organization is to improve the efficiency and effectiveness of a company's overall marketing operations and strategies.
Increase marketing productivity and efficiency
The first objective of a marketing operations organization is to increase marketing productivity and efficiency. Marketing operations is a rigorous process. There are a lot of roles, responsibilities, and efforts that go into it.
With proper marketing operations and CRM with email marketing tools, organizations and companies will have an easier time achieving their goals. This is due to the practical system that better equips marketers and allows them to focus on their primary tasks.
Identify pain points
You can quickly identify challenges and pain points with a team of marketing professionals. One of the first steps for solving a problem is to acknowledge it in the first place. Since marketing operations cover a broad range of aspects of marketing, you'll have experts to help you tackle those problems you have little control over.
Reach bigger goals
The last objective of a marketing operations organization is to help your business reach bigger goals. Thanks to a team of marketing experts, you will be able to scale and grow your business at an exponential rate. When marketing campaigns seem too big to handle, your marketing operations team can tackle them efficiently.
Final Words
A company without a marketing operations team will have a tough time handling all the crucial marketing activities. Leading a successful marketing operations team ensures that your marketing efforts are performed optimally and effectively. You will also better manage your campaigns, data, strategies, and plans.
With marketing operations, a marketer's job is eased, and marketing activities are made more efficient, thanks to proper management and delegation of responsibilities.