The advent of composable architecture and its applications in business has driven the adoption of headless CMSs like Agility CMSs across most industries. This expansion happens at a CAGR of 20.1%, and the industry is projected to reach a US$3.8 billion valuation in 2032.
This expansion means good news for companies and brands looking for a share of the pie. In addition, headless CMSs have recently been gaining popularity among developers and technical professionals due to their cost savings and flexibility advantages.
Unlike traditional CMSs based on a monolithic model, Agility CMS strips away all unnecessary features and exposes just the APIs needed to manage content all while retaining the editor experience marketers know and love. This makes Agility CMS ideal for building faster, cost-effective web applications.
This article will discuss how Agility CMS can help you save money by streamlining your development process.
No more vendor lock-in
In the times of monolithic systems, it was crucial to pick the right CMS from the get-go. Usually, that decision invariably meant that you'd "marry" a platform and its associated features.
While for some companies that level of commitment is great, for fast-paced, modern businesses, the answer isn't black and white.
Agility CMS allows you to build your application on top of its robust backend. It also serves as the neural center that orchestrates a web of independent APIs that extend your application.
With a composable solution like Agility CMS, enterprises and brands can integrate new technologies with the CMS and build the best technology stack to appeal to your specific client base.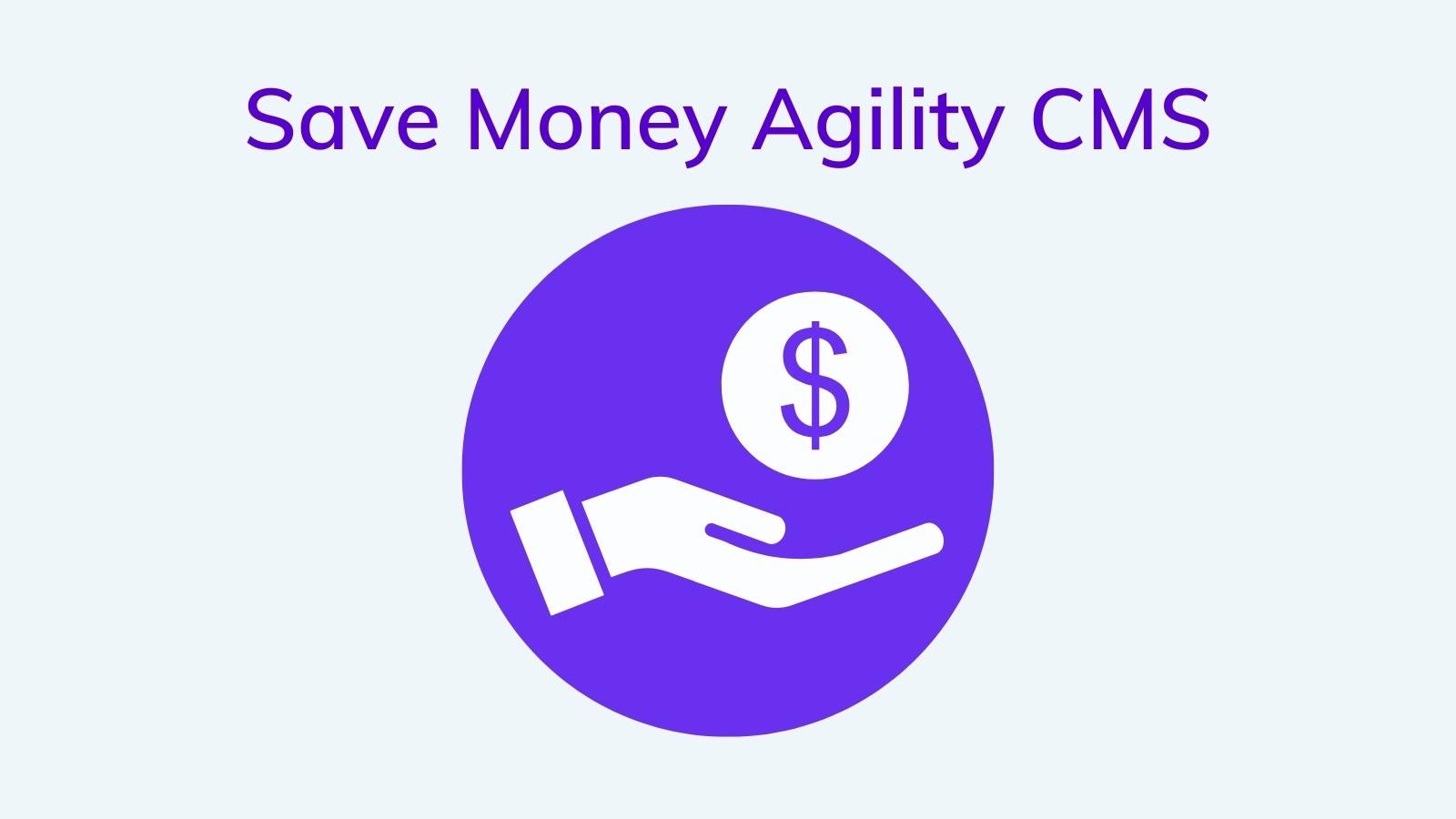 Less training involved
While it's true that headless CMSs can be a bit more convoluted than your traditional CMS, not every CMS is created equal. A platform like Agility CMS is considerably more straightforward to use than other competitors, especially monolithic platforms.
Frontend developers will feel entirely at home using a composable platform like Agility CMS because it allows them to build modern digital experiences using frameworks like React, Next.js, Gatsby, Angular, and Vue among others.
Content editors, on the other hand, will find Agility CMS to be not only easy to use, but familiar for editors coming from other platforms including WordPress, Drupal, and Sitecore.
There are also great training resources available for you to choose from, even from third-party trainers:
Faster time-to-market
With a headless platform, you can re-publish your content across channels without having to recreate any of it from scratch or go back through the editing process again.
The separation of the presentation layer from the CMS platform lets teams move faster, while the separation of content creation and presentation helps authors and developers work independently, accelerating time to market.
Thanks to this unified architecture, composable architecture drives quick innovation –which means more time between us and the competition as well as better odds at coming out ahead when using new tactics in marketing campaigns.

Code and content reusability
The idea of reusable content is not new. In fact, many organizations have already started exploring its advantages and benefits to their business operations to implement this approach sooner than later.
In today's online ecosystem, the content you create isn't always just for your website. You may have content that appears on both your website and your digital experiences, be it a mobile app, an IoT device, or a smartwatch, meaning that you will need a platform capable of creating and publishing content faster.
Even if your enterprise isn't quite ready to implement a content reuse strategy immediately, you can benefit from exploring the meaning of reusable content. Creating your content with this in mind can set you up for success when you are ready to syndicate your content to channels other than your website.
Quick migration process
Retiring a content management system and moving to a new platform always requires the –sometimes tricky– process of content migration.
Content migration is the process of moving existing web content to a new platform, and it's often the elephant in the room. Content teams can take the guesswork out of the migration process with a composable platform.
Every website's content migration is unique depending on how much content you take with you as you jump from one platform to the next and a handful of other factors.
A composable CMS helps you migrate your content using automated software and scripts. This enables developers to get the job done using less energy and resources.
Easy client onboarding
Switching to a headless model requires a switch in mindset; before you onboard, you must instill best practices into your organization, such as proper content modeling. In addition, deploying a new CMS may become a somewhat complex process.
Having someone who would guide you can significantly increase your chances of success. Agility CMS helps you work with you to help you succeed.
We have dedicated onboarding support teams and vendor training, onboarding, and consulting to help you fully implement Agility CMS.
Or you may pick one of our certified partners with extensive experience with our platform. While the costs of such services may not be low, they can help you avoid typical pitfalls and achieve your results much faster.
Faster performance with less effort
Since the backend and front end are separated, if the back-end CMS platform has any performance issues or needs maintenance, it won't create any downtime to your website or compromise its performance.
Your hosting options are unlimited with a headless CMS and deployment environments as well. Monolithic CMS platforms struggle with both horizontal and load scalability. They often can't integrate well with other systems, limiting growth in flexibility and agility.
Eventually, developers get tied up in CMS maintenance and content workflows. Marketing teams cannot maintain the content. As a result, organizations slow down and cannot keep up with customers' expectations.
Instead of scaling one platform to manage content for different products and channels, many businesses find themselves adding more and more CMS, creating content silos, and disconnecting.
Closing thoughts
A headless CMS is a powerful tool that can help you save money in multiple ways.
Agility CMS is a content-first headless CMS platform. We've built this platform to offer you everything we think you'll need; page management, content architecture, eCommerce, eTicketing, UGC, and search so that you can adopt a faster mindset.
Agility CMS can help you focus on the things that matter most to your business by freeing up resources, reducing dependencies, and increasing efficiency. A headless CMS is definitely something to consider if you're looking for ways to increase efficiency and cut costs.