Are you taking all the necessary steps to polish your E-commerce service or keeping track of what buyers think about your retail business? If the answer is no, then it means your firm is going to suffer sooner or later. Moreover, you can be among those businesses losing $75 billion due to poor customer service.
86% of your clients will think twice before coming back because customer service is as crucial as the quality of products. Hence to create frequent buyers, you need to maintain an excellent bond with your clients.
And what better way to do it than using Customer Relationship Management (CRM) Software? Before going to the 6 Benefits of CRM for E-commerce and retail markets, let's acquaint ourselves with this system.
What is a CRM System & How does it help Build Customer Relationships?
Winning clients' trust and tuning service according to their habit and need is a strategy that companies adopt besides providing quality products. Around 87% of people are willing to pay extra if a company offers quality customer service.
CRM is a platform for managing and storing customer data. Including their details and habitual shopping pattern. It is a strategic approach to extending and retaining customers. You can use this system to increase your business capability. Further, it is also helpful for fast networking between teams within a company.
Types of CRM and their Use in the Market
There are three types of this system, which are as follows;
CRM for Refining Process
Managing your business while viewing customer data is the focus of operational CRM. This system improves processes such as marketing and sales through self-regulation.
The software can help retail markets in managing costs and enhance customer comfort. Further, studies with CRM can build a strong bond between customers.
Getting Market Insights
CRM is also commonly used for business analytics to make intelligent business decisions. It's crucial in industries such as real estate prone to constant market trends fluctuations. Hence, using CRM for Real Estate can help get insights into the market.
Data Transfer between Company Departments or Units
Collaborative CRM is another type that aims to make data transfer more efficient. The sales, marketing, and other units in a firm can thus connect and make plans faster. One reason is that most of this software is cloud-based.
Furthermore, CRM for marketing and sales provides a medium for a smooth workflow- making sales and generating leads easier.
The 6 Benefits of CRM for Retail & E-commerce Business that You Need to Know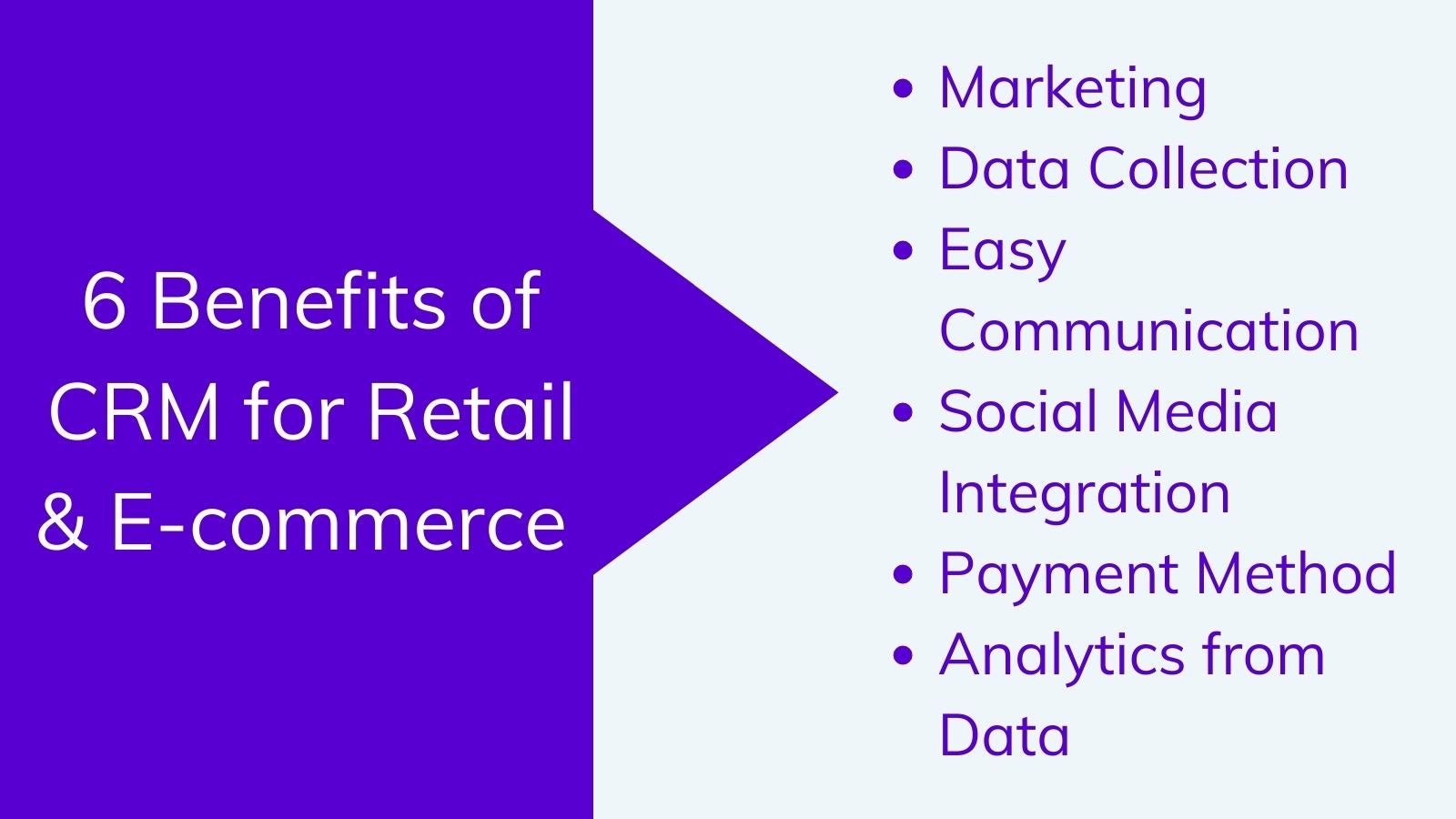 Marketing According to the Habits of Your Client
A customer is someone who is searching for a specific type of service. So making marketing strategies while keeping people in mind can help convey more relevant data. As a result, the probability of sales will further increase.
Further, e-commerce and retail businesses can use segmenting market plans to deliver sponsored ads to buyers. Wherever you go on social networks, ads related to property and products will pop up on the screen. Hence the chances of clicks on these ads will increase.
Data Collection for Retail and E-commerce Business
Data collection can help in getting insights about clients. Without it, no business can think of improving their service. CRM provides a path for storing consumer data that allows personalization and digital marketing strategies.
For a retail and e-commerce business, customer data storage is vital. Details such as email and phone numbers are ready for future marketing campaigns. Further, cloud-based CRM allows these markets to access data from around the world.
Easy Communication
The data flow between a company's units judges how prolific the company is at a given moment. If the data transfer is unreliable, it can cause trouble for the company. So steps need to ensure a smooth flow of data among business units.
CRM makes it possible for retail or e-commerce markets to maintain access to clients. A proper channel will help you build more trust with clients. Further, customers like to interact before putting their final decision.
So retailers and e-commerce stores will need to respond quickly. One reason is that a buyer might have some confusion about your offerings. It is where they will try to engage with a company. You can connect with your buyers and ensure they do not leave due to confusion.

Social Media Integration
Social sites are receiving a massive user influx as people want to create links with others. Hence these sites are excellent platforms for ads and other marketing campaigns. They can boost your sales and generate more leads.
CRM allows the union of social sites. Hence you get the chance to get more leads for your business. E-commerce stores and retailers know the worth of social sites. Many market reports already show a boost in revenue and value due to this system & social networks.
Payment Method
CRM can help retail markets to probe the payment acquired via many channels. In normal conditions analyzing these data can be difficult. This software can help manage things, from invoicing to billing, right from one place.
This software lets you know the sources that generate most of your revenue. It will also allow you to mark customers and provide metrics to amend your service.
Analytics from Data
No firm can advance without fixing problems in their services. Your business data can be monitored with analytical tools in CRM software. This way, you will know about the areas where your business is lagging.
This system can collect data from deals in e-commerce or retail business. This compiled data can then be get used in building the analytics. It gives insights and opens a new door for tailoring your business. Analytics can show customer retention, predict outcomes and let you discern user experience.
Final Thoughts on CRM in E-commerce and Retail Business
Customer relation is crucial in defining how a business is heading forward. The use of CRM can provide a countless number of benefits. It can assist in contact, payment, and present insights for better dealings. Further, a market cannot win against its rival without using the right tools, such as software.