A/B Testing is a common and widely used practice by marketers to improve conversion rates. But sometimes, it doesn't seem to work.
So, what are you doing wrong?
There are many possibilities to perform A/B tests, and it is always a challenge to find a place to start. When you work with a proper A/B testing strategy, you have enough data and understanding to focus on the right things that help you improve your conversion rates in a meaningful way.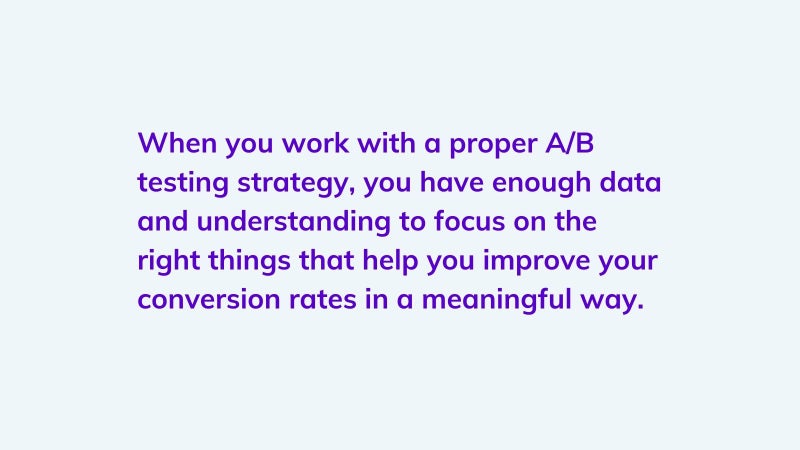 That's you should have an A/B testing strategy before starting any tests. Without it, everything will be guesswork, and you'll struggle to get accurate results with your split testing efforts.
Fortunately, it is pretty easy to build your A/B testing strategy. Here's how you can do that.
Building A Successful A/B Testing Strategy
Having a tremendous A/B testing Strategy is the secret of any successful A/B testing campaign. It helps you learn something new about your page/elements/audience with every test you run. You need proper planning and documentation for that. So you can ensure and get solid results with your efforts.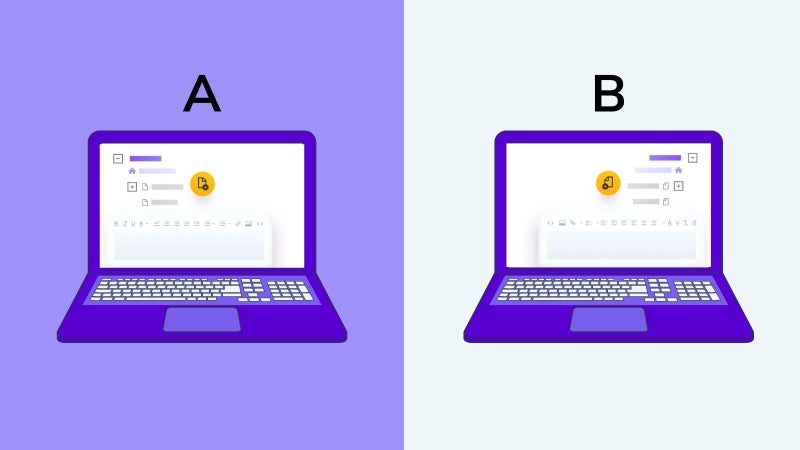 There are five parts of a successful A/B testing strategy;
Buyer Persona
Creating a detailed buyer persona is the first step to get success with your marketing efforts. You need to understand your ideal customers before reaching out(targeting) them, to complete every stage of the sales funnel.
That's why you should create your landing page(s) after creating a detailed buyer persona. Because then you go in the right direction and design page layout, create a content copy (messaging), and everything else according to that.
Buyer Persona works like a testing blueprint that gives you information to plan and a framework to understand the results to ensure success.
User experiences built with the understanding of customer personas are 5 times more effective in terms of bringing targeted users and improving overall interaction. One of our clients in the travel industry was having issues with their customer service experience. After reviewing the call logs and the analytics, we noticed most of the customers had an average wait time of 3 to 5 minutes before the call had been patched with the service agent and this wait was costing businesses around $5 million. We started with building the customer profile and got to know most of their customers were busy professionals who were making calls to request changes in their hotel bookings.
We built up a solution by analyzing the customer personas - that automatically pulled information from the CRM right before the call is patched, this reduced the overall call duration by 33% and brought savings worth of millions in revenue.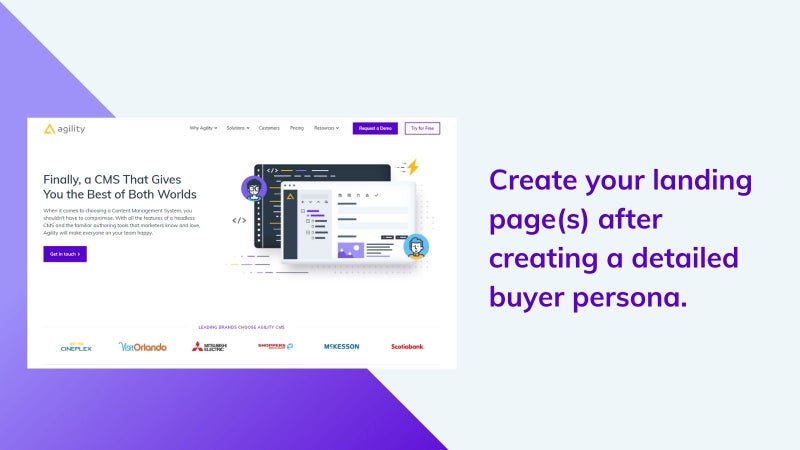 That's why at least you must have some basic information about your customers;
Are they female or Male?

Where do they live?

What is their budget (financial status)?

What are their goals and pain points?

How old are they?

How can your product help them?

Why are they interested in your product?
You can check your Google Analytics, get the help of your sales team, and ask some questions from your existing clients. This is an upfront effort that will save your time and efforts as well as ensure your success.
Define Your Goals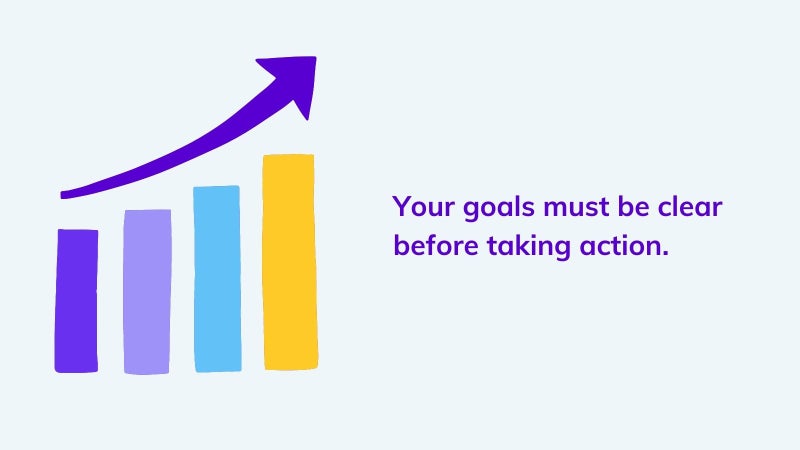 Your goals must be clear before taking action. You should figure out what exactly you want to achieve from your test. Because if you don't know what you want to achieve with your test, you can't create the right variants to get results. Also, you'll struggle to run your A/B testing campaign and to measure its effectiveness.
You should figure out:
What is your main(overall) goal?

Who are your ideal customers?

What are the steps to purchase?

Do you want to increase conversion quality or Volume?

How will your test help you to achieve your main goal?

What elements on the page/website are playing an important role to convert (related to the goal)

How will you track the performance (metrics)
Money should be your goal most of the time because this is the end goal of any business. For example, reducing the bounce rate doesn't have any impact on the revenue. Even higher conversion rates don't mean more money. After running the test, For one of our clients, the conversion rate was a bit lower than before, but an increase in the average order value helped them generate more money.
I'm not saying that metrics like bounce rate, signup, conversion rates are useless. These metrics are also important and can give you important insights. But for most of the time, your main goal must be money(revenue) because there is no meaning of having a lower bounce rate if you're not getting any sales.
Create Your Hypothesis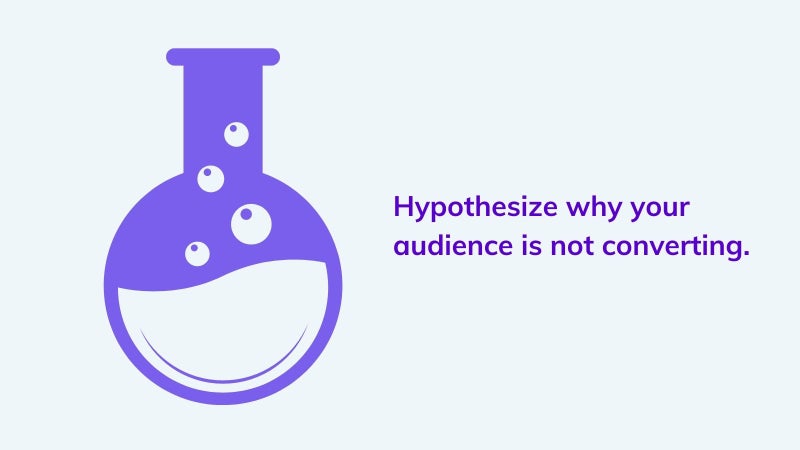 After understanding your ideal customers (buyer persona) and business goals, it is time to think about test hypotheses (improvement ideas).
You have to find the clash between what your ideal customers want and what your business wants and find ways to reduce that clash.
You can set up a solid A/B testing strategy by understanding your potential clash points. You can figure out exactly what your audience wants by testing different variations for clash points.
You should focus more on this area because the deeper you understand it, the more effective your strategy will be, and you'll get better results.
But here are some major reasons why your audience is not converting:
Your Offer/Message is wrong.

Customers are unable to understand what do next

Your page looks complex

Wrong emotions for the wrong place

Lack of trust

You are getting the wrong traffic
Documentation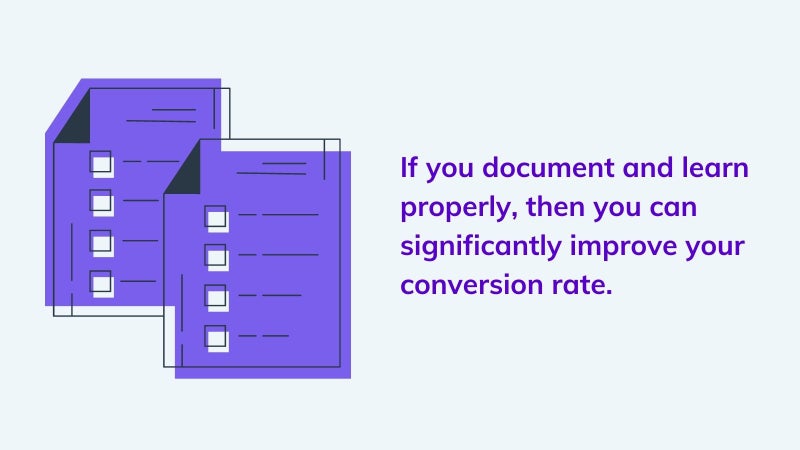 You should document your test results, and it will help you to learn and create new improvement ideas & tests.
But if you will not document your test results and learn from that, then probably you can't get out the most with your tests. But if you document and learn properly, then you can significantly improve your conversion rate.
For example, for one of our clients, we found that the audience responded more as we were making the page less promotional. Once we found it, we simply made changes on the page and used simple CTAs that encouraged users to get the information they were looking for without providing any personal details.
According to our learnings, to provide a better user experience, we made the changes on the whole page that were more focused on helping users.
But it became possible due to the proper documentation that we were doing from day one and learning something new with every step & test that we were running. And combining all those learnings to create a page gave us the best results.
Keep Testing
The secret to improving more is to keep testing. Once your one test is complete, start working on the next one by using your learnings from the last one.
If you can figure out why your new variant is a winner and performs well, you can apply that learning to further improve that page or conversion rate and many other pages.
But if your new variant doesn't work well, then it doesn't mean that you'll fail. It means that your new idea is not better than the original.
The one thing that you should remember is that don't test the same thing again and again. For example, if your new CTA is a winner, then simply choose it and test something else that you think can help you to improve your conversions.
Always put yourself in your customers' shoes and ask yourself what you can do better to solve their pain points.
Some Other Important Tips:
A/B Testing is a long-term strategy.

There is no need to test everything.

Don't stop a test if it reaches its statistical targets. You should run a test for at least two weeks for two business cycles by predetermining a sample size.

There are no magic numbers (like 500 conversions) to stop. Ensure that you have enough data to stop a test.
A/B Testing Mistakes to Avoid
Here are some mistakes to avoid to get results with your A/B testing strategy.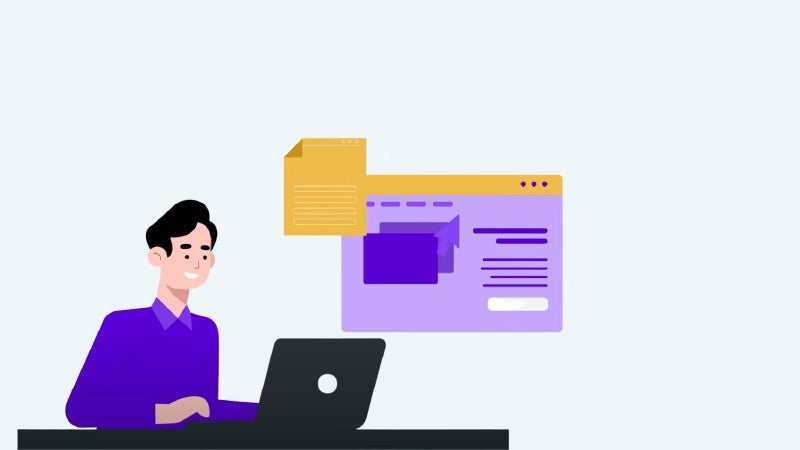 Testing the Wrong Page
It is the biggest mistake that many people do. You should know the right page to test. Every webpage has its own functionality and importance. So you must be able to choose the right pages for split testing.
Choosing the wrong page will only waste your time and efforts. You'll get nothing by doing that. So, how do you find the right page to split test? The answer is simple if you're marketing your business; The pages that have a connection with your sales and revenue are the right pages to split test. You can't get anything by testing pages like "About Page" in that case. But for a services company or consultant, split testing the "About Page" could help you.
Invalid Hypothesis
It is the other biggest mistake that many experts make. If you don't have the right hypothesis then you can't get the results with your split testing efforts. That's why you should ensure that you have valid hypothesis that'll take you in the right direction.
A hypothesis is a concept of why a page has particular results and how you can improve that.
Here are important factors to form the right hypothesis;
Pay attention to your analytical data to know about your website and customers.

Figure out why certain things are happening. For example, if people don't fill out the form on your webpage then there could be chances that your CTA is wrong or not encouraging them.

Figure out some possible solutions.

Find out the ways to measure success.
Testing Too Many Items
Many experts run multiple tests at once to speed up the conversion optimization process. But it is not the right strategy. A/B testing doesn't work that way. When you run multiple tests together for a webpage then you couldn't find the actual changes that impact the page conversions. As a result of that, you lose important data that could help you to improve your conversions significantly.
Blindly Follow Case Studies
Reading A/b Testing Case studies of other companies is the best way to learn new techniques and ideas to improve your skills and results. But Copying others to get the same kind of results is not the right strategy to follow. It is a mistake that you should avoid.
Copying others can't give you the results because your business is unique. So, problems will be too. That's why you need to make your own path to improve your website conversions.

Yes, you can get ideas from other case studies but you should not copy them to get results. Also, you can use those case studies as the starting point of your A/B testing strategy. That'll help you to better understand what works for your business and what changes you need to make to get results.
A/B testing is an ongoing process. You can't get any significant results with one-two tests. Learn from your mistakes and improve your skills, tools, and frameworks and avoid the above-mentioned mistakes. It will help you build the right A/b Testing Strategy and better understand your customers and the changes that you need to improve your website conversions.
Conclusion
Running a great A/B testing campaign is not about luck; it's about a well-planned strategy. But without a strategy, A/B testing is not testing; it's just guesswork.
But when you plan a solid strategy and work accordingly, you'll definitely get results you're expecting and work for, even if it takes some tests to reach there.