What Is a Hybrid CMS and Why Do Marketers Love It?
How Hybrid CMS supports marketers and content editors in creating a content infrastructure.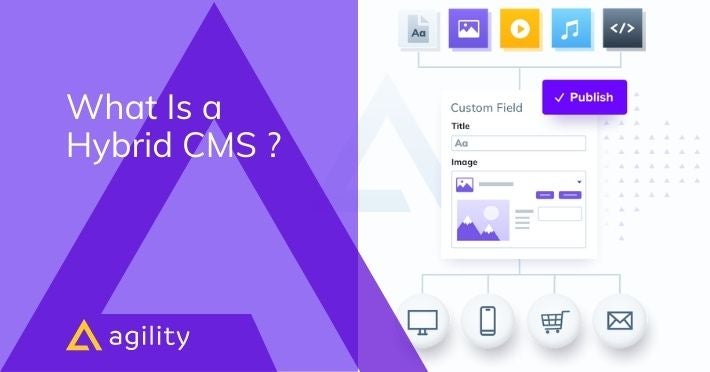 What happens when a traditional CMS is not the right fit for you? That's when hybrid architecture comes into play to give you what other CMSs can't. A hybrid CMS distributes content, enabling you to manage, personalize, and analyze it. It supports marketers and content editors in creating a content infrastructure.
Traditional CMSs are, by definition, design-centric. That means they're built to make it easy for editors to publish content on a website. Traditional CMSs also emphasize the workflows and the content calendar over the development of the website, leaving that up to developers. This can lead to certain constraints when it comes to scaling and creating websites faster.
However, that doesn't mean that traditional CMSs are bad. On the contrary, they're incredibly robust and capable if you're still getting started or just don't have an omnichannel strategy in place.
Traditional CMSs like WordPress usually favor pre-built components, and templates developers and marketers can use to get their site up and running quickly. Still, legacy CMSs typically don't offer you as many chances to tweak things like their headless and hybrid counterparts.
But what happens when a traditional CMS is not the right pick for you? That's when hybrid architecture comes into play to give you what other CMSs can't.
First Things First: What Is a Headless CMS?
Before we go deep and start talking about hybrid CMS, let's talk about the other alternative to traditional CMSs, a headless CMS. Headless CMSs are backend repositories that store both the content you've created and the APIs you use to render the content to the frontend.
In the headless architecture, the head, or the front, is separated from the backend. This allows you to integrate it with a best-of-breed tech stack. The main caveat of headless CMSs is that they're not as marketer-friendly as the traditional ones.
Unlike a traditional CMS, a headless CMS uses the content-first approach, which focuses on content and the content architecture before considering design. By placing content front and center, headless CMSs can deliver content to different audiences, channels, and devices using APIs.
Despite its unfriendliness for non-technical issues, the headless architecture gives developers flexibility, which allows the creation of unparalleled user experiences and the ability to deliver content to every channel in a centralized way.
Now, let's talk about hybrid architecture.
What Makes Hybrid Different From Headless
In a nutshell, a hybrid CMS combines both the headless, API-driven architecture with the design elements from a traditional CMS. While a hybrid CMS isn't as lean as its headless counterpart, it's much less bloated than a traditional one and targets marketers and content editors rather than IT professionals and developers.
A hybrid CMS distributes content from a central platform, enabling you to manage, personalize, and analyze content, all while supporting content editors in creating a cohesive content infrastructure and strategy that involves all your data, assets, and channels. A hybrid CMS also provides developers and marketers with the freedom to experiment and create new interfaces and touchpoints.
A hybrid solution gives you the speed and scalability you need to distribute content to different channels and distribute it to various marketing and sales pipelines. Similarly, a hybrid CMS gives you the ability to integrate with different third-party applications for a best-of-breed approach to improve customer targeting and personalization.
Still not sure about the differences between hybrid and headless? Read: Deciding Between Headless, Traditional and Hybrid CMS Platforms
The Big Picture: Benefits of A Hybrid CMS
As we said, a hybrid architecture enables you to work in a familiar environment while giving developers the tools to edit and customize content across channels in a familiar environment.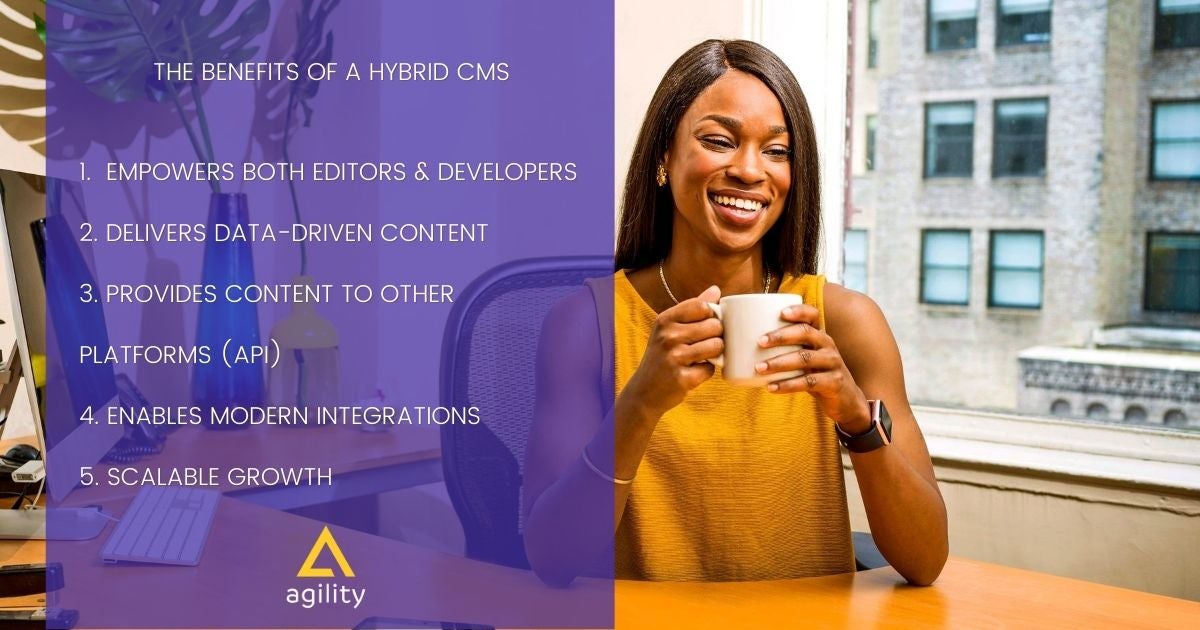 Let's take a look at the benefits of a hybrid CMS.
1. Delivers Data-Driven Content
A hybrid CMS helps marketers deliver data-driven content that's efficient and saves the content team time and resources. It allows content teams to create the right kind of experience for the right audience every time.
2. Provides Content to Other Platforms (API)
Hybrid CMSs make content available to other platforms as well as in HTML. It could be RSS, ATOM, OData - whatever the format, it should be available, and a hybrid CMS makes that happen.
3. Enables Modern Integrations
Teams are using more tools than ever to do their jobs. With a hybrid CMS, you can provide a great experience and content delivery for your customers, but also integrate with tools like Salesforce, Slack, Marketing platforms, IFTT, Microsoft Flow, Logic Apps that benefit your content teams. These tools can all be brought into the full circle of your web properties, including things like eCommerce.
4. Scalable Growth
Your business is going to grow, so your CMS should grow with you. It should always be up-to-date, and a hybrid approach tends to lead you toward suitable architectures that provide a foundation for continual growth. With the ability to evolve and use new tools, new designs, and send your content to more places using more modern technologies.
5. A Hybrid CMS Empowers Both Editors & Developers
A hybrid CMS approach empowers your editors, and it allows developers to provide better experiences for your end-users. The net effect is that you can deliver more value with a Hybrid CMS than with either a Traditional or Headless CMS.
Hybrid CMS: A Blessing for Marketers?
Users and customers are changing the internet. They now want access to the same content in a highly mobile digital environment.
Marketers who work for experience destinations or experience-based companies need to capture the attention of their customers and lead them through the sales funnel. Reaching and converting these potential customers requires speed and flexibility from marketers, and a hybrid CMS can truly help you.
With a hybrid, CMS, rather than creating content ten different times, one for each channel, a hybrid CMS allows you to create structured content and deliver it to any viewing environment.
As a marketer, your job is to craft the right content for the right audience. A hybrid CMS does the heavy lifting of optimizing and delivering content on different channels and platforms.
Companies that invest in a hybrid CMS are better positioned to deliver on their own brand promises because they can provide better experiences across their entire content spectrum.
4 Reasons Why Marketers Love a Hybrid CMS Like Agility CMS
Agility CMS checks all the boxes for marketing teams. We are a cloud-based tool that offers powerful personalization tools and an extremely easy-to-use interface that helps not only companies but also brands by keeping the user experience consistent.
These are some reasons why marketers love a hybrid CMS like Agility.
1. Quick Set Up
Hybrid CMSs reduce the dependence on developers because they're usually ready as an out-of-the-box solution.
2. Ready To Integrate With Other Software
Marketers use a myriad of different platforms to get their job done. A hybrid CMS is the solution because it's easy to integrate with third-party platforms and complementary services.
3. Cloud-Based
Hybrid CMSs are usually cloud-based or cloud-ready. That means that every member of your team can make changes and edit content in real-time without stepping on each other's toes.
4. Enhanced Collaboration
Hybrid CMSs create a bridge between marketers and developers. Hybrid architecture makes it possible for both teams to work independently, but still remain in sync to create digital experiences that delight customers.
A Hybrid CMS Success Story
Cineplex, the Canadian entertainment behemoth successfully implemented Agility's hybrid CMS to redesign their websites and make it both responsive and mobile-first, all without rebuilding their backend.
For Cineplex, switching to a hybrid, cloud-based CMS was the best bet as it offered them a one-stop solution to change and enhance their digital properties, all through their front-end. Agility CMS enables Cineplex to structure their content in a way that supports both developers and editors.
On the one hand, Agility CMS frees developers and lets them implement format-neutral, structured content. On the other, editors can manage content from a page perspective and distribute it to different platforms and feeds as well as within their circle of other marketing platforms.
Now, thanks to Agility CMS, Cineplex can deliver page-driven content across channels and distribute it through APIs. Also, Agility enabled Cineplex to implement all of these changes without rebuilding the website from the ground up. With the help of Agility, developers can invest their time into building better software, and marketers can help with the growth of the business.
Are You Ready For A Hybrid CMS?
As brands and companies face the changes that new technologies bring, CMSs have had to adapt to the unique challenges change has brought. However, some marketers still feel a bit scared about making a move toward a hybrid CMS because of the potential differences and workflow changes this might bring.
If content authoring is a priority for you, and you need a CMS that can deliver omnichannel experiences at scale, then a hybrid CMS is the best bet. With a hybrid CMS, you get the best of both worlds and gain the tools to build the best, best-of-breed solution that truly fits your needs.
Don't be afraid to make the leap towards hybrid adoption.