The Path to Modern Web: How Developers and Agencies can Start with JAMstack and Grow in 2021
Workshop
Jan 14, 2021
7:00PM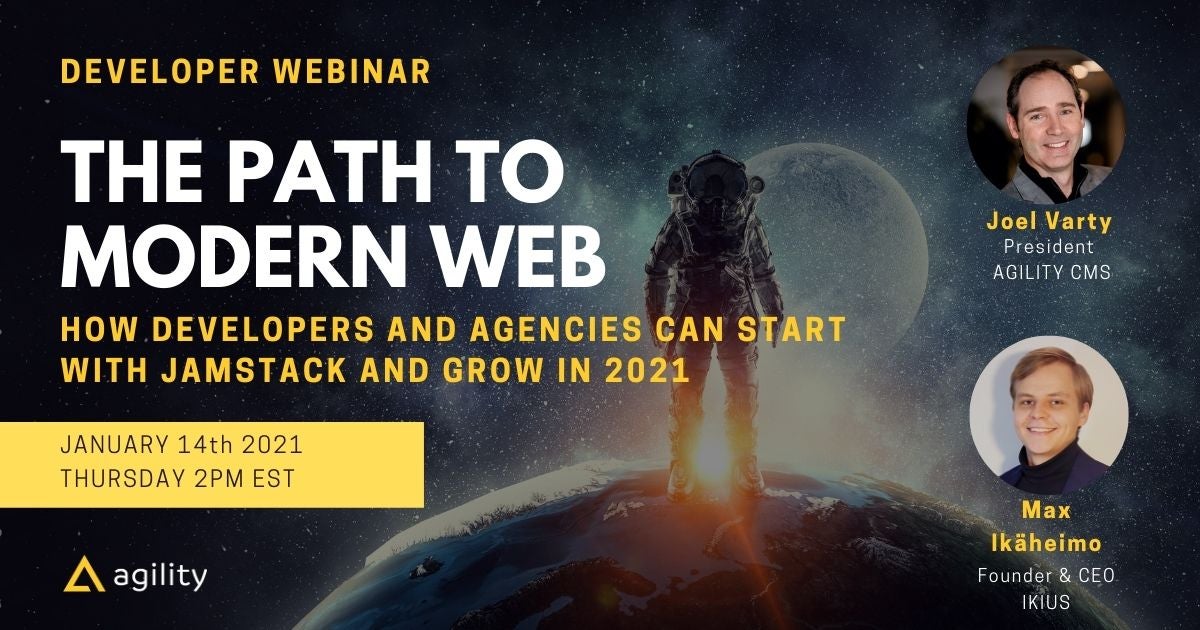 In the past five years, JAMstack has seen meteoric growth, going from a relatively small, obscure tech stack to one of the most widely-adopted architectures.
Are you in the process of transitioning from monolithic web applications?
Do you want to start creating apps using a decoupled architecture that relies on APIs and microservices?
Are you ready for building lightweight, blazing-fast apps that can be scaled independently?
Then this webinar with Agility CMS from Canada and Ikius JAmstack Dev Agency from Finland - is for you!
Take advantage of JAMStack without rebuilding everything
We often talk about being agile, and this leads right into that concept.
You want to be able to take small chunks and incrementally build on them over time. What this means for you right now is that you can take advantage of JAMStack without rebuilding everything.
What will you learn?
1 | Intro to JAMstack and How to sell JAMstack and Headless CMS to your peers and managers
2 | How to design a migration path from a traditional site to a JAMstack site: How and Why Agility CMS switched from .NET to JAMstack and how you can start migrating to JAMstack today
3 | How Ikius started a JAMstack agency, instead of building Wordpress websites for their clients and what they learned in the process

Why should you register?
1 | You want to start using JAMstack
2 | You've heard about JAMStack, but you think it's only for new builds
3 | You want to get a head start on a popular technology
One more reason to register!
All participants will receive a FREE eBook: The Complete Beginner Guide To JAMstack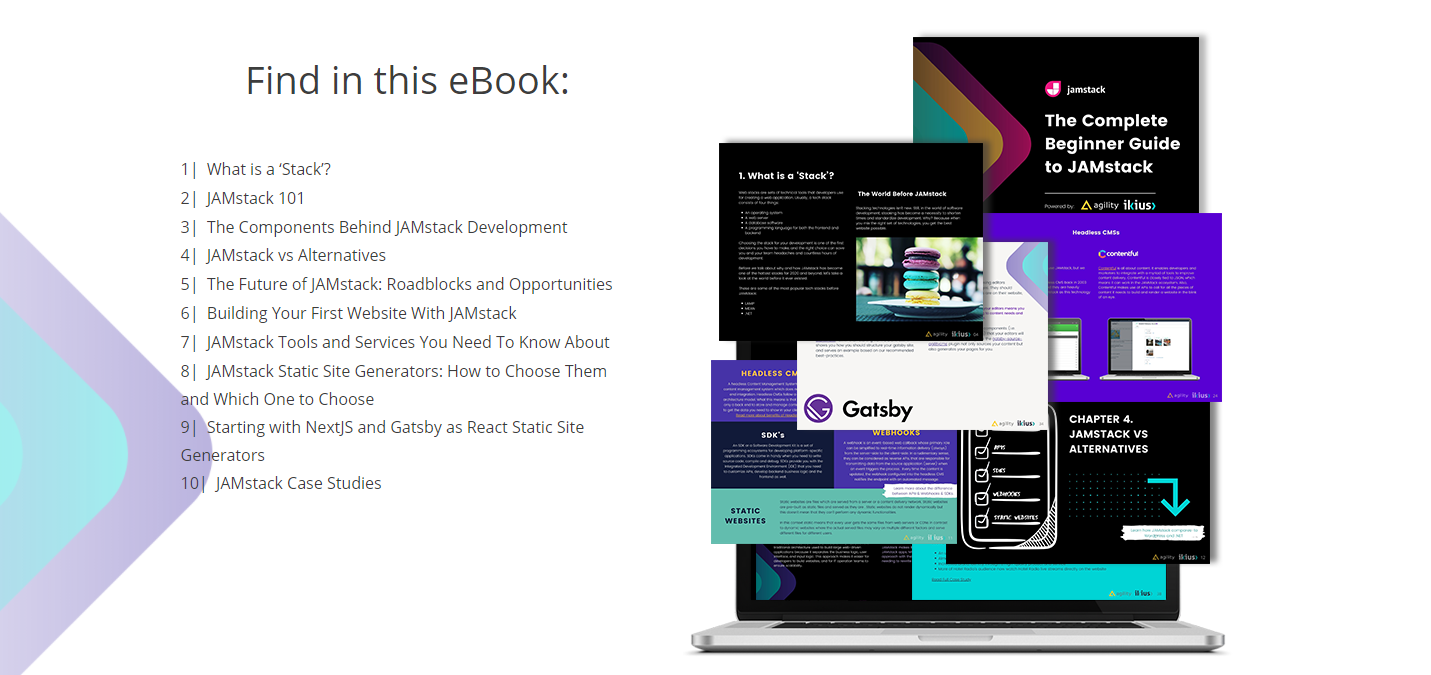 Your Hosts:
Joel Varty is the President of Agility CMS.
He's been developing for the web since the late 90s, mostly with Java and .Net, and is a recent convert to JAMstack. He loves React and Vue equally, but he has a special place in his heart for Gatsby. He's a longtime advocate for cloud computing and the notion of platform as a service. He loves mentoring people new to the tech industry and seeing them succeed. Outside of work, most of Joel's energy goes toward being a dad of 2 teens, but he is also a high-school football coach and a musical theatre director.
Max Ikäheimo, the founder and CEO of Ikius.
At Ikius he builds future digital services and products with innovative technologies such as Jamstack. Max has a Bachelors's degree in Computer Science and years of experience in the software development industry. Max is on a mission to provide faster, more scalable, and accessible web services for everyone with the power of Jamstack.
Don't Miss It! Register Now
Back to Event Listing
Take the next steps
We're ready when you are. Let's chat about your problems. Let's find the solution.