Modern Web: The DXP Transformation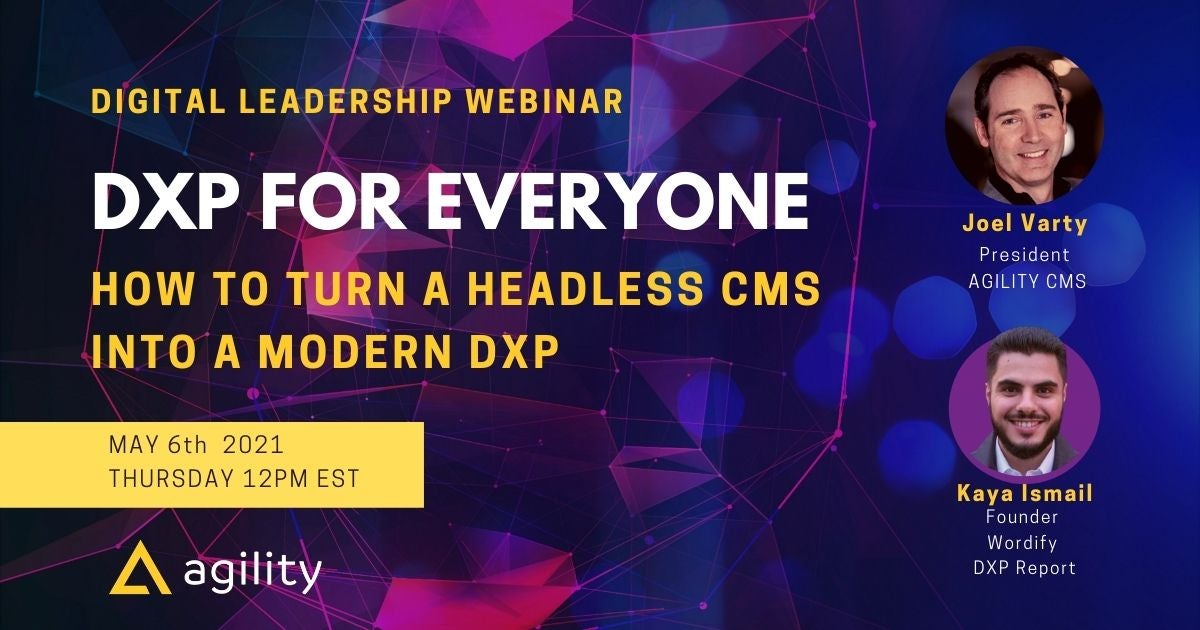 Leading Digital Transformation in your organization?
Building a mission-critical digital solution?
Need personalization, eCommerce, search, etc., etc., but don't want to pay 6-digit $$$ for legacy DXP licensing?
Then this Workshop with Joel Varty and Kaya Ismail is for you. Both are seasoned DXP and CMS experts and iconic figures in the world of Content Management, Digital Transformation, and the Modern Web.
Learn more from Joel and Kaya about the Modern DXP approach and How it can save time and money for your next Digital Transformation!
What you will learn:
How to turn your Headless CMS into Modern DXP using integrations and APIs
How to Future-Proof your next mission-critical web solution with modern web technology
How to stay Marketer-friendly and enable your marketing department to stay agile and powerful
Are You Ready for a Modern DXP? Let's dive in!
You should attend if:
You need modern technology stack that can save your money

You are looking for the agile approach to modern DXP that can deliver higher ROI with a faster rollout

You are building a DXP that will grow with you instead of slowing you down
Possible side-effects:

Persistent feeling of turning into a DXP expert,

Incontrollable desire to architect an awesome DXP,

$$$ money saved for years to come for yourself or clients




(can be used for many extra rounds of beers with clients or colleagues once "all this" is over :)
Hosts:
Joel Varty is President at Agility CMS, a SaaS headless content management platform that combines flexible and fast Headless architecture with familiar and easy Authoring tools for editors. When it comes to cloud computing, development and software architecture, Joel is as good as they come.
Follow Joel: Joel Varty (@joelvarty) / Twitter
Kaya Ismail is the founder of Wordify.co and has been writing about enterprise software since 2012 for various publications including Shopify and CMSWire. Throughout his career, enterprise software vendors have trusted Kaya's DXP and CMS expertise and industry knowledge to formulate their brands' content strategies.
Follow Kaya on Twitter: @KayaIsmail and @DXPReport
Back to Event Listing
Take the next steps
We're ready when you are. Let's chat about your problems. Let's find the solution.