MACH Experts: A discussion on the role of orchestration in composability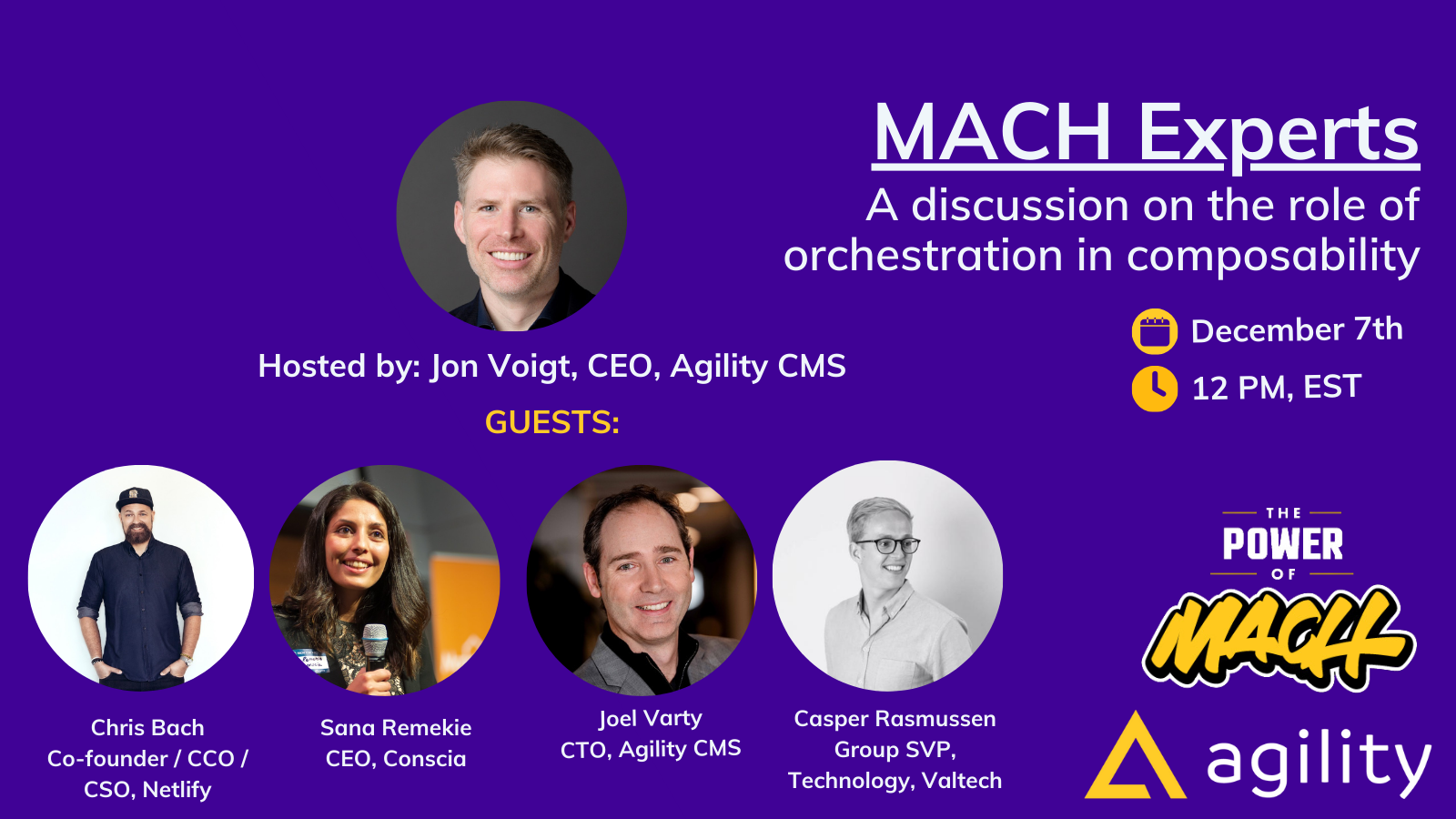 Join us for "MACH Experts: A Discussion on the Role of Orchestration in Composability," where we will delve into the intricate relationship between orchestration and composability.
Our panel of distinguished experts, each hailing from diverse backgrounds, will share invaluable insights on the pivotal role of orchestration in today's digital landscape. This discussion will host perspectives from the CMS space, orchestration providers themselves and System Integrators. All MACH Alliance leaders.
Guests:
Sana Remekie, CEO, Conscia Chris Bach, Co-founder/CSO, Netlify Casper Rasmussen, President, MACH Alliance Joel Varty, CTO, Agility CMS
Hosted By:
Jon Voigt, CEO, Agility CMS
Our Pannel Will Cover:
1. Where Orchestration Fits Inside Composability: Our guests will discuss the interplay between orchestration and composability and uncover the key touchpoints where orchestration seamlessly integrates within the fabric of a MACH architecture.
2. Do You Need an Orchestration Layer? We will collectively dissect the necessity of an orchestration layer within your tech stack and gain a deeper understanding of its advantages to your business processes and system integration.
3. Can You Build Your Own Orchestration Layer? Uncover the potential challenges and opportunities in crafting a bespoke orchestration layer and learn from our experts' firsthand experiences on the feasibility and best practices in developing a custom orchestration solution.
Join us on December 7th, 12pm EST
Mark your calendar for an insightful and informative discussion that will shape your understanding of orchestration within the broader context of composability. Reserve your spot now for the "MACH Experts: A Discussion on the Role of Orchestration in Composability" webinar and be part of this illuminating conversation.
Back to Event Listing
Take the next steps
We're ready when you are. Let's chat about your problems. Let's find the solution.