Composable DXP: Headless CMS + Personalization
Webinar
Aug 12, 2021
4:00PM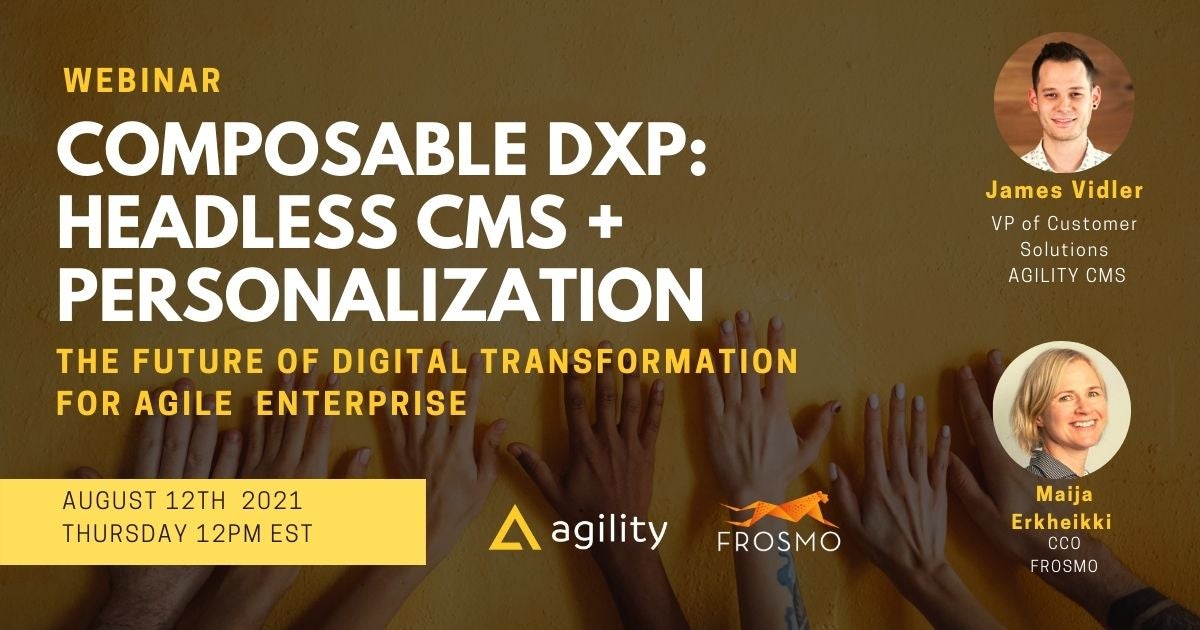 71% of the people surveyed are frustrated when digital experiences feel impersonal.

AI-driven content recommendations will significantly improve your click-through rates up to X5 times and eventually conversion rates up to 50% among visitors who saw personalized content.

According to Frosmo compared to the control group of an electronics store, the visitors that saw personalized recommendations has 170% higher conversion rate and 41% higher average order value.
So how does that work? How do you add Personalization to your website? This workshop covers it all!
Enjoy!
Composable DXP is the modern way to build fullstack solutions without paying 6 digits for features you don't need.
With the best-of-breed - or Composable - approach, you select the best modern software products for your company and integrate them with your API-based Headless CMS - and your perfect modern DXP is born.
Join James and Maija on this practical webinar and they will show you how to create scalable and secure modern solutions using Headless CMS and Personalization AI.
What you will learn?
How to create high converting landing pages using Personalization tools and Headless CMS

Increase time on site and improve visitors experience for your digital properties

Increase revenue, conversion rate and order value to drive your business with modern Composabe DXP approach
Host:
James Vidler, VP of Customer Solutions, Agility CMS. James has been building websites for the better part of a decade and currently leads the Customer Solutions team at Agility CMS. He's high on Jamstack and its promise for a faster web. He is also a Virtual Reality game developer.
Maija Erkheikki is the best of the best in the Personalization world. She manages and develops a partner-driven software business at Frosmo, an AI-driven personalization and recommendation engine.
Back to Event Listing
Take the next steps
We're ready when you are. Let's chat about your problems. Let's find the solution.