5 Steps to Digital Transformation in the Financial Industry
Webinar
Mar 10, 2022
4:00PM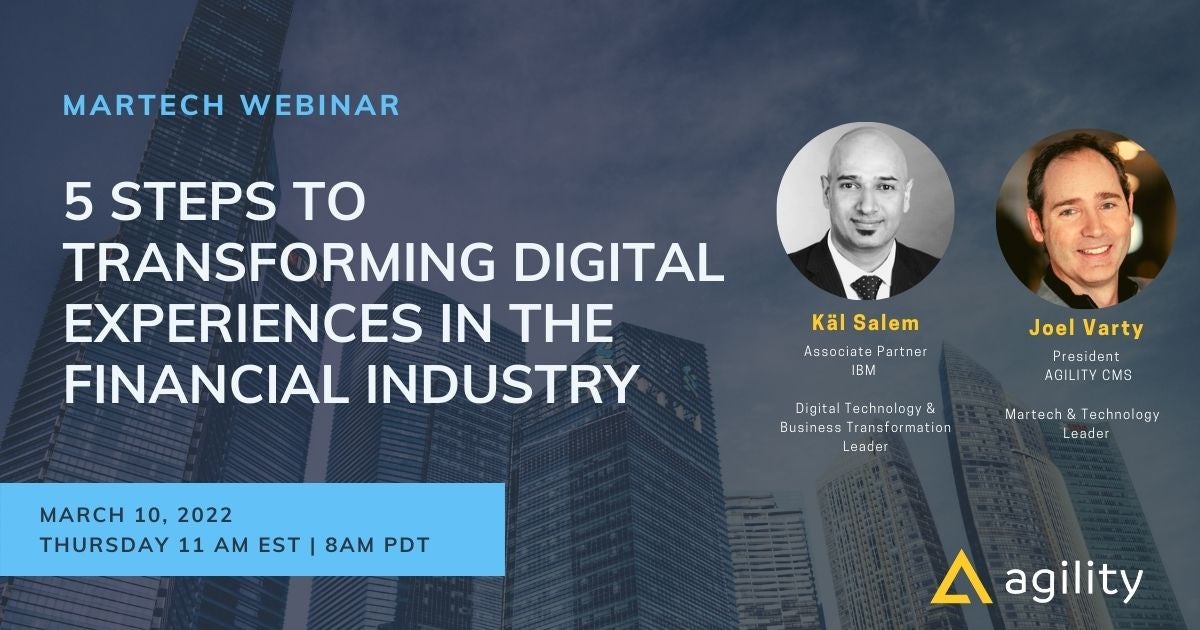 While legacy systems have been the backbone of financial institutions, the golden age of the digital era is forcing the industry to quickly adopt transformative measures. Discover the industry-leading digitization and automation processes to propel your institution into the future in our 30-minute webinar "5 Steps to Digital Transformation in the Financial Industry". Register to reserve your spot, now!

What will you learn?
1. How to compose future-ready digital system operations by separating back and font end.
2. How to move away from legacy technology to create a scalable modern digital experiences (hint, stop being afraid of the first step!)
3. How to stay secure and future-proof when going through Digital Transformation in the Financial industry


We will show some examples and practical steps!
And we will give away 5 x 10$ Starbucks gift cards!



Speakers:
Käl Salem
Käl is a Visionary Business and Technology Leader Offering Value-Driven Enterprise Transformation Experience.
As an IBM IX Canadian Leadership Team (CLT) member and a high-performing business-oriented leader, he brings a highly-skilled approach to driving digital business and technology transformation to achieve tangible outcomes.
Käl delivers value to cross-industry clients with a focus on Telco and financial services, including global experience with blue-chip and fortune 500 companies. He has also been awarded for business and people leadership and directing all levels of business affairs.

Joel Varty
President of Agility CMS, API-based Headless CMS designed with both developers and marketers in mind, has over 20 years of experience in customer relationship management, product management and has embraced cloud technology as a ground-breaking concept over a decade ago.
Back to Event Listing
Take the next steps
We're ready when you are. Let's chat about your problems. Let's find the solution.