Your Ultimate 50-Point Checklist for Choosing a Headless CMS
"This guide saved days and days of work during our RFP process and gave me confidence to go ahead with the vendor that fully met our needs. Great guide!" CMO, Educational Institution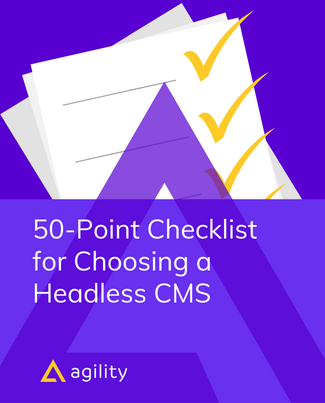 Going through a Digital Transformation? Switching to a new Headless CMS?
This guide will help you to choose the best CMS choice for your needs.
Download this guide and find out the 50 most helpful questions you have to ask yourself (and your potential vendor) before committing to a new Headless CMS or a Composable DXP.
What's Included:
In this guide you will find 50 crucial points to check organized by the following categories:
First Considerations
Budget
Speed and Scalability
Infrastructure
Security and Permissions
Content Management
APIs and Extensibility
Analytics
Support
Choosing a headless CMS is not something that should be done on a whim. Sure, forward-thinking brands should be looking to migrate from
a traditional CMS to a headless one if they haven't done so already, but that doesn't mean you should be hasty.
With the sheer number of options in the market, it's crucial that you evaluate the pros and cons of every content management system, while also keeping in mind that there's no one size fits all when it comes to choosing the best headless CMS for your company.
That's why prior knowledge of your CMS requirements is fundamental to making the right choice. To help you evaluate your shortlisted headless systems, we've listed 50 points for you to consider before you sign on any dotted lines.
Using our 50-point checklist, you'll catch issues and avoid pitfalls including:
• Choosing a headless CMS with limited marketer-friendly features
• Choosing a headless CMS that is really just a traditional CMS with APIs tacked on.
• Choosing a headless CMS that's affordable today, but unaffordable once you scale.
Choosing a new CMS? Avoid costly mistakes.