The Headless CMS Comparison: Storyblok vs Agility CMS
Choosing between Storyblok and Agility CMS: the guide.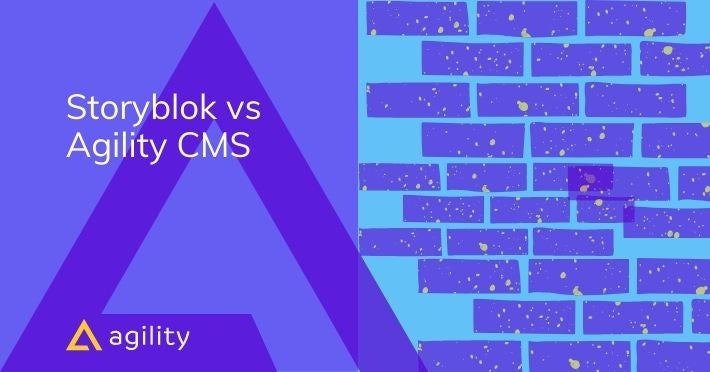 Building an appealing, functioning website requires two things: being able to create eye-catching digital experiences, and the ability to maintain what you've created.
Keeping your content in top shape, especially when you have many different sites, can become a mammoth task that simply can't be done without a CMS. But with hundreds of CMSs, both headless and traditional, choosing the right one for your company becomes a chore that confuses even the most tech-savvy decision-maker.
Then there's the age-old question: should I choose a CMS that caters primarily to developers, or to content editors? At Agility CMS, we believe you can —and should— have the best of both worlds with any CMS you choose.
To help you navigate the treacherous waters of the CMS ocean, we created a new segment called The Headless CMS Showdown. Here we give users an overview of Agility CMS and another top headless CMS on the market. In this showdown, we pitch Storyblok against Agility CMS and compare both CMSs to see which emerges victorious. Let's start with the comparison.
Agility CMS Product Overview
Agility CMS is a headless CMS platform designed with speed and flexibility in mind. It gives users the tools to build, manage, and maintain their content with ease. Agility CMS evolved from a .NET-based CMS to become a Jamstack-ready, API-first headless CMS.
Agility CMS lets authors and editors create and customize their digital experiences by following the content-first approach to building digital experiences with low friction. Traditional development processes begin with design, and prototyping for example the final layout of a web page with Lorum Ipsum text as placeholders. Agility CMS begins the development process by defining the content architecture of the organization and then proceeds to the development of layout and styling for desired channels.
The Agility platform has a rich and deep set of powerful features to power your omnichannel experiences. Most headless CMS platforms offer workflow functionality for approvals, publication schedule, and similar needs. Agility also offers an HTML and text e-mail builder that can be tied to workflow triggers. It provides multi-site functionality, linking the same content and user permissions across multiple sites. Website search is a capability built into the platform, rather than requiring third-party services like Algolia.
On the hosting side, Agility CMS leverages Microsoft Azure's hosting services and provides users with enterprise-grade security and support, and data protection. Microsoft was the first cloud vendor to secure approval from European Union's data protection authorities. They have a strong track record with data security standards compliance.
Storyblok Product Overview
Storyblock is an API-first headless CMS that boasts a robust visual editor that gives both developers and content editors the flexibility and the visibility they need to build reliable and fast websites, even for editors with no coding skills. Storyblok offers a convenient preview feature that is well integrated into it' visual editor.
With Storyblok, developers can define content types and nested components. Storyblok touts itself as a 'headless commerce platform,' which means that it's also optimized for eCommerce users that need a CMS using available integrations to services like BigCommerce, Shopify, and others. Since Storyblok is completely decoupled from the website itself, it allows developers to use any technology to deliver content to different devices while integrating with an existing tech stack. It provides internationalization capabilities, image resizing to optimize delivery for clients of various sizes, and the ability to embed rich text in the content.
Why Agility CMS?
Agility's main strength lies in its speed and ability to get you up and running fast. Unlike other CMSs out there, Agility CMS gives you the tools you need out-of-the-box, which reduces the need for third-party integrations. However, that doesn't mean that Agility CMS can't integrate with other tools. On the contrary, Agility has a robust plugin ecosystem that extends its native feature set, all without the steep learning curve and increased costs that come with most headless CMSs on the market.
Storyblok vs Agility CMS
Now let's talk about the features that Agility CMS has that Storyblok doesn't.
Integrated Page Management
API-based headless CMSs allow you to repurpose content across multiple channels: web pages, native mobile apps, kiosks, even smartwatches, and football stadium billboards. This flexibility comes at a price with many headless platforms. Changes to the layout of web pages (and other channels) require developer time.
Agility CMS solves this by using templates and modules that determine how content will look when it's rendered on the website. Editors can modify the layout of pages in the easy-to-ease visual interface using drag and drop functionality The system is extensible, with many built-in modules and the opportunity to add new modules created by your development team.
Storyblok offers something similar to page management thanks to a functionality called Space that comes out of the box and helps marketers structure their content and content types, but generating a sitemap on Space is clunky and requires API interactions to generate a sitemap.
Sync SDK
The sync status report is one of the handiest tools at your disposal when it comes to seeing the overall status of content that has been synced to your production servers. Agility CMS offers a sync SDK out-of-the-box so you can see at a glance which content is in progress, pending, or has failed to sync. That way, you can correct issues before they happen.
On the other hand, Storyblok doesn't offer an out-of-the-box sync tool. There are some options for users to choose from but there isn't a native method to see if the content has synced or failed to sync.
Training Materials
Agility CMS has a treasure trove of training materials for users to choose from. From webinars to written documentation to live online events, Agility CMS aims at making sure that users get all the help they need to make the most out of the CMS.
Storyblok, on the other hand, offers written documentation only for both developers and content editors. The CMS has recently released an introductory webinar that shows users a brief overview of the platform but doesn't have video or live training materials for its users. For visual learners who might benefit from a more interactive approach to training, Storyblok might not be the best choice.
The Verdict
This has been one of the closest showdowns yet.
Storyblok and Agility have plenty of similar selling points and functionality. Both are API-first CMSs with visual editors and offer support for both developers and content editors.
However, Agility CMS has certain advantages over Storyblok. Agility has been around in the CMS space for longer than Storyblok, providing added expertise. Also, even though Storyblok has been growing over the years, it still doesn't have the community and the level of support offered by Agility CMS.
Storyblok can be more expensive than Agility CMS in the long run because you pay for seats. There isn't a flat fee for a specific number of seats. Instead, you pay per user as they are added. At the end of the day, this may be a more expensive approach, especially for cross-disciplinary teams of content editors and developers who want to work together at the same time.
Additionally, since Storyblok is still the new kid on the block, the CMS is still lacking some of the integration features Agility CMS has had for years.