The Headless CMS Showdown: Sanity vs Agility CMS
Choosing between Sanity and Agility CMS: the guide.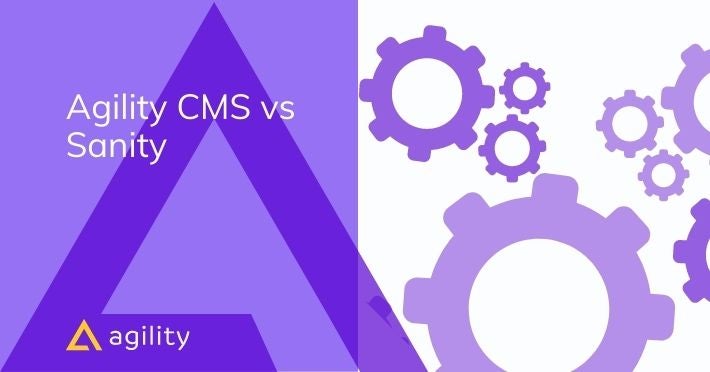 The headless CMS space is full to the brim with choices, and while that is good for the industry, it can be a pain for users looking through the plethora of options on the market. Too much choice makes it difficult for business users and developers to find a solution that adapts to their company's specific needs.
At Agility, helping users understand the sometimes chaotic headless CMS ecosystem is critical to educate audiences on the occasionally small differences between vendors. That way, we can help you both make the best decision and pick the right headless CMS.
That's why we've created a new segment called The Headless CMS Showdown, where we give you a simplified overview of Agility CMS and another top headless CMS on the market. In this showdown, we pitch Sanity against Agility CMS and compare both CMSs to see which emerges victorious. Let's start with the comparison.
Sanity Product Overview
Sanity.io is a headless platform that serves structured content to manage different assets, be it text, images, or other media. Sanity comes integrated with Sanity Studio, which enables developers to set up a customizable editing environment quickly.
Sanity.io gives you access to different APIs, libraries, and tools to centralize content and have a single source of truth. Source code for these development tools is published on Github. Sanity uses plain JavaScript to set up content types and fields.
Sanity provides both item level and page level internationalization options. Sanity has defined and released the open standard "Portable Text" as their solution to providing rich text markup in content, allowing formatting and advanced styling, a problem solved in Agility by the Modules feature.
Agility CMS Product Overview
Agility CMS is a headless CMS platform designed with speed and flexibility in mind. Agility CMS gives users the tools to build, manage, and maintain their content with ease. Agility CMS evolved from a . NET-based CMS to become a Jamstack-ready, API-first headless CMS.
Agility CMS lets authors and editors create and customize their digital experiences by following the content-first approach to building digital experiences with low friction. Traditional development processes begin with design, and prototyping for example the final layout of a web page with lorum ipsum text as placeholders. Agility CMS begins the development process by defining the content architecture of the organization and then proceeds to the development of layout and styling for desired channels.
The Agility platform has a rich and deep set of powerful features to power your omnichannel experiences. Most headless CMS platforms offer workflow functionality for approvals, publication scheduling, and similar needs. Agility also offers an HTML and text e-mail builder that can be tied to workflow triggers. It provides multi-site functionality, linking the same content and user permissions across multiple sites. Website search is a capability built into the platform, rather than requiring third-party services like Algolia
On the hosting side, Agility CMS leverages Microsoft Azure's hosting services and provides users with enterprise-grade security and support and data protection. Microsoft was the first cloud vendor to secure approval from European Union's data protection authorities. They have a strong track record with data security standards compliance.
Why Agility CMS?
Agility's main strength lies in its speed and ability to get you up and running fast. Unlike other CMSs out there, Agility CMS gives you the tools you need out-of-the-box, which reduces the need for third-party integrations.
However, that doesn't mean that Agility CMS can't integrate with other tools. On the contrary, Agility has a robust plugin ecosystem that extends its native feature set, all without the steep learning curve and increased costs that come with most headless CMSs on the market.
Sanity vs Agility CMS
Here's the moment you were waiting for. Let's compare Agility CMS and Sanity.
Here's a handy comparison table that can guide you when comparing both software solutions.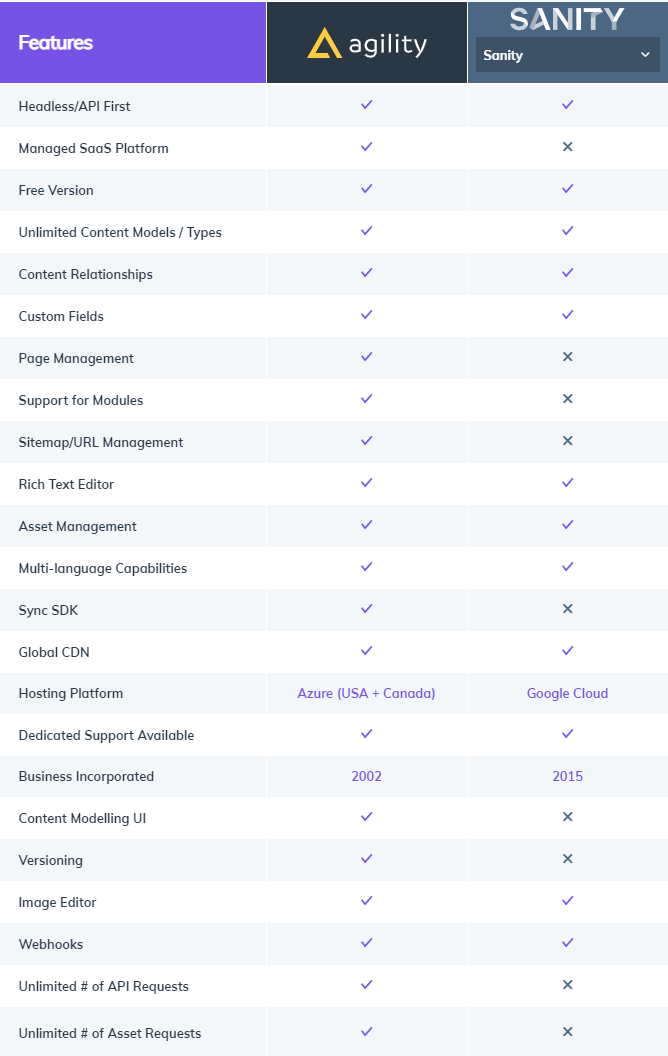 Now let's talk about the features that Agility CMS has and Sanity doesn't.
Integrated Page Management
API-based headless CMSs allow you to repurpose content across multiple channels: web pages, native mobile apps, kiosks, even smartwatches, and football stadium billboards. This flexibility comes at a price with many headless platforms. Changes to the layout of web pages (and other channels) require developer time. Agility CMS solves this by using templates and modules that determine how content will look when it's rendered on the website. Editors can modify the layout of pages in the easy-to-ease visual interface using drag and drop functionality The system is extensible, with many built-in modules and the opportunity to add new modules created by your development team.
Sitemap and URL Management
Most headless CMSs leverage APIs to generate a map of the pages on your site and manage URLs. In Agility CMS, your pages live within your sitemap. You can see at a glance where each page is and how it is related to the other pages. We also call this a 'page tree' and we use it to show the hierarchy of all the pages as they appear on the website.
Sanity, on the other hand, doesn't offer sitemap and URL management out-of-the-box. With Sanity, to generate or manage URLs of any kind you need to integrate third-party software or code your own. There are a few options in Github, but none that are native to this headless CMS.
Unlimited Number of API Request
Agility's CMS offers users an unlimited number of API requests starting from its Standard Plan, giving you unlimited users and content items. On the other hand, Sanity doesn't offer an unlimited number of API requests, and you have to pay for additional requests, even on advanced plans.
Unlimited Content Entries
A content item is a single item of content that is based on a content definition and that lives outside of content assigned to a particular page. Examples are company logos and headers and footers used across all pages they are especially useful for things like Website Settings, API configurations, or any other settings that are used globally throughout your website. In Agility, you get unlimited content entries starting from the Standard Plan whereas with Sanity, regardless of the plan you're in, you're always limited on the content front.
The Verdict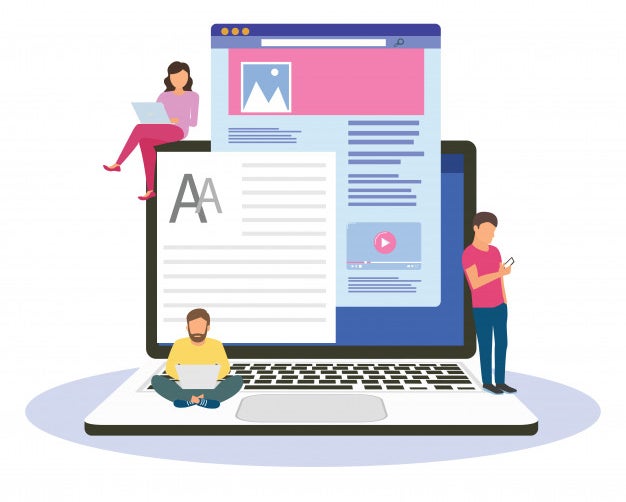 There's no denying that Sanity is a flexible platform that gives users a robust set of tools to build and customize great digital experiences with a solid set of out-of-the-box functionalities. However, the tool doesn't cater to non-technical users. On the contrary, editors and authors might end up finding in Sanity a tool that they simply can't crack open and make the most of.
Agility CMS offers the same functionality as Sanity but also does even more. It provides robust tools for developers while also providing a great experience for content editors who can build digital experiences with confidence, without risking breaking something or requiring developer support at every turn.
Agility CMS is a more established and robust platform that offers greater flexibility and functionalities out of the box. It is especially useful for content editors and content-centered development. Thanks to its content-first approach, Agility separates concerns and helps each team focus on what they do best.
In the end, if you need strong content-authoring experiences and all the tools you need to build a digital experience out-of-the-box, Agility CMS is the right tool for you.
No time to read? Grab your Whitepaper copy
Looking a CMS that can empower your Marketing team?