The Headless CMS Showdown: Kentico Kontent vs Agility CMS
Choosing between Kentico Kontent and Agility CMS: the guide.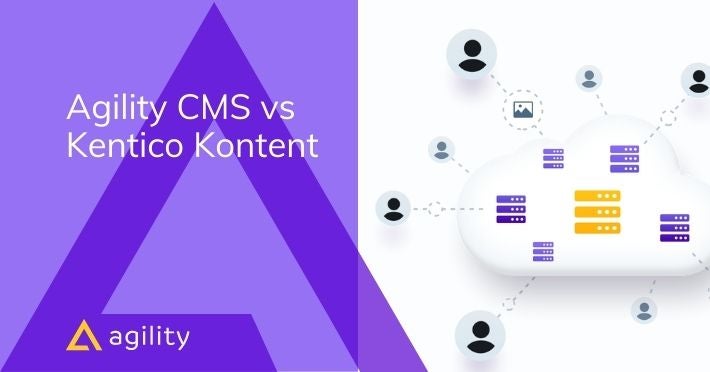 At a glance, Kentico Kontent is similar to other headless CMSs on the market. The platform allows for rich content modeling and enables teams to separate concerns and focus on what each of them does best —all without the need for much code. However, Kontent isn't really geared towards technical users, and developers might feel they need a more robust tool to build better digital experiences.
While a friendly interface that allows non-technical users to build websites and digital experiences is always a solid advantage in the CMS space, Kontent isn't too geared toward developers, who end up feeling they need a more robust approach to get the job done.
To help you choose the best CMS for your company, we have written a series of comparisons where we give users an overview of Agility CMS and another top headless CMS on the market to help you get a grasp of the sometimes chaotic CMS ecosystem, and its multiple vendors.
In this showdown, we pitch Kentico Kontent against Agility CMS and compare both CMSs to see which emerges victorious. Let's start with the comparison.
Why Agility CMS?
Agility CMS and Kentico Kontent look very similar. Both are hybrid CMSs that help marketers build and scale digital experiences, but Kontent is still younger to the market and lacks Agility CMS' finesse
Agility's main strength lies in its speed and ability to get you up and running fast. Unlike other CMSs out there, Agility CMS gives you the tools you need out-of-the-box, which reduces the need for third-party integrations. However, that doesn't mean that Agility CMS can't integrate with other tools.
Agility CMS offers Kentico Kontent's full feature set and more. It provides robust tools for developers while at the same time catering to content editors. It enables you to build digital experiences with confidence, without the risk of breaking something or needing developer support at every turn. Plus, Agility has a robust plugin ecosystem that extends its native feature set, all without the steep learning curve and increased costs that come with most headless CMSs on the market.
"No limit on the number of Content Models; pricing is the most competitive of all SaaS providers I assessed, which was a *lot*.Custom Extensions: can be built in the tech of your choice for bespoke configuration items. React SDK for easy implementation. The Agility team are great to work with, very helpful and quick to respond to queries or support issues." Dave F. Solutions Architect., G2 Crowd Review
But that's not it, there are other reasons why Agility CMS is a great alternative to Kentico Kontent.
How Kentico Kontent and Agility CMS Are Different?
Agility CMS Gives You More Bang for Your Buck
Kontent is more expensive than Agility CMS and offers fewer features out of the box than our platform. Kentico, on its own, can't do much. To make it work, you need to integrate the platform with third parties, whereas Agility gives you all the tools you need to start building digital experiences right out of the box. On that same note, Kentico Kontent can be unwieldy for novice users, and to take full advantage of Kontent training and potentially certification are required.
Agility CMS Provides Better Asset Management
Agility CMS provides a robust Digital Assets Manager, a central place where you can store all of the digital files that you want to make available online. You can upload images, videos, PDFs, and zip files straight into your assets manager. Kontent makes it difficult for users to search for assets and folders, resulting in time lost and frustrated content editors. Also, Kontent's asset manager has a couple of UX issues, such as lacking an undo button in case you mistakenly delete content.
Agility CMS Enables Granular Roles and Permissions
In Kontent, users can't create separate groups as part of a single project with roles and responsibilities at a content item level. This limits global organizations with multiple roles in a multi-brand setting. Agility CMS, on the contrary, enables granular roles and permissions across instances and installations for better permission management. When adding users, choosing the right permissions gives every user a safe and streamlined environment when viewing or editing content and ensures that they only have access to the information they need.
Agility CMS' Editor Experience Isn't Painful
Agility CMS is known for its easy, streamlined editor experience that every person can use. It enables users to create and publish content with only a couple of clicks. On the other hand, Kontent, despite its shiny UI, overcomplicates the content editor experience. Agility CMS allows users to develop components, not websites. Agility CMS empowers editors to create and manage pages for your app using reusable building blocks (i.e. modules). In each model, editors can manage your site's page tree, page-level SEO properties and determine the content and functionality on each page.
Agility CMS Provides a More Secure Single Sign-on (SSO)
While Kentico also offers SSO, it's a fairly basic setup that doesn't work well for enterprise businesses that need as much security as possible. Agility CMS uses Auth0 as our authentication provider. Depending on how your organization works, you can easily match up your security requirements with our platform. Agility CMS provides enterprise SSO to Active Directory, LDAP, ADFS, OpenID Connect (OIDC), SAML, WS-Federation, and more.
Agility CMS Was Built With Multilingual Sites In Mind
Kontent is still a young headless CMS. The taxonomy handling for
multilingual websites is not as solid as Agility CMS. A CMS built in Canada where multilingual content delivery isn't a nice-to-have but a must-have. Agility CMS enables content editors to configure and set up multilingual sites quickly, allowing geolocalized language toggling and separate domains for each language.
Agility CMS Provides Marketer-friendly Page Management
While content modelling in Kontent can be overwhelming, making it difficult to move content types around and make changes to content types between projects, Agility's page management simplifies things for content editors and developers. Content editors have greater flexibility to create pages and make changes for any unexpected scenario without having to bother developers to help them.
The Verdict
While Kentico Kontent is a famous headless CMS, Agility CMS has been around for longer and offers greater flexibility and functionalities out of the box, which is especially useful for content editors and content-centered development. Thanks to its content-first approach, Agility separates concerns and helps each team focus on what they do best.
Agility CMS is a developer-friendly hybrid CMS with the content authoring tools marketers need to build content quickly. The technical tools and support do more than merely use templates and content modules. It provides robust tools for developers while at the same time catering to content editors. It enables you to build digital experiences with confidence, without the risk of breaking something or needing developer support at every turn.
Also, from a business perspective, Agility CMS is the more cost-effective solution between the two CMS platforms. Even the enterprise version of Agility CMS that gives you everything a company needs to build outstanding digital experiences is less expensive than Kontent's Pro version.
Get Your Whitepaper "Kentico Kontent vs Agility CMS"
Looking for a Headless CMS that is... Different?